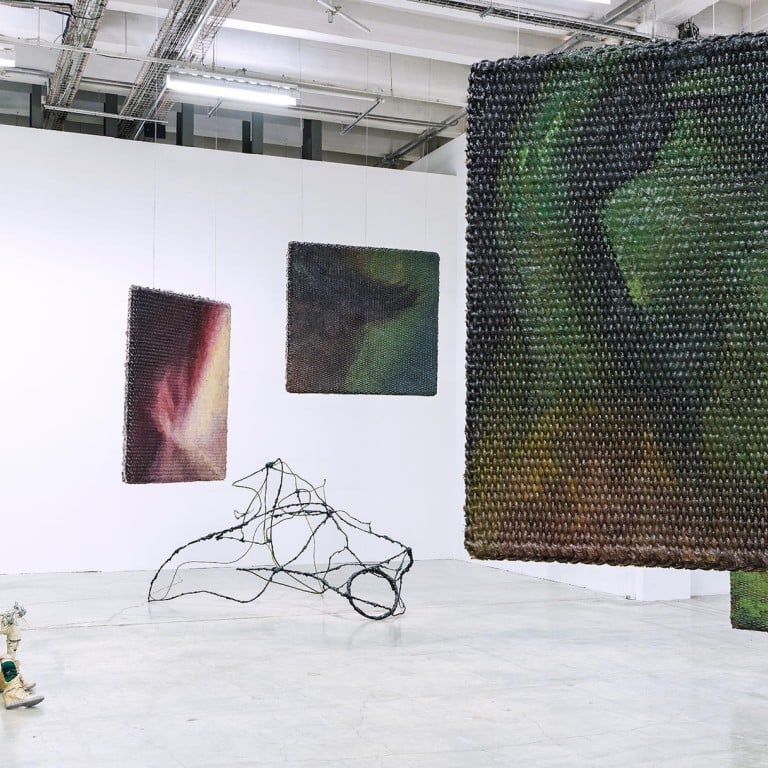 An exhibition in Paris challenges the perception of modern Chinese art
A collection of mixed media works by five young mainland artists eschews stylistic stereotypes
A new exhibition at the Palais de Tokyo in Paris is challenging notions of Chinese contemporary art. Without a Mao-inspired or Cultural Revolution stylistic cliché in sight, the eclectic collection of works by five young "emerging" Chinese artists, presented alongside works by three French counterparts, in "Inside China" explores life in modern China through individual points of view.
Works ranging from Beijing artist Zhao Yao's futuristic sculptural installations to Hong Kong-based Edwin Lo's auditory score of sounds recorded on an oil tanker are a far cry from the art created by the previous generation of mainland artists whose distinctive political commentary has been so enthusiastically received by the global market.
Hong Kong-born Palais de Tokyo co-curator Jo-ey Tang, says that one of his key objectives is to challenge stereotypes by exploring the different realities of emerging art in China. According to Tang, who lives in Paris and New York, the show's eclectic mix of media is a deliberate effort to move away from the old ways of doing things.
"It is not a statement about all that is going on in China. I think the kind of Chinese art that has been shown, and the way it has been discussed in the past, has reached certain saturation. The five artists are Chinese, but they are not thinking about that every single moment, and that affects how they make art."
Tang co-curated the show with Wang Chunchen of Beijing's Central Academy of Fine Arts Museum, spending a year travelling to 10 mainland cities, Hong Kong and Taiwan visiting studios, galleries and schools to develop his understanding of the art scene.
"I did not set out with any preconceived ideas of who I might meet," he says. "The show is a distillation of what is going on in the minds of these artists, taking away the usual parameters."
This is not to say that the works lack any reference. Close examination reveals hints of Chinese culture and social concerns, particularly with the country's rapid economic and urban development.
One of the show's highlights is Beijing artist Li Gang's series. Shocked by the pace of urban development in his hometown of Dali in Yunnan province, the artist siphoned soot from the exhaust pipes of idling cars and trucks and then used a traditional craft process to create a classic Chinese ink block that is presented in an elegant handcrafted wooden box.
Shanghainese artist Yu Ji's series of handmade plaster cube sculptures is inspired by the architecture of Communist-era public toilets. The artist says she used the same tiny cubes for her sculptural floor installation titled that, at first glance, looks very much a rough area of concrete.
The work creates a subtle "invisible performance" when gallery visitors find themselves inadvertently walking on the art, crushing the fragile cubes. Yu plans to recycle the dust in further works to be shown when the exhibition travels to Asia.
"These artists really think about the way they make art," says Tang. "For example, it doesn't necessarily have to take two months to make each of Li Gang paintings [large scale hemp canvases painted in multiple layers of oil paint] but the time he takes is important as it slows down the idea of production and rapid chase to the market."
Tang has taken great care to consider how he presents the artworks, avoiding obvious pathways and instead adding a vertical suspended dimension that creates an interesting dialogue between pieces.
For example, French artist Aude Pariset's lighting installation made of cooked spaghetti hung over oven racks casts intriguing shadows over the gallery walls and "interferes" with other artworks.
French artist Renaud Jerez's bandaged skeletal avatars made out of PVC tubing and sporting sportswear have also been deliberately positioned to interact on a human level with visitors in a commentary on the way we relate to each other.
The show marks the start of a three-year cultural collaboration between the renowned Parisian art institution and K11 Art Foundation, a not-for-profit organisation founded by Hong Kong entrepreneur Adrian Cheng Chi-kong in 2010, dedicated to nurturing Chinese artists and introducing their works to a broader audience.
But if one of the goals of the exhibition is to stimulate cultural dialogue, it is a pity that the information provided about each artist and their respective creative stories is limited.
There is no accompanying exhibition catalogue. Instead, a small brochure offers a short paragraph on each artist and their work.
This does not go far enough for a better understanding of why their work is considered relevant, especially for an international audience that might not be familiar with the new wave of Chinese contemporary art.
"Young Chinese artists making work that does not look recognisably Chinese is perhaps the biggest trend of the past few years," says Philip Tinari, director of the Ullens Centre for Contemporary Art, a major independent museum in Beijing.
"This definitely creates difficulties for an older mode of intercultural exchange and display, but perhaps it will lead to a new kind of dialogue," Tinari says. For now it's important that younger Chinese artists have chances to show internationally, giving them the chance to better understand their audiences outside of China."
The paucity of information at the show is particularly unfortunate as it is situated within the context of a wider exhibition featuring dramatic works such as , a sculptural translucent suspended tunnel playground for visitors, created by the collective Numen/For Use.
Still, it is a mark of success that the young artists feel free from the weight of expectations thrust upon them at home and abroad, and confidently shrug off comparisons with older successful Chinese artists.
"People from overseas always mention Ai Weiwei," says Yu Ji. "Is that all they know about our contemporary art? My friends don't talk about him so often. Even if I am not doing Chinese painting or traditional art, my work has a Chinese identity."
Wu Hao, whose "found" artwork on show features a typical rolling security gate from a shop in Wuhan, agrees that this first experience of exhibiting internationally is unlikely to change the direction of his art.
But he says it has inspired him to consider extending his series - a collection of wine glasses and bottles of varying sizes and shapes displaying graduations that occur when acrylic paint evaporates - to compare results in Paris and Shanghai.
"Inside China" runs until January 11 before coming to Hong Kong and Shanghai.
"The show will evolve as it travels," says Tang, who plans to continue to work closely with the artists adapting their works to reflect different contexts and adding additional French artists so that the exhibition becomes a "dynamic organism that grows".
"Any new context for viewing art is powerful for any artist. I'm interested in how the exhibitions in 2015 will adapt to the spatial qualities of Hong Kong and Shanghai," Tang says.
"How might these exhibitions in new contexts be completely different with more or less the same works? How might our understanding of the artists' works aggregate in these future iterations?"
This article appeared in the South China Morning Post print edition as: Eclectic currents