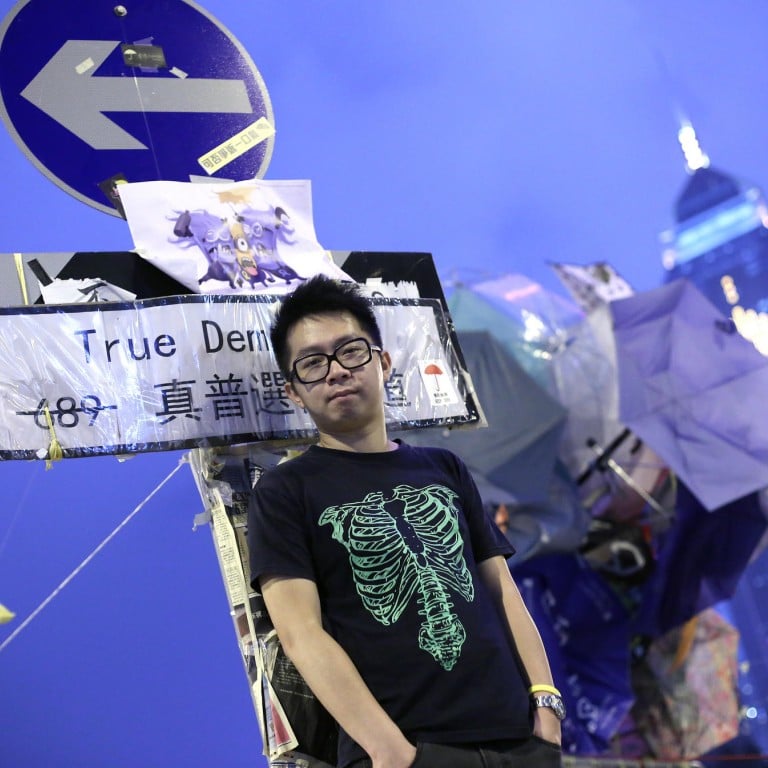 Mr Men adaptations inform children about the Occupy protests
Hong Kong is very good at making foreign ideas its own. Just consider Maxwell Ip's Facebook page, "Mr & Little Miss HK People".
It's the 28-year-old designer's take on the popular by Roger Hargreaves, and the number of page likes has ballooned since he launched it on October 20. At the time of writing, the page had more than 64,500 likes.
"This attention is definitely unexpected," says Ip. "I feel happy about it. Sometimes there's even an inflation of ego, which I try to suppress."
Personal fame was the last thing on his mind when he created the lovable cast of characters, which includes "Mr Tear", "Mr Chow & Mr Shum", "Mr 4PM", "Mr 689" and "Little Miss Lam Cheng".
As you may have guessed from these names, "Mr & Little Miss HK People" is Ip's depiction of key players and events in the ongoing furore over how Hong Kong should elect its leader in 2017.
"Mr Tear" was created a month after the police used tear gas on protesters in Admiralty, and "Mr Chow and Mr Shum" appeared on October 20, the day before the talk between the student leaders and government officials.
Ip wants to use his characters to show children a watershed period in the city: "They have the right to know what's happening, but parents may not have good material to explain it to them. That's why I drew cute cartoon figures," says Ip.
"What we are fighting for is for our next generation. They need to know what these big brothers and sisters are doing for them now."
It takes about 20 to 30 minutes for Ip to draw one character, using the simple lines and bright colours that appeal to children.
"Little Miss Lam Cheng", which represents Chief Secretary Carrie Lam Cheng Yuet-ngor, is the designer's favourite subject. "That's a special design: her hands are in her pockets," he says, laughing. This mocks the political stance towards Hongkongers to "temporarily pocket" its proposed 2017 reform package.
But it was "Mr 689" - a reference to Chief Executive Leung Chun-ying, who got 689 votes from the 1,200-member election committee in 2012 - that went viral on the web after Ip posted it on his personal Facebook page on October 20. Within eight hours, it had more than 3,000 shares.
"When I saw this response, I realised I had to open a public page for my cartoons," he says. "That was the moment my cartoons changed from being something I did for fun to a public project which received a lot of attention."
Ip makes sure his cartoons are politically neutral, and do not demonise anyone, as he wants parents to explain to their children what's happening in Hong Kong without bias.
Looking at the art that's grown out of the movement, Ip, a digital graphic communication graduate of Baptist University, says he always believed Hongkongers were creative.
"There have been no platforms to showcase their works in the past. Now there are so many topics to talk about, and so many open spaces where their ideas can be expressed," says Ip.
"No matter how this ends, the umbrella movement has brought more gains than losses to Hong Kong."