LIFE
Get more with myNEWS
A personalised news feed of stories that matter to you
Learn more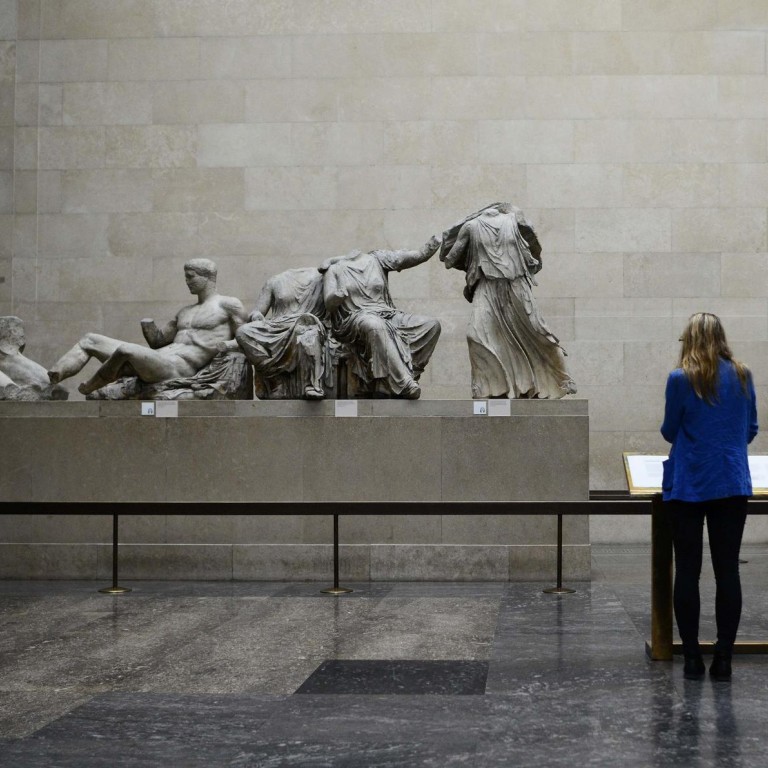 Debate rages about rights of museums to resist claims on artefacts made by the countries of origin
J. Paul Getty Trust president James Cuno is back in the fray over whether antiquities and other prized artefacts from Middle Eastern and Mediterranean cradles of Western civilisation should remain in museum collections in America, Britain and other major collector nations or be sent back to the countries where they were created hundreds or thousands of years ago.
The latest salvo from the Los Angeles museum boss is an article he wrote for the November-December issue of magazine titled "Culture War: The Case Against Repatriating Museum Artifacts". It returns to themes Cuno explored in , his 2008 book.
The new article aims to take some of the heat off museums such as the Getty, the Metropolitan Museum of Art in New York and London's British Museum as they face demands from the current governments of cradle nations for the return of their forebears' works.
Officials of the United Nations Economic, Scientific and Cultural Organisation's Intergovernmental Committee for Promoting the Return of Cultural Property to its Countries of Origin resolved last month to try to press Britain to enter formal discussions, mediated by Unesco, for the return of the Parthenon Marbles to Greece. They were removed from the Parthenon in Athens by British aristocrat Lord Elgin starting in 1801 and acquired by the British Museum in 1816.
A Getty spokeswoman says Cuno's article, which criticises Unesco, was "commissioned some time ago" and not spurred by recent developments, which include American actor George Clooney's wife, lawyer Amal Clooney, joining legal efforts to hasten the sculptures' return to Athens.
The Getty has done more antiquities repatriation than most: since 2007 it has sent more than 40 objects, including some of its most stunning ancient Greek and Roman sculptures, back to contemporary Italy and Greece after agreeing there was compelling evidence that they had been stolen by looters.
Cuno has no beef with returning stolen art. Instead, his article focuses on what he considers to be an entirely different class of ancient objects that includes the Parthenon Marbles: pieces that left their native soil in the 19th and early 20th century in accordance with national laws that were then in effect in Greece, Italy, Egypt, Turkey and other cradle nations.
Cuno's article criticises Unesco and the International Council of Museums for adopting "all-embracing" policy statements that seem to back any and all claims to ancient property lodged by current governments.
He writes that part of respecting the past is respecting decisions made during the height of Western imperialism, when, for example, the legally empowered Ottoman rulers of Greece and Egypt struck deals allowing Western archaeologists and collectors to take home treasures such as the Parthenon Marbles and a famous bust of Egyptian queen Nefertiti owned by the Egyptian Museum in Berlin.
Unesco directives and other criticisms are off base when they portray museums in America and Western Europe as "contemporary agents of historical imbalances of power by which stronger nations continue to enrich themselves at the expense of weaker ones", says Cuno.
He doesn't buy the argument that because an object was made in an ancient land its proper home is back on its native soil. "This kind of promotion of cultural purity … can produce dangerous, often violent xenophobia. Cultural property should be recognised [as] the legacy of humankind and not of the modern nation-state, subject to the political agenda of its current ruling elite," he writes.
A counter argument from nations of origin is that prized objects need to be seen and studied in their original context to be properly understood. If museums continue to collect ancient art, it will encourage further looting.
Cuno says putting all of the world's ancient treasures in their original cradles is asking for trouble because sociopolitical mayhem or natural disasters could jeopardise great swaths of the ancient record, citing the destruction of two sixth-century statues of Buddha in Afghanistan by the Taliban in 2001.
This article appeared in the South China Morning Post print edition as: Rights of museum against rights of country of origin