IN PICTURES: Hong Kong's iconic sights and objects star in British artist's eye-catching prints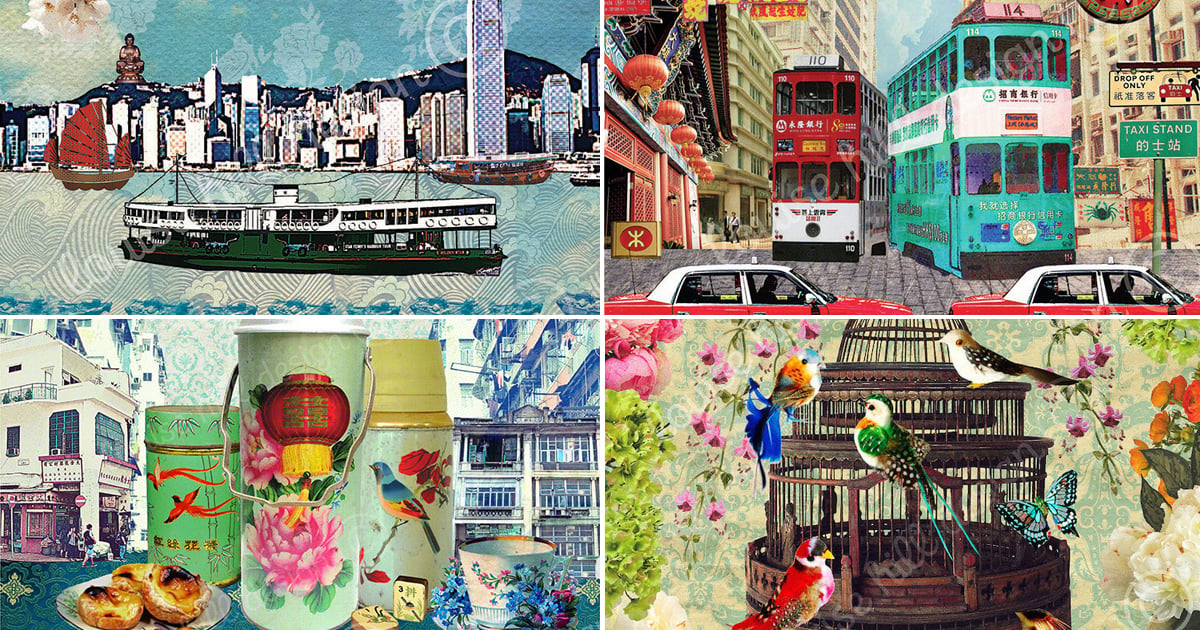 Taking her favourite elements of Hong Kong and piecing them together in eye-catching prints, British artist Louise Hill has captured the city's multilayered quality.
Whenever she creates a new artwork, ex-Sai Kung resident Hill, 46, a long-time graphic designer, explores the city's sights and takes pictures with her Nikon camera, looking for things from the grand to the mundane to add to a pastiche that will later be printed on canvas.
The Hong Kong skyline with a queue of planes overhead, Victoria Harbour, the trams, taxis, ferries, painted teacups, dim sum bamboo steamers and mahjong tables feature in her mise-en-scene. Even the city's orange rubbish bins make an appearance in her street-scene print
Hong Kong Taxi
, which is among the works she sells across the world
on her website
.
"The elements from the design are all bits of imagery that I have observed around me and that make up the rituals of daily life," says Hill, who moved to Singapore last September after a four-year stay in Hong Kong.
"The design process takes weeks, sometimes months. I always sketch out my idea for a canvas first and work on a composition and theme. Then I will go and gather items to photograph, finding pieces in markets and wandering the streets. Some pieces I have collected on my travels and many of them have stories behind them," she says.
Once she has all the elements she needs, she combines them digitally on a computer.
"The process … takes a long time. I am very meticulous in the way I work and each layered image will have been worked into it in some way and moved around a hundred times before I'm happy with it. I love to work in this way, it's the only way I know," she says.
The resulting artworks have a vintage feel, with the bright candy and pastel hues making the whole image pop. She uses inkjet-printed Giclée inks so that the colours do not fade.
And her colourful memories of her old neighbourhood have not faded either.
"The stunning views and laid-back charm of Sai Kung were a wonderful place to work and the community in that town is the best I have ever come across," she says. "It has an old fishing village vibe, a mix of friendly locals and expats and incredible scenery that I still miss dearly to this day."
She was also always a minibus ride away whenever she needed a dose of "the exciting, more chaotic areas and true heartbeat of the city on the island".
"One of my favourite places to explore ... was the bustling areas of Sham Shui Po and Mong Kok. Here you will find wonderful old restaurants, shops and markets full of fabrics, haberdashery, buttons, beads, feathers and ribbons. I love these areas for their authentic grittiness, old Hong Kong flavours and their remaining traditions such as mahjong," she says.
Hill was for 15 years a packaging designer in London, working with brands like Crabtree and Evelyn, before she set off on an adventure with her then-boyfriend (and now husband and father to their twin sons), backpacking through the Asia-Pacific from India to Australia. In Melbourne, she lectured on design at The Royal Melbourne Institute of Technology for a time.
When she became pregnant, the pair moved back to Britain. But after a few years, they were pulled back to Asia once again. Owing to her husband's job postings, the family moved to Shanghai in 2006, then Hong Kong in 2010 where they stayed for four years.
"I had fallen head over heels in love with Asia and will always be excited by all the vibrant colours, energy and daily life around me," says Hill.
For her artwork Old Town, a homey tableau featuring baskets of dim sum, chopsticks and tea flasks, Hill says she hired a man named William Wong who operated a small junk boat to take her to an island where there were still traditional houses. The blue tiles she spotted there, for example, became the background texture of the print.
And in a place of honour in Old Town is a hand-painted bowl that Wong said was an old wedding gift, and which he, knowing her "love for Chinese objects", gave to Hill as a present.
She says the feedback to her work has been positive and that she has been busy with planning new creations. From her studio in Singapore, she recently gave her Facebook followers a glimpse of an element in her latest project - a budding plant done in watercolour.
"Now that I have moved to Singapore I am looking forward to exploring my new home and designing some Singapore prints in the future," she says. "I love the colourful shophouses and mixture of cultures - it's all perfect subject matter for any artist."
But Hong Kong will not cease to be an inspiration, she says. "I will also add to my Hong Kong prints along the way and come back to visit my old hometown as often as possible."
For more information, visit  louise-hill-design.com or her Facebook page