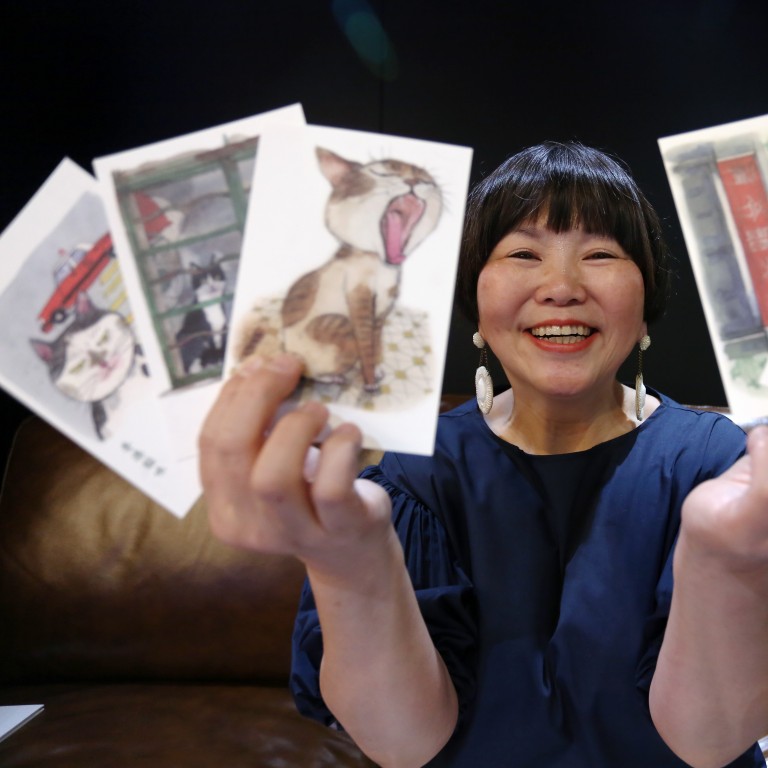 How a love of Leslie Cheung helped a Japanese illustrator fall for Hong Kong's charms
Through food, Mitsuko Onodera also became interested in the history of Hongkongers' lives and lifestyle. She now comes to the city four times a year
'The colours in Hong Kong are very bright, like Paris. I like that,' she says
For many years, Japanese illustrator Mitsuko Onodera loved everything French and enjoyed visiting Paris, sketching the City of Lights, eating the food and even learning how to cook the cuisine.
But that all changed around 1997 when she discovered Canto-pop singer and actor Leslie Cheung Kwok-wing through his movies and music; she also learned about his hometown Hong Kong because it was in the news with the upcoming handover in July that year.
A year later she took the plunge to visit Hong Kong by joining a fan club tour.
"At first I came to Hong Kong because of him [Cheung]," she explains through a translator on a recent visit. "And then when I started discovering the city, I realised this is a nice place."
The fan club tour included a chance to meet her idol in person – needless to say she was nervous and her heart was pounding hard when he posed with her for a picture.
Onodera found him "very charming", and was impressed that he was friendly but also quick and efficient with all his adoring fans. The tour included visiting some famous movie locations like Repulse Bay and, by the beach, the Longevity Bridge and the statues of Kwan Yin and Tin Hau goddesses. Their local tour guide spoke Japanese and told the Japanese visitors how he lived in an old building, and as a child he played football on the roof.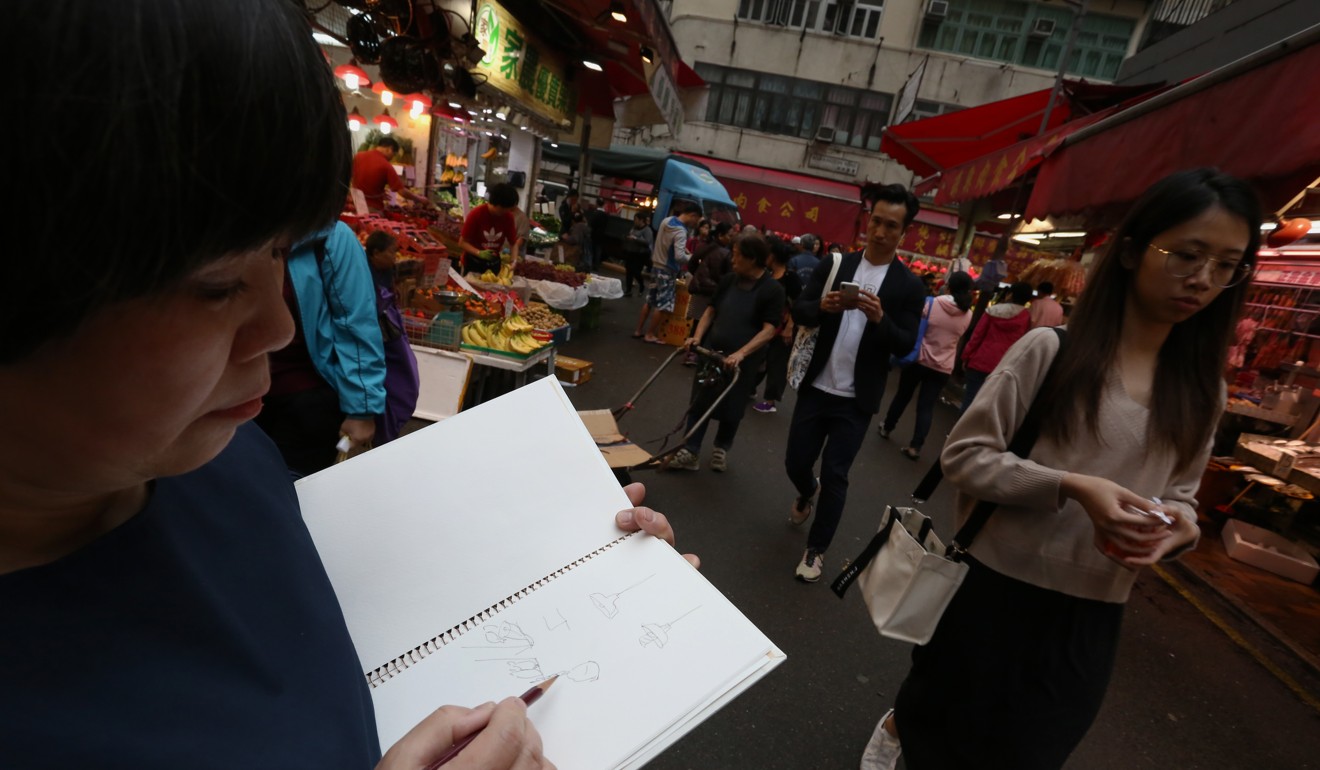 "I thought that was amazing, living in an old building it must be nostalgic," she says. Her impressions of Hongkongers was that they were working hard for a better life.
Since that first trip, Onodera visits Hong Kong four times a year, each time visiting different places that friends she has met through social media take her to.
They contacted her after finding her whimsical drawings and watercolours of the city posted on Facebook and Instagram, from cats lounging on the tiled floors of old shops to bowls of sweet potato soup, the Star Ferry and wet markets. She even finds beauty in the city's ubiquitous orange dustbins. Her Hong Kong friends have taken her to many different places in the city including tattoo parlours and even the prison on Hei Ling Chau.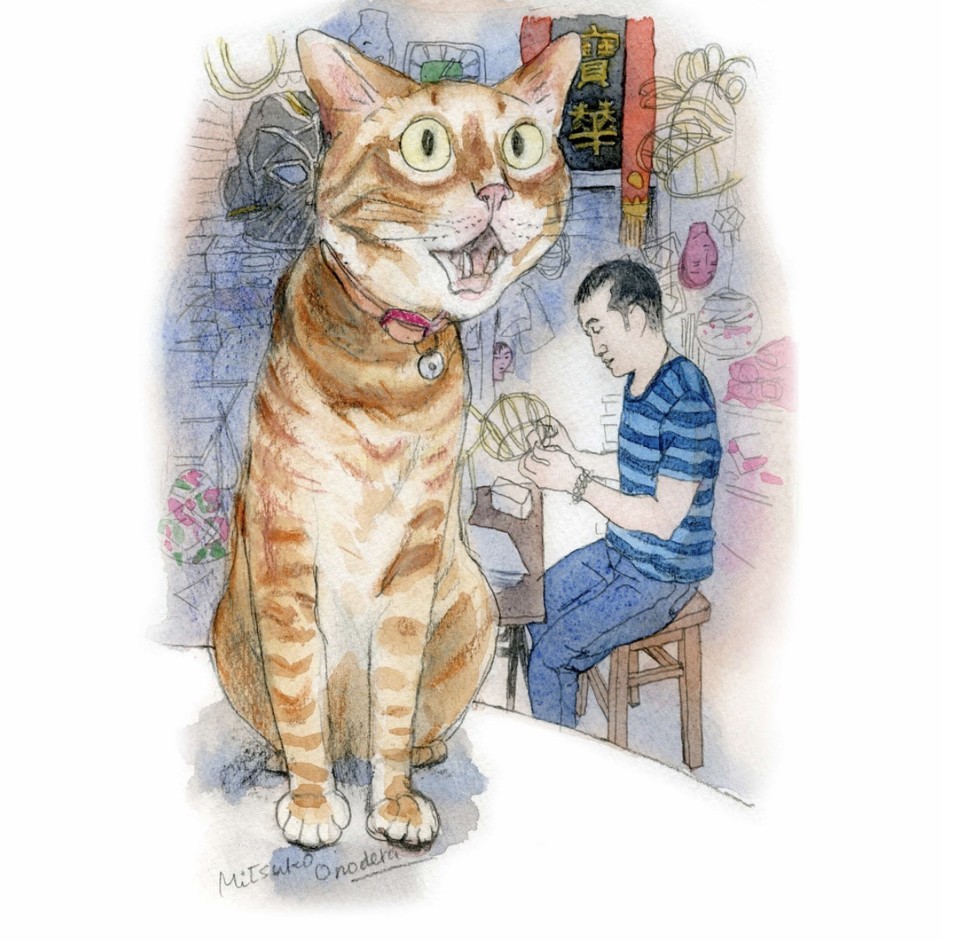 But how does the mother of two sons in their 20s manage to communicate with her local friends? "Google translate," she replies with a giggle, as she only speaks a few words in English and Cantonese.
From an artistic point of view, she finds the colours in Hong Kong appeal to her. "I have been to Taiwan and I like it very much, but the colours are different from Hong Kong. The colours in Hong Kong are very bright, like Paris. I like that," she explains.
During our short photo shoot with her, the Yokohama native quickly sketches a fishmonger's shop with the red plastic lamps, as well as the fresh vegetables for sale.
Not only does she find artistic inspiration in the city, but culinary inspiration too. She likes to cook Cantonese food several times a week, and even makes her own laap cheung, or Chinese sausages, and egg tarts.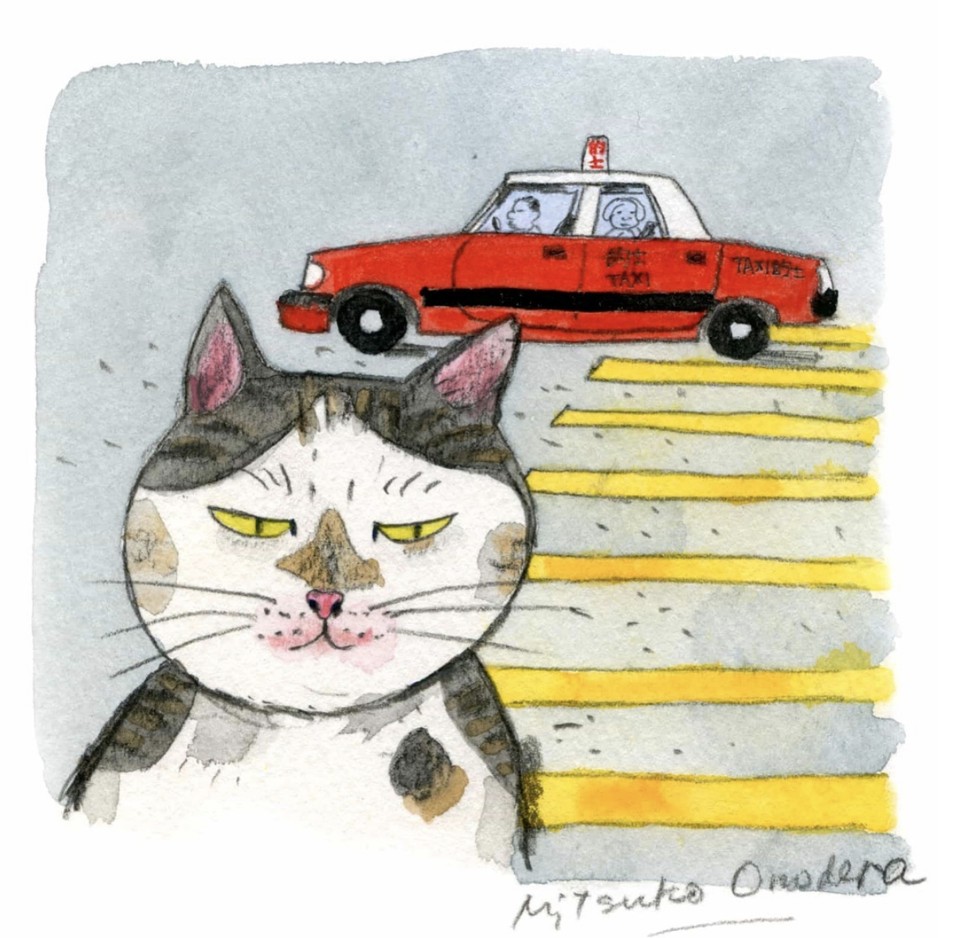 "I love the taste of Hong Kong food. I thought, Leslie's body is nourished by Hong Kong food so I thought about what Leslie eats," she says with a beaming smile. "It's through food that I became interested in the history of Hongkongers in their lives and lifestyle."
She is particularly impressed by elderly women who use such small kitchens to make so many dishes. Onodera likes making claypot rice and learns how to make the dishes through cookbooks, going online to find recipes and YouTube videos.
Usually Onodera finds comfort through eating, but when Cheung committed suicide on April 1, 2003, jumping from the 24th floor of the Mandarin Oriental Hong Kong in Central, she was in complete shock and even food could not console her.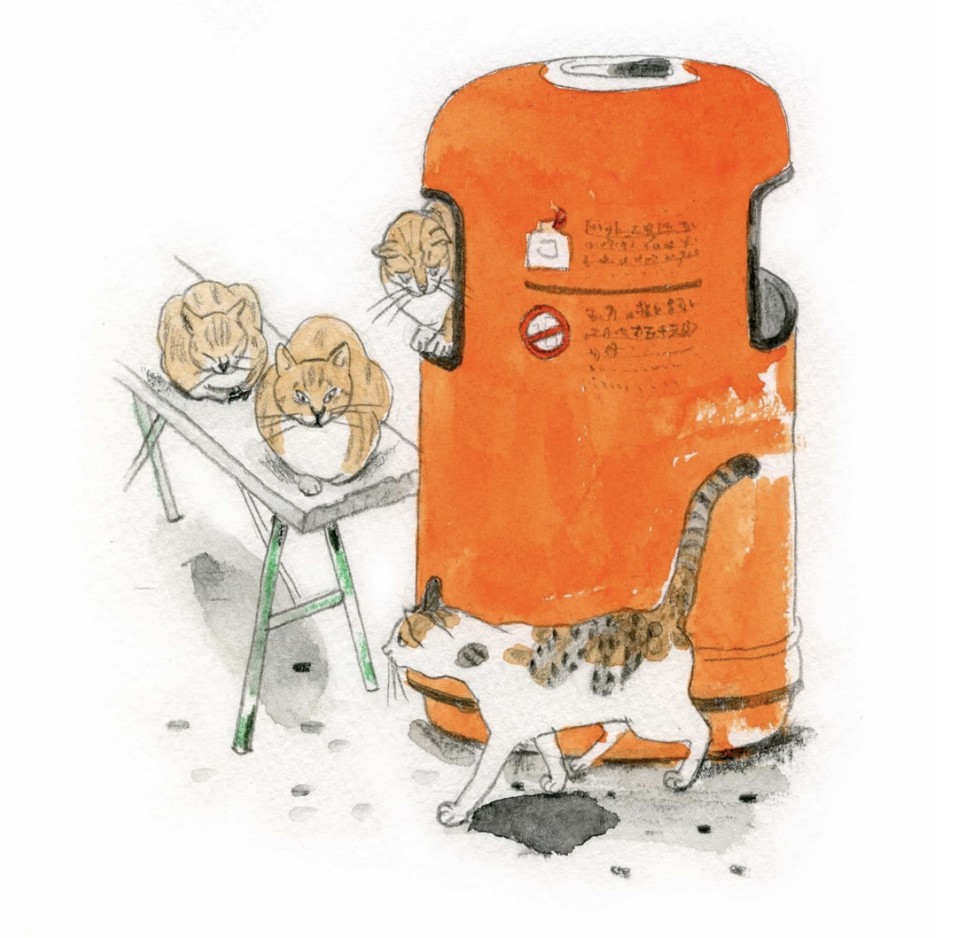 Meanwhile, art has been her first love, drawing since she was two years old, and professionally for over 30 years since her third year in university when she studied oil painting. After graduating from art college, she became an art teacher and after five years of teaching, she became a full-time illustrator.
Whenever she comes to Hong Kong, Onodera takes lots of pictures of whatever inspires her and then goes back home to Tokyo to draw and paint her watercolours.
Even though local group Urban Sketchers has invited her to join them on their sketching excursions on the weekends, Onodera has declined, citing her shyness in sketching in front of other people.
"If I can be alone then I will sketch on location, otherwise I prefer to do it at home," she says, adding she is very Japanese that way. Onodera likes visiting the wet markets for inspiration, and local residents, particularly the elderly, who she finds have a lot of character.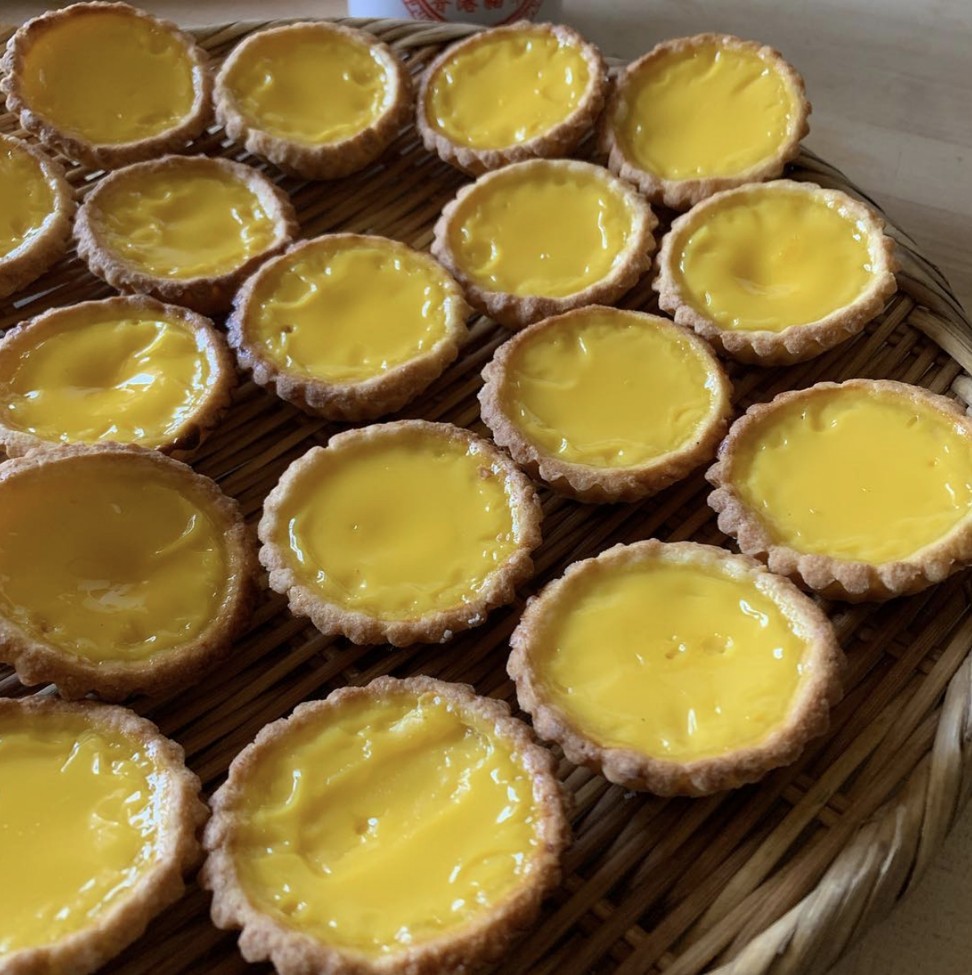 She has promoted Hong Kong so much through her art that the Hong Kong Tourism Board in Japan has appointed her a Hong Kong ambassador, and even has a name card issued from the government body.
"I never get bored with Hong Kong. The people here are very interesting and they are so kind," she says, adding they are very direct, which she finds refreshing compared to Japanese formality.
This article appeared in the South China Morning Post print edition as: Japanese illustrator drawn to the city's charms