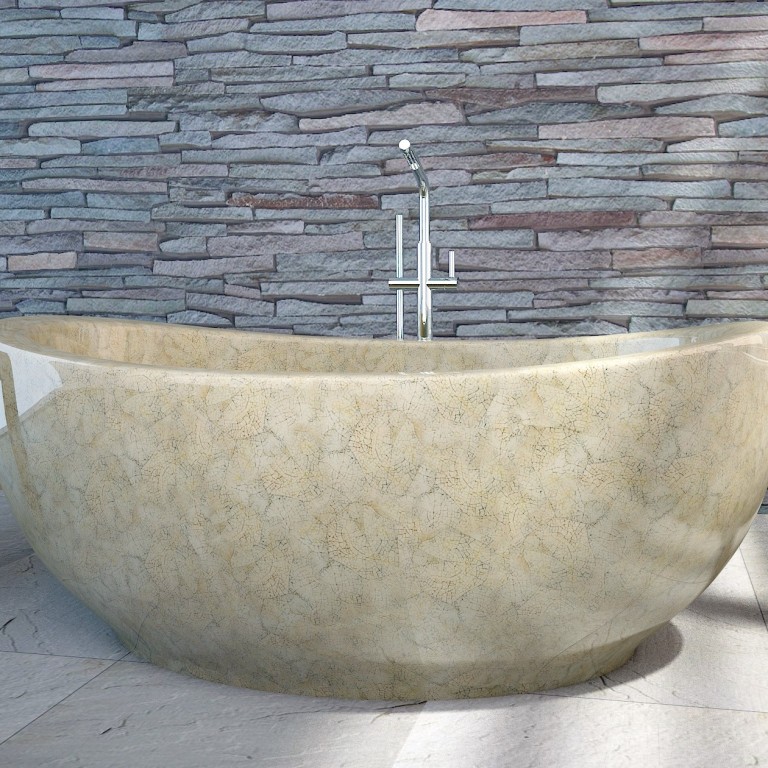 Sustainable design: wealth of waste upcycled, recycled to make furniture with a conscience
Waste materials such as bone, skins, feathers, shells, automotive parts, PET bottles, coffee grounds – you name it, furniture designers find uses for them
From a superyacht bathroom to supermarket shelves, their creations have found growing acceptance as consumers understand the pressures on our planet
Designers are used to fielding unusual requests from their clients. So Lay Koon Tan wasn't particularly fazed when the brief called for a bathtub inlaid with egg shells, inside and out.
Malaysian-born Tan and Dutchman Paul Hoeve are in the business of transforming waste into beautiful interiors finishes, so they were able to deliver.
The business partners founded their Swiss-based company, Nature Squared, in 2000, and now, with sustainability firmly in the global spotlight, pioneering initiatives such as theirs are celebrated in international design circles. The eggshell bathtub, which sits on a base of upcycled cow bone, was for an 88-metre superyacht designed by Australia's Sam Sorgiovanni.
Tan and Hoeve use humble natural materials such as shells, seeds, bark, skins, feathers and bone, inlaid into surfaces using traditional techniques, to create bespoke furniture and fittings for high-end homes and hotels worldwide. But it is their first residential collection, a collaboration with British designer Bethan Gray, that has put Nature Squared on the map.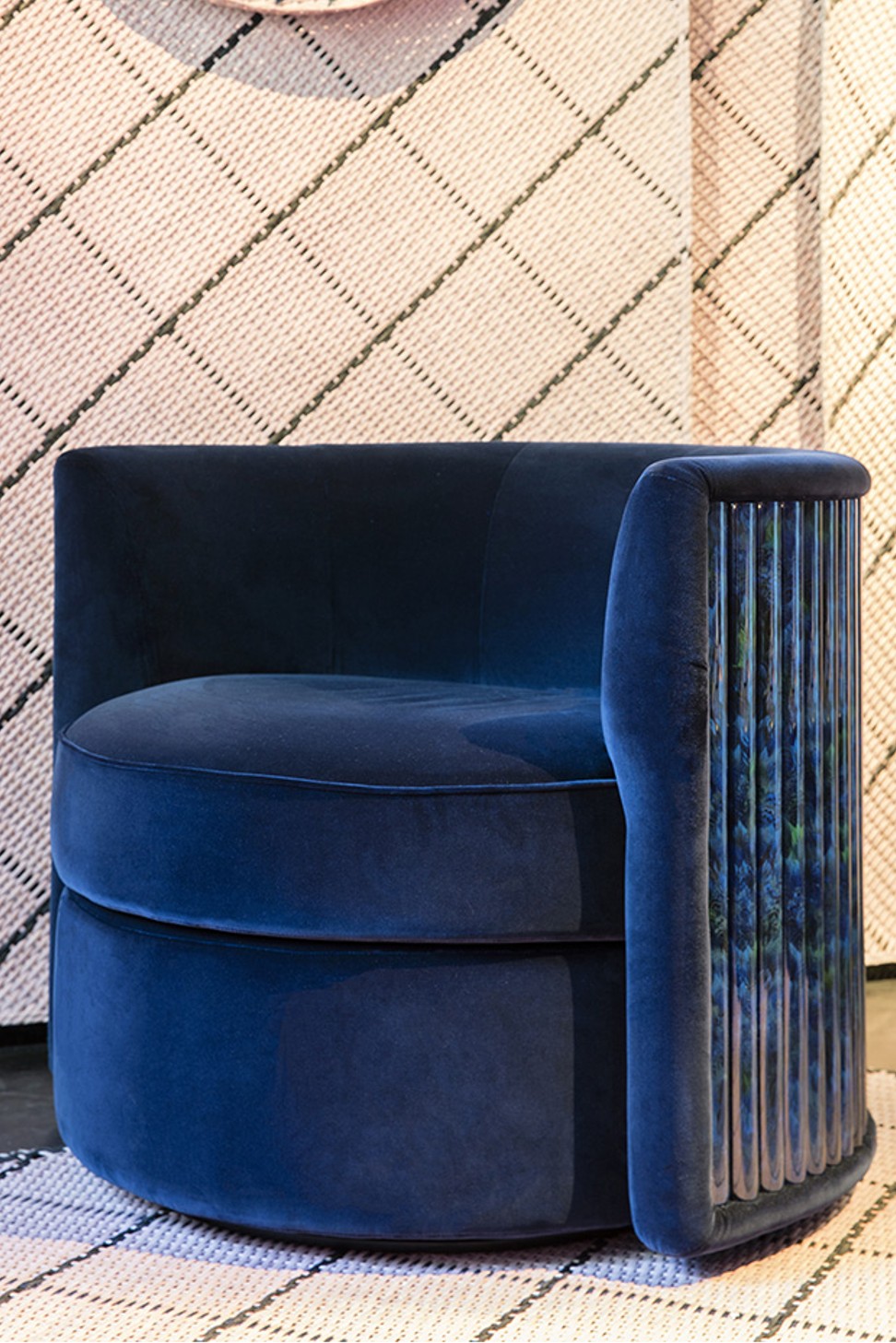 Called Exploring Eden, and unveiled at Salone del Mobile in Milan, Italy, in April, the collection of furniture and accessories includes a capiz (oyster) shell shelving unit, jade and pheasant feather lounge chairs, and pearl shell cylindrical stools, with the hero items being a scallop shell desk and a coffee table inlaid with pen shell (also known as Pinnidae, and from a large saltwater clam).
Tan and Hoeve source their raw materials from agricultural and fishing villages – mostly in the Philippines – where they are by-products of local industry.
Shellfish casings, for example, would usually be thrown away after their meat is removed. Nature Squared buys them, which "monetises something that otherwise doesn't have value", Tan says, and uses local artisans to repurpose them in its production base in Cebu, which employs 180 people.
They will not kill to source materials – bones, feathers and skins are only taken from animals that have already been slaughtered for consumption. And none of their production is outsourced.
"Targeting the top-end market, the only way we can deliver quality is to control everything ourselves. That fits nicely with our desire to have complete traceability with our materials, and to start with the community where the materials come from," says Tan.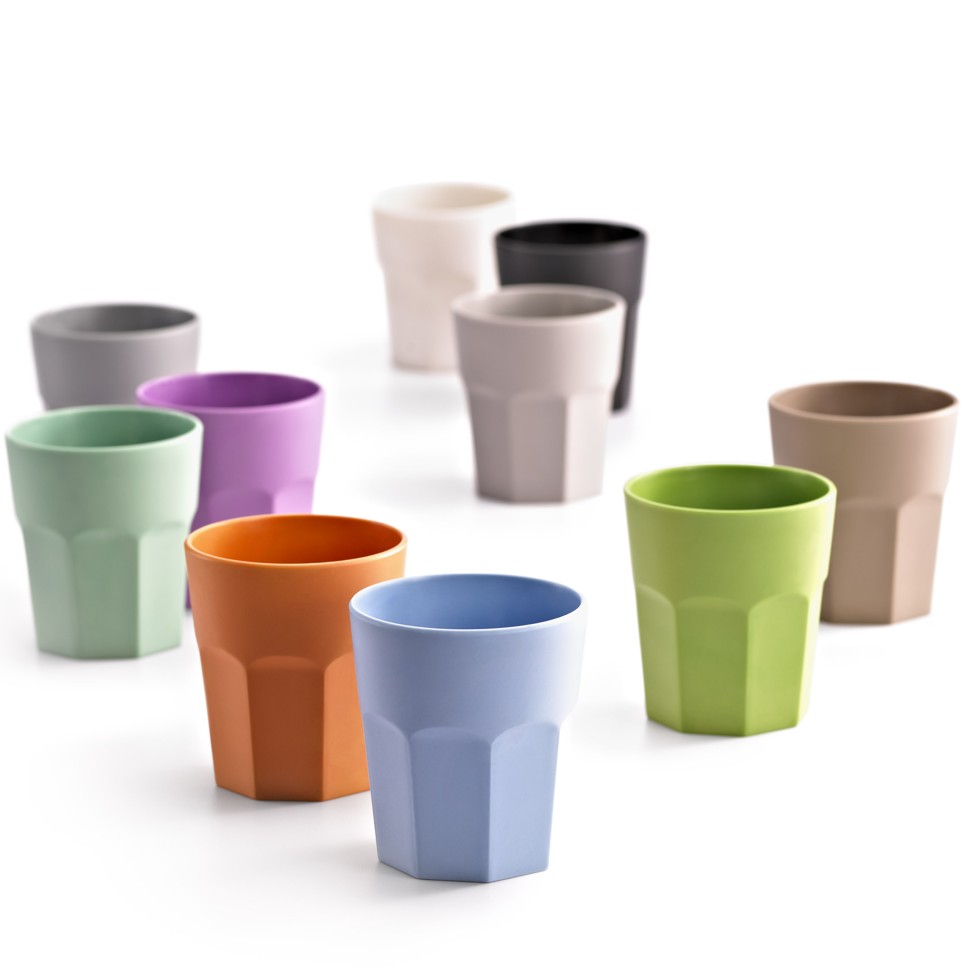 Although sustainability is their primary objective, Tan concedes that some resins used in the inlay process are petrochemical-derived. "We can't always use water-based glues," she says. "There are always compromises in life, and Paul and I are convinced we strike the best balance we can."
They have two in-house organic chemists in Cebu looking for natural solutions.
Nature Squared's Exploring Eden collection, available at Lane Crawford from the end of September, includes pieces in pearl shell, abalone and jade, "all materials chosen to resonate with local culture and history …" says Tan.
Also in Hong Kong, engineer-turned designer Lam Cheong Leung (better known as C.L. Lam) and his team at Green & Associates have been working for years to find a useful purpose for discarded waste. In 2009 the technology company started its brand OOObject, making beautiful household and hospitality items from debris such as recycled glass, industrial waste and spent coffee grounds.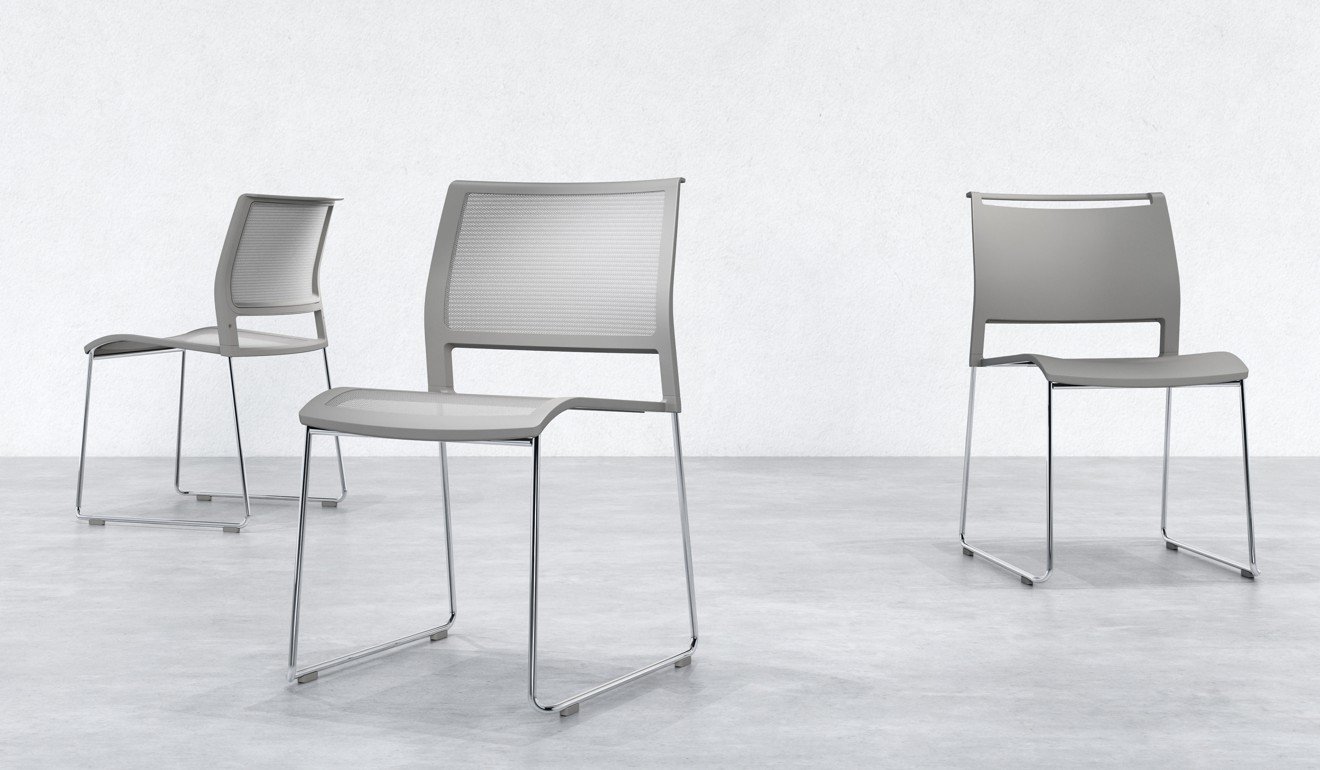 Its products include a Revive drink tumbler made from glass recovered from factories in China mixed with a biodegradable compound. OOObject's Conjoin tea cup set, made mostly from recycled ceramic powder, a manufacturing by-product, helps clean up the ceramics industry.
Coffee grounds collected from restaurants and cafes go into the making of OOObject's Buoy brush for cleaning home espresso machines, while coal ash from Chinese power plants is turned into stylish Lute plant pots. Then there is the brand's Pyramid hanger, made from carpets collected from exhibition fairgrounds and used PET drink bottles, and the Lotus nail brush, made from beech wood offcuts and pig bristles collected from a meat cannery.
OOObject's products are sold at WWF Panda Shop, Yata supermarkets and Hong Kong Design Gallery.
Another innovator in the sustainability space is young German designer Alexander Schul. His collection – a chair, lamp and side table made entirely from recycled plastic – won the 2019 Ro Plastic Prize, a global competition initiated by Italian gallerist Rossana Orlandi as a solution to the problem of plastic pollution.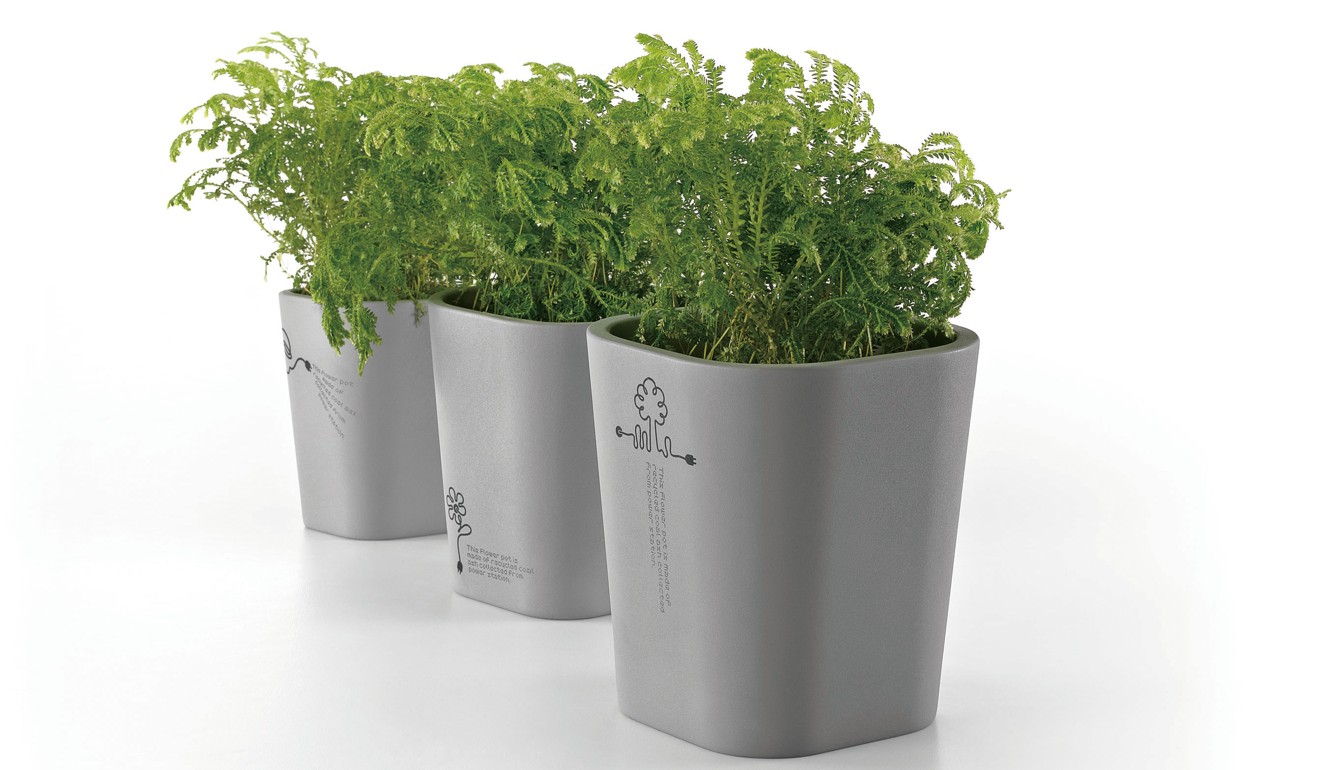 Part of the Guiltlessplastic movement, the competition challenges designers to create "future-proof objects with a material that needs to find new life instead of ending up in our oceans".
Schul's collection, called substantial, was his graduation project, completed in 2018.
Starting with high impact polystyrene from Smile Plastics, a UK materials design and manufacturing house that makes handcrafted panels from various waste materials, Schul developed his own process for moulding and reshaping the material into lightweight, stable, long-lasting furniture.
First he designed a chair to exploit the full static potential of the material. "The chair is made from less than a square metre of 6mm-thick sheet material, is demountable and can carry up to 160kg," Schul says. The reflective detail visible in each piece comes from the aluminium tops of yogurt pots.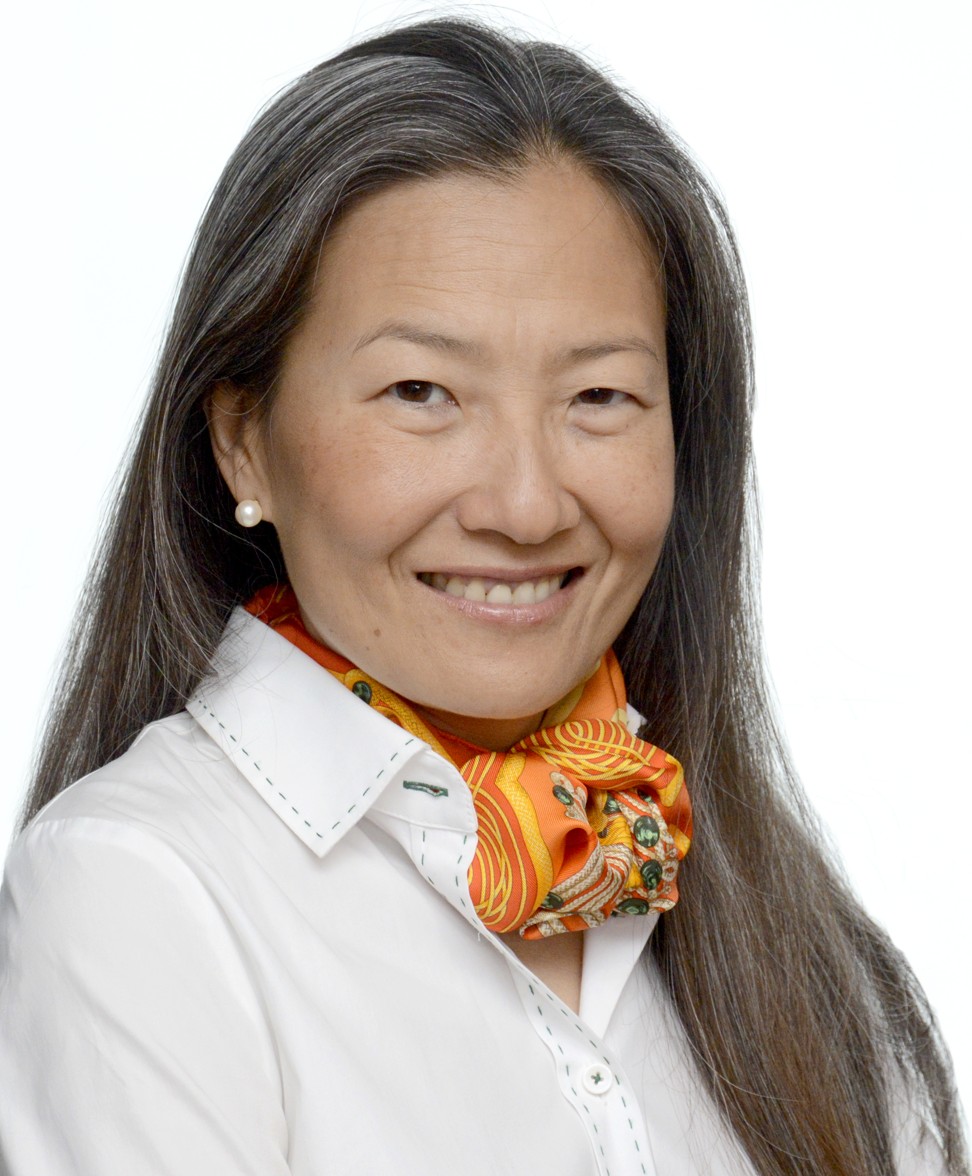 The side table is based on the same moulds and design principles as the chair, showing the transferability of the manufacturing process to other objects, while the lampshade is press moulded, a process in which shape is achieved by using heat and pressure.
Schul says: "The lamp is designed to showcase the good visual qualities of the material through illuminating the reflective details, literally highlighting the beautiful possibilities that lie within recycling material." He is now hoping to find a brand partner to put the collection into production.
Already in production, and to appear in late August in its latest iteration, is the Tipo chair from Japan. Designed by international award-winning Taku Kumazawa for furniture maker Axona-Aichi, the stackable chair for commercial use is manufactured from 100 per cent recycled materials and is fully recyclable.
Mark Swanton, founder of KE-ZU, Australia and Southeast Asian distributor, says the chair frame is composed of reject automotive parts (sourced from a Toyota factory nearby) and takeaway food containers; the mesh seat is made from PET drink bottles; and all the steel used is recycled.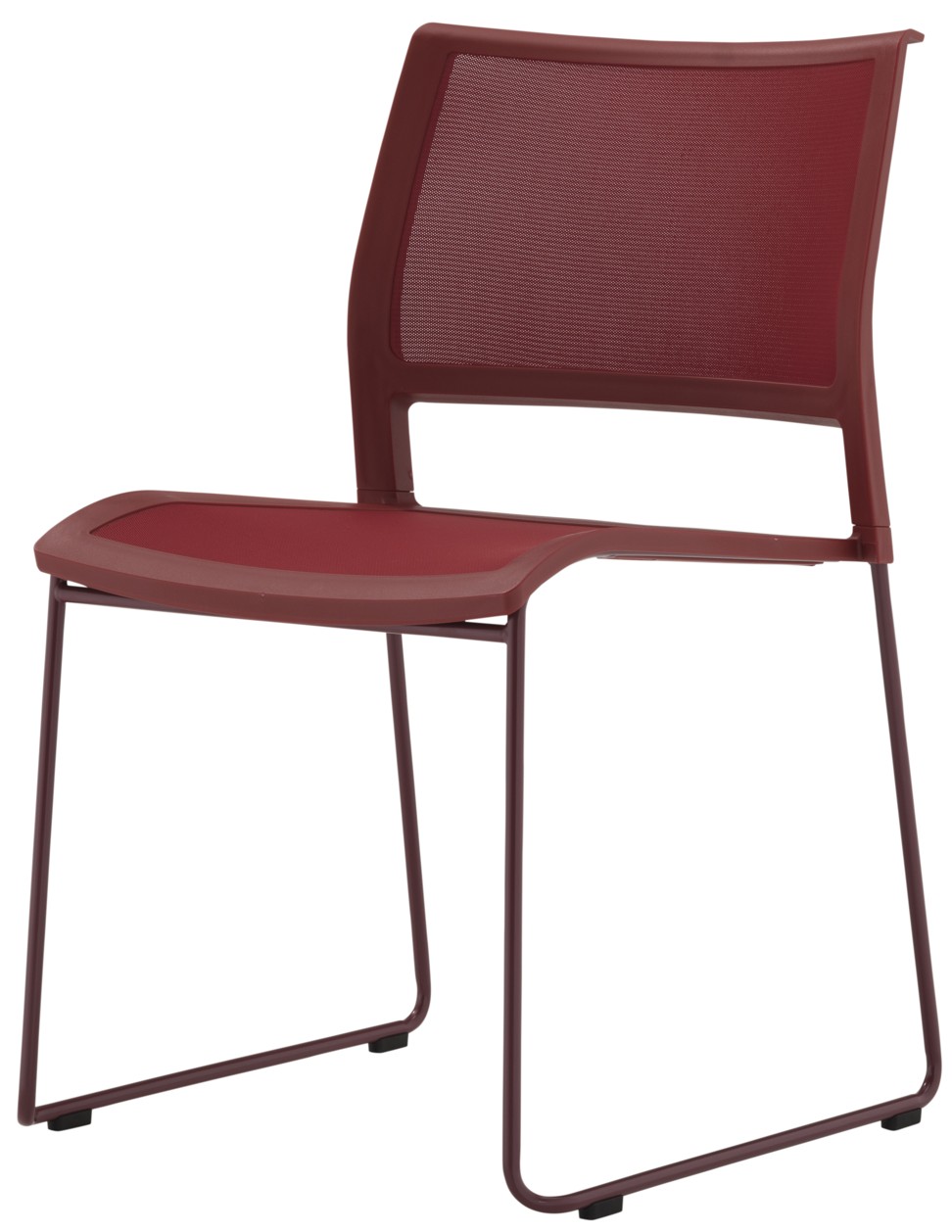 "The result is a sustainable, high-density, multipurpose mesh chair that is ultralight (3.5kg), supremely comfortable, and able to be stacked up to 40 high," he said. The Tipo chair is sold globally, including in Hong Kong and the Chinese mainland.
As one of the early innovators in this space, Tan believes it's about time the detritus of human habitation got the respect it deserves. "People are more inclined to do the right thing if they find it attractive, and something they can relate to," she says.
In terms of upcycling waste, she says: "We've been doing this for 20 years, and for 18 years it was unfashionable. For the last two years, everyone's been talking about it, because now it's [considered] sufficiently important, given the challenges we all face."