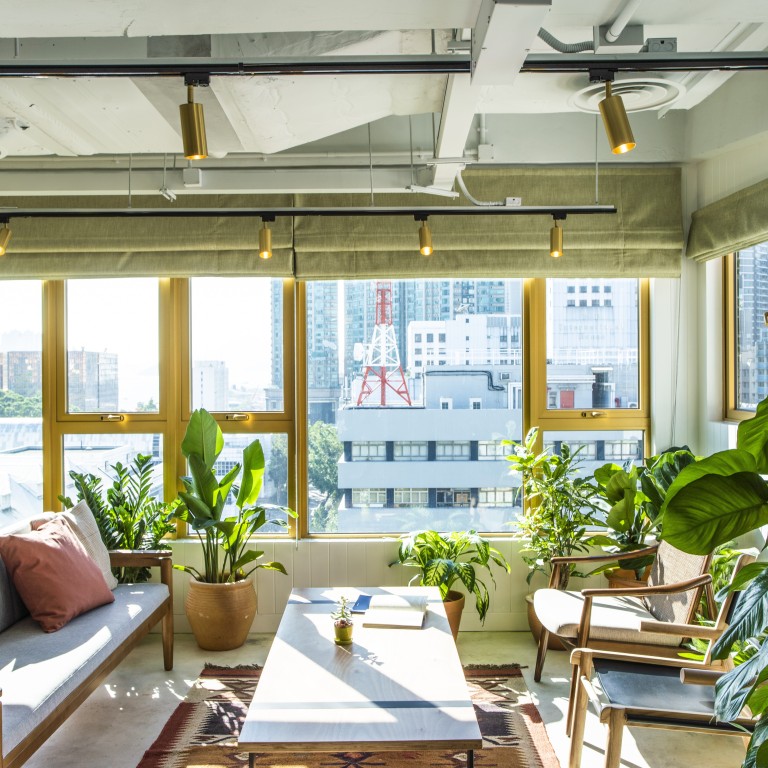 The future of co-living: how communal shared housing and spaces will change post-Covid-19 – think working from home and more cleaning
Expect adjustments at Hong Kong co-living spaces Dash Coliving, Hmlet and The Nate to align with residents' new expectations, their operators say
Industry analysts are optimistic about the co-living sector, expecting sustained demand in leading cities in Greater China and Asia
Hong Kong property developer Alex Bent didn't mean to venture into the co-living sector. But when he realised tenants at his serviced apartments weren't using their kitchens much, it made sense to design some flats without them.
So at The Nate, a hybrid boutique development in Tsim Sha Tsui, Bent and Dinesh Nihalchand, his co-founder at real estate developer District 15, provided just six kitchens for 71 studio flats. Each flat has a bathroom, but laundry and living areas are shared.
The pair, and other providers of communal living facilities in Hong Kong, say their buildings have enjoyed high occupancy, even during last year's anti-government protests. But will the coronavirus cause people to rethink cohabiting with strangers as less of a convenience and more of people being too close for comfort?
Like co-working, co-living offers a solution to prohibitively high rents in Hong Kong and gives the leasing flexibility important to workers trying to make it in the gig economy. In a report last year, property firm Knight Frank ranked Hong Kong fourth in Asia on a list of cities most likely to succeed in the growth of co-living, after Beijing, Tokyo and Shanghai.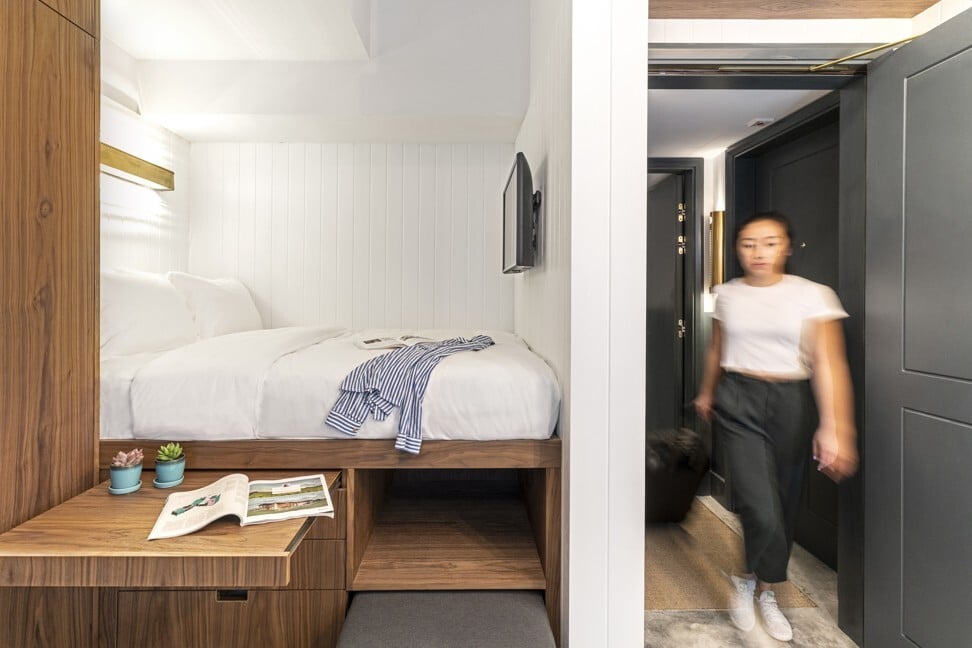 The sharing economy, however, has not materialised in the way people envisaged five or six years ago, Bent says.
"There's been a bit of a pushback in what [people are] willing to share," he says. "Living accommodation is not like co-working. When you live in your home, everyone wants their own private space."
For Sui Yen Tan, whose apartment at The Nate measures 251 square feet (23 square metres), private space means having her own bathroom and work desk. Tan shares the communal kitchen and describes cooking and eating with other residents as her favourite part of co-living. With outside socialising limited because of the coronavirus, residents meet up for drinks or yoga on the rooftop, or an evening of
board games
.
"I didn't expect to be spending so much time in the communal areas," she says. "That's turned out to be the best part."
Even though many have grown accustomed to social distancing, science agrees with Bent's assertion that humans are hard-wired to crave connection, and he doesn't believe the virus will do much to dampen demand for co-living.
"I don't think it's a problem of communality, it's a problem of cleanliness," he says. "Residents need to have confidence that the place is kept clean."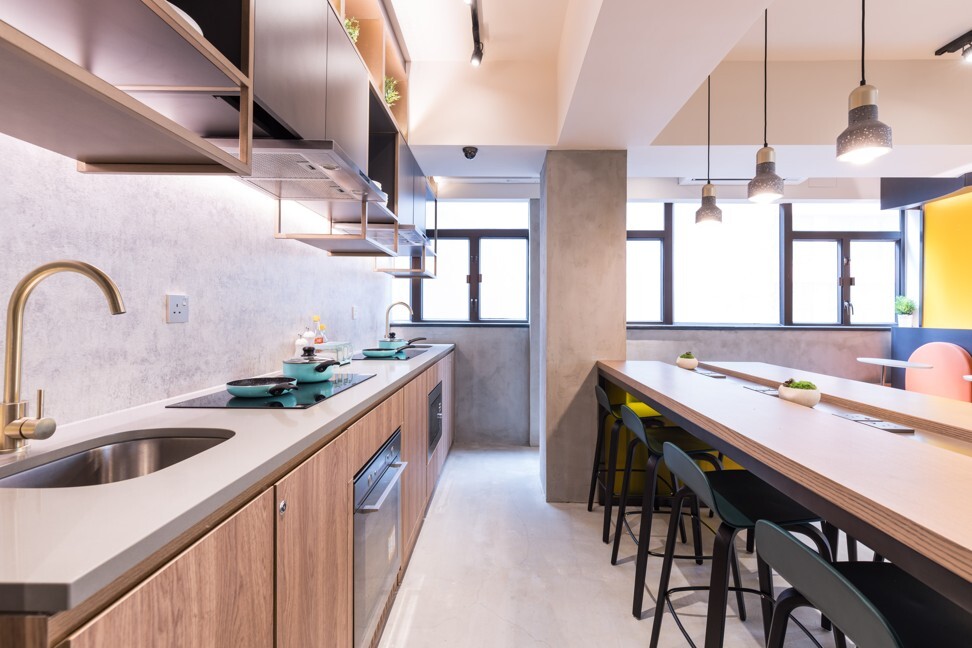 At The Nate, common areas are sanitised "constantly", and the studios cleaned three times a week, Bent says. Measures implemented since the coronavirus outbreak began include all employees and outside contractors being required to check their temperature before starting work, and residents to disclose any plans for travel outside Hong Kong.
At Dash Living – an umbrella brand of co-living units, suites and a hotel – co-living has retained the highest occupancy rate through Hong Kong's turbulent recent times, founder Aaron Lee Ho-ting says.
The 51 units at Dash Coliving Carnarvon in Tsim Sha Tsui, which opened in mid-2019, are still 100 per cent occupied, Lee says, and he is expecting the same soon for the new 36-unit Dash Coliving Argyle in Mong Kok, which opened at the start of April.
He calls Dash Living "one big serviced living community" where the sharing economy extends from Dash buildings to other external businesses. For example, a resident living in Tsim Sha Tsui, but working in the Central business area, gets free access to a partner gym close to their office.
"Our model of co-living is sharing by choice," Lee says. "You can have your own kitchen if you want. You can use our laundry or laundry service, or choose not to. You don't have to go to the gyms; you don't have to mingle."
It all comes down to prices. "If you're on a HK$10,000 [US$1,300] to HK$15,000 housing budget, you have to get rid of something, and that would be the kitchen," he says. "For HK$18,000 to HK$25,000, you might want your own kitchen, but would share your working area."
Lee stresses that although Dash Living is not running a co-working space, a lot of business collaboration takes place, alongside meet-ups in communal living areas – which are still happening, in smaller groups.
"We have noticed tenants utilising spaces to do video conferences and live broadcasts, and have heard of some collaborations brewing to form their own start-ups since we launched," he says.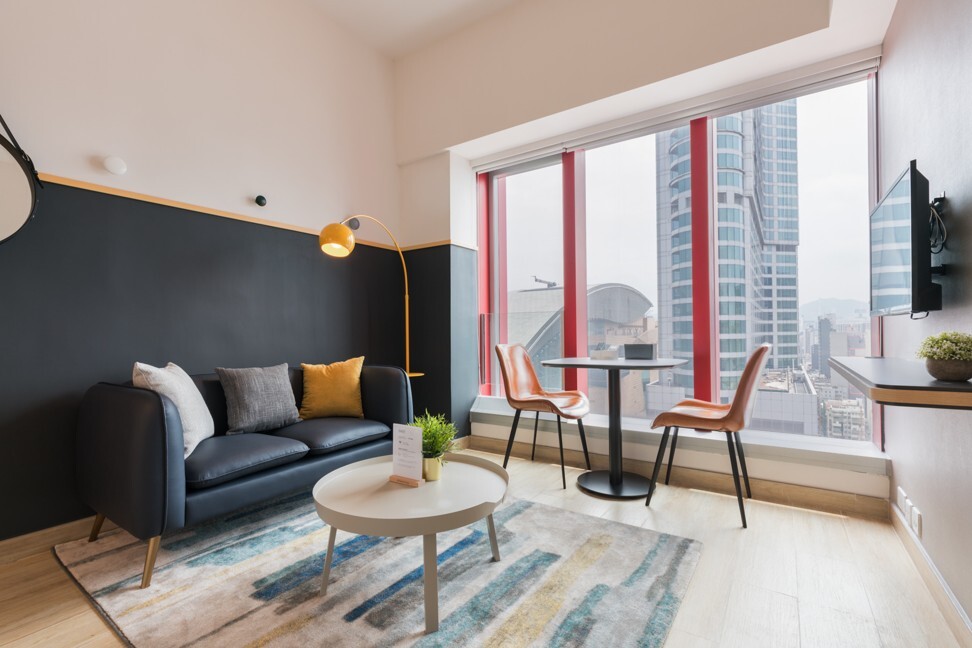 Lee believes more people than before will want to work from home after the virus has passed, and all future Dash Living premises will meet those needs, he says.
Hmlet is a Singaporean co-living provider with 250 rooms under management in Hong Kong. Under its model, residents can choose to rent just a bedroom in a unit together with up to three other people, or have a whole unit to themselves, with or without a kitchen.
Daniel Mark, a teacher from South Africa, has lived in Hmlet High Street in Sai Ying Pun since December. He shares a two-bedroom unit with someone matched with him by the Hmlet team. They share the unit's bathroom and kitchenette, and there are no communal facilities in their building.
Mark says he has had no issues since moving in with a stranger, whom he now considers a friend. If Mark is cooking, he'll make enough for his flatmate, who returns the favour. There are no disputes about bathroom time or having a friend over (when social distancing rules allow), and he finds his current living arrangements "a positive experience".
Sharing with another person during the pandemic hasn't worried Mark unduly, but he's also heartened that Hmlet keeps residents well informed and communicates options in the event of possible scenarios, such as a resident losing income or needing to be quarantined.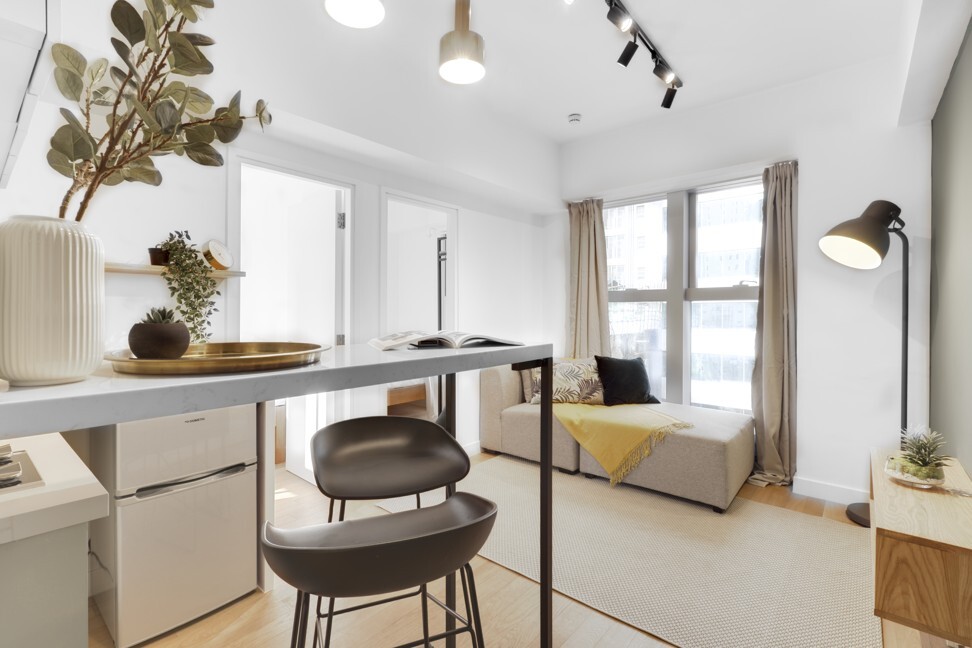 Hmlet landed in Hong Kong in July 2018 through the acquisition of co-living start-up We R Urban and opened its latest and largest property, Hmlet Zion Apartments, in Mong Kok in November. Currently operating more than 100 properties in Singapore, Hong Kong, Sydney and Tokyo, the company had announced plans to grow its portfolio in Asia to 5,000 rooms – including 1,000 in Hong Kong – by the end of 2020. It remains fundamentally on track with those plans, says Rajive Keshup, the company's senior vice-president of growth.
Keshup is expecting the coronavirus to spark a second wave of the
gig economy
– which first saw a big rise after the 2008 financial crisis – and says all future Hmlet properties will accommodate associated co-working needs.
"Creating a meaningful separation between home and work, while never having to leave your building, is going to be critical," he says. "We'll be designing a lot more work-from-home spaces in our buildings [and] giving members more choice to customise the design of their spaces to best suit their lifestyle, including desks in individual units as well as other furniture as needed."
Apart from doubling down on cleaning and sanitising, Hmlet has contingency plans in place should a resident test positive for Covid-19, including rehousing flatmates so they can self-isolate for 14 days.
Industry analysts share optimism for the co-living sector.
The pandemic will have a short-lived impact on co-living spaces once travel and immigration restrictions are lifted, says Martin Wong, associate director of research and consultancy for Greater China at Knight Frank.
Worries about hygiene and physical contact will also be temporary, he says.
"Over the longer term, there will be a sustained demand for co-living spaces in the leading cities in Greater China and Asia as housing prices remain high relative to people's income," he says.
Demand will dampen for rooms where a bathroom must be shared, says Alvin Leung, director of Hong Kong Capital Markets at property firm JLL, but "the co-living sector has thus far been quite successful in Hong Kong, and is still attracting operators locally and from overseas".
Data analyst Adriel Tjokrosaputro arrived in Hong Kong from Indonesia in 2018 and lived for a year in a co-living space in Mong Kok. He chose the cheapest option – a "glorified
capsule
" measuring roughly two cubic metres, he says – with two toilets, two showers, a kitchen and one laundry machine shared by 11 people.
There were difficulties, he says. Although schedules were drawn up for use of the laundry machine, not everyone followed them. By consensus, the kitchen was rarely used because cooking smells permeated the whole floor. And it wasn't as social as he'd imagined because the mainly student occupants tended to keep to themselves.
Tjokrosaputro is now renting a room in a private apartment near his workplace in Quarry Bay. While his co-living experience served a purpose at the time, the coronavirus "would be a deal-breaker" today because such confined living quarters would be too close for comfort in a pandemic, he says.