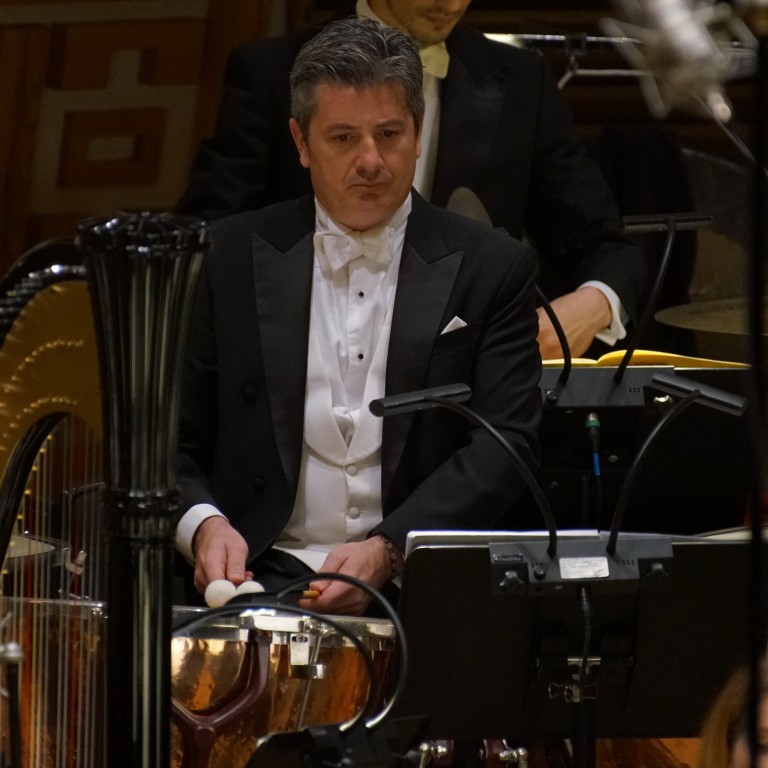 Social distancing score helps Hong Kong Philharmonic musician put Covid-19 lockdown to good use
HK Phil principal timpanist James Boznos' piece called Social Distancing will be performed at the Cultural Centre in Tsim Sha Tsui on Saturday
The 11-minute composition will open the Phil's first concert since around 100 of its members were quarantined in October after one tested positive for Covid-19
James Boznos and his wife, flute and piccolo player Linda Stuckey, were in quarantine last month after a fellow musician in the Hong Kong Philharmonic Orchestra tested positive for Covid-19. Boznos quit smoking during the two-week confinement, but that wasn't his only accomplishment during the abnormal amount of downtime in 2020 for performing artists.
On Saturday at the Cultural Centre in Tsim Sha Tsui, the orchestra will premiere one of several pieces he composed earlier this year when all concerts were cancelled. The 11-minute piece, aptly named Social Distancing, will open HK Phil's first concert since around 100 of its members were quarantined in Penny's Bay in October and subsequently cleared of coronavirus.
Boznos joined the HK Phil in 2000 and is its principal timpanist. He has always found time to write music besides his busy rehearsing, performing and teaching schedules.
The 51-year-old father of three says his composing schedule changed little despite the fact that the entire family were working and being schooled at home, because he has always preferred the quiet hours between midnight and 4am.
Writing a piece of music when the entire world is engulfed in a state of desolation gave rise to an experimental approach that reflects both isolation and the idea of contagion, he says.
"Never before did I have the idea of giving the audience totally different experiences depending on where they are sitting. It has to do with how everyone experiences the Covid pandemic very differently. It's not just a matter of thinking what note comes after each but how they spin three-dimensionally and bounce off each other," he explains.
Partly inspired by scenes in Europe where people in buildings surrounding a central square sang from their windows to support front-line medical workers, he wrote the score for 10 antiphonal soloists carefully positioned in different parts of the venue. They play on their own, dissonantly, with only brief moments of coming together in sections such as the one titled "contagious".
"It is not a piece of happy music. It is intense. It is dark. It is emotionally charged. These are dark times and for me, it is important for artists to comment on what is happening," he says.
But at another level, he wrote this to combat the sense of hopelessness that prevails in Hong Kong and elsewhere, specifically among young artists who may no longer have the option of following well-trodden career paths because top orchestras and music institutions are not going to be hiring for a long time.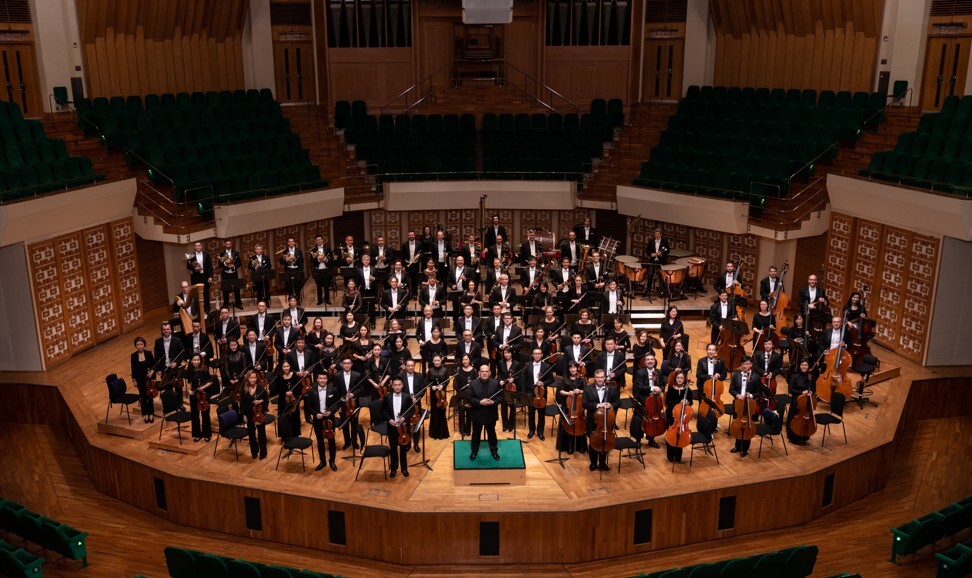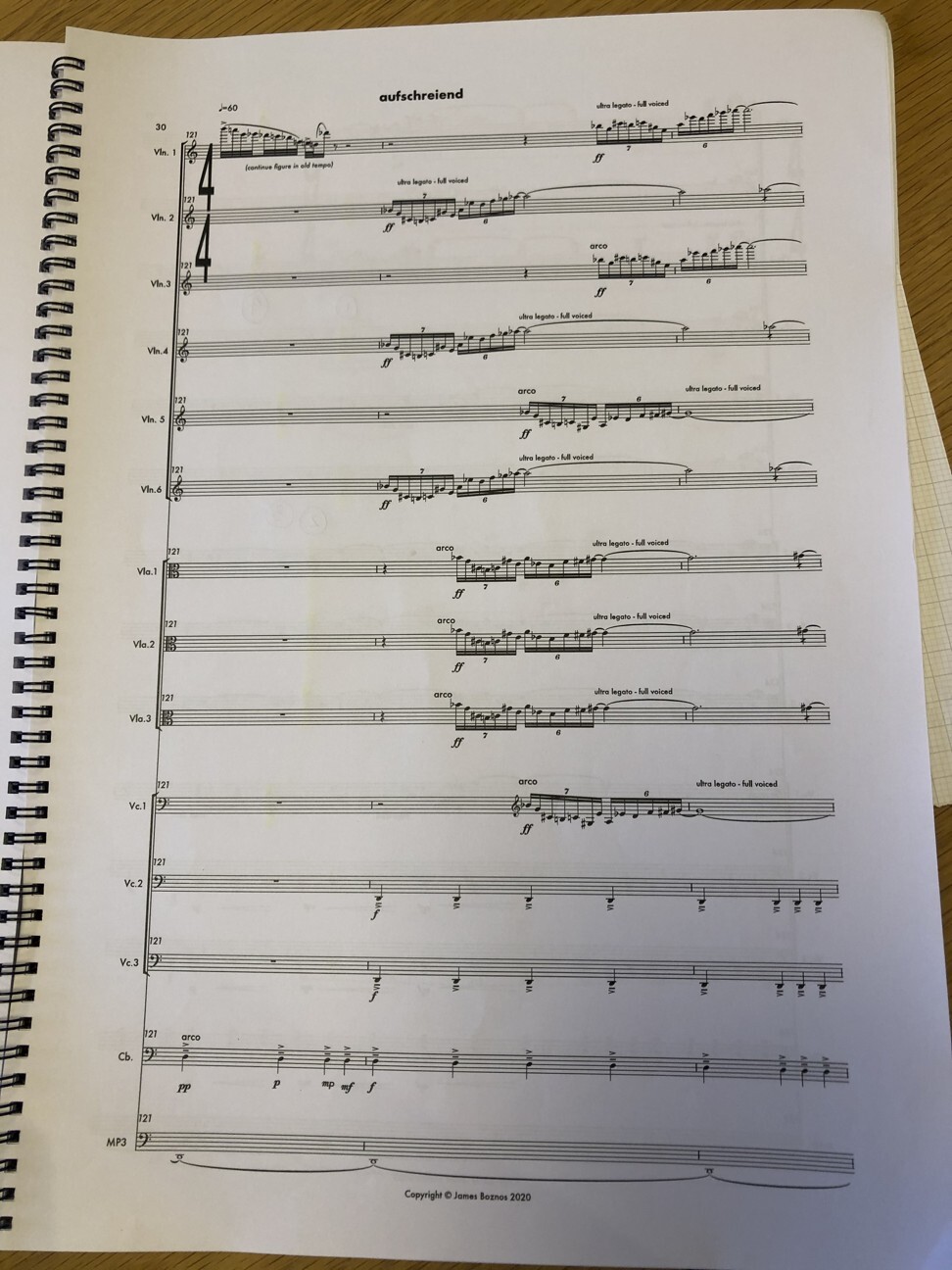 "They will have to explore new models of survival. Online videos and crowdfunding will be a way forward, which is why the score for Social Distancing is freely available online. I really hope that musicians can book jobs through this, and maybe film themselves performing this against an iconic backdrop in their own cities," he says.
The first version of the work to be performed in Hong Kong was filmed at the spiral staircase in Tai Kwun Contemporary in Central with the 10 players standing at different levels to provide an almost sculptural quality to the sounds. (Tai Kwun and HK Phil will release the full video in December online.)
The second version is the one that the audience will hear on Saturday. This will only feature string instruments so that musicians can keep their masks on in the concert hall, Boznos points out.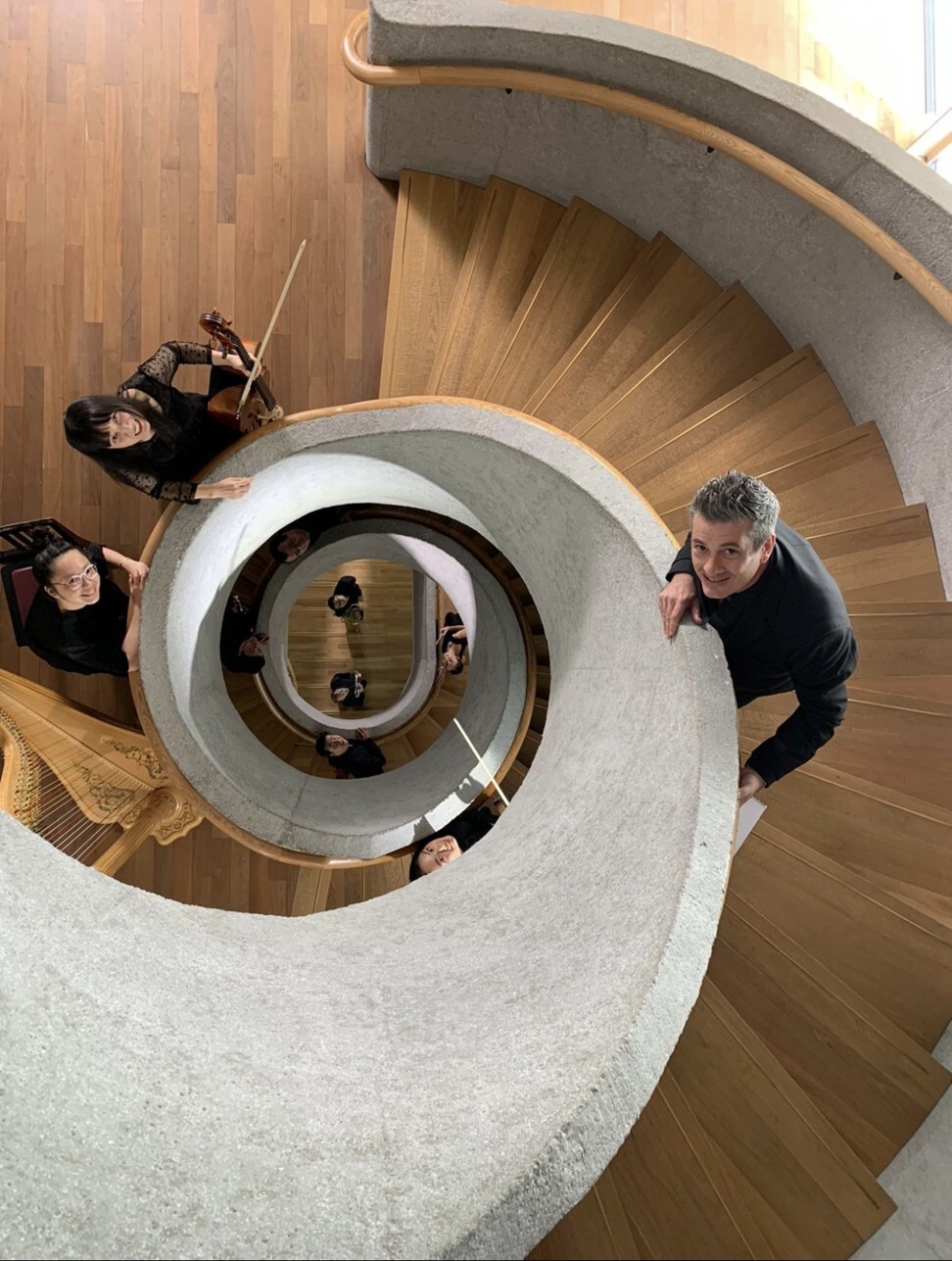 In both versions, an mp3 will provide a background drone (a low D note) representing the virus itself.
"When you hear one note for more than ten minutes, your attention floats away and comes back to it again. This is how I think of Covid. It is now in our daily lives constantly. Even if you forget about it for a while," he says.
Social Distancing will be performed as part of "A Musical Journey to America", a Hong Kong Philharmonic Orchestra concert conducted by Lio Kuokman on Saturday at 3pm, at the Hong Kong Cultural Centre Concert Hall. Tickets are HK$200 each and available from Urbtix.