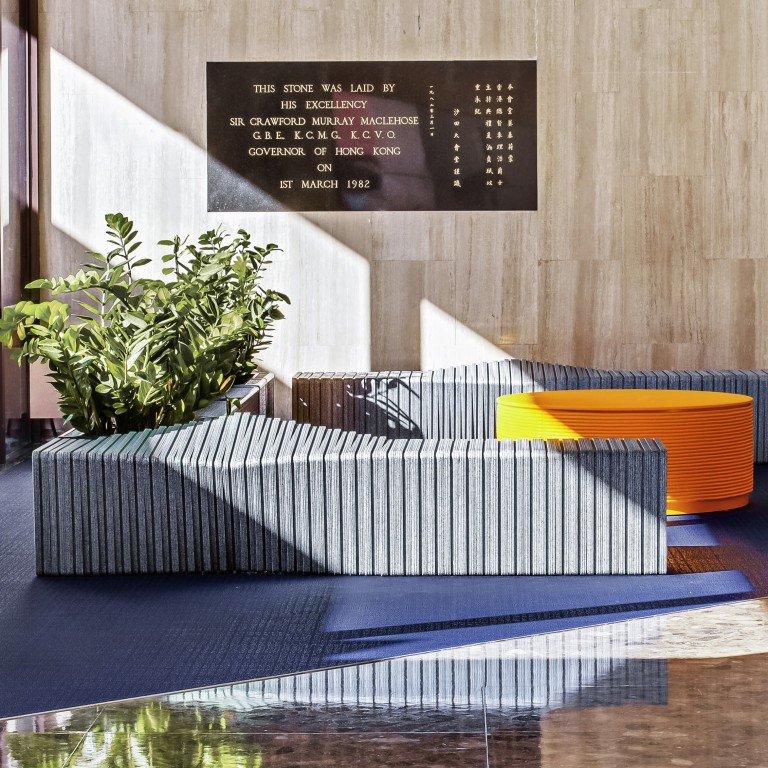 Pair upcycle plastic waste into benches for public in a Hong Kong town, showing the potential of a circular economy to reduce marine pollution
Using waste found in the Shing Mun River and elsewhere in Hong Kong, designers Howard Chung and Irene Cheng created 12 benches for Sha Tin Town Hall
They wanted to show that, rather than downcycling single-use plastics by making garbage bags that can't be recycled again, they can make recyclable objects
Old milk containers, juice jugs and toy cups are not the type of products usually associated with high-concept furniture, but two designers in Hong Kong have taken these and other items and upcycled them into stylish pieces of public furniture.
Tasked with creating a collection of 12 benches for the town hall in Sha Tin, in Hong Kong's New Territories, the co-founders and design principals of HIR Studio, Howard Chung and Irene Cheng, turned to the Shing Mun River for inspiration.
"The Shing Mun River is the soul of Sha Tin," says Chung, who grew up in the area. "But even though the river quality has improved over the years it is still quite polluted, so we really wanted to do something to help alleviate the problem of plastic pollution in the water."
An estimated eight million tonnes of plastic contaminate the world's oceans every year, adding to the 180 million tonnes currently swirling at sea. Ninety per cent of the plastic enters the oceans via just 10 rivers, including the Yangtze, the Indus, Yellow River, Hai River, the Ganges, Pearl River and the Mekong, in Asia (in that order).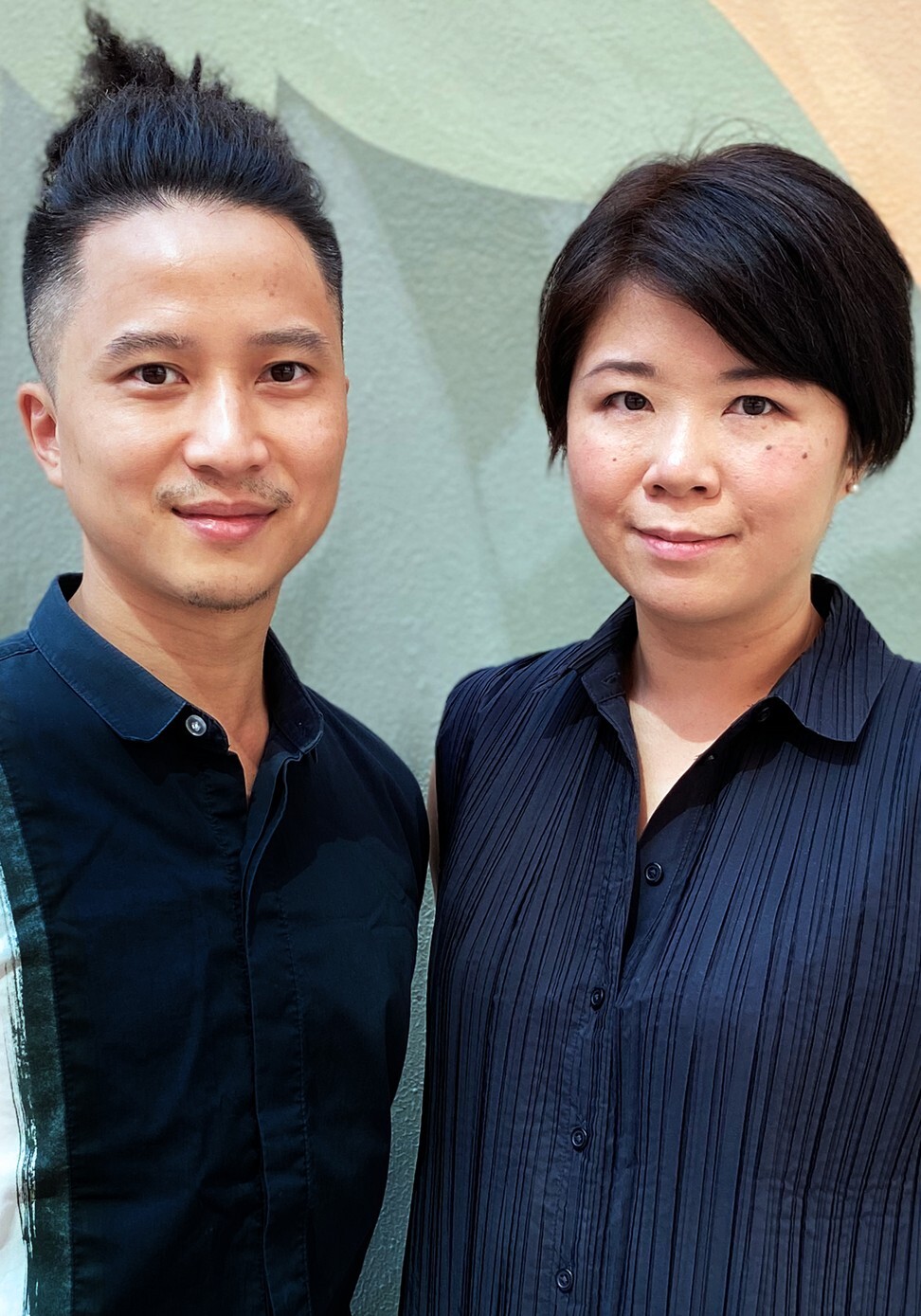 In Sha Tin alone, more than 17.5 million pieces of plastic are dumped in the Shing Mun each year. With so much plastic in circulation, and overwhelming evidence of the damage it causes to the environment, you might think that there would be more encouragement to recycle, but Chung and Cheng faced an uphill task.
"Plastic consumption is still high in Hong Kong. I think because this is an efficient city and everyone wants convenience, which leads to a lot of wasteful packaging," says Cheng. "But the recycling is still very primitive."
It's not just a lack of recycling bins and collection points (just 13 per cent of Hong Kong's plastics are repurposed), but the quality of the plastics that can be recycled. "We only have one category of plastic recycling bin in Hong Kong. but in fact there are seven types of plastics that can be recycled.
"In more advanced countries, such as the Netherlands, people can categorise their plastics, which helps to improve the quality of recyclable material."
The pair tracked down a supply of recyclable HDPE plastics, with the help of NGOs Waste No Mall and the Sha Tin Recycling Centre, which collects from public housing estates and green stations every week, Chung and Cheng set to upcycling.
"Another interesting thing we found out during our research was that when plastic is recycled here it's often downcycled – turned into garbage bags or containers – which are easier to produce but can't be recycled again. Rather than making it sustainable forever, this only extends the plastic by one life cycle," explains Cheng. "We wanted to upcycle our benches, to create something that could be recycled again and again."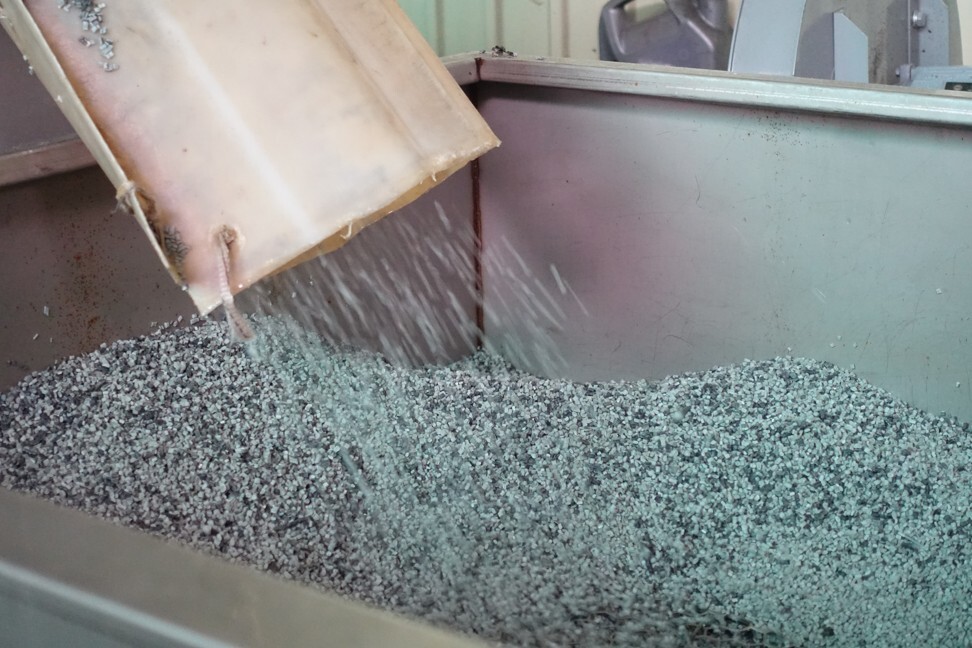 That involved taking 20,000 items of salvaged plastic, weighing roughly half a tonne, and mixing them with virgin plastic, a necessity to ensure the furniture is strong enough to withstand public use. "Even though we looked for the best recycling factory in Hong Kong, the quality wasn't high-grade enough. There were still too many impurities in the composition," says Chung.
While recycled pieces such as the Chubby Chair by Dutch designer Dirk Vander Kooij are on display at The Design Museum in London, it's still rare to see recycled plastic in Hong Kong.
There aren't any factories in Hong Kong good enough for furniture production, the pair say. They eventually had to turn to a factory in Foshan, in Guangdong province, southern China, to produce the benches. There, the Sha Tin plastic was first shredded, then melted, and then squeezed from a gigantic pipe like toothpaste, before being pulverised into pellets and set in moulds.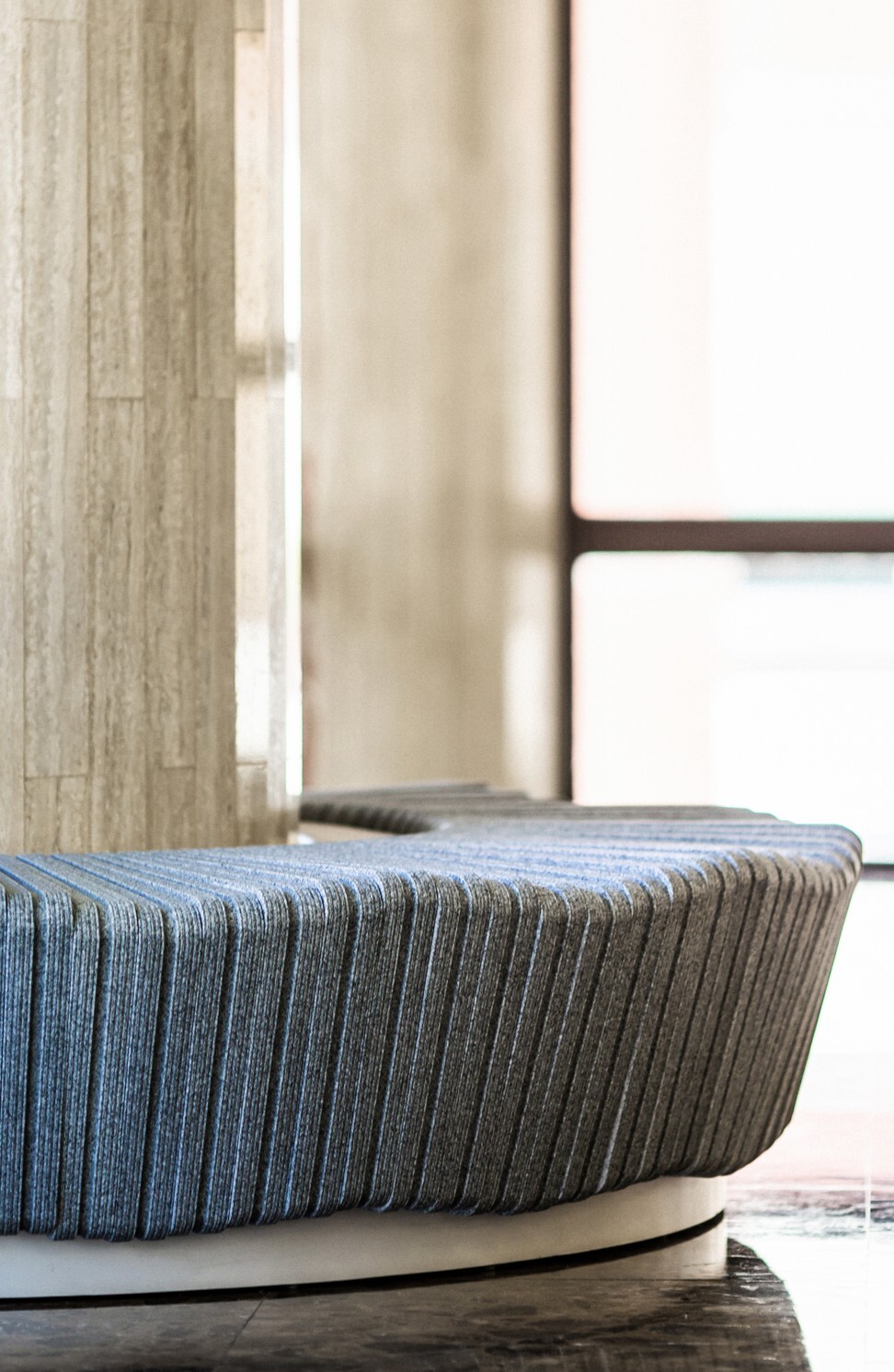 Inspired by the Shing Mun River's serpentine form, each moulded piece was then threaded together on metal rods to create soft flowing forms which were wrapped around pillars, plant holders and tables inside Sha Tin Town Hall. Ripples allow for slightly more private spaces along the benches and, like the riverside, they have become somewhere that people can comfortably gather.
While Chung and Cheng have put only a small dent in the volume of plastic waste Hong Kong generates with their repurposing of single-use plastics and advocacy of a circular economy they have shown that change is possible.
"People are curious about how we made the benches, and when they find out that they came from recycled plastic they are very impressed," says Cheng. "We're hoping this will encourage them to do more recycling."