Art
Get more with myNEWS
A personalised news feed of stories that matter to you
Learn more
Why's he selling US$39.99 still lifes from a Los Angeles fruit cart when his paintings go for thousands?
Francisco Palomares converted a fruit cart into a mobile gallery/studio with the main aim of disrupting the customary distance between art maker and art buyer
On the streets of Los Angeles every 30 minutes, he completes and sells an affordable oil painting in an act that doubles as performance art
From a distance, Francisco Palomares' fruit cart looks like all the other ones that dot Los Angeles, complete with a multicoloured patio umbrella to shield him from the sun.
But step closer and, instead of a man expertly slicing through mangoes or watermelons, you'll find an artist leaning before a tiny easel, a brush and palette in his hands. Palomares' work sells for thousands of dollars in galleries, but on the corner of 3rd Street and Traction Avenue in downtown LA, he pumps out still lifes for US$39.99 a pop.
It's all part of "Francisco's Fresh Paintings", an art installation and mobile gallery/studio through which Palomares aims to disrupt the customary distance between art maker and art buyer, mediated by a dealer. Every 30 minutes, he completes an affordable oil painting, transforming the process of creating and selling art into a type of performance.
The idea for the project, he says, was born out of desperation a few years ago, back when he worked as a gallery attendant at the Museum of Contemporary Art.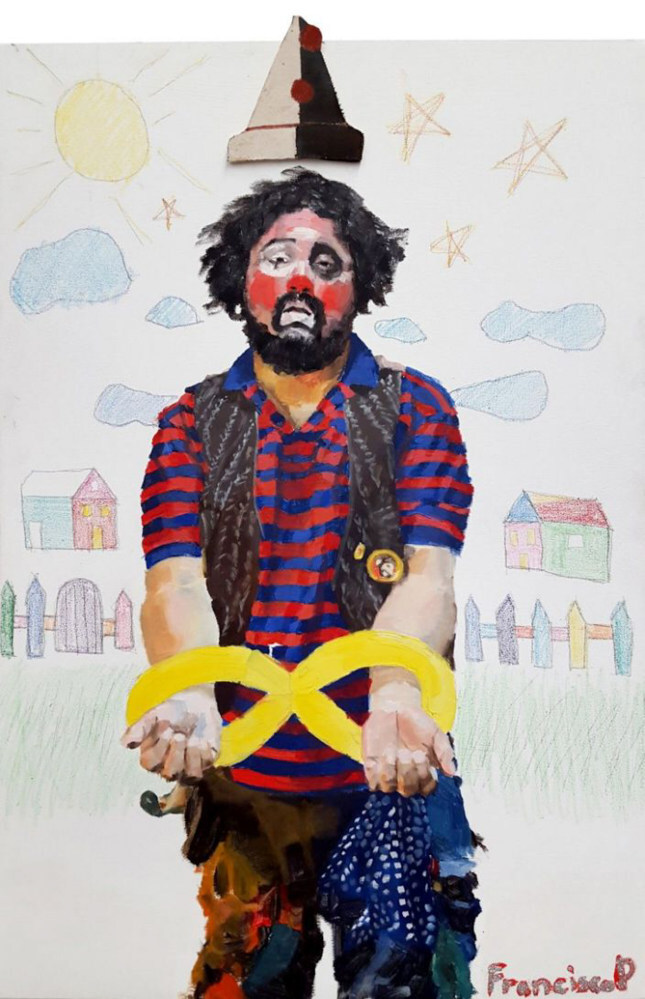 Clad from head to toe in black, Palomares would stand in a corner and warn visitors not to get too close to the art. To pass the time, he'd walk up to visitors and ask what they thought about a particular piece. They often scurried away. With time, he grew comfortable with rejection.
Still, he did the job for two years and loved it, he says, "but the pay just wasn't there". He was struggling as an artist, and he wasn't making ends meet. Forgoing an apartment, he would leave work and head back to his Boyle Heights art studio to sleep. Along the way, he would often see vendors selling oranges by the freeway. "Maybe that's what I need to do to make a sale," he'd think.
Tired of living pay cheque to pay cheque, he got a job at a school in South Gate, teaching children about art. Time passed. He had a few shows. Just before the pandemic hit, Palomares travelled to Thailand, thinking he'd come back feeling refreshed. But when he got home, he felt more lost than before.
On the verge of despair, he mentioned the fruit cart idea to friend Angel Carela. "What do you need to get started?" Carela asked. "Well, for one thing, money for the cart," was Palomares' answer. "Go on Craigslist," Carela said. "Find your cart. I'll give you the money." It was the push he needed.
Last summer Palomares began setting up his push cart at Joel Bloom Square in the Arts District. Rents there have skyrocketed, pushing out the residents who gave the district its name; Palomares secured his studio through Art Share L.A., which provides emerging artists with lofts at below-market prices in an effort to preserve the community.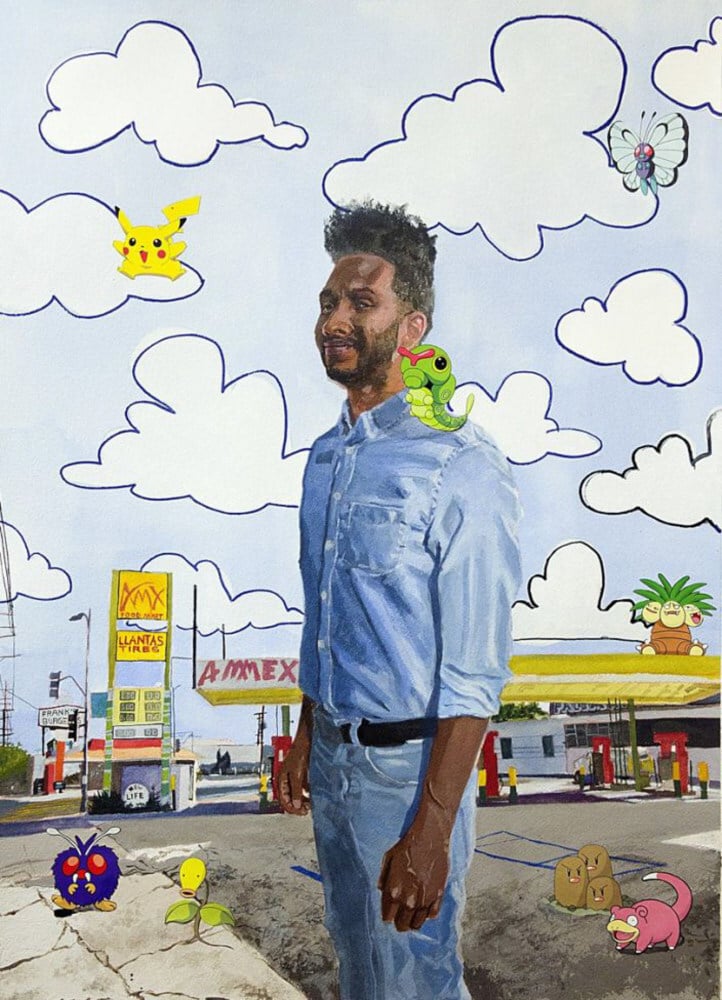 Out on the street, passers-by these days timidly pause to take a peek at his cart. When they do, Palomares greets each potential client, inviting them to sift through prints of other work.
"How's it goin,' guys?" he says. "Feel free to browse, ask any questions. I have some stuff back here that you're welcome to check out as well."
His more extensive works include still lifes, landscapes and portraits. They often feature fellow Angelenos and the places they like to frequent. These include Echo Park 2020, which depicts the lake in a style somewhat reminiscent of Claude Monet's water lilies. Midnight Hour, which features a woman sitting inside La Cita, is one of two paintings centred on the beloved downtown bar.
Palomares' life in art stretches back to third grade, the year he won his first art contest. His teacher gave him some yarn, and he used it to make a silhouette of his dog, Lucy. All around her, he drew cockroaches saying things like: "I gotta go! I'm gonna get swept up!" His prize was a box of markers.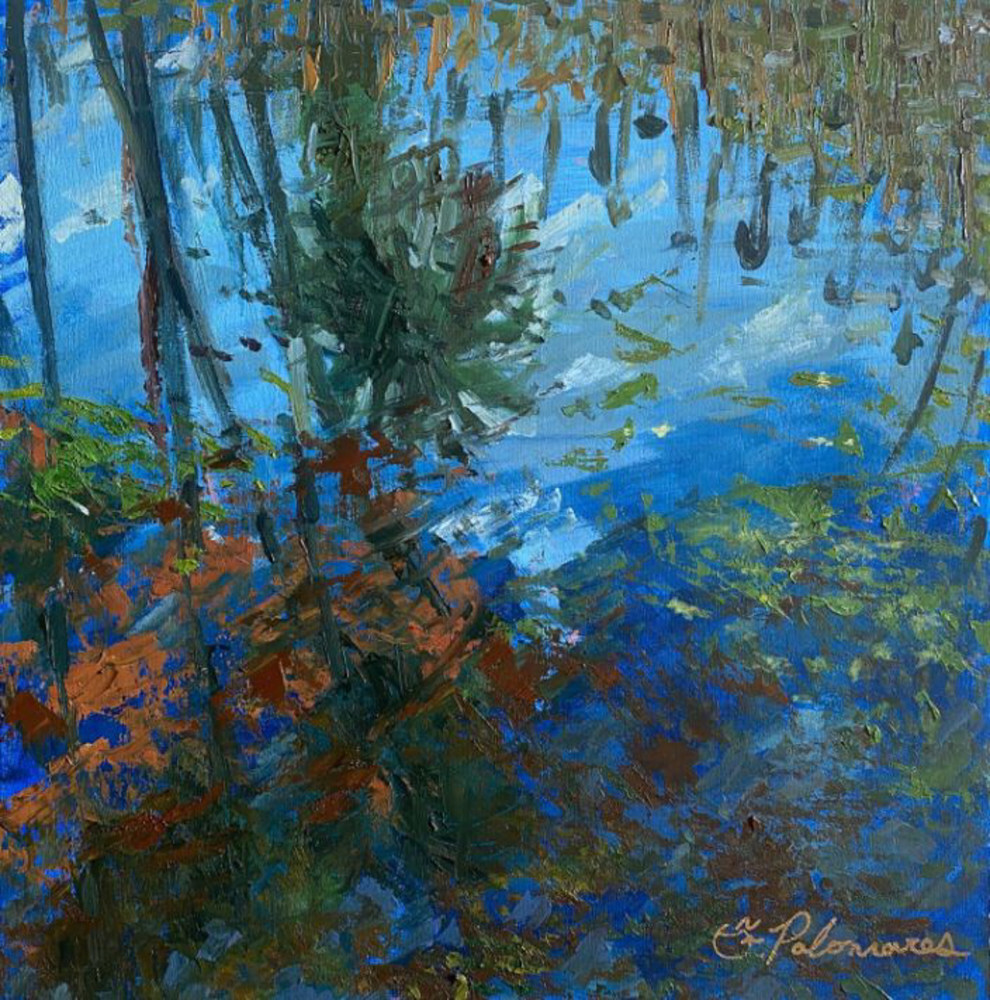 The years that followed included Saturday classes at the University of Southern California through the non-profit training programme Ryman Arts, along with scholarships to study art in Florence, Italy, and Guangzhou, China, as a Cal State Long Beach student. But it hadn't been enough.
"I felt trapped," Palomares says. "I couldn't imagine doing anything else but I couldn't figure out how to make it work."
At Cal State Long Beach, he painted "Brotherhood," a four-part series that included a portrait titled René, based on a bus driver he met. Palomares depicted the man in his work uniform, with a halo around his head. "I respected him because he took care of his sister," the artist says. "To me, he's beautiful. He's a champ."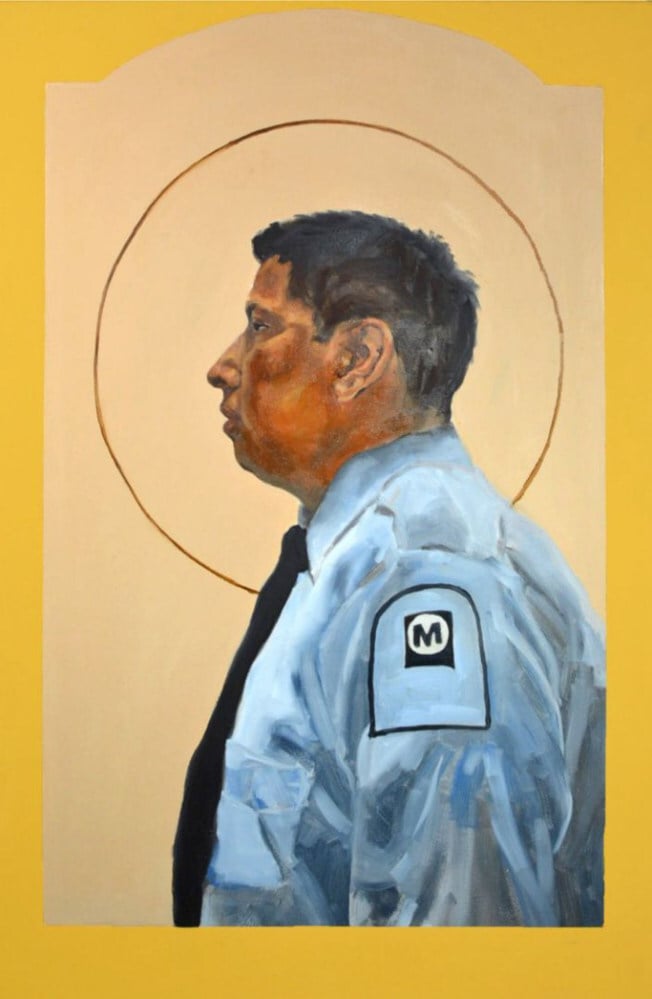 When in need of motivation, Palomares looks to his mother, an immigrant from the Mexican state of Michoacán who founded a housekeeping company in the US and raised him on her own.
"Nobody around me ever says she's an entrepreneur," the artist says.
"Maybe it's because, in the immigrant community, you don't 'aspire to start your own business'. You just need work," he says. "But that's a business. And though I'm second generation, I'm part of that."