Art
Get more with myNEWS
A personalised news feed of stories that matter to you
Learn more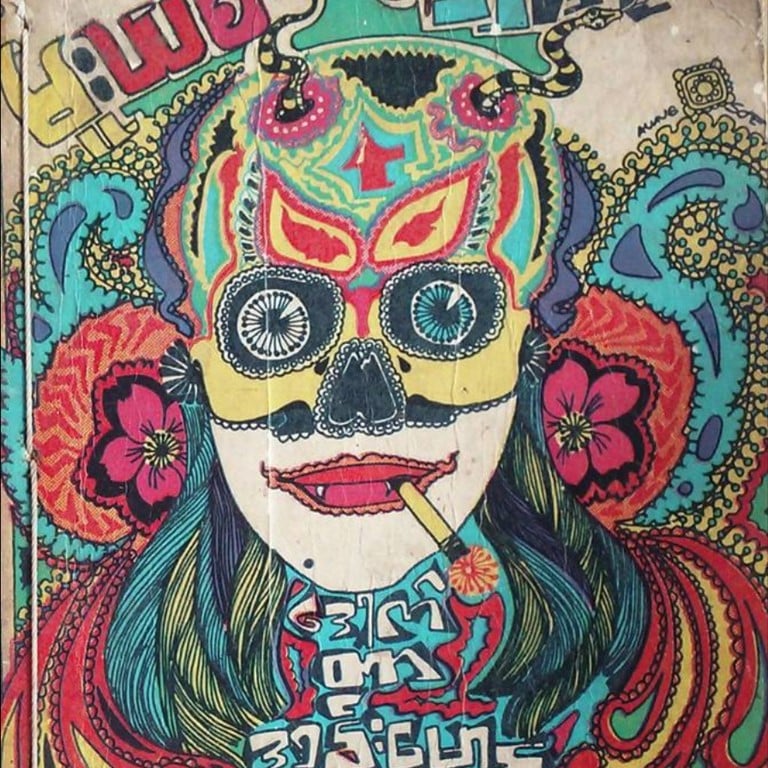 Paintings of Myanmar artist Bagyi Aung Soe show unique vision and a deep understanding of the country's complexity
Known as 'the father of Burmese modern art', Bagyi Aung Soe's true legacy is an attitude that 'you could do things differently', and have autonomy in your work
His art was called 'psychotic paintings', as it is not naturalistic. An exhibition of his work in Paris takes on added importance given the crisis in Myanmar
A well-known Burmese artist produced two powerful illustrations after the military started shooting at protesters. One, a Nazi military helmet filled with blood and bones. The other, as the title explains, the face of the Buddha bloodied after he was hit by a catapult, a common crowd dispersal weapon.
That artist was Bagyi Aung Soe and the crackdown he witnessed happened in 1988, just two years before he died. Now, as actions by the military in Myanmar once again prompt a reaction from artists there, a major retrospective at the Centre Pompidou in Paris of "the father of Burmese modern art" seems more than pertinent.
There are certainly echoes of the two 1988 images all over social media these days.
Many artists are not afraid to push out memes, protest posters and cartoons against the February 1 military coup despite the increasingly violent crackdown on the protest movement. This is a generation that has enjoyed a relatively liberal environment since the Saffron Protest of 2007, which would eventually propel Aung San Suu Kyi's civilian government into power, and they are defiant.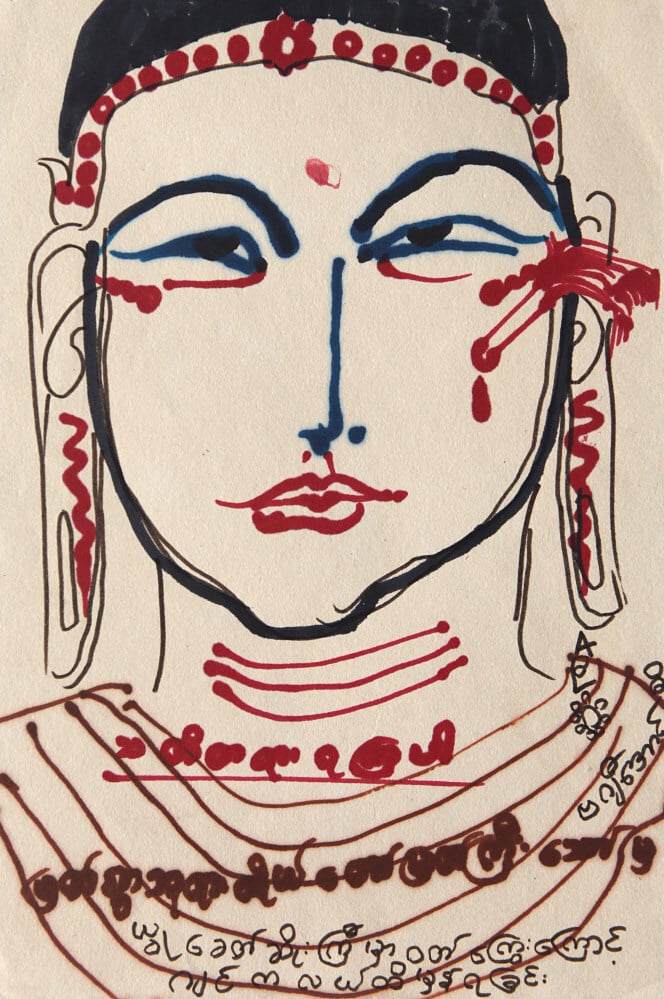 For example, Khin Zaw Latt, born in 1980, has put together a collage of 120 paintings made by artists of the three-finger salute – a symbol of anti-authoritarianism, adopted from the Hunger Games film series, that has gone viral online.
Bagyi Aung Soe operated very differently from today's digital natives. His platforms were the old kind – magazines, books, newspapers. There isn't even much trace of his legacy, visually, in the work of Myanmar artists who came after him. And he was not an activist – the bulk of his surviving works reflect his own proto-New Age, pick-and-mix spiritual synthesis that combines Tantric Buddhism, Zen and Burmese Theravada practices.
His spirit lives on, though, not only because of the obvious political parallels between then and now. While the compelling images of 1988 can engage audiences today, the curators of Bagyi Aung Soe's first major solo exhibition (currently shut because of the coronavirus pandemic) hope that a nuanced form of defiance – one more liberating than direct political propaganda – will come through: a disregard for supposedly progressive Western modernism, and a vision of his place in the world not dictated by time and geography.
"His true legacy is an attitude and awareness that you could do things differently," says Ying Ker, co-curator of the exhibition and a Singapore- and Paris-based academic who has spent the past two decades studying the artist.
Born Aung Soe in 1923, he grew up in a wealthy family when the country was still a British colony. The mostly self-taught artist became so convinced of his calling that he adopted "Bagyi", the Burmese word for "painter", as a suffix when he was in his early 30s. That was after the life-altering experience of attending Kala Bhavana, the Indian art school in Shantiniketan founded by Rabindranath Tagore in 1919.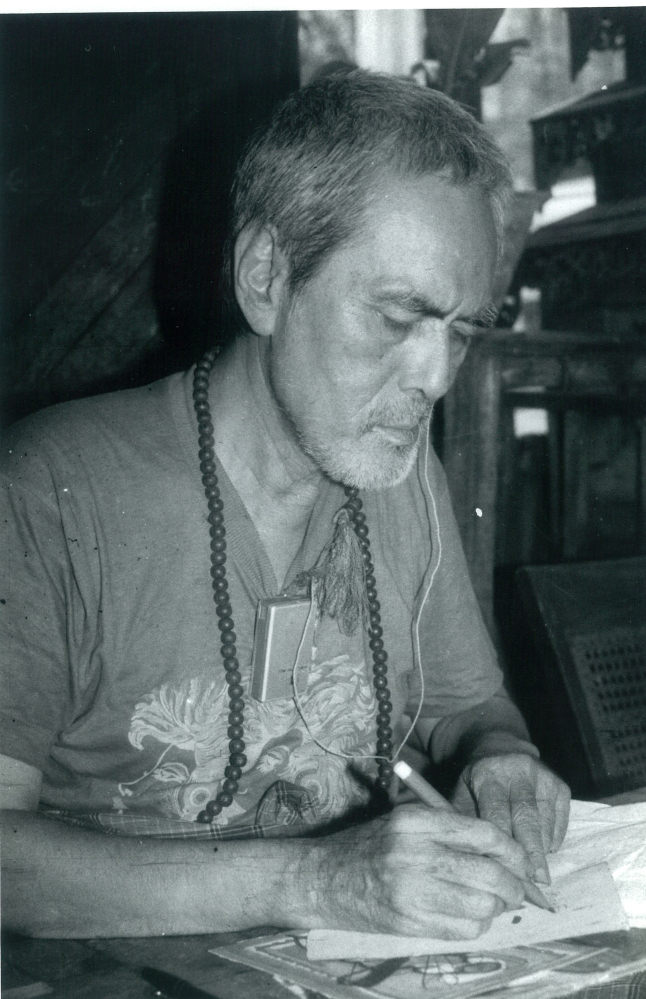 Before he went there in 1951, Aung Soe, as he was still called then, was working as an illustrator of literary magazines in Rangoon (now Yangon). He had come to the notice of major writers such as Zawgyi and Min Thu Wun, who were determined to liberate the arts from the shackles of colonialism after independence in 1948.
Until then, early 20th century Burmese artists of note, such as U Ba Nyan, mostly painted Western academic-style realist paintings that were popular with British patrons.
In Aung Soe, his mentors spotted a potential game-changer and helped him win a scholarship from the Indian government to study in Shantiniketan.
The principal of Kala Bhavana at the time was Nandalal Bose, who made linocuts and illustrations for the freedom movement led by Mahatma Gandhi. He, too, was trying to make art for a newly independent country, and had drawn upon the rich iconography of Bengali folk art, Mughal miniatures and the ancient murals of the Ajanta Caves.
When Aung Soe went home, he, too, travelled across the country to sketch and record traditional art forms and iconography. A more fundamental, abiding "blueprint" that he carried with him for the next four decades was Tagore's idea of modernism as freedom of thought and action.
This can be seen in Aung Soe's amalgamation of Cubism and Surrealism, fantastic characters based on classical Burmese murals, religious iconography and references to numerology. Although his works are often rooted in tradition, they are never traditional, and many are risky – even risqué – considering the draconian rules limiting what artists could depict.
Just over a decade after the artist returned to Burma from India and started calling himself Bagyi Aung Soe, the military launched a coup in 1962 and began its 26-year-long authoritarian rule based on Socialism and a form of Buddhist nationalism which punished and suppressed voices of opposition.
That included banning all art deemed to be critical, the portrayal of nudity, and even the use of certain colours. Red was banned because it might provoke violence and revolution; black and white together was another no-no because it symbolises good and bad, right or wrong.
Bagyi Aung Soe definitely flouted the no-nudity rule. For example, the illustration described as "KALI" with "om" in Bengali script (1986) is a figure of a naked woman sitting with her back to us, covered in inscriptions of the Hindu goddess' name and the symbol of universal truth.
As Ker has explained in a 2017 journal article, the artist said he painted "fundamental elements of the phenomenal world" that he came to understand through intense meditation. And these elements, she says, are both traditional and modern.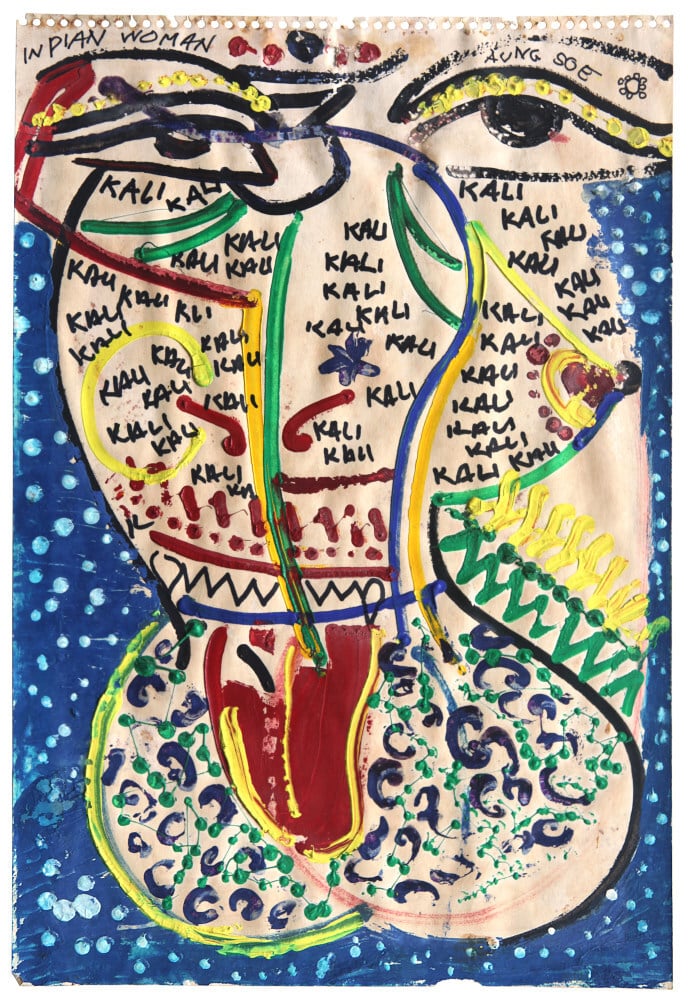 Most of the artworks in the Pompidou exhibition are illustrations made with felt pen on paper – affordable materials for an increasingly impoverished artist who mainly lived on commissions from publications, made film posters and, as a sideline, acted in a number of Burmese films. Ker says a total of 6,000 illustrations have been documented and they are owned by the family, former protégés, friends and collectors within Myanmar and abroad.
"He wasn't keen on showing his art in art galleries, and there were few art galleries anyway. So illustrations became the main platform to experiment and to make known your own work," Ker says.
Publications were also often surprisingly open to some of his wilder ideas. For example, a cover for a book called The Danger of Drugs by Dr Ohn Maung could have been a trippy, 1960s rock album cover in the West, and does not quite convey the warning of the book title.
In fact, his art became known locally as "psychotic paintings" simply because they were not naturalistic.
There were limits, though. In 1988, after he published works such as The Buddha injured by a slingshot from the 8888 Uprising and the September 1988 cover of the University of Medicine 1 Journal, with the Nazi helmet, he appeared to be blacklisted and there were hardly any commissions for the rest of his life.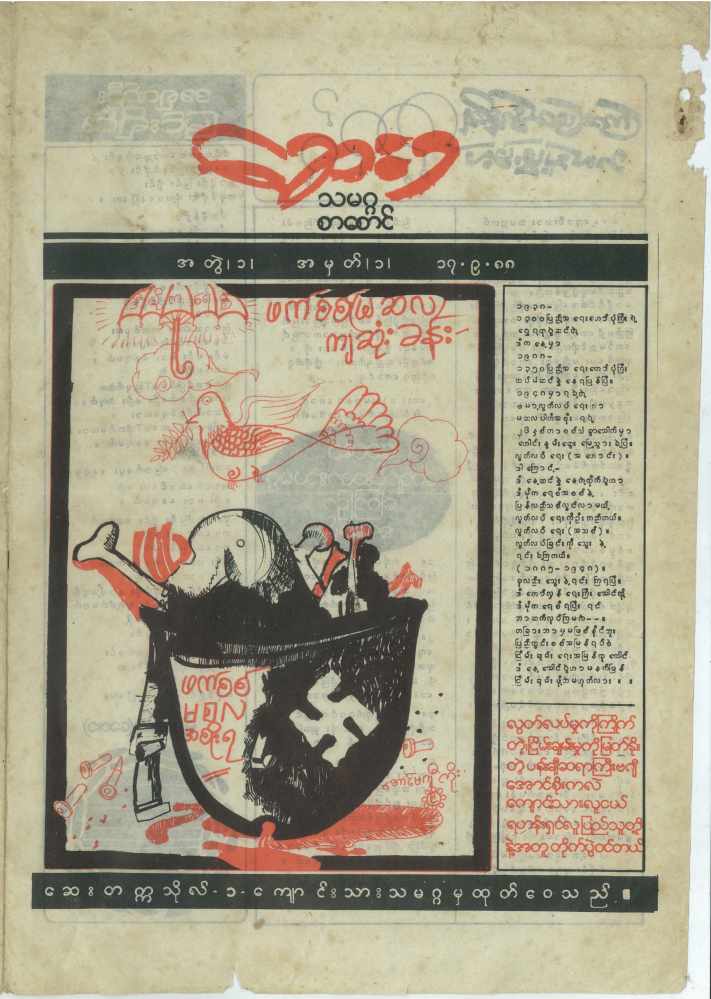 Today, most of his works, as well as the developing curatorial interest and academic research, lie outside the country. Ker first came across Bagyi Aung Soe when she was working at Jasdeep Sandhu's Gajah Gallery in Singapore. Sandhu recalls how, as a budding gallerist, he had backpacked his way around Southeast Asia, stumbled across the Burmese artist's works in a small gallery in Rangoon, and took away a lot of them directly from the family either as purchases or on consignment.
The Pompidou exhibition gives an institutional stamp of approval to an artist who was only known among a few. As Professor Ian Holliday, a long-time collector of Burmese art says, serious exhibitions such as this can help people arrive at a more nuanced understanding of Myanmar, through art.
"This is a very complex country and we need to look at the different shades of grey. And art is one way of giving the country more volume," says the political scientist and vice-president of the University of Hong Kong, who has amassed over 1,000 Burmese works of art over the past decade.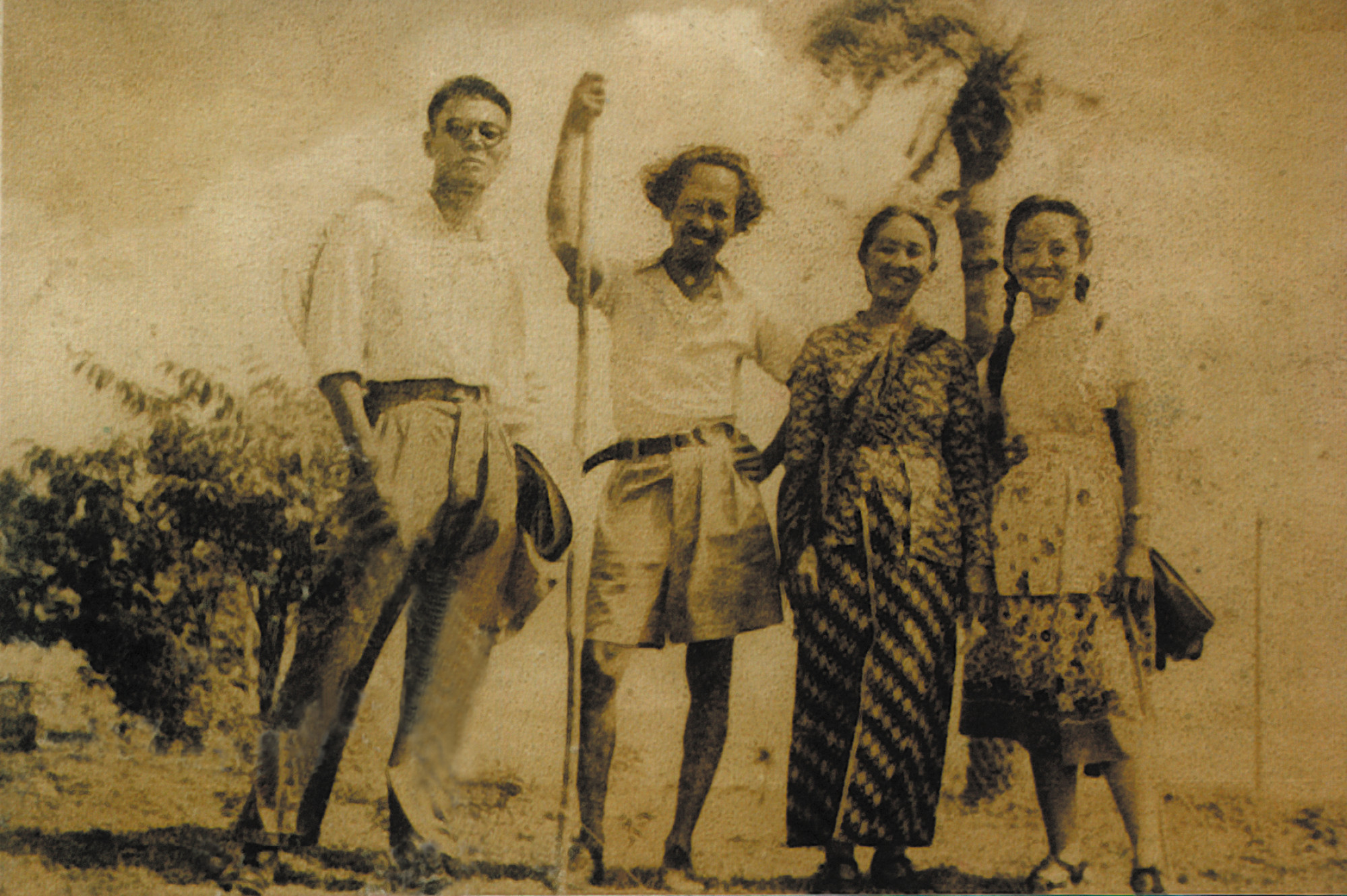 The custody of Myanmar's artistic heritage is likely to remain dependent on foreigners: when unarmed protesters are being shot by live rounds on the streets, the country has more urgent issues to deal with than the lack of infrastructure to keep Burmese art safe.
Htein Lin, an artist in Yangon, was a political prisoner from 1998-2004 who managed with great difficulty to keep some of the works he made in jail using rags and soap. He moved to the UK after his release but moved back to his home country in 2013 after Aung San Suu Kyi was first elected to the parliament and a wave of reform was sweeping through the country. Now he is protesting on the streets, making protest art and fearful of what is happening to the country.
"The Burmese people are suffering another military regime. We are in a battle," he says. He is trying to send his art in Yangon to a safe place, as he feels that the military may again destroy any art that they do not approve of.
"I am glad to see Burmese art in museums abroad with temperature control and security guards. Our own national museum is very disappointing and very sad," he says.
Ker says Bagyi Aung Soe's works are ultimately about Tagore's idea of autonomy. And that is why the Pompidou is holding the exhibition - to liberate the audience from a shallow understanding of a country that, sadly, is all too often in the news for the wrong reasons.
"Bagyi Aung Soe" will be on view at Centre Pompidou until August 23, 2021. The centre is currently closed because of coronavirus prevention measures.