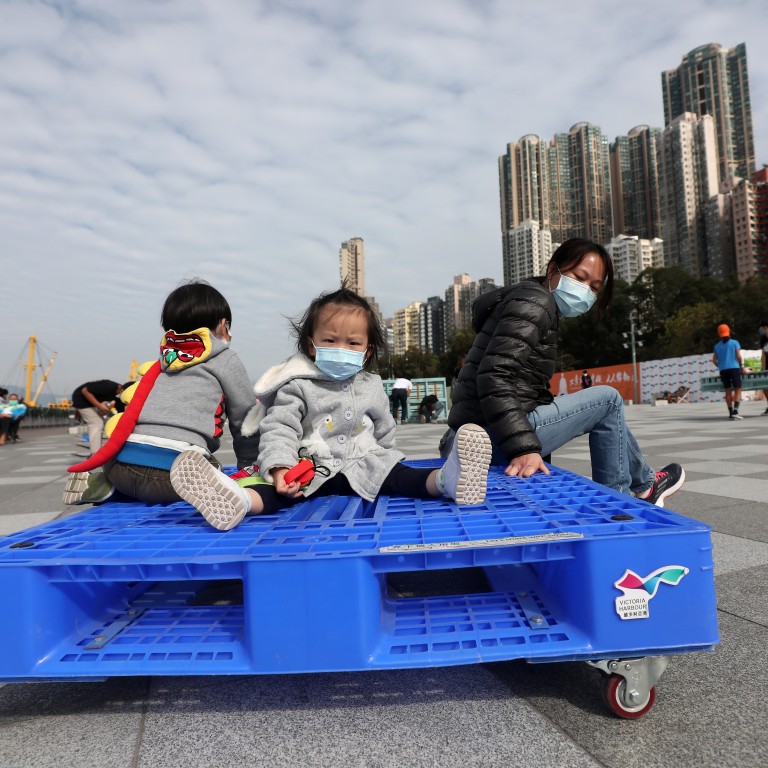 Public spaces that are open, flexible and actually fun – is this really Hong Kong?
The Belcher Bay and Wan Chai promenades are among a handful of new areas along the harbourfront that buck Hong Kong's long trend of over-regulated public spaces
Critics argue that they are the exception rather than the rule, given neither was developed by the Leisure and Cultural Services Department
When legal scholar Christopher Szabla moved into a flat in Hong Kong's Kennedy Town area last autumn, he noticed an intriguing new plaza taking shape on the fast-gentrifying neighbourhood's waterfront.
"What caught my eye was a bunch of colourful shapes appearing there," he says of the space that would become the Belcher Bay Promenade. Bright blue shipping pallets and plastic toys were scattered about, all free for the public to move around as they saw fit.
Since the promenade opened in October 2020, it has drawn near-constant crowds of people from the surrounding neighbourhood.
"The plaza can get ridiculously active," Szabla says. "On weekends, walking inside can feel like entering a tornado of little kids pushing around the rolling pieces of furniture, skateboarding or just running in circles around the empty space."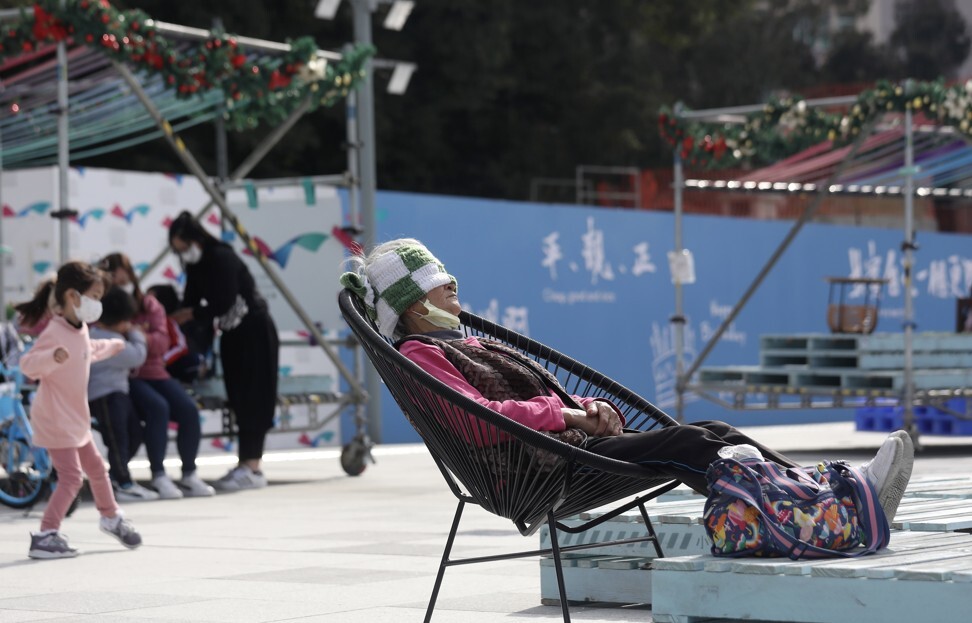 The promenade's openness and flexibility stand in contrast to the nearby Belcher Bay Park, a lushly forested but highly regimented green space.
"In some ways [the park] has more space but it's also laid out in a way that makes it difficult to deviate from a trail, sit anywhere that isn't pre-planned as a bench, or do much other than use exercise equipment in prescribed ways," Szabla says.
It's the kind of space that urban design critics have decried as over-designed, over-regulated and not very user-friendly – something the BBC described as "Hong Kong's public space problem" in a 2020 report.
But things may finally be changing. In the past year, a handful of new spaces have opened along the harbourfront that emphasise openness, flexibility and a diversity of uses.
They may have taken cues from Tamar Park, which opened a decade ago in front of the new Central Government Offices, offering a rare expanse of lawn where people can picnic – although ball games, playing music and throwing frisbees is still prohibited.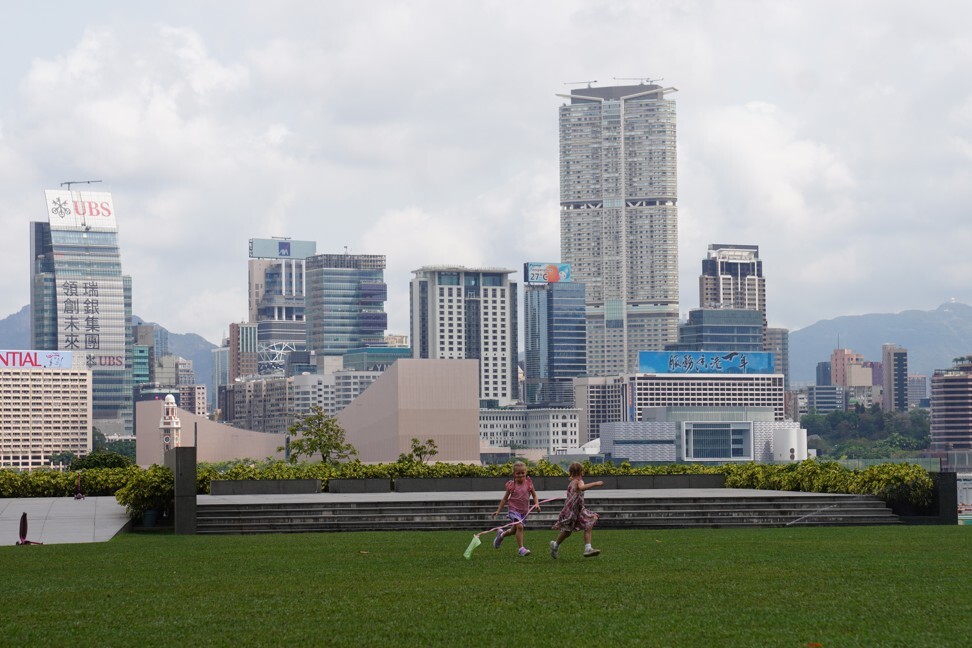 Not far from that park is the new Wan Chai waterfront promenade, a 7,800 square metre (84,00 square foot) space with rolling turf and ample open areas. Across the harbour, the West Kowloon Art Park opened in 2019 after years of public surveys that revealed a preference for a space where people could kick a ball, ride a bike, play with their dogs or enjoy a picnic on the grass.
"They're really fun places," says Dutch urban planner Ester van Steekelenburg, who has lived in Hong Kong since 1997. "The design is good, you can even have your dogs there, you can roller skate, you can cycle. I think the Kennedy Town space in particular took a lot of people by surprise."
Italian urban designer Massimiliano Dappero, who moved to Hong Kong in 2010, thinks the spaces represent a turning point for the city. "It definitely seems like a change in how public spaces are going to be designed and managed," he says. "It's very positive."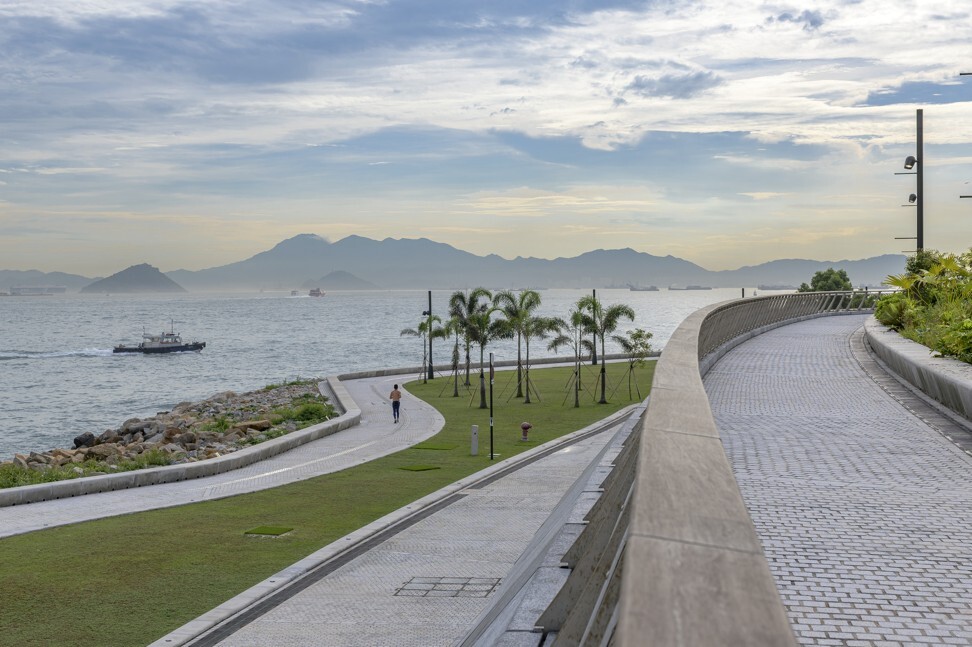 But some observers are sceptical, pointing to the fact that these new spaces are all located along the harbourfront, where the Harbourfront Commission – an advisory council appointed by Hong Kong Chief Executive Carrie Lam Cheng Yuet-ngor and supported by the Development Bureau – has been influential in pushing for more public access and better design.
"I think these spaces are an exception more than a reflection of the way Hong Kong is planning its public space," says Sampson Wong, an artist, academic and urban design critic. "The Harbourfront Commission seems to be much more powerful than many other government departments that are supposed to be responsible for parks and public spaces, like the Leisure and Cultural Services Department [LCSD]. Even though these spaces are good, it's a mystery how [the Harbourfront Commission] got the power to do something that's not the norm."
The development of the Wan Chai and Belcher Bay promenades was led by the Development Bureau, bypassing the LCSD, which manages most other parks, plazas and leisure spaces in Hong Kong. In the case of West Kowloon, the design and development of the Art Park were led by the West Kowloon Cultural District Authority, an independent statutory body that exists outside regular government channels.
Wong is concerned that the only way to design a good public space in Hong Kong seems to be to circumvent the usual bureaucratic channels.
Dutch landscape design firm West 8, also responsible for the transformation of the Madrid riverfront and of the Governors Island park in New York, won a competition to design the new park in West Kowloon. Given the complexity of the park's scope – it would host a packed calendar of events along with accommodating regular park activities – the designers tried to avoid being too prescriptive, letting park users find the best use for each space.
"We planned a variety of open, undetermined flexible spaces," says Christian Dobrick, project director at West 8.
The "Great Lawn" can accommodate up to 10,000 concertgoers, but when events are not being held, visitors are free to have a picnic or play with their dogs. Along the waterfront, West 8 removed the fence that had cut off access to the water, replacing it with a low concrete wall on which the public could sit.
"We took inspiration from the rich Dutch traditions of water – where you are encouraged to experience the water edge as a spectacle, with direct contact with the water's edge," Dobrick says.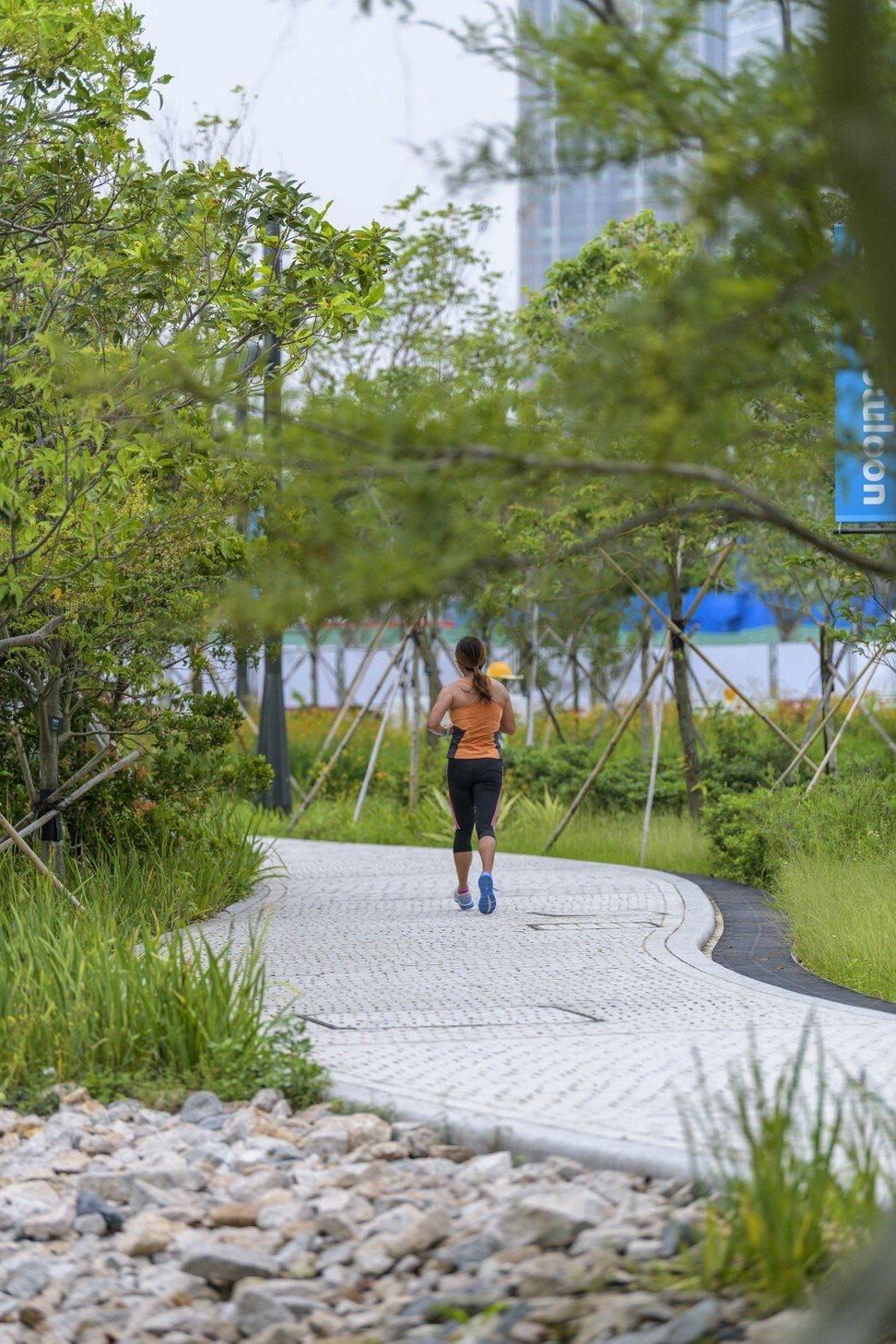 The new Wan Chai promenade also played light with its fencing. Its first phase, which also opened in October 2020, had a thin wire barrier along the water's edge, rather than the visually obstructive railings that line most of the harbourfront. Subsequent phases – including phase two, which opened in early May – include steps that lead directly to the water, an unprecedented level of access in Hong Kong.
"What we are doing is to give people choices so they can go to the section that they find interesting and suitable for them," Harbourfront Commission chairman Vincent Ng Wing-shun told the South China Morning Post in 2020.
Ng was also involved in creating the Belcher Bay Promenade. Whereas the Wan Chai promenade includes undulating grass berms, public art made from trees felled by typhoons and seating made from reclaimed timber, the Belcher Bay space is radically simple with its spacious checkerboard-patterned tarmac.
Its appeal comes from that openness, but also from a collection of modular seating areas made from shipping crates, plastic shipping pallets that the public can move around, and seasonal attractions such as Christmas sleighs and a Lunar New Year-themed merry-go-round. Ng describes the approach as an experiment. "If they like [what's there], those things will stay or we can add some more. And if people don't like them, we will remove or replace them."
The promenade is a reminder of the
so-called Instagram Pier
, a public cargo working area just a few hundred metres to the west. Loaded with shipping containers and old pallets, it was for years a popular spot for nearby residents to gather in the evening, taking in the sea breeze as they exercised, cycled or chatted with friends.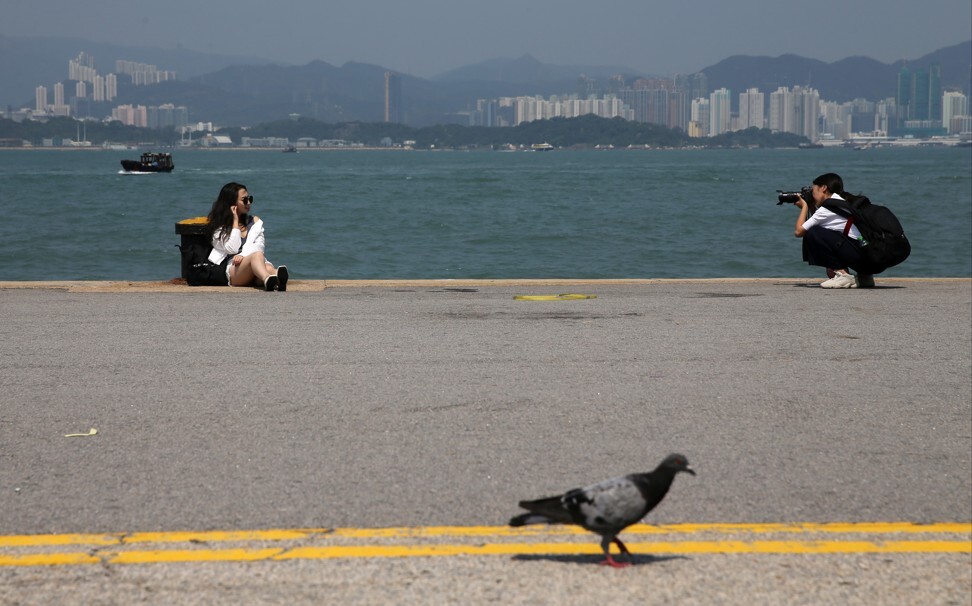 Ironically, though, access to the pier was
blocked not long after the new promenade opened
, and there is now a gap in access between the Belcher Bay Promenade and the recently extended Central and Western District Promenade, which starts just west of the pier and extends all the way to Wan Chai.
"They chopped off a big space that people had been using for many different activities," Dappero says.
To address this lack of connectivity, Dappero came up with a plan in 2020 to revamp many leftover public spaces in Kennedy Town and Shek Tong Tsui. Empty space beneath the Route 4 flyover could be transformed into seating and recreational areas, and public seating could be added to footpaths, he believes.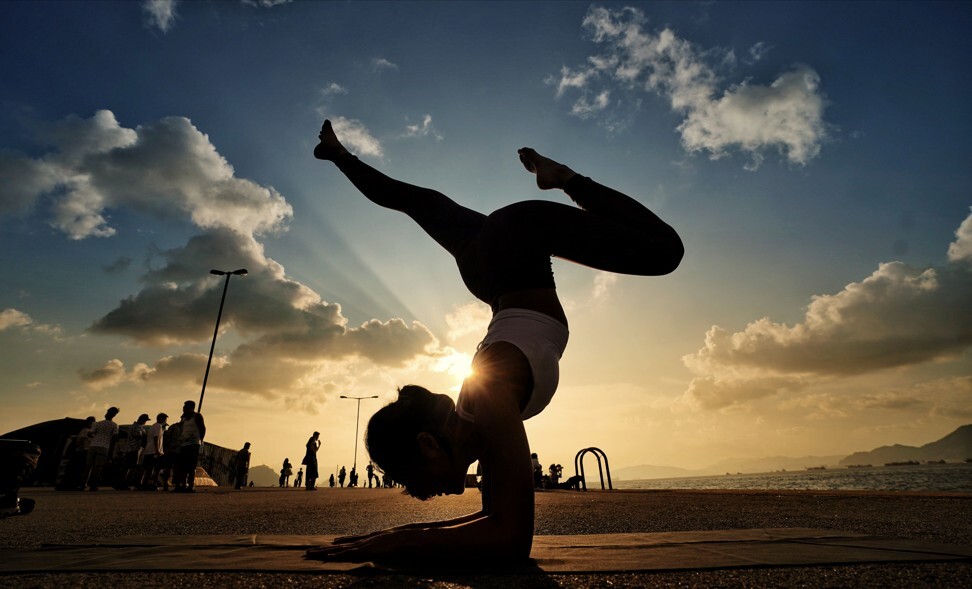 Although flexible new spaces like the Belcher Bay Promenade suggest Hong Kong has turned over a new leaf in its approach to public space, Dappero says there is still plenty of work to be done.
"Around here [in Kennedy Town] you see people bringing chairs downstairs to sit on the sidewalk, a space where people are only meant to walk," he says. "And why do they do that? Because it's the most human thing to do, to see what is going on. People arrange their own spaces, which means they are not already flexible enough for their needs. We need to design that flexibility into our spaces."