Art
Get more with myNEWS
A personalised news feed of stories that matter to you
Learn more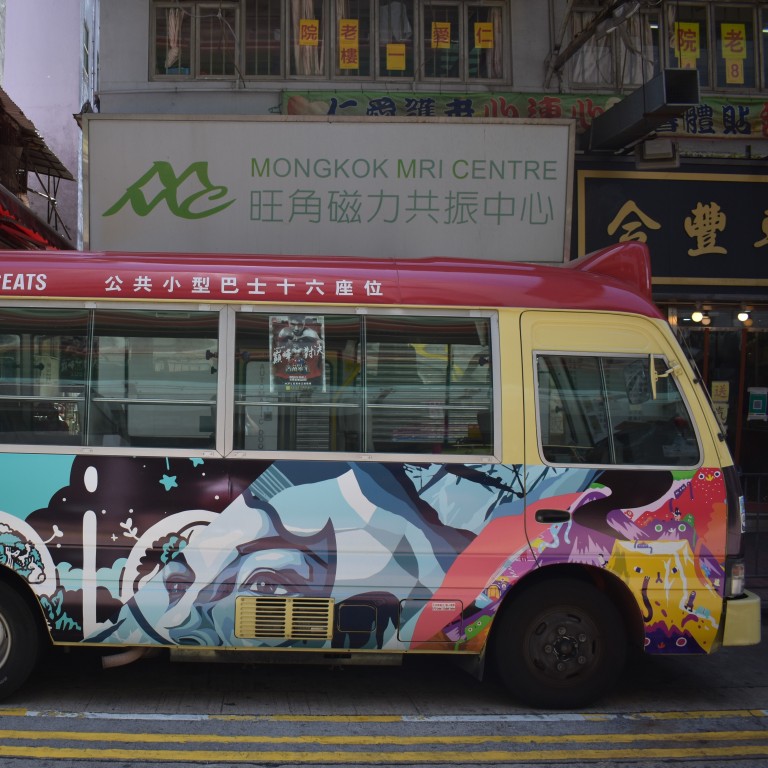 Street artists' work showcased on minibuses in Hong Kong project backed by eco-friendly paint company
Fun project put artworks on the sides of public minibuses to add some colour to the streets
Six Hong Kong artists took part, and their art will be seen on the vehicles' bodies until the end of the year
One night in May, a team in Mong Kok worked briskly in the heat to give six Hong Kong minibuses a makeover. They had to move quickly. The drivers were waiting impatiently to get back onto the road.
Unusually, the vinyl wraps being applied were not advertising, but artworks by local street artists that have turned the familiar 16-seaters into roving street art exhibitions.
It was Joakim Cimmerbeck who came up with the idea. The founder of eicó, an eco-friendly paint company in Hong Kong, just wanted to do something "fun", he says. While the project was funded from the company's marketing budget, the artists involved were told they didn't have to include the company's logo or mention it in their works.
A quintessentially capitalist society like Hong Kong often fails to appreciate the worth of art that is not valued in terms of money or commerce, he says.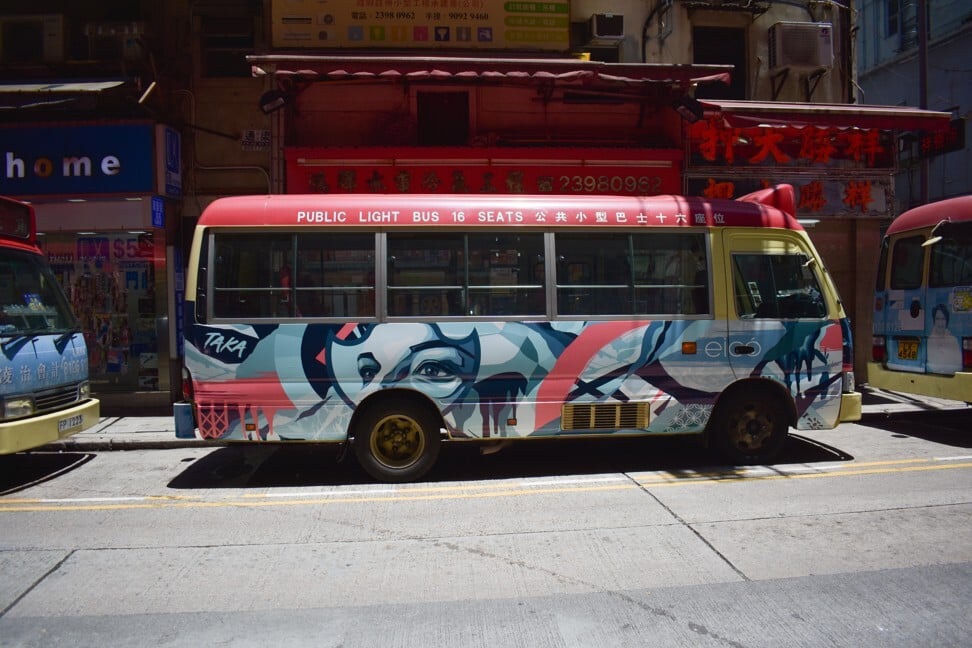 "We are a money city. So if something costs 100 million dollars, [it is considered better] than something that costs a lot less," he says. He wants to see more street art around the city, because everyone should have art in their lives.
Bao Ho Man-wai, one of the artists yet to be recognised by the mainstream art market, says the creative space for street artists is very different in Hong Kong from Italy, where she started painting murals on walls after leaving her job as a designer in 2013.
"Europe and Hong Kong are very different. I remember vividly that I was asking everyone if there were walls for me to paint on when I returned to Hong Kong," says the 33-year-old. "I posted on Facebook, put my work on there and asked if anyone has a wall. The answer was 'none'."
But she persevered. Now in her sixth year as a full-time street artist, her large, lively murals bursting with fantasy characters can be found on buildings in Hong Kong, Taiwan, London and elsewhere.
For the minibus project, she created a bus wraparound that features Bao, a recurring character in her art since 2014. Bao is dressed in leaves and seen floating above a sea of clouds against a starry sky.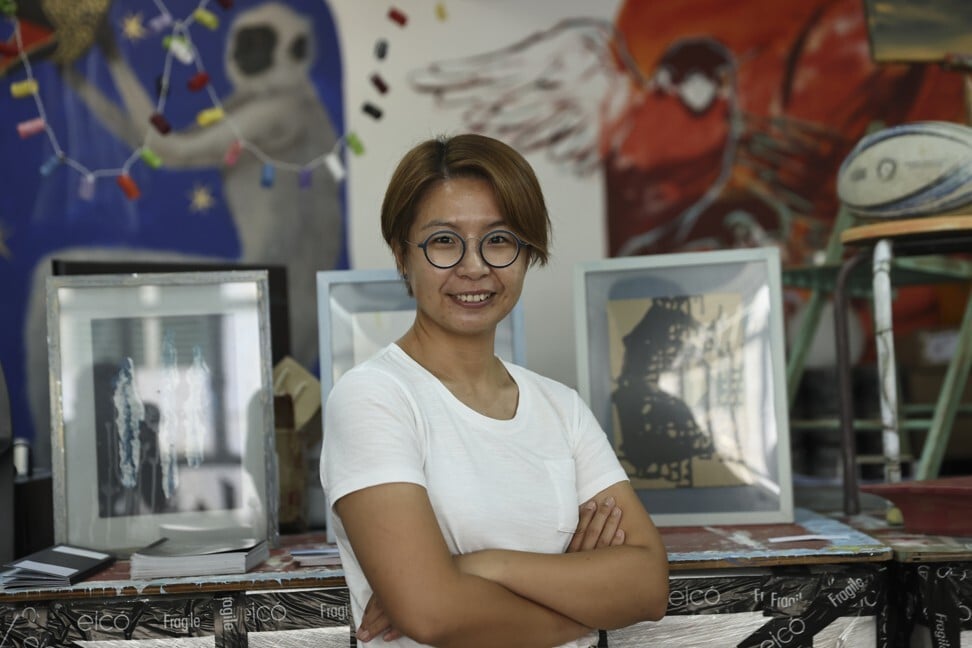 The character, named after herself, represents her own struggle with bouts of depression and anxiety. "The character Bao symbolises emotions that I have yet to process and things that I want to say. Bao speaks on behalf of me," Ho says.
The other artists are Zoie Lam, also known as Zlism, Takamitsu Takagaito, Hadrian Lam, graffiti artist Panter and local design brand Kalacove.
Zoie Lam's minibus design is an anthropomorphic landscape of mountains and volcanoes in bright, neon colours, Panter's is his graffiti tag, and Takagaito's features an abstract portrait of a woman juxtaposed against patterns and shapes in muted colours. Hadrian Lam decided to go with simple geometric shapes plastered across the vehicle, and Kalacove's artwork is a close-up of flowers blooming in the grass.
These buses will be rolled out gradually over the next two weeks and they will be on the streets until the end of the year.
Cimmerbeck is encouraged by the nascent interest in street art. Hong Kong has many grey, dull facades and nondescript high-rises that could become canvases for art once the hurdles of government bureaucracy and permission from building owners are overcome, he says.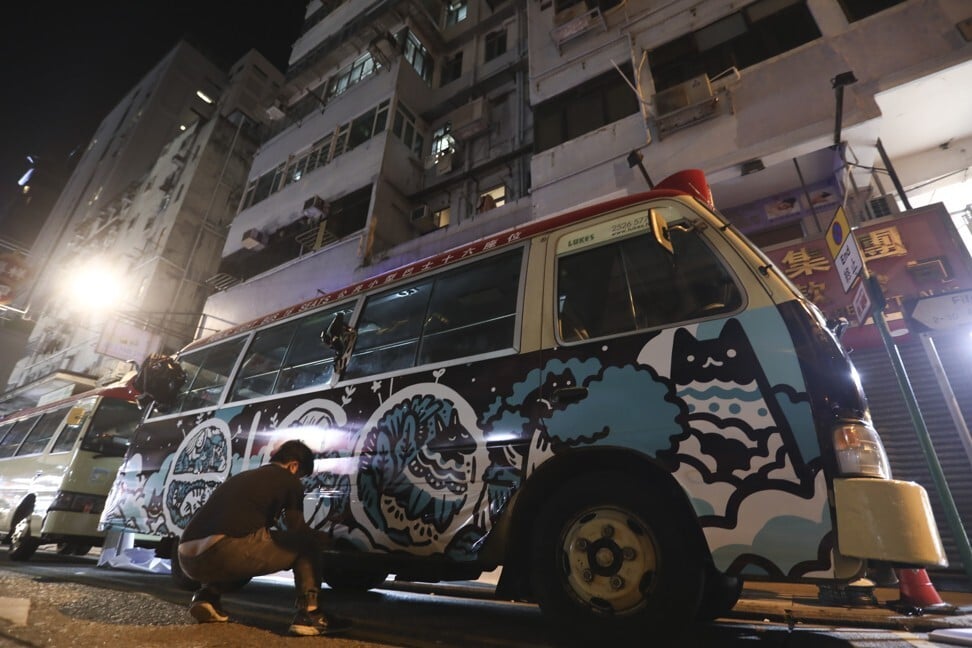 "The artists, they all have a chance to put their contact details on [the minibuses]. If that can give them one job, then I've done something good," he says.
This article appeared in the South China Morning Post print edition as: Street artists give minibuses a makeover