Art
Get more with myNEWS
A personalised news feed of stories that matter to you
Learn more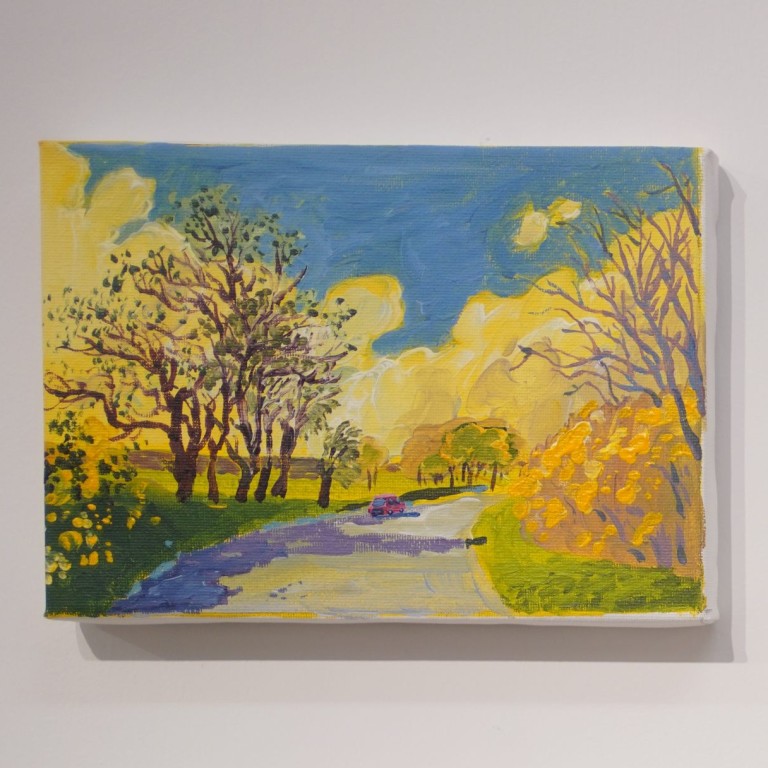 Are scenes drawn from Google Earth landscape painting? Hong Kong artist asks the question in his latest exhibition
The works in Stephen Wong's 'A Grand Tour in Google Earth' are depictions of places the artist travelled to virtually instead of actually being there
In doing so, he says he took a mini break from what he loves most – painting from real life and experience, including the sounds and smells of a place
Stephen Wong Chun-hei's exhibition "A Grand Tour in Google Earth" was prompted by an intriguing proposition: if an artist travels only virtually and paints what he sees on a screen, does it still count as landscape painting?
The Hong Kong artist's latest solo exhibition at Gallery Exit in Aberdeen is the product both of a lengthy travel moratorium and the ubiquitous convergence of the digital and the real. The 35-year-old, best-known for his large-scale Hong Kong landscapes in brilliant hues, sees his recent works as a return to an idea he first explored as a fresh graduate – albeit reluctantly.
Young artists are always told to develop a sound conceptual underpinning to their practice, he says, and even though his inclination was to paint from real life, he started out by painting scenes from video games – because he thought it would qualify as "conceptual art".
"It's ironic really. I stopped doing video games painting after a few years because I didn't want to paint from a screen any more," he says.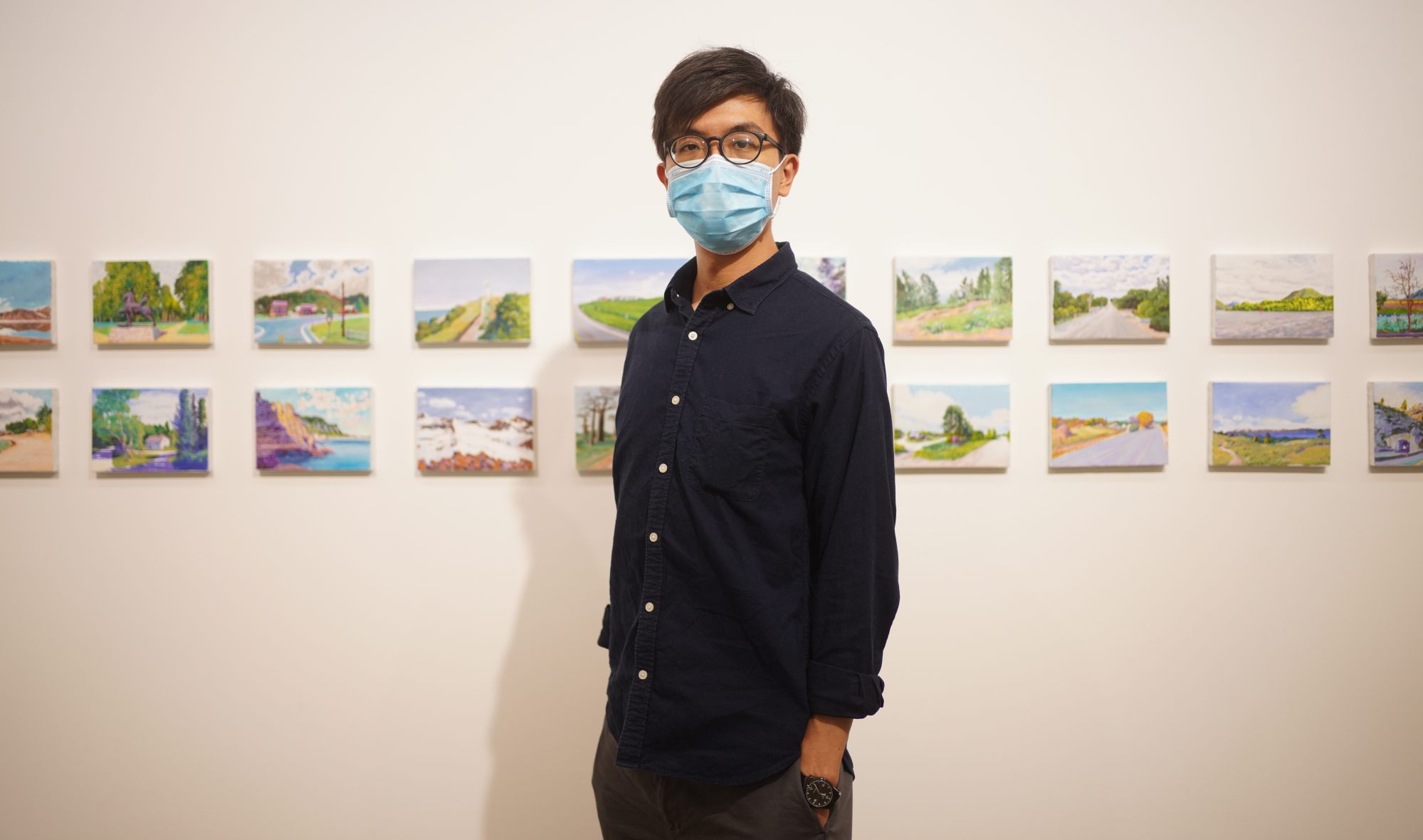 The artist has come a long way from those early, self-doubting years, having enjoyed both institutional and commercial success. His 2018 monumental diptych Pat Sin Leng (from the Spring Breeze Pavilion to the Lion Pavilion) was collected by the Hong Kong Museum of Art in 2019, and his acrylic paintings of Hong Kong have been selling well, with the city as subject matter having become more popular with art collectors in recent years.
His latest exhibition is divided into two parts. The first comprises 100 "quick sketches" of random places he found online; the second part consists of "reconstructions" of nine places that he yearns to visit in person.
As one enters the space, one's eyes might be drawn towards two long rows of small sketches on the right, depicting both well-known and anonymous locations, from an unknown seashore to the Grand Canyon.
Wong's visits to these places were purely virtual, yet he says he felt as if he had gone on holiday. Pointing to a nondescript village scene, he says: "This is just some random place but it brings me such joy." There is also a sketch of The Great Sphinx of Giza. He says it was a challenge to find images online without crowds of tourists around it.
The human presence in his paintings is always diminutive against a backdrop of nature that is majestic and sublime.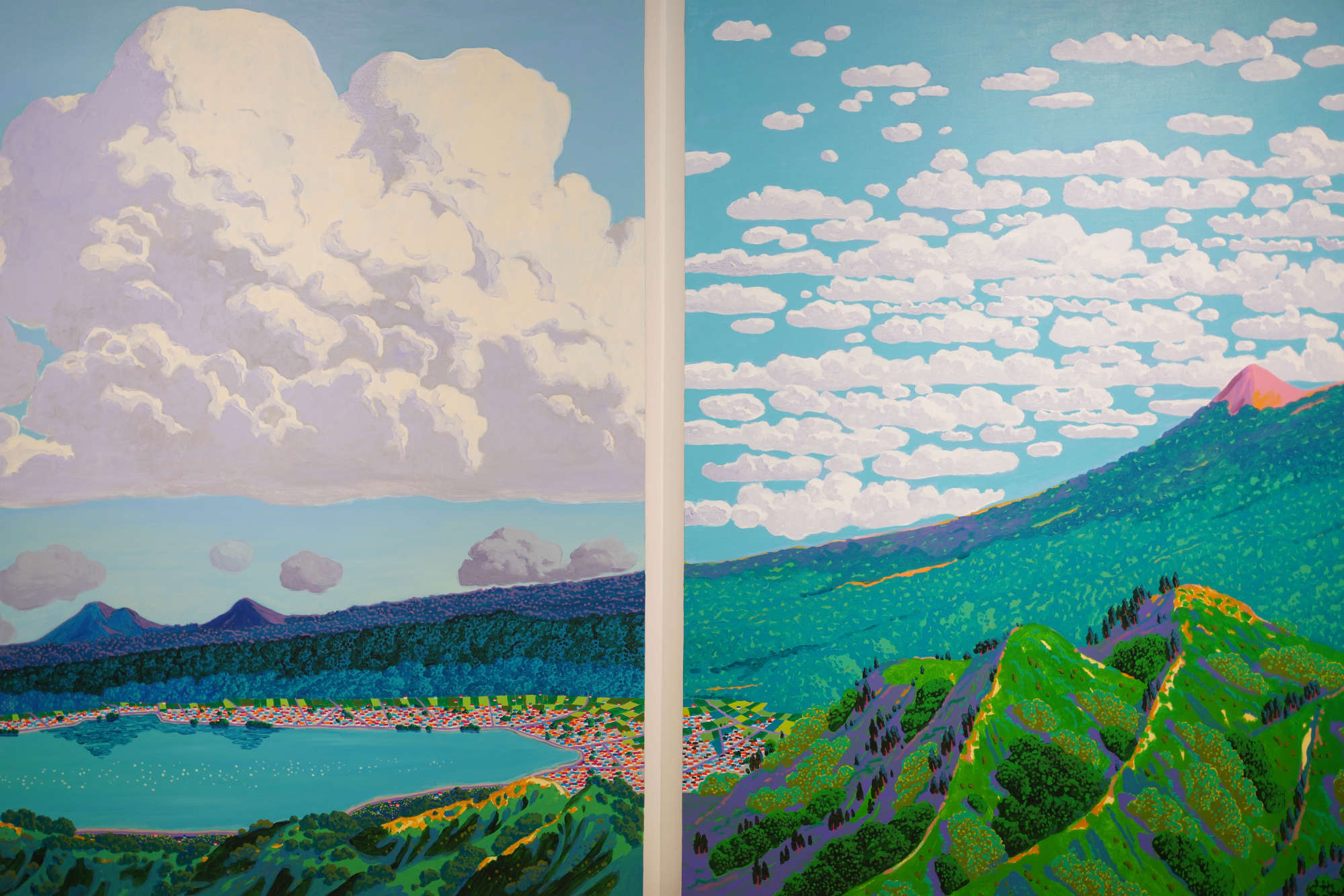 Just as ancient Chinese literati artists would paint themselves in a secluded mountain retreat to signify their retreat from the mundane world, Wong's visual escapades are a form of "elevated isolation". This is represented by the Chinese title of the show – a word play on "Google", which sounds like the Cantonese words for "alone" and "high".
Opposite the 100 sketches is a 280cm by 190cm (about 9ft by 6ft) painting of a stretch of California's Big Trees Trail in which the blazing redness of sequoia tree trunks is amplified against the golden yellow of the woods in which they stand. This is one of the places that tops Wong's wish list for when he can fly again.
Meanwhile, the Faroe Islands' craggy heathlands are rendered in varying shades of green, from dark to bright turquoise. Shots of orange and pink burst through dense layers of cotton-like clouds.
He has never been to either place, so are these "landscapes" freeing him of the burden of painting real life as it is, or perhaps building on the concept embodied in his youthful video-game paintings?
Absolutely not, Wong says. "When I visit a place, it isn't just about the sight, but also the sound and smell, and the utter exhaustion I feel after a climb. All that goes into the art," he says. He was deprived of all that when he created the Google paintings. They were simply, artistically, a mini break from what he truly loves doing – painting from real life and experience – he says.
There is only one place among those depicted in this second section that he has been to: Mount Fuji in Japan. His multi-panel painting recalls how the sky had turned dark by the time he reached the top in the summer of 2019, but even this work isn't all "real" – the summit is rendered in candy-colour pink, a tribute to the reddish mountain depicted by Japanese artist Hokusai.
After all, isn't all art part life and part fantasy?
"Stephen Wong Chun-hei: A Grand Tour in Google Earth", Gallery Exit, 3/F, 25 Hing Wo Street, Tin Wan, Aberdeen, Hong Kong, Tue-Sat, 11am-6pm. Until August 7.