Art
Get more with myNEWS
A personalised news feed of stories that matter to you
Learn more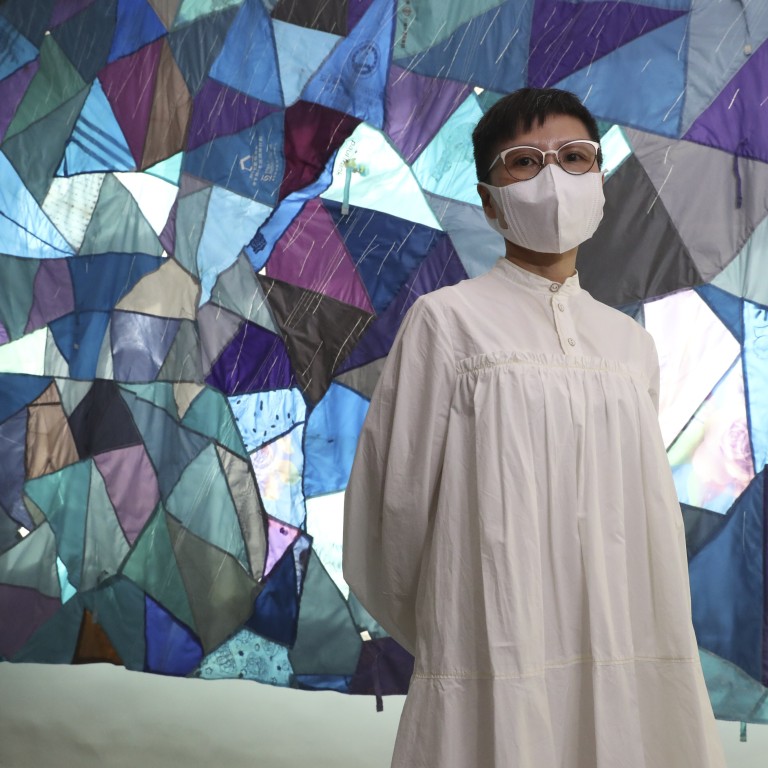 Recent Hong Kong history, from Sars epidemic to 'umbrella movement' to 'fear of now', inspires city artists' work, on show in two exhibitions
Jaffa Lam's art is about coping with 'fear of Sars, fear of ageing, fear of now'. For Kurt Chan, art carries hidden messages in a 'high pressure' situation
Their work and others inspired by events from 1997 to the present day can be seen at the Axel Vervoordt Gallery and Ben Brown Fine Arts in Wong Chuk Hang
Works by Hong Kong artists are showing in commercial galleries in the city that ordinarily only sell art from overseas, under an initiative by the Hong Kong Art Gallery Association.
This comes at a time of unprecedented interest in Hong Kong culture. The city is enduring a difficult transformation, which has spurred creativity.
Hong Kong artists have been reflecting on the city and its circumstances, often in subtle ways. Examples of their work are on view in Wong Chuk Hang at Axel Vervoordt Gallery, in an exhibition called "Residual Heat", and at Ben Brown Fine Arts, in an exhibition of female artists' work called "Ze/Ro".
Curated by Chris Wan, "Residual Heat" features works by seven artists of different generations. Just as the blazing summer heat scorches the streets, residual heat is Wan's metaphor for how the difficult chapters of the city's history have informed the art on display.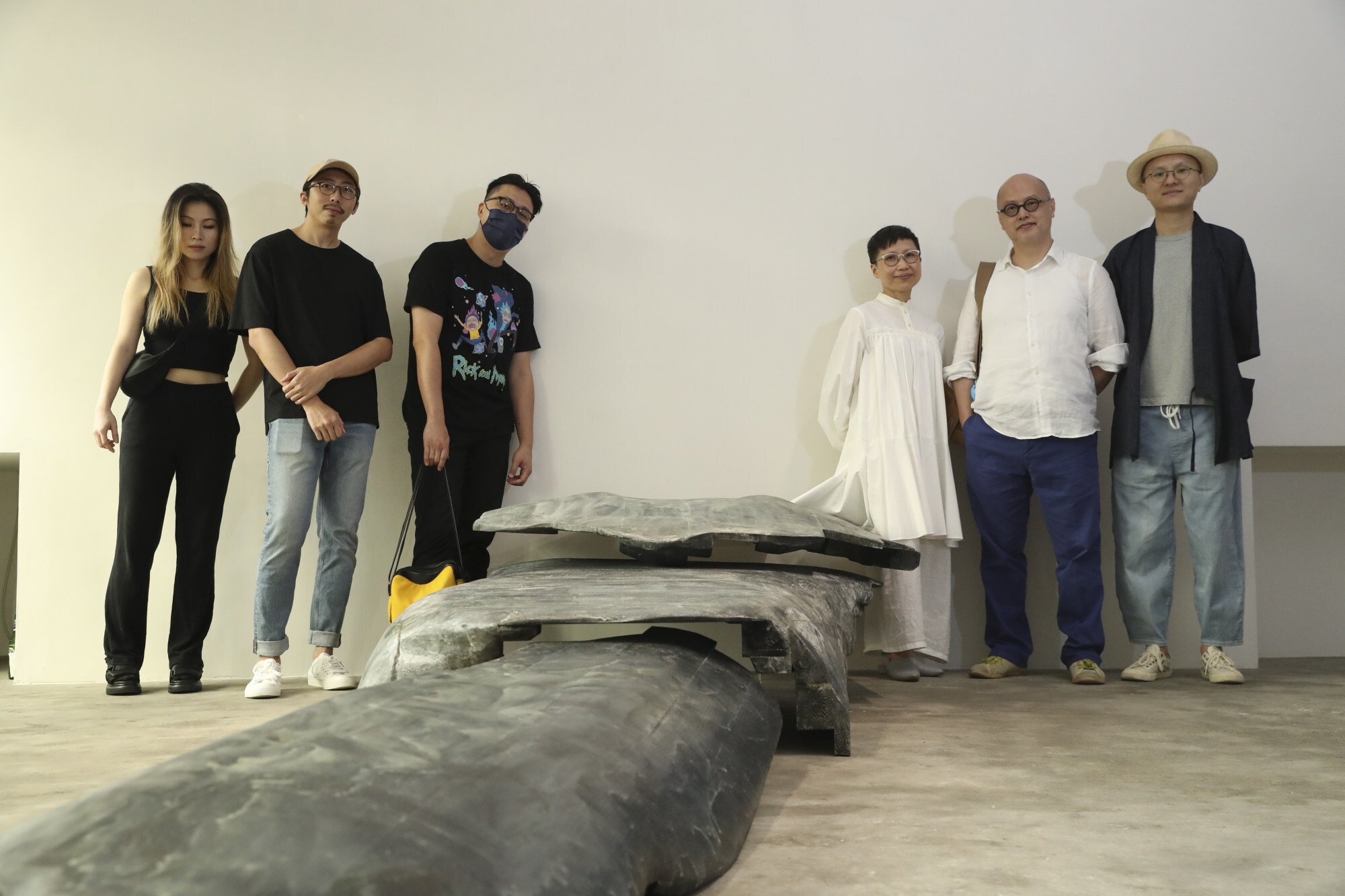 The story begins in 1997, the year sovereignty over Hong Kong passed from Britain to China. Ivy Ma's Her Newspaper Clippings (2018) uses interwoven clippings from newspaper published that year to challenge the way historical narratives are constructed.
Artist and former art professor Kurt Chan has a new work called Rain or Shine, Etudes of Everyday (2021), which consists of paintings he has made daily in ink since the beginning of the pandemic, the details of each one reflecting his fluctuating mental and emotional states.
The art, subconsciously informed by the goings-on in his surroundings, does not have to be explicit, Chan believes. "[Art] doesn't always makes sense immediately," he says. Furthermore, local artists are now living in a "high pressure" situation that demands they find clever means of expressing themselves without it being too obvious, he says.
An older work by Morgan Wong shows how Hong Kong artists have often taken social and political materials as a starting point for broader philosophical reflection. His Dash-6 (2016) is a simple line on a blank canvas, based on the nine-dash line used by China to demarcate its claimed sovereignty over much of the South China Sea, and is taken from his "Dash" series which question how borders are perceived, created and reimagined over time.
Jaffa Lam, meanwhile, says her art is about expressing and coping with fears – "fear of Sars, fear of ageing, and the fear of now".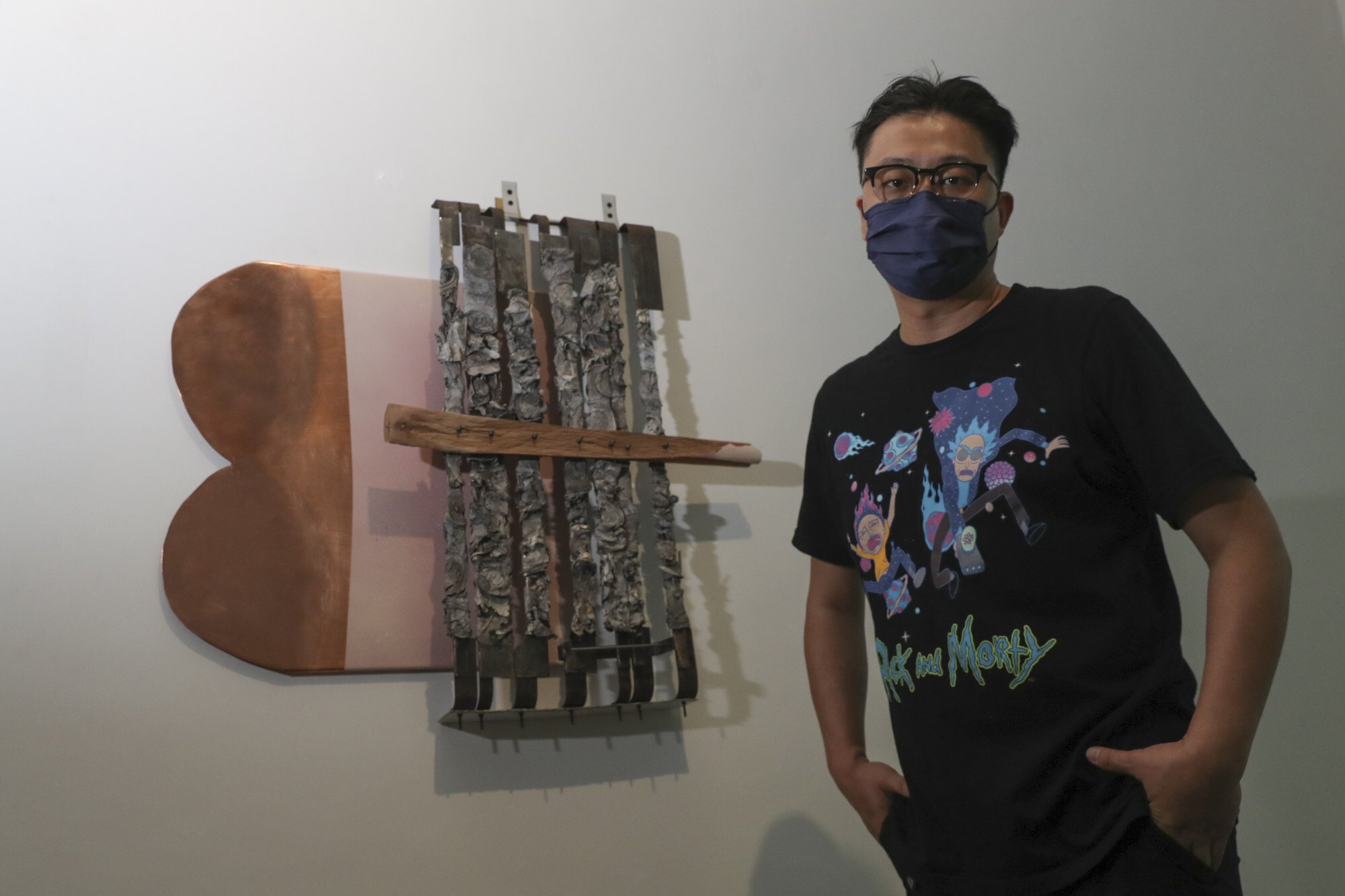 A Piece of Cityscape
(2021) is the latest iteration in a long-running series by Lam. It is a curtain through which light filters, and it is made with scraps of umbrella fabric stitched together. Evoking the
2014 "umbrella movement"
pro-democracy protests in Hong Kong, the work blends Lam's interests in activism and feminism – the materials used were collected by members of the Hong Kong Women Workers' Association.
Her earlier work,
To Someone Wants to Hide
(2003), is a makeshift tunnel resembling a reptilian creature retreating into its shell, created as Lam's response to
the severe acute respiratory syndrome (Sars) outbreak
in 2003. It strikes a chord amid the continuing coronavirus pandemic triggered by the Sars-CoV-2 virus, and with anyone seeking safe harbour.
Lam's work is also included in "Ze/Ro" at Ben Brown Fine Arts, curated by Shirky Chan.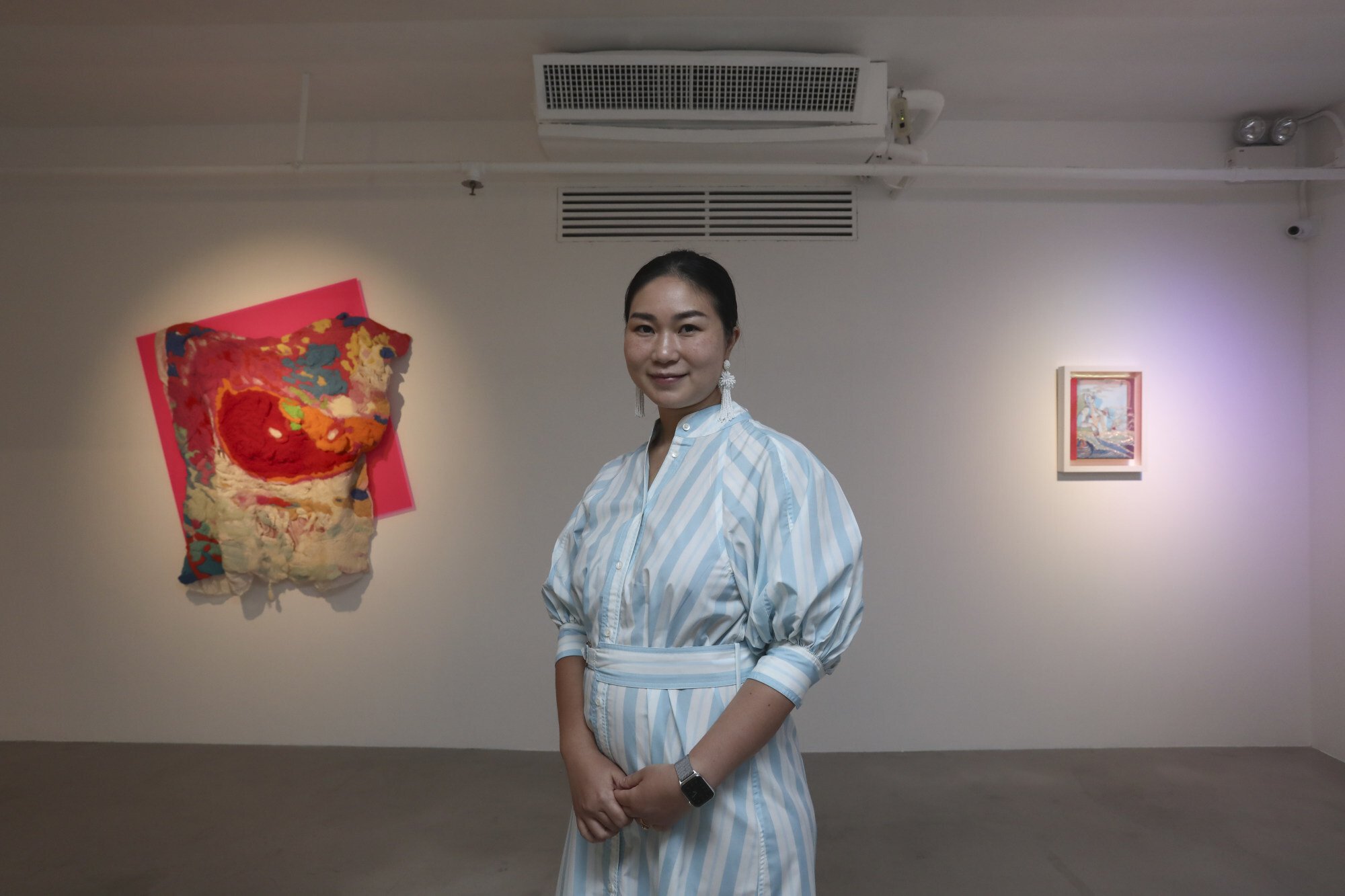 Lam's Lady/Tree in Travel (2012) assumes the weight and height of the artist in the form of a tree carved out of recycled crates, literally marking the physical space she assumes.
Christy Chow's Baby No. 1 (2017) is a very personal and tactile composition based on the last ultrasound image she had before suffering a miscarriage. She aims to normalise speaking about common female experiences through her art.
"Miscarriage is so common among women, but not many people are willing to share and speak about it," the artist says. "I accept my identity and body as a woman, and if I don't talk about it, who's going to talk about it? [This] is why I don't shy away from it."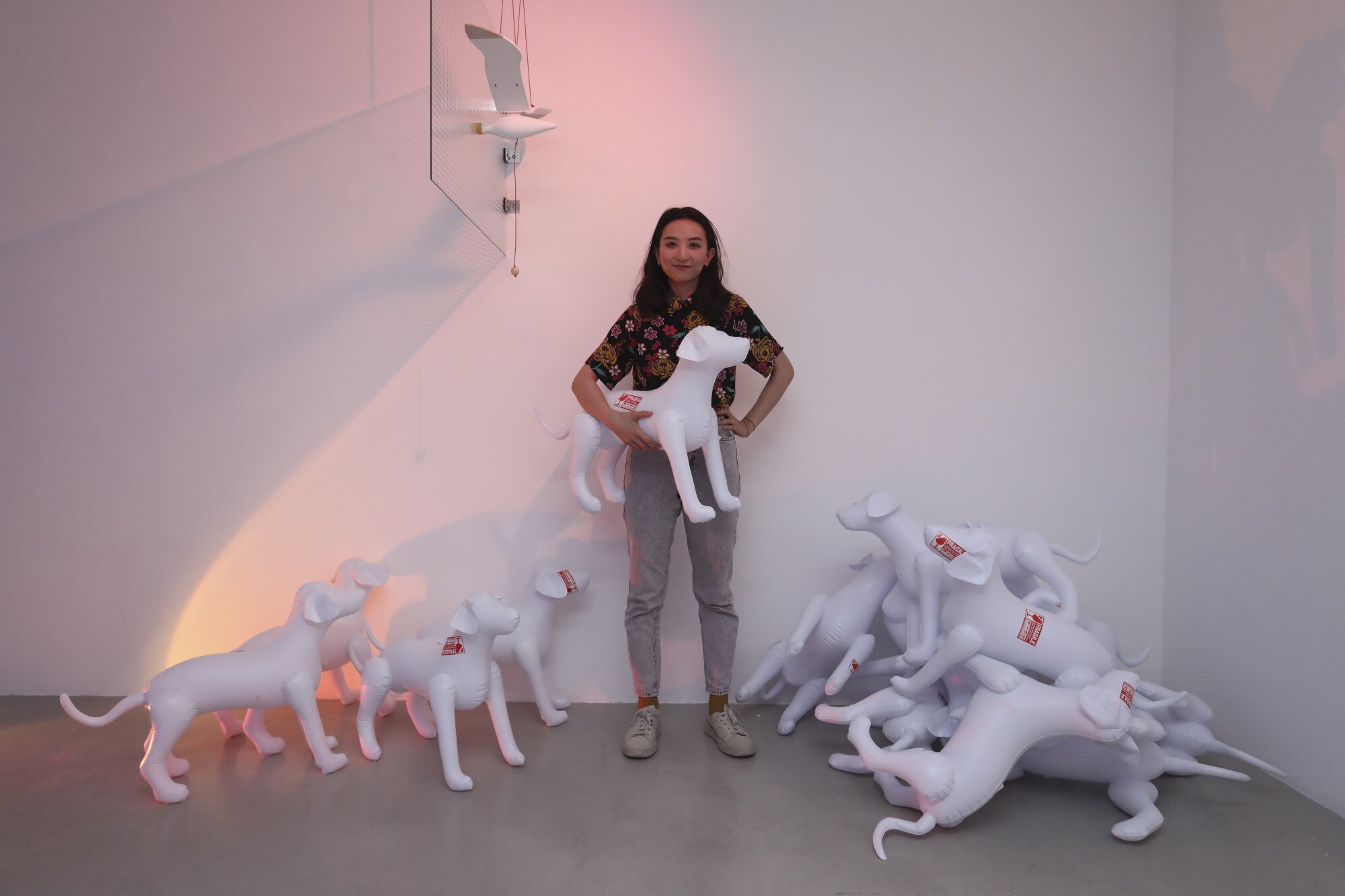 Works by Au Hoi-lam, Chan Ka-kiu and Jess Lau also feature in the exhibition.
Highlighting the work of Hong Kong artists and curators in spaces where it is not ordinarily showcased makes for a refreshing viewing experience. Most importantly, it also offers art professionals the opportunity to make experimental art in a mainstream, commercial setting that can reach new audiences.
"Residual Heat", Axel Vervoordt Gallery Hong Kong, 21/F Coda Designer Building, 62 Wong Chuk Hang Road, Wong Chuk Hang, Tue-Sat 11am-7pm. Until August 28.
"Ze/Ro", Ben Brown Fine Arts Hong Kong, 202, The Factory, 1 Yip Fat Street, Wong Chuk Hang, Tue-Sat, 11am-7pm. Until August 26.