Art
Get more with myNEWS
A personalised news feed of stories that matter to you
Learn more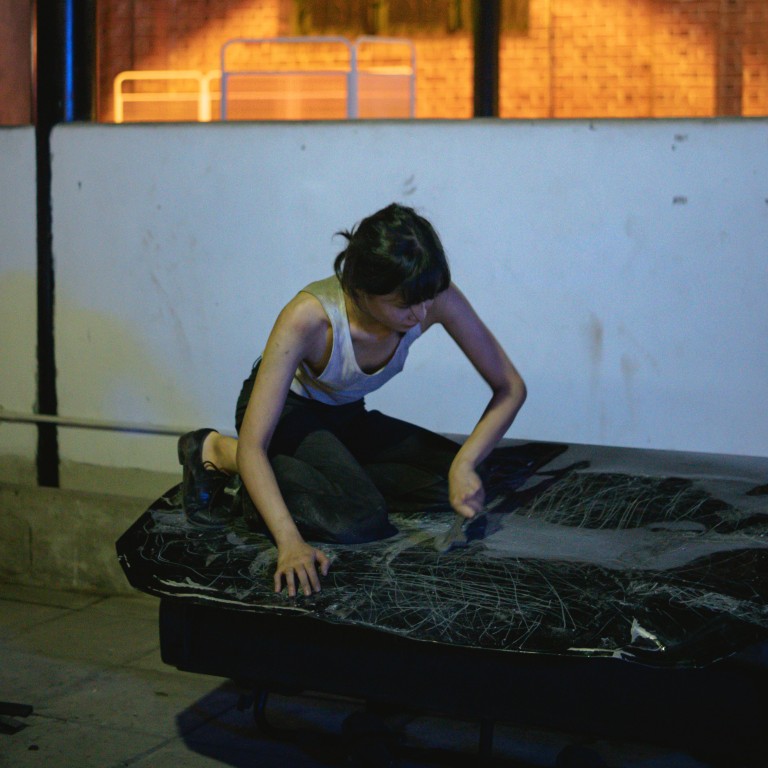 Gruelling performance art, sinister photography… and silkworms: the end of human dominance imagined at Hong Kong's Cattle Depot Artist Village
Nine artists take part in 'Post-Human Narratives – The Co-existing Land', an independent exhibition wrought out of a desire to find a new social paradigm
Mayumi Hosokura, Ho Sin-tung, Ice Wong, Florence Lam and Liv Tsim are among the artists featured
A sense of impending doom pervades Unit 12 of Hong Kong's Cattle Depot Artist Village, where an exhibition has just opened in the dank, un-air-conditioned former slaughterhouse during a week where the weather has alternated between insufferable heat and violent downpours.
The title itself is foreboding. "Post-Human Narratives – The Co-existing Land" suggests we have to brace ourselves for a future in which human beings no longer have the dominant say.
One would hardly expect a bed of roses from a group of nine socially aware artists amid widespread human and natural disasters, a global pandemic, and Hong Kong's own unsettling political changes. But they are not content with wallowing in grief. Two things stand out from this independent, non-selling exhibition: a desire to find a new, workable social paradigm by interrogating the very foundation of knowledge and identity; and the dedication of those particular artists who have tethered their works to their physical presence.
The idea of a "post-human" narrative, curator Kobe Ko Wing-lam says, isn't all that alarming, because we are already not entirely human. "We cannot live without our smartphones any more, and prosthetic implants are so common now that the whole idea of being human needs to be qualified," she says.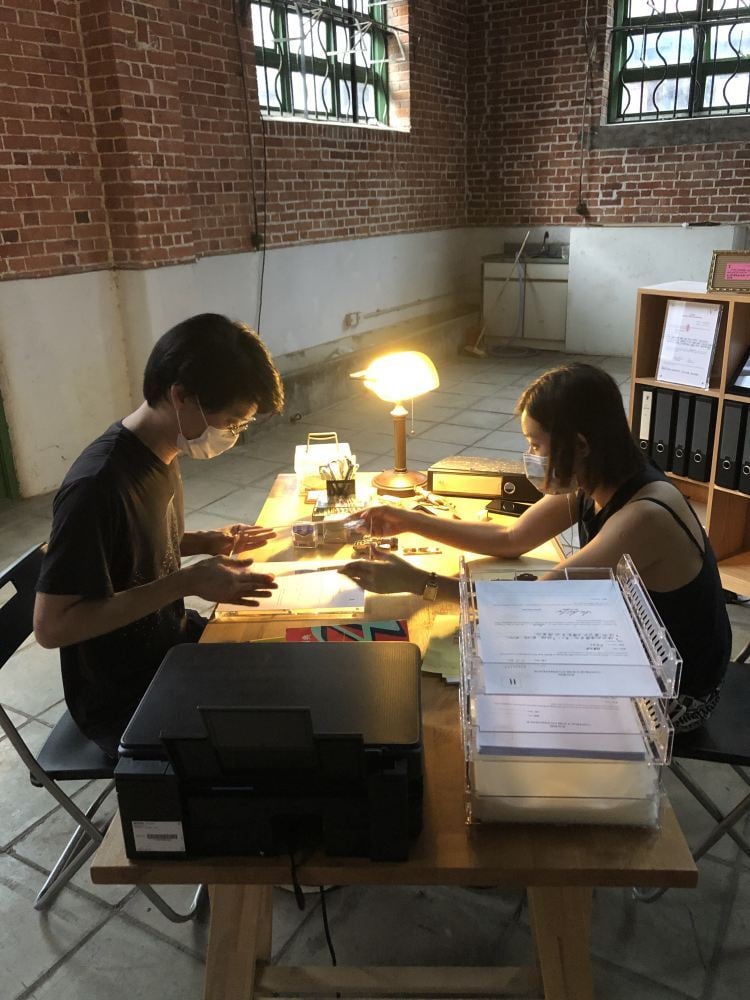 If we are not wholly human, then we are basically cyborgs and all existing identities that we traditionally rely on become suspect, Ko adds. Taking her cue from Donna Haraway, author of A Cyborg Manifesto, Ko invited the nine artists to ponder how we can move on from today's divisive society, and to look for affinity and ways to coexist.
For Ho Sin-tung, coexistence often boils down to specific interpersonal relationships and these never come in a template. At irregular times throughout the week at Unit 12, Ho and her life partner Kong Yum-fai can be seen sitting at a desk with a printer and a well-thumbed English-Chinese dictionary.
Together, they are making a performative work (often unwitnessed) that involves Ho picking out all the verbs in the dictionary and inserting them, one by one, into a standard contract for coexistence designed for herself and Kong.
They can add specific conditions to each, and even reject certain actions. They debate, in all seriousness, whether they would allow each other to "hack", to "acquire" or to "activate" each other.
The bringing together of life and art is an exercise that gives human scale and warmth to vast, existential questions and Ho's work is as touching as it is ridiculous. Indeed, people may mistake it as a romantic gesture, Ho says, but she has dragged her partner along to challenge the institution of marriage and highlight that interpersonal relationships are simply too complex and ever-changing to be pinned down by rules.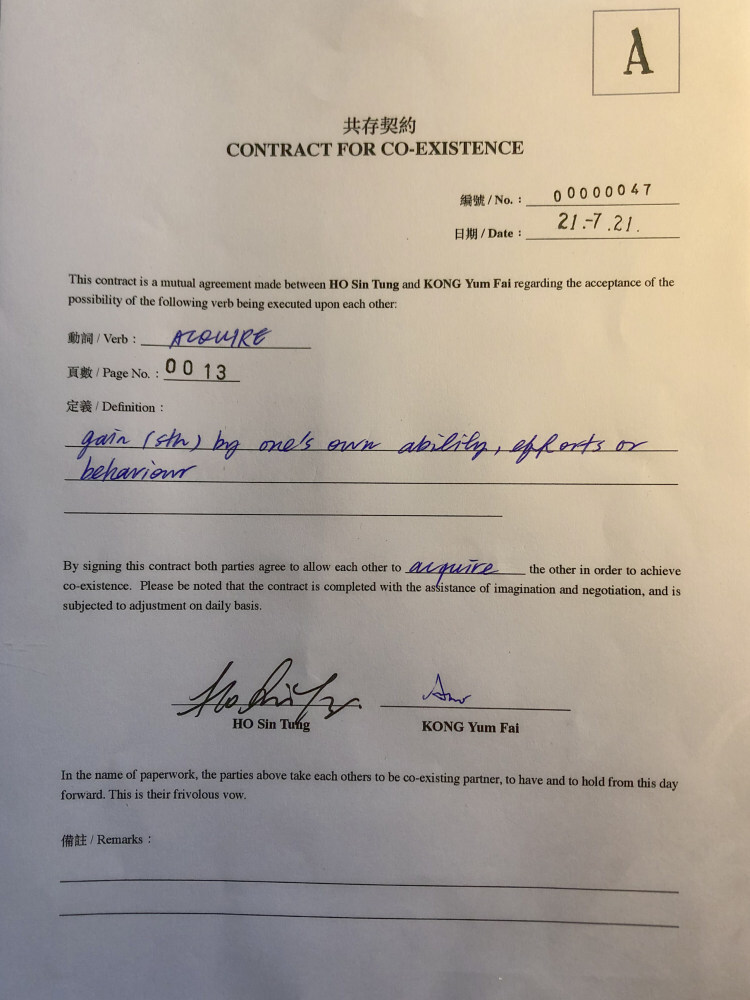 Two other artists look beyond human relationships to highlight the need for cross-species cooperation.
Ice Wong Kei-suet has turned one of the entrances to the brick building into a sunflower plantation. She comes here every day to water and tend to the plants, an action that brings her delight and emotional healing.
The cheerful, gently swaying heads form a work called The Interweaving of You and I.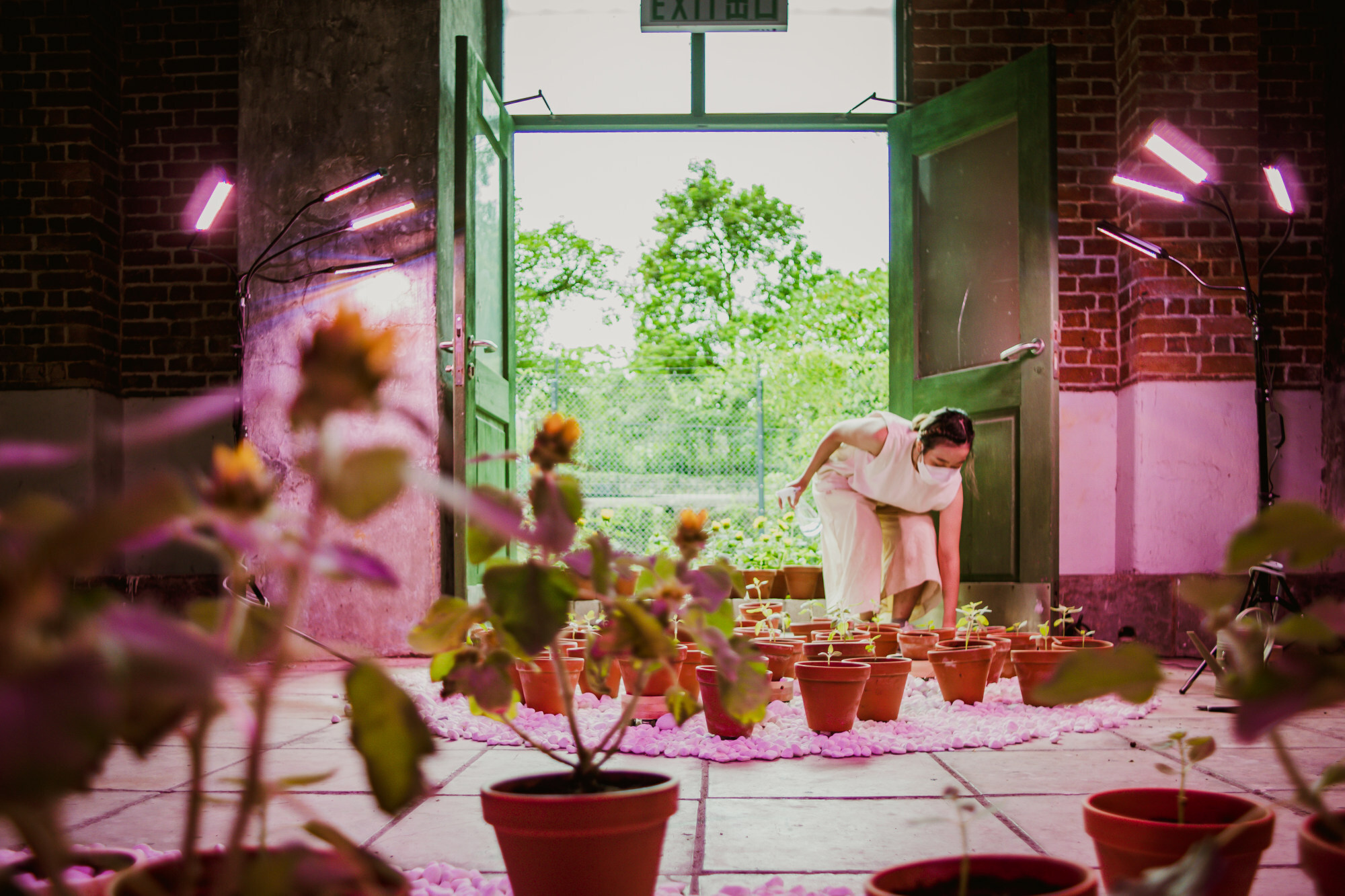 Nearby, a team of weavers are hard at work: silkworms, kept by artist Liv Tsim, are busy chewing up mulberry leaves and spewing silk that is used to construct a ladderlike structure in their temporary home. This piece, called The Good Builders, points to the blurred line between exploitation and coexistence. After all, domesticated silkworms have been so for thousands of years and can no longer survive in the wild.
A faintly sinister group of works inhabit another section of the exhibition. Digital screens show black and white photographs by Mayumi Hosokura, displayed as if viewed through a video camera slowly panning the still, uncanny images.
In one, what looks to be a naked limb is seen without context, a patch of hair suggesting it ought to be an armpit, but the shape is all wrong. As Ko explains, we tend to think of the camera as an objective mechanical device. But it distorts, it picks out details invisible to the naked eye. So how much does the machine control the way we see the world?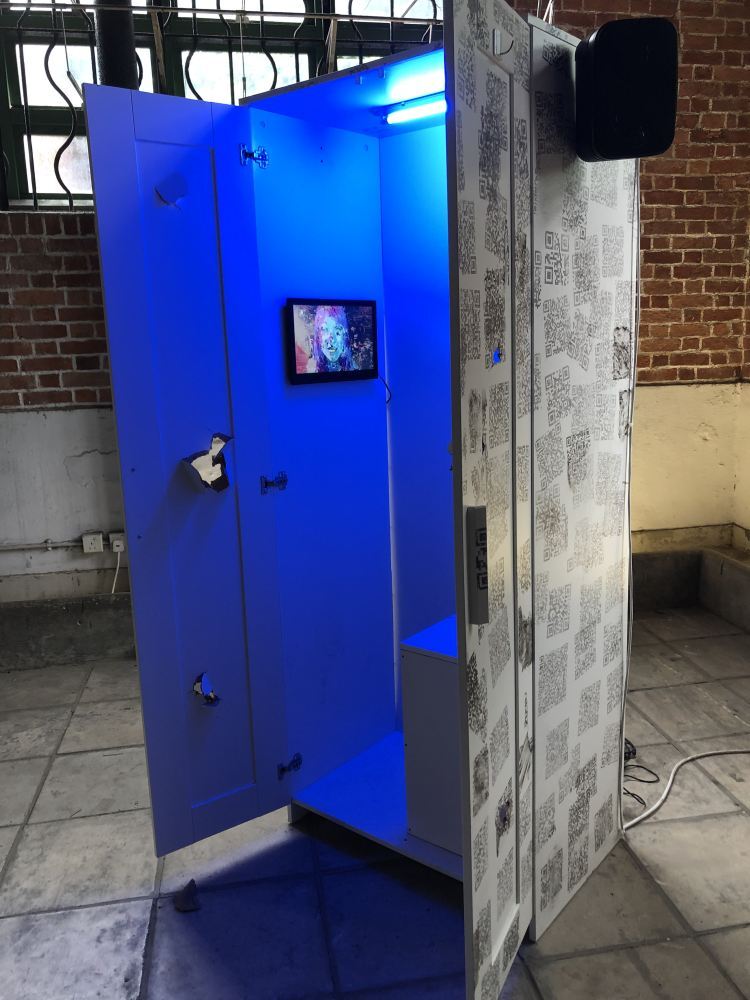 Nearby, parts of a wrecked car are scattered on the ground, their surfaces scratched and badly dented. On August 7, artist Florence Lam will return for a durational performance using these as props.
She calls the work Heaven Spot, a term used by graffiti artists to refer to highly visible yet dangerously hard-to-reach places to tag - trophy spots that mark a desire to make art beyond the limits of physical ability and social structures.
Here, Lam carves into the metal like ancient humans used to carve into cave walls, carrying on for hours until she is too exhausted to continue. It links our past with the ultimate symbol of modernity and industrialisation, and is both destructive and a way of communicating frustration and emotional release, Ko says.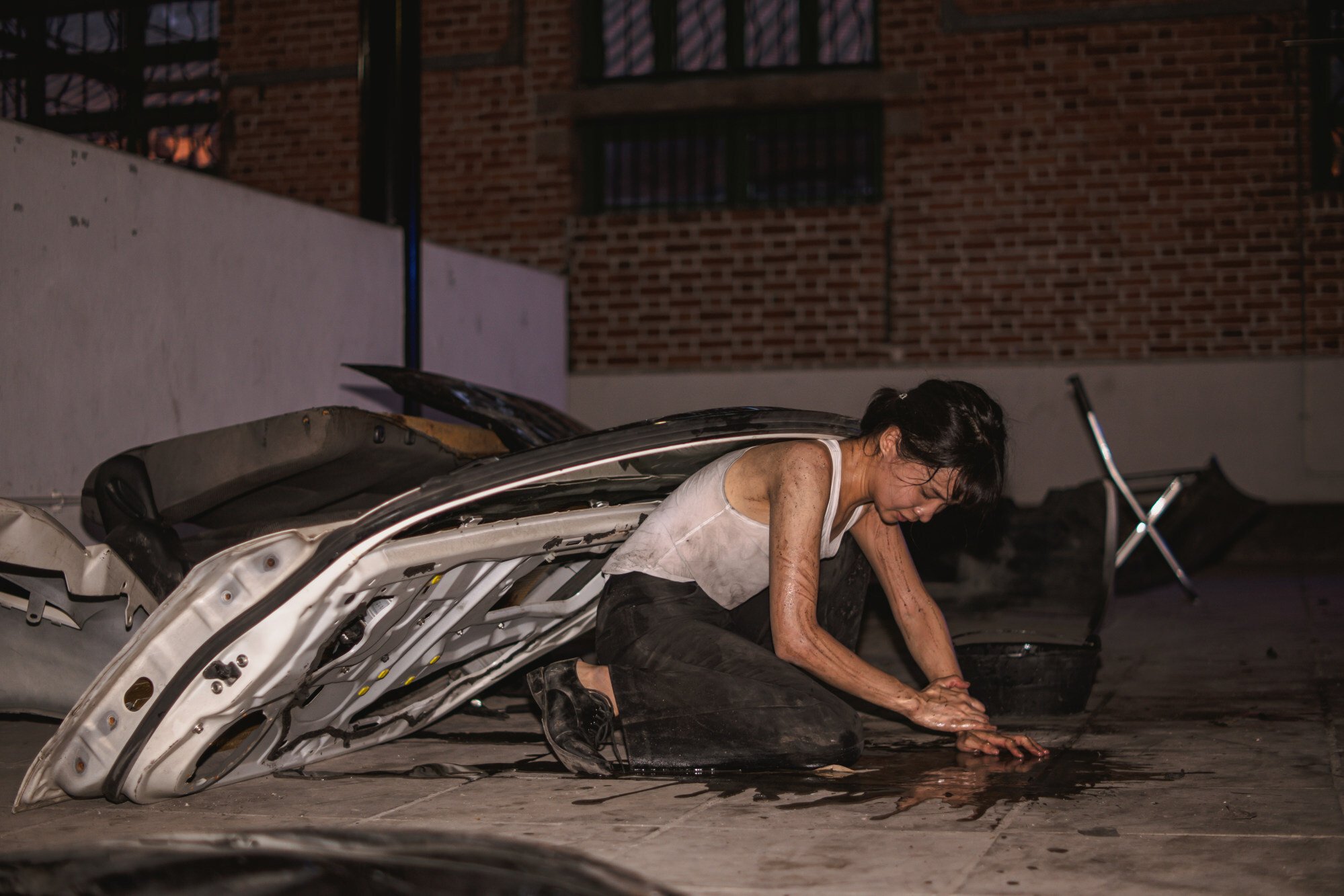 The whole exhibition has been a bit of a marathon that began last year, when the nine artists involved created a different set of works on the same theme and showed them as separate solo exhibitions either in a physical space or online.
It was an arrangement forced by the pandemic, Ko says, but it had the unintended outcome of allowing the project to become less of a one-off and more of a long-term collaboration and conversation. After all, any project with the goal of carving a way out of a collective quagmire certainly demands commitment and resilience.
"Post-Human Narratives - The Co-Existing Land", Unit 12, Cattle Depot Artist Village, 63 Ma Tau Kok Road, Ma Tau Kok, Tue-Sun, 1pm-7pm. Until September 5. Participating artists: Mayumi Hosokura, Ho Sin-tung, Ice Wong Kei-suet, Florence Lam, Tsui Hou-lam, Betty Apple, Bobby Yu, Liv Tsim and Serene Hui.