Art
Get more with myNEWS
A personalised news feed of stories that matter to you
Learn more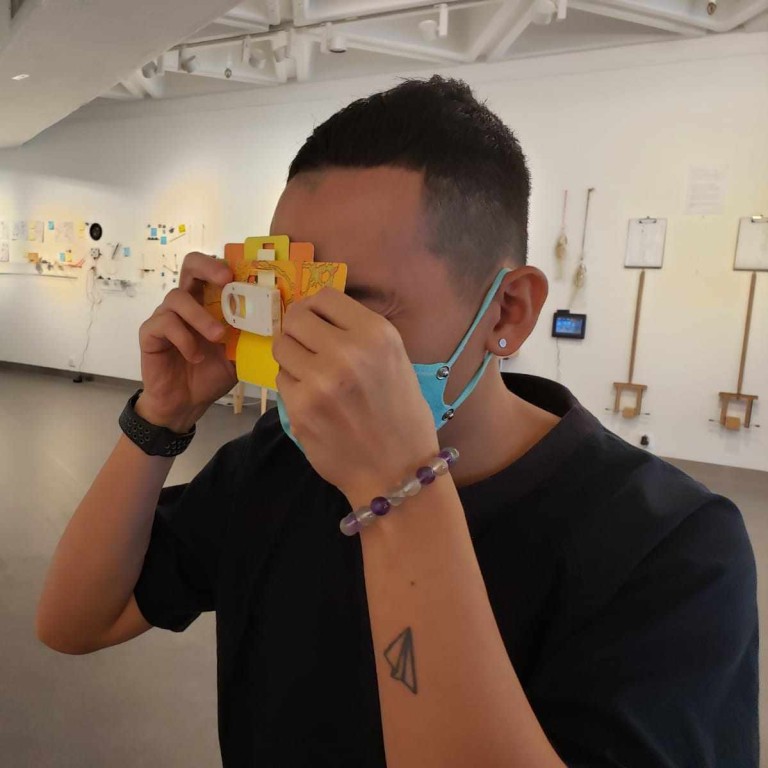 Four artists explore relationship of Hong Kong people with their city through play, and looking at how their memories are stored
Four artists are using play to explore the dramatic changes seen in Hong Kong over the past two years
Visitors to their workshops can take to the streets to push a square wheel, collect tiny objects of interest or play a musical toy
A group of artists have come up with a creative way to reset Hongkongers' relationship with their city after two years of dramatic change: by taking to the streets, and play.
From this weekend, you can attend workshops and talk to the team of four behind a temporary makerspace called the Play 4 Laboratory inside the Goethe-Institut in Wan Chai, part of the German cultural centre's two-month "The Body and The City" programme that also includes screenings of films about cities around the world.
Gum Cheng, one half of the artist duo C&G, has lined up a dozen or so handmade devices that resemble a measuring wheel. Instead of a wheel, a square wooden block is fixed to a rotating axis and participants are asked to "wheel" it along the street until the hard edges are worn down and the square turns into a round(ish) disc.
Cheng has taken an ancient Chinese aphorism and run with it. "The laws of heaven are circular, those of the earth, square" is a saying from ancient philosophers observing the rigidity and limitations of human thinking. For those in Hong Kong who manage to grind the wooden block down to a circle, Cheng promises an ultimate revelation: the true essence of Lo Ting, the man-fish creatures who were supposed to be the city's original inhabitants.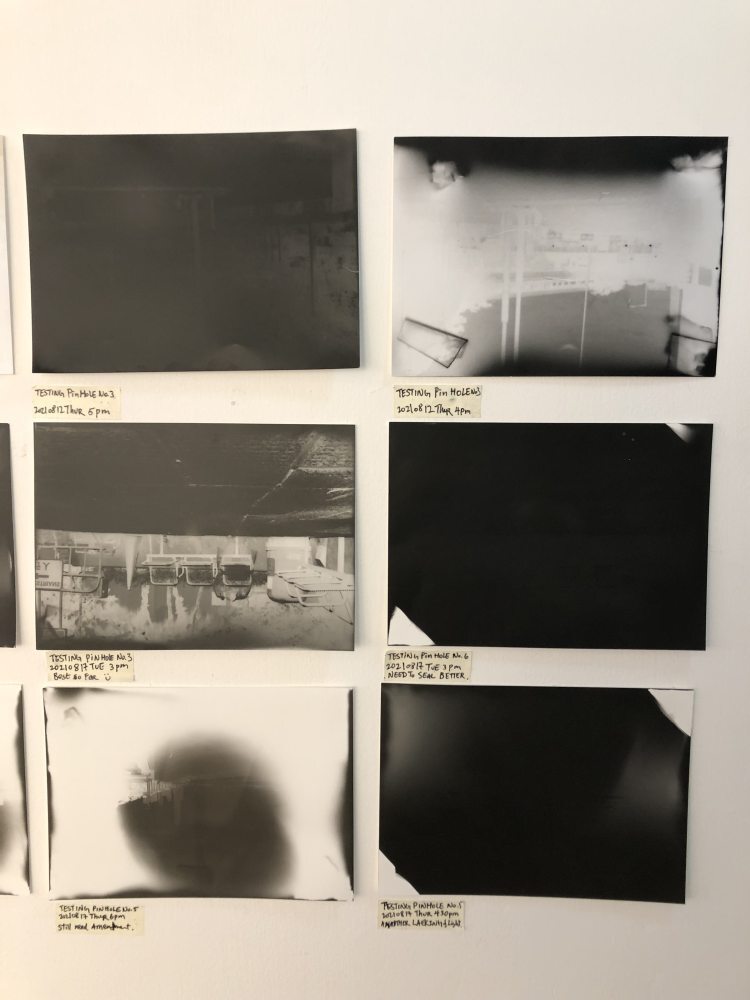 Spiritual enlightenment was far from my mind as I pushed the unwieldy implement down Hennessy Road, my eyes trained on the textures of different sections of the pavement, watching out for rougher, more effective surfaces for sanding down the wood.
The absurd experience reminded me of artist Francis Alÿs pushing a block of ice around Mexico City until it melted, in a seminal 1997 work about the daily grind called Paradox of Praxis I (Sometimes Making Something Leads to Nothing), as well as the Chinese fable about grinding an iron rod down to a needle (a lesson in persistence).
To me, the essence of Lo Ting is this: the smells and sounds of Wan Chai, the bemused expressions of fellow pedestrians, and personal memories attached to certain streets and landmarks.
A project by another artist, Rik Yu Wing-kei, makes him relive his own trauma from two years ago. He was caught up in one of the 2019 street protests and pepper-sprayed by the police, resulting in temporary blindness. Later, he suffered from a detached retina and has yet to recover normal sight.
The imperfection of pinhole cameras result in images that resemble the tunnel vision that he had experienced. But making the camera, taking it out on the street for long exposures and developing the photos in a darkroom slows his pace and allows a very different Hong Kong to emerge, he says.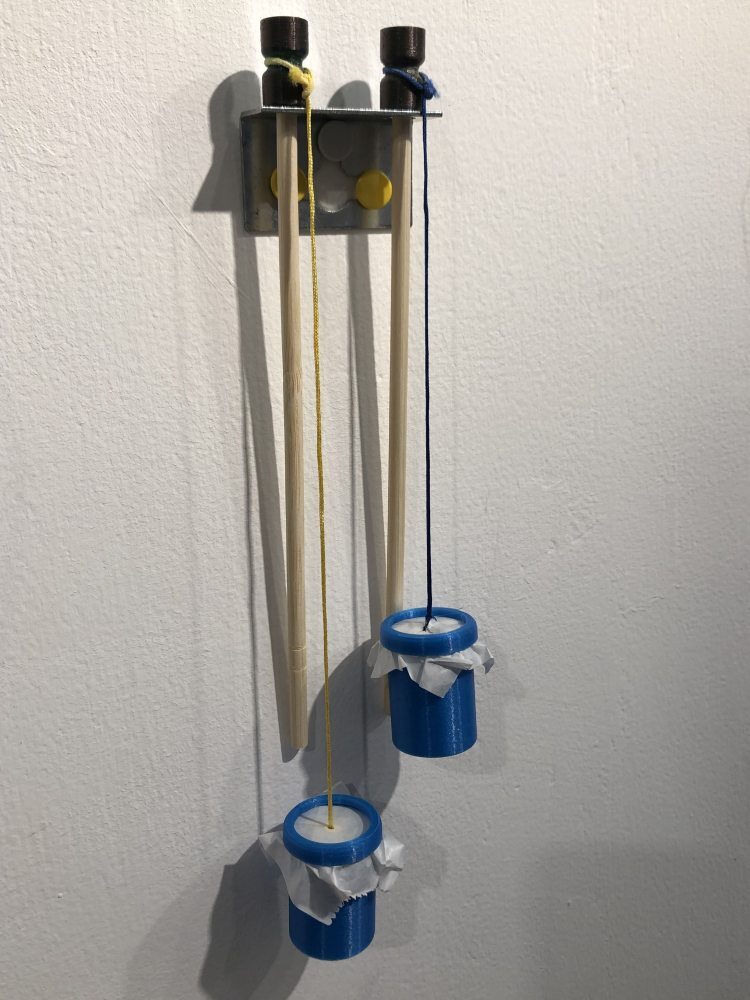 Sound artist Andio Lai Chung-man is also on hand to show how he makes a portable device that is great for playing with outdoors. It is a reverse-engineered version of a traditional Japanese "bamboo cicada" – a basic handheld toy that makes a whizzing sound when you swing it from a rod.
Lai has a 3D-printer at the Goethe-Institut that can make more units, as well as a number of other sound devices he has made using everyday products found in a typical Hong Kong home.
The fourth artist, Wong Wing-tong, is a biologist turned farmer in Hong Kong. He will take participants on what he calls a "microscopic" tour around Wan Chai. They will be asked to collect tiny things that are of interest to them, to take back to the Lab to place on microscopic slides and close examination.
He hopes that this will make people more aware of the unseen in daily life, and of connections between the natural world and city life.
Members of the public can play with the different toys now on show in the Goethe-Gallery and Black Box Studio. For registration for the workshops, call (+852) 2802 0088 or email
[email protected]
.
Additional reporting by Jess Ma
Goethe-Institut Hong Kong, 14/F Hong Kong Arts Centre, 2 Harbour Road, Wan Chai. Mon-Fri, 3pm-8pm, Sat, 1pm-6pm. Until Aug 28.
Additional reporting by Jess Ma.