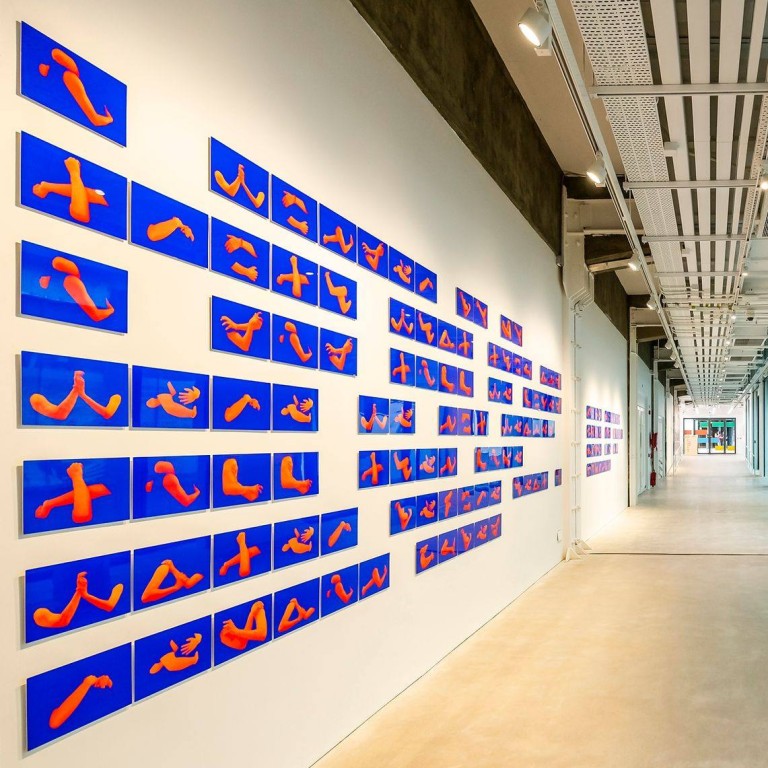 Malaysian artist hopes her Hong Kong show can bring out shared experiences between the city and her country
Yee I-Lann's 'Until We Hug Again' exhibition includes a 'Karaoke Mat' that encourages visitors to sing together and an invented sign language based on hugging
Her works collaborating with indigenous female weavers across Malaysia to make mats help fund projects led by the women in their local communities
Three hundred small panels are lined up in long horizontal rows, each panel showing a pair of arms in an intense shade of orange, suspended in mid-air against a cobalt blue background.
The panels form different "chapters" in Malaysian artist Yee I-Lann's series Rasa Sayang (2014-2021), meaning "feeling of love", which comprises several messages spelt out in an invented sign language based on a universal gesture of affection: hugging.
Yee, who hails from the island of Borneo, created the series in 2012 when she was driven to photograph people hugging as an antidote to the intense political animosity in Malaysia. She then isolated different arm positions digitally to represent the letters of the alphabet and used them to spell out messages of love and fear, which are as striking in this time of great physical and political divisions as the orange is against the blue.
The series forms part of "Until We Hug Again", Yee's first solo exhibition in Hong Kong.
"The series started when things were very frustrating in Malaysia," Yee says from her studio in Kota Kinabalu, the state capital of
Sabah in East Malaysia
. "People were talking at each other and not listening to each other."
Things have gone from bad to worse all over the world in the years since, and with a global pandemic still reaping havoc, holding each other for solace is not even an option for many.
The political situation had looked brighter, at least in Malaysia, in 2018. The outcome of that year's general election suggested a new era of inclusivity and a victory for democracy. But Yee was wary of being too optimistic, and had asked herself what a politically engaged, socially conscious artist like herself ought to be doing towards resolving the many problems faced by the divided country.
The result was a turning point in her practice. She started collaborating with indigenous female weavers across Malaysia who make tikar – woven mats made with bamboo or Pandanus grass – and together they create works of art that have been sold in local markets as well as collected internationally. Some of the proceeds return to the local communities for projects that the women themselves have control over.
Since she is not a skilled weaver, Yee's role as an artist is to come up with concepts and to be a conduit, she says.
"It is scary to let go of the creative process but I recognise my privilege in many ways and I want to see how they can open up the stage, or the mat, for other people who do not have the same opportunities," she says.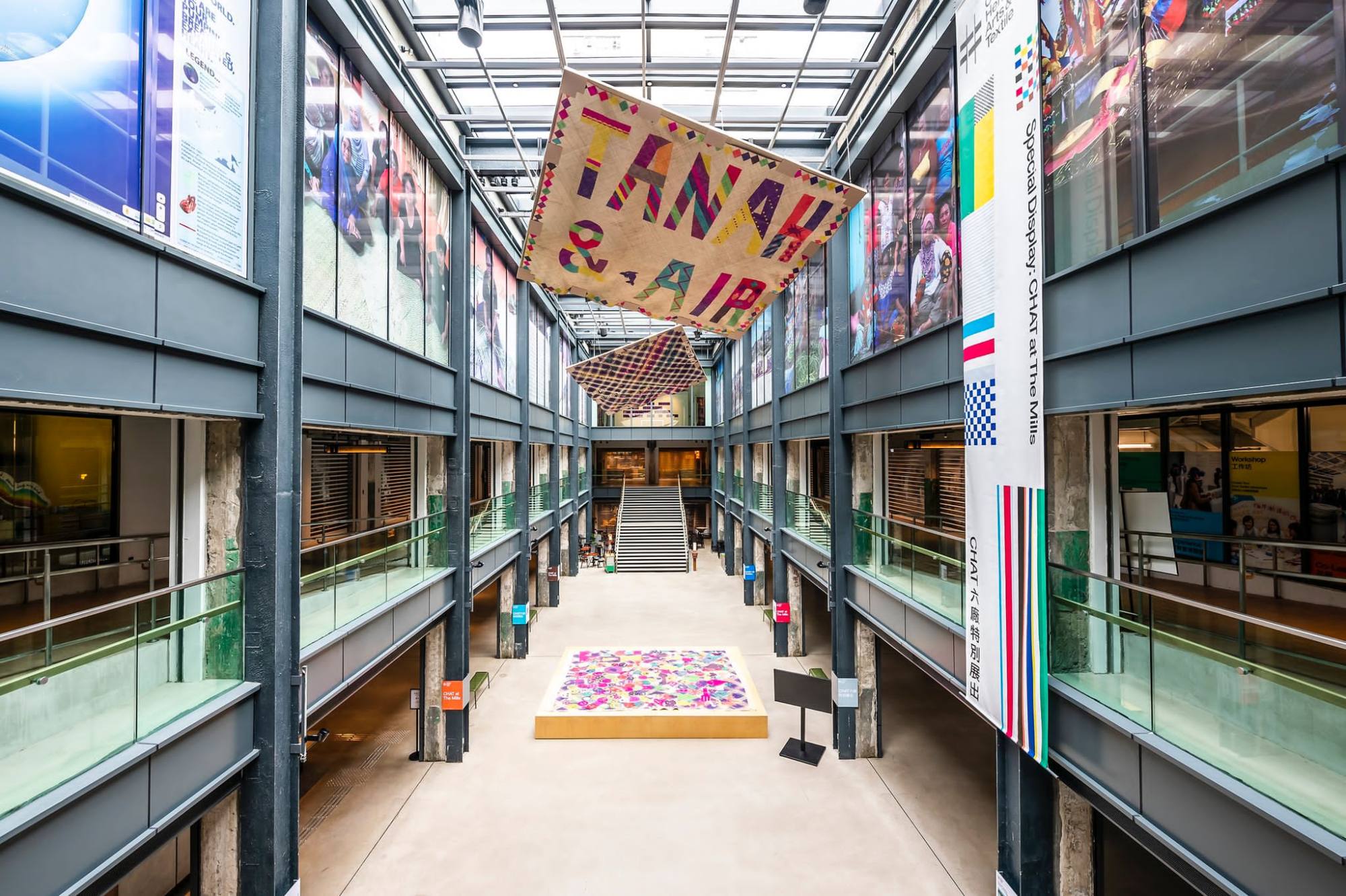 While the tikar mats originate from specific cultural traditions unfamiliar to most people in Hong Kong, she hopes that the exhibition can bring out shared experiences between the city and Malaysia rather than just differences, as well as create a physical space for dialogue.
During the exhibition period, different local groups of artists have been invited to perform on a large, elaborate mat filled with brightly coloured
emojis
that occupies the centre of the atrium at the Centre for Heritage, Arts and Textile (Chat), the contemporary art and cultural centre at the former Nan Fung cotton mills in Tsuen Wan that is presenting the exhibition.
Among them are members of Hong Kong's fishing community singing their traditional folk songs. That connects nicely, Yee says, with weavers from fishing communities around the small islands in the Sulu Sea, a body of water to the north of Borneo, and embodies the way globalisation connects Hong Kong to remote communities elsewhere.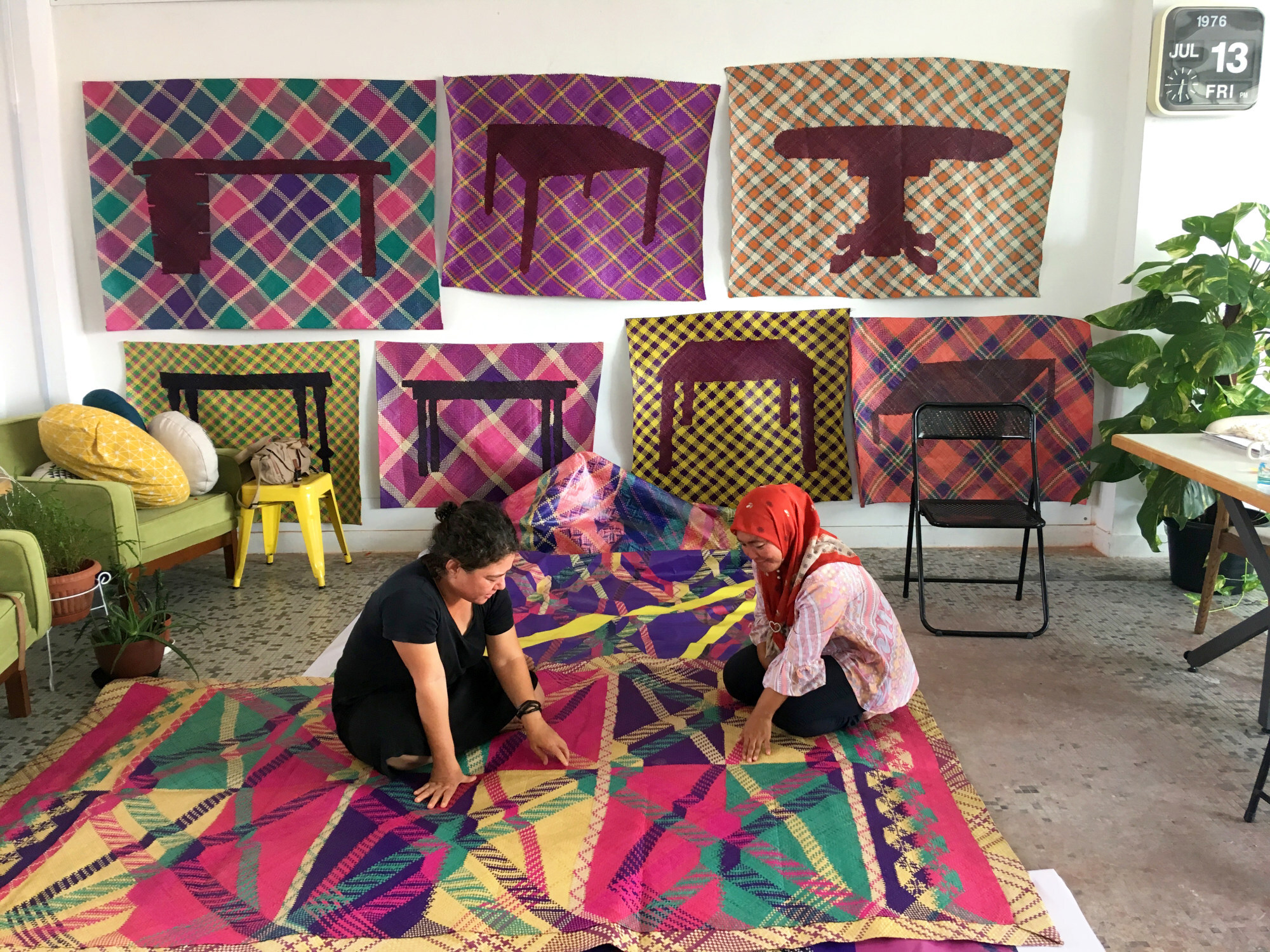 That's not always a positive connection, however. To feed Hong Kong's addiction to seafood, for example, chemicals and other environmentally disastrous fishing methods have been widely adopted in the Sulu Sea, says Takahashi Mizuki, chief curator of Chat.
For the exhibition, the women from the Sulu Sea and other parts of Malaysia have only goodwill to send Hong Kong. They have woven a bamboo "
Karaoke
Mat" covered in titles of, and lyrics from, popular Canto-pop songs to encourage visitors to sing together when they are inside the gallery. (Special Hong Kong-themed mats are on sale in the Chat shop.)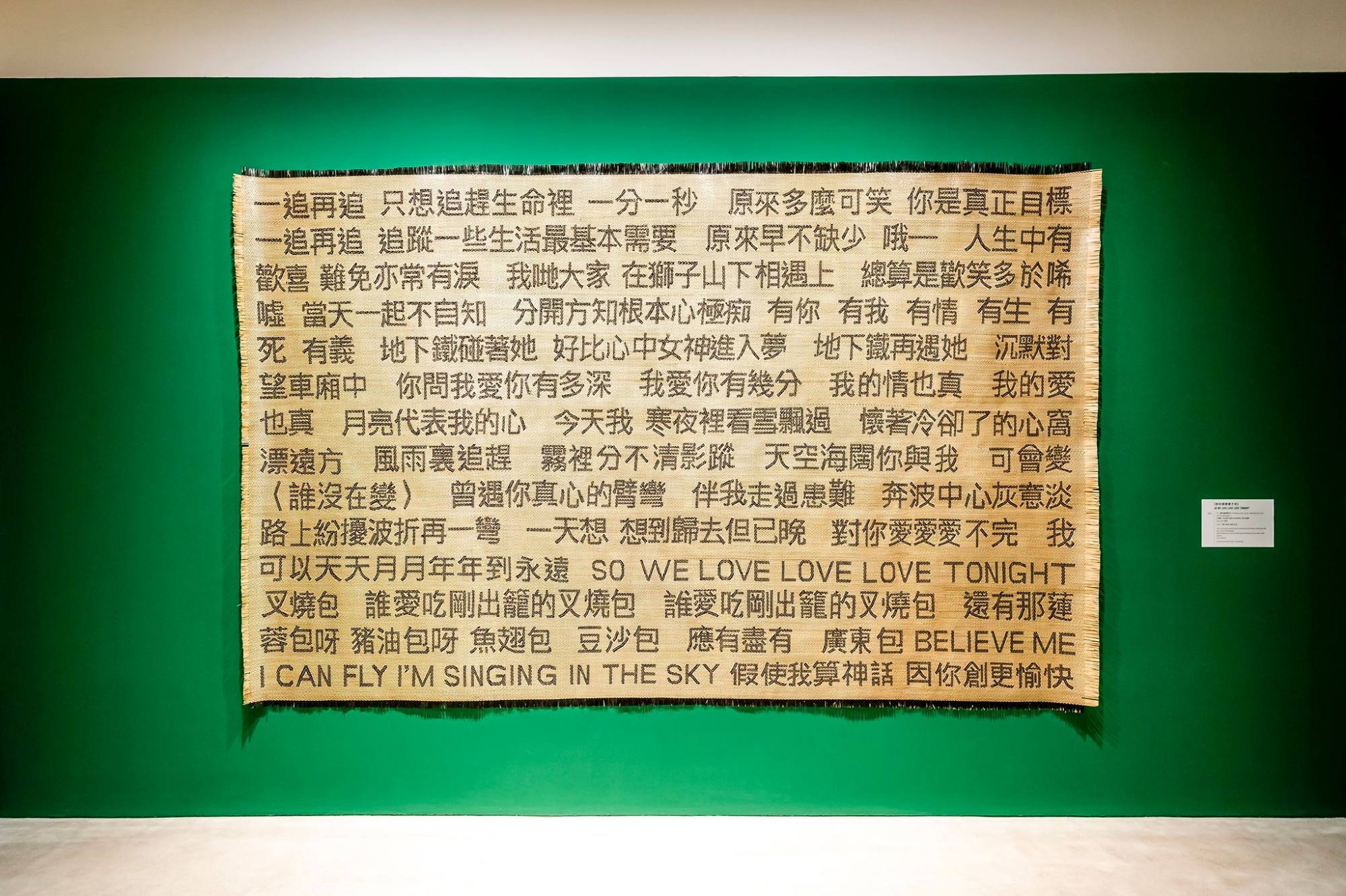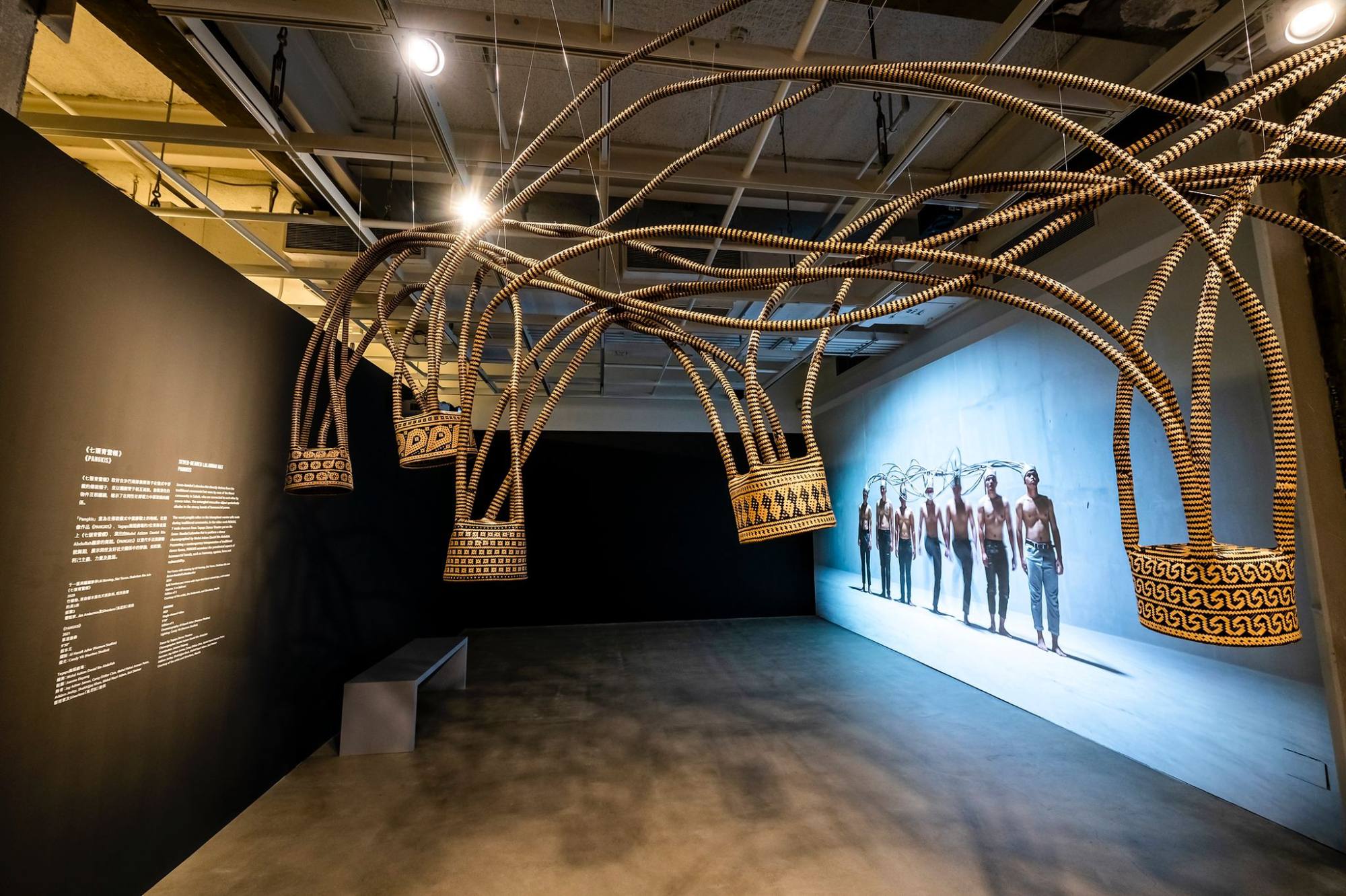 Borneo and Hong Kong are also linked by a shared European colonial past, a history that Yee is adamant that much of Asia has to come to terms with before a lot of political problems can be resolved.
While she is working to empower women in communities by making them feel proud of their own unique traditions, she says that with a New Zealand-born mother and a Sino-Kadazan father (the Kadazans are an indigenous group in Sabah), she is simply too "mixed" to have anything to do with identity politics.
It doesn't mean she is above politics. She is a "political animal" who is resistant to the homogenous identities imposed by nations and colonisers. But she doesn't see how the "us and them" mentality can make things better.
"What I am into is the creation of shared spaces where power becomes more equitably shared between people," she says.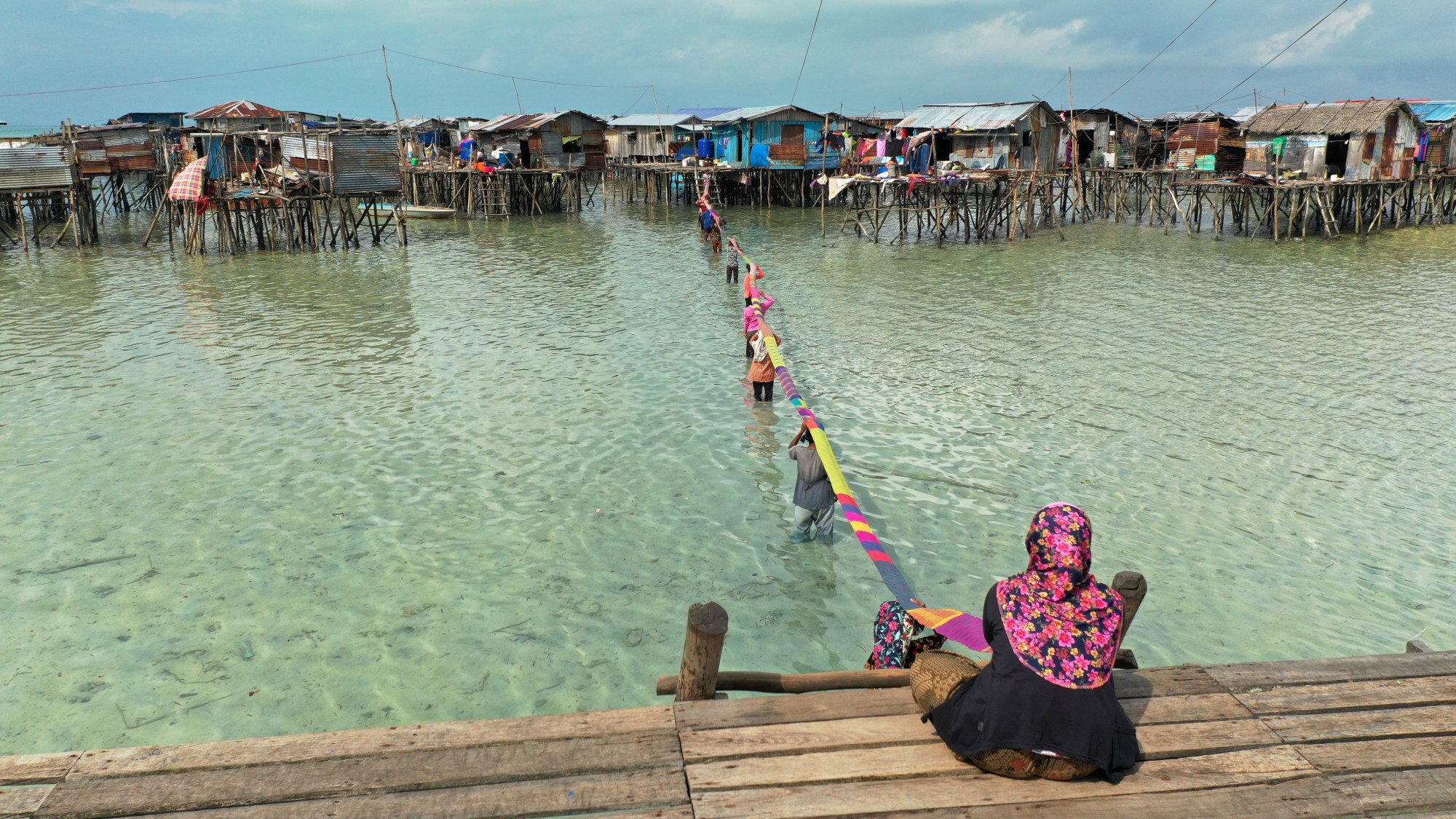 She points to the circular, regenerative economic system that is her collaboration with local weavers as a way human beings can embrace each other and acknowledge their mutual interdependence.
"I am not negating anybody's identity, but I am only interested in the mat," she says. "And a mat is what you get when you flatten down the boxes that dictate who we are."
"Yee I-Lann: Until We Hug Again", Centre for Heritage, Arts and Textile, The Mills, 45 Pak Tin Par Street, Tsuen Wan, open daily, 11am-7pm. Until Oct 17.