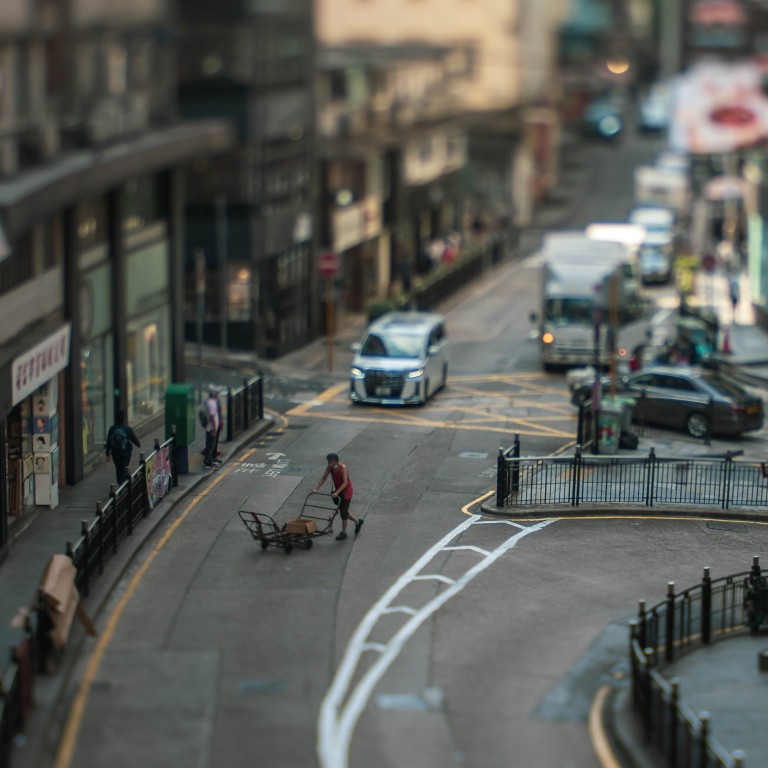 They dice with death every day on Hong Kong's streets, the elderly with their trolleys piled high – and most of us ignore them
We see them. And we blank them. Now six photographers have made the invisible visible, turning their lenses on rubbish collectors and other trolley pushers
They answered a call from Designing Hong Kong to illustrate the plight of the 'wheel-walkers', seven of whom have been killed in traffic accidents in a decade
If your life currently feels dull – if you're fed up with Netflix, video games, NFTs and bitcoin – there's a place in Hong Kong where you can watch actual humans dicing with death. It's in Sheung Wan, on the footbridge behind the Wing On department store.
From this vantage point, you will observe a stream of people below trying to cross four lanes of traffic. They're on foot, they're not young and each of them is pushing a trolley piled, stinkingly high, with rubbish.
Why did the rubbish collector cross the road? To get to the other side – because that's where the Man Kat Refuse Collection Point is hidden under the Connaught Road Central footbridge, next to Harbour Building.
Although there are stairs and lifts, these were not designed with trolleys in mind. In other words, it's impossible for the collection point to serve its actual purpose unless those who supply it take on the traffic.
Judging by several afternoons spent watching this operation – the trek from Infinitus Plaza to beyond – there's a knack: creep along the edge, step into a split-second space and hope for the best. Not everyone survives.
Every day all over the city, refuse gatherers and their trolleys face off against the city's traffic, and in past decade seven people pushing their carts have died in 12 serious accidents, says Designing Hong Kong. In 2017 it launched its "Walking with Wheels" (WWW) initiative.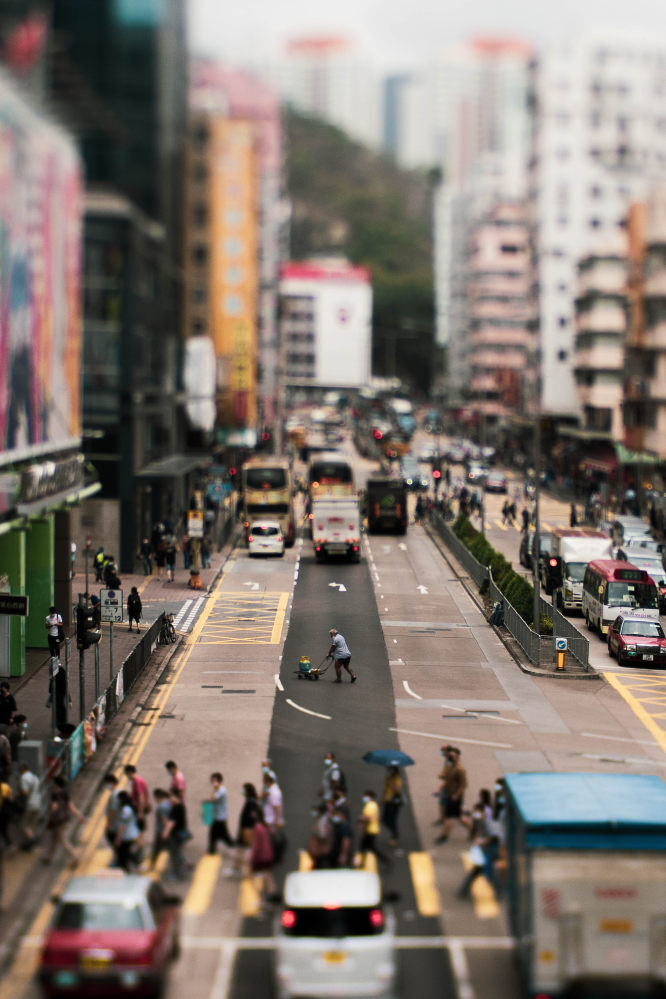 To highlight the problems, the NGO is holding its first photo exhibition. Earlier this year, it posted the idea for it on the website of Time Auction, an online charity that matches projects with volunteers. Photographers were asked to spend 15 hours during February and March charting the lives of wheel-walkers.
Originally, the exhibition intended to portray the many categories of dwellers who use wheels – on prams, on suitcases, on wheelchairs – to navigate the city. This was whittled down to couriers and refuse collectors. It features the work of six photographers and one video artist, and has been curated by
photographer Marcel Heijnen
.
Designing Hong Kong is advocating for better road design and urban planning and speed limits; but, at the most fundamental level, what the show wants is to make the invisible visible. On the streets, we register their existence. Then we blank them.
"You get used to seeing these [elderly people] crossing the streets without looking," says photographer Anthony Lau, 50. "Maybe they don't give a damn any more – the only way for them to get tonight's meal is to get across that road."
At first, his interest was in the couriers. From 2010, he'd spent six years working for international courier and express-mail company DHL, where he was an internal trainer. He used to take new recruits on their rushed orientation runs.
"I'd sit in a van in Mid-Levels, looking at it from an alternate dimension, then go to Kwun Tong. There was no time to stop."
In 2016, Lau won National Geographic's Travel Photographer of the Year Grand Award for his electrifying photo of a winter horseman in Inner Mongolia. By then, he was working for another company but, in April 2019 ("on a high note"), he decided to go freelance. He planned far-flung trips to photogenic lands.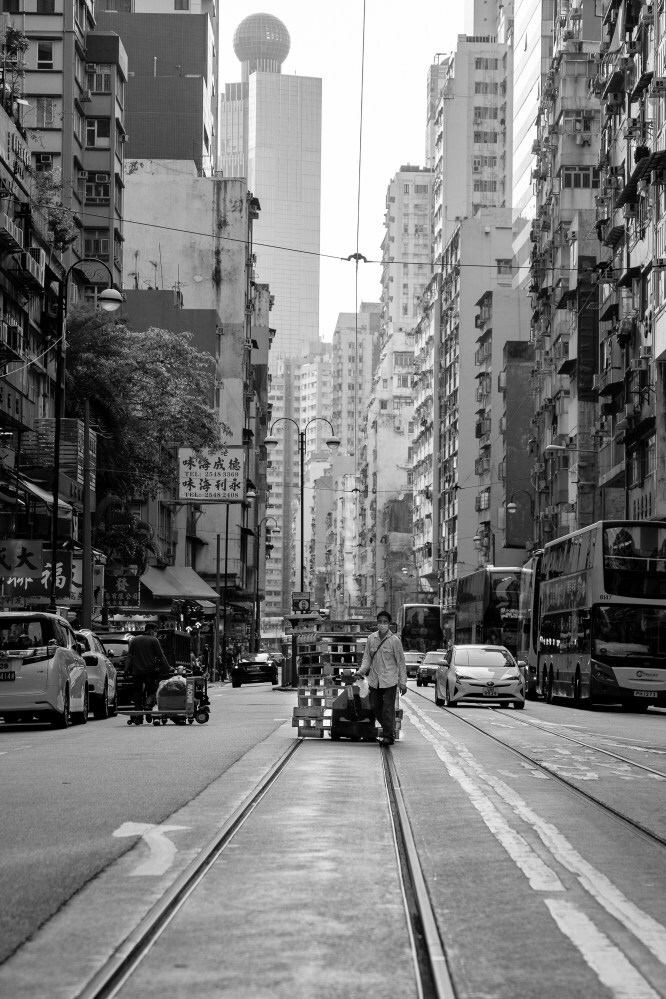 Events decided otherwise. Depressed, he slumped at home. "That's why I reached out to volunteer. Those people pushing carts through tear-gas, s***, virus … they still have to live their lives. Whatever happens, they push the cart."
He remembered his days as a manager for what DHL likes to call its Insanely Customer Centric Culture. On Hong Kong's streets, the insanity is of a different order. "I recall the difficulties big men had carrying stuff around Hong Kong. Then I imagine old people doing it."
As a travel photographer during Covid-19, Hong Kong became the only place he could explore. That made him look at it with an outside eye: he recalibrated his focus, in the most literal sense. His wheel-walker photographs were taken with a tilt-shift lens, which has the counter-intuitive effect of drawing attention to individuals by miniaturising them.
"I thought, how can I communicate the feeling that these people are in the city, right next to other people who don't care about them?" he says.
The result is unexpectedly moving, an insight into a lonely, heedless toy-town. "Tilt-shift can be gimmicky, it can look like Playmobil, but, in this case, it's very appropriate," Heijnen says. "It focuses on these guys while everyone else is out of focus."
Although the original Time Auction post for volunteers gave the project location as Sheung Wan and Central, Lau photographed wheel-walkers on both sides of the harbour.
Artist Samson Wong Pak Hang, 25, also moved beyond the boundary. He pushed an old television on a trolley from his studio in Kwai Chung to West Kowloon; the video of this trek, and people's reactions to it, is being run on a loop during the show. It's best viewed as a conceptual work. (His route wasn't densely populated; the trials of trolley users in Central are certainly greater.)
By contrast, the black-and-white photographs taken by the show's youngest participant, Matthew Cheng Miu-fu, who is a journalism student at the University of Hong Kong and turns 20 this week, have a harder, more realistic edge. He stuck to Central and Western district but spent longer than the suggested 15 hours on the project.
"This whole process went on for four to six months," he says. "It made me intentionally look for wheel users. I didn't know there were so many of them. I could see how they struggle."
One of his images shows a woman painfully pushing a cart up Centre Street in Sai Ying Pun. "This is her life every single day," says Cheng. "It evokes some emotion inside me. I know they are at the bottom of the hierarchy. It gave me an understanding of the city, the unfairness of the city."
Before the project, he says, "I was actually quite afraid of going out and shooting in this city, of holding a camera for a whole afternoon". His hesitancy has now gone.
The camera he held was not his own. Cheng, who describes himself as "a grass-roots person", borrowed it from a friend. That curtailed any impulse to get artistic on, say, rainy days. ("I don't want to take the risk – I can't pay him back if it gets wet!") As a result, his work has the simple directness of reportage.
You may have learned to ignore the streets' human striving. But he makes you pause in front of certain images – as a bus like a vast insect, for example, jams itself against the black boulders of rubbish while those nearby turn their heads away – and look again.
There are no price tags in the exhibition, although interested parties can contact Designing Hong Kong. Donations are welcome for its Internship Empowerment programme. It's the interns who've been going out in the streets over recent years, talking to the wheel-walkers. It is not an easy task.
On a recent very hot afternoon, the couriers have little time to pause for self-analysis and the rubbish collectors are wary. They worry that their livelihoods will disappear. Sometimes they think the interns are from an official organisation. Or that they're rioters. Either way, to someone whose life revolves around wheels, the interns are troublesome. They're wasting their time.
But the interns know that some of the elderly prefer to work at night, even though it's more dangerous to cross the roads. They know that some have to borrow their trolleys. They know that some now live in public housing in the New Territories but still travel back to previous haunts on the island to sort cardboard.
They know the rubbish-collectors are territorial, that even in the world of rubbish-collecting there's a hierarchy. They want the city to know more too.
Lau has recently moved to the UK. Hong Kong shifts; the wheel-walkers remain, an essential yet hidden layer. It may seem odd to hold such an exhibition in a high-end bar, but Designing Hong Kong believes change has to begin with awareness.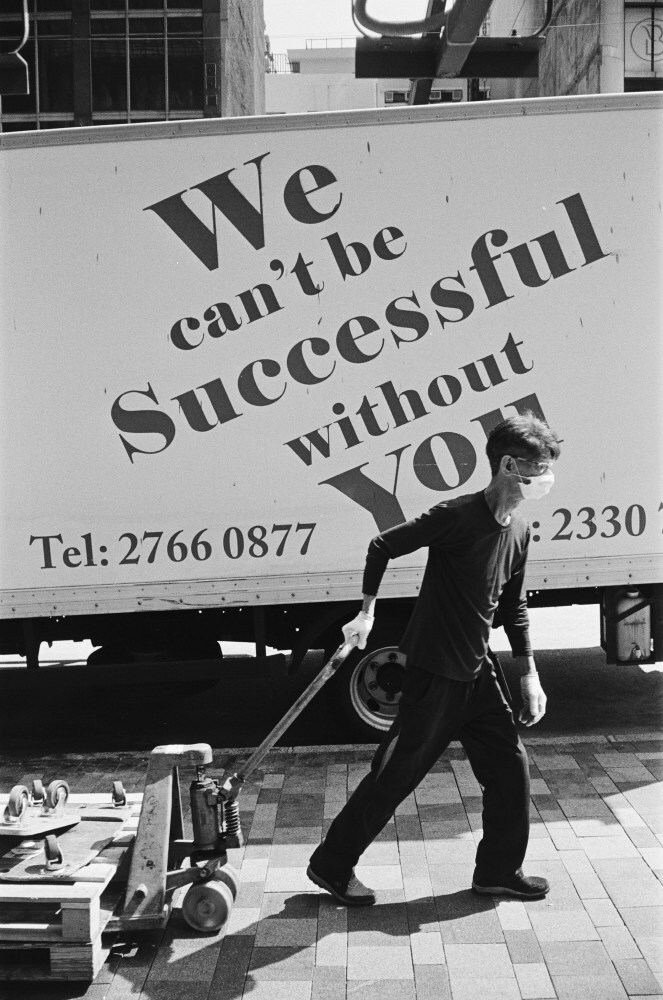 "The photographers make these people the heroes of this story," says Cheng, from his HKU dorm room. He mentions a photo by Abram Deyo, an American photographer in the show, of a masked individual wheeling a trolley in front of a truck that states, "We can't be Successful without You".
"That's the perfect summing-up of what this project is about," he says.
Designing Hong Kong's exhibition "Walking With Wheels" opens at Ping Pong 129 Gintoneria, 129 Second Street, Sai Ying Pun on September 8 and runs until October 3.