Art
Get more with myNEWS
A personalised news feed of stories that matter to you
Learn more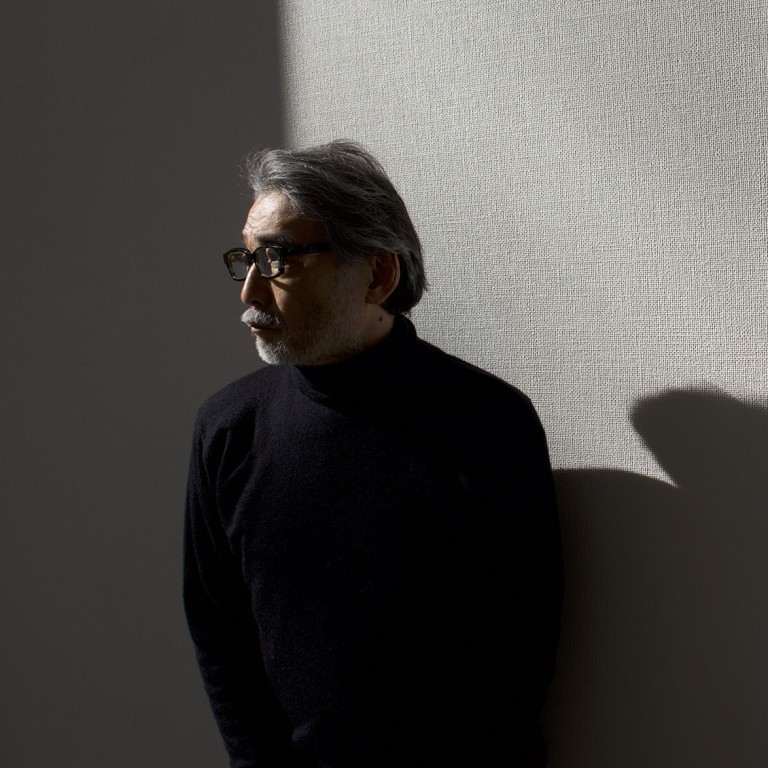 Master of shade and shadow Minoru Nomata's unbuilt architecture art depicts awe-inspiring imaginary structures in precise detail
Japanese artist paints canvases of monumental, imaginary structures without a human in sight, rendered with an architect's accuracy
Amid his towers without function and fantastical follies are works inspired by a visit to Hong Kong, where a selection of his works is on show at White Cube
Players of the visually stunning, and addictive, video game Monument Valley will have a sense of déjà vu upon entering the world of Japanese artist Minoru Nomata. His are landscapes of awe-inspiring unbuilt, and seemingly improbable, monumental structures.
With a career spanning several decades, Nomata, born in 1955, offers glimpses of what might be a familiar yet alien long-lost civilisation or parallel universe. Architects and illustrators will appreciate the realism and accurate rendition of textures, shade and shadow that show the modernist influences of Charles Sheeler, the American Precisionist.
Precisionism, an art movement that emerged in the early decades of the 20th century, venerated the machine age and, by extension, the erasure of people.
While some of Nomata's work features mysterious monolithic towers with no apparent function, others depict vertical follies supported by complex wrought-iron structures that evoke visions of a long-lost World's Fair expo or a precursor to the Eiffel Tower.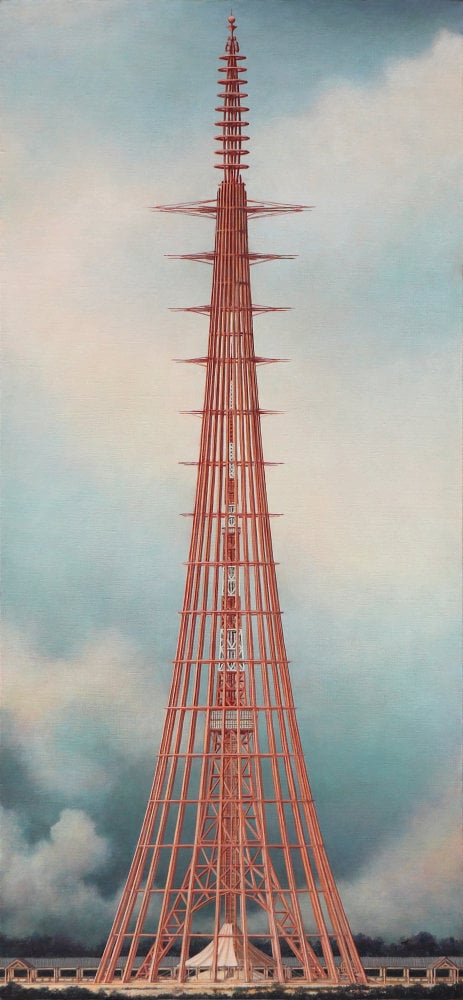 Several of these compositions depict what might be kinetic sculptures of found objects constructed by a lonely castaway on a desert isle. Most of his pieces have a strong vertical focus with solid grounding, and all leave the viewer with more questions than answers.
Humans, who typically establish a sense of scale, are conspicuously absent from these fantastical environments. In many of the works, the eye is drawn to tiny staircases, ladders, and doorways that provide clues of magnitude and establish the impossible monumentality of these architectural feats.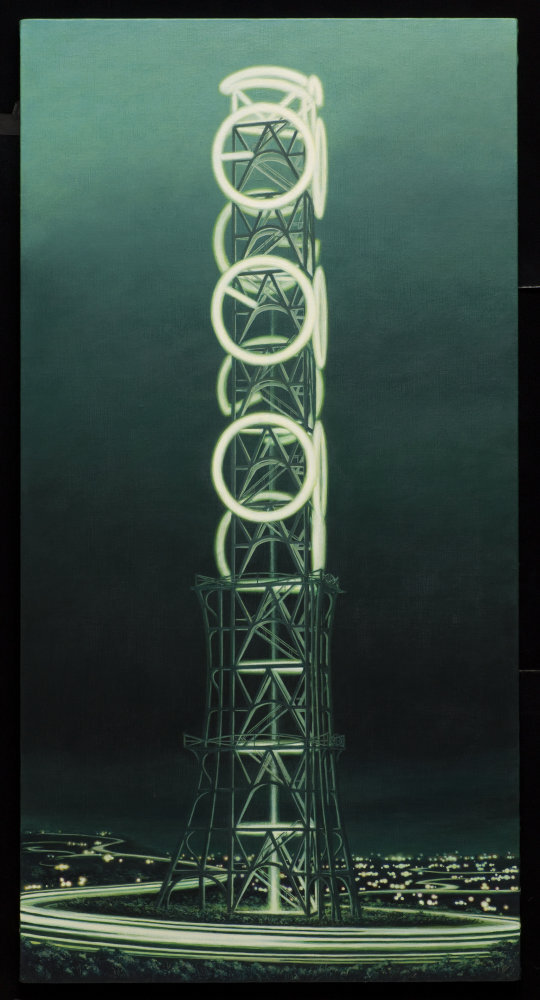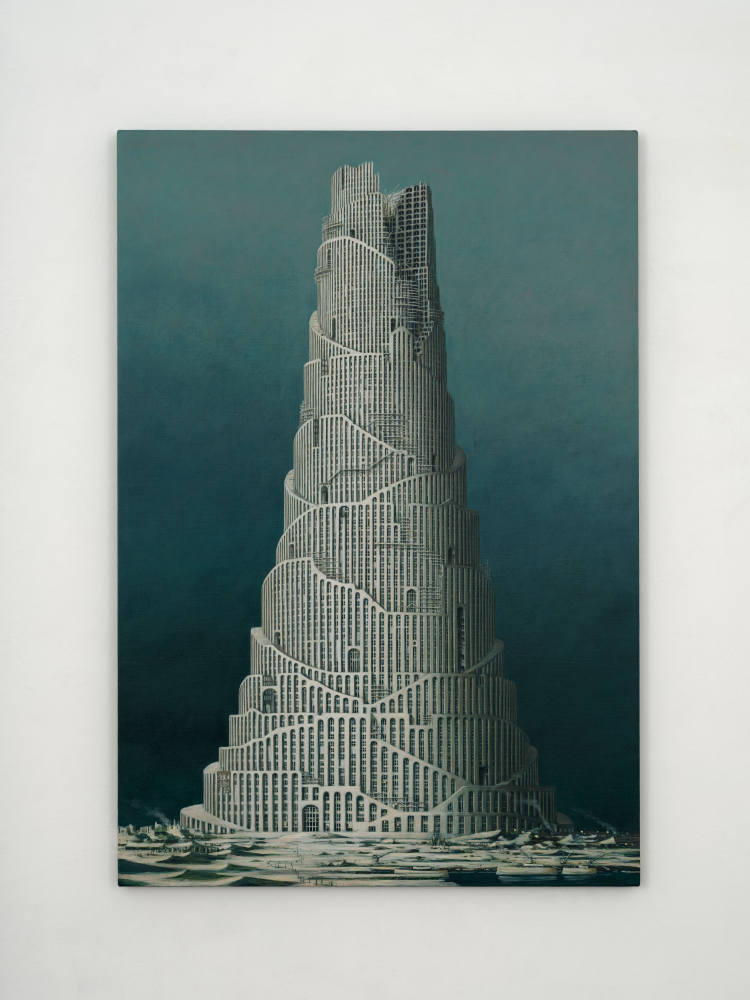 The artist personally selected a custom neutral grey paint finish for the gallery walls to highlight what are often monochromatic studies of a single hue. Works executed in emerald green, crimson red, terracotta and other earthy hues result in a fascinating range of nature-based colour studies that bring to mind the work of Syd Mead, the "visual futurist" behind Ridley Scott's 1982 sci-fi movie Blade Runner.
It is often said that light and water are two of the most difficult subjects to render accurately. Nomata's photorealistic rendering of light sources and the internal luminosity within his tower-like objects are superb. The accuracy of his perspective and true-to-life rendition of shade and shadow also rival that of the finest architectural illustrators.
One might wonder whether the Tokyo artist's upbringing in the industrial district of Meguro during a time of urban growth influenced his inclusion of construction scaffolding in several pieces. Structures and environments that appear to be perpetually under construction are oddly reflective of the ubiquitous bamboo scaffolding seen in Hong Kong's urban environment.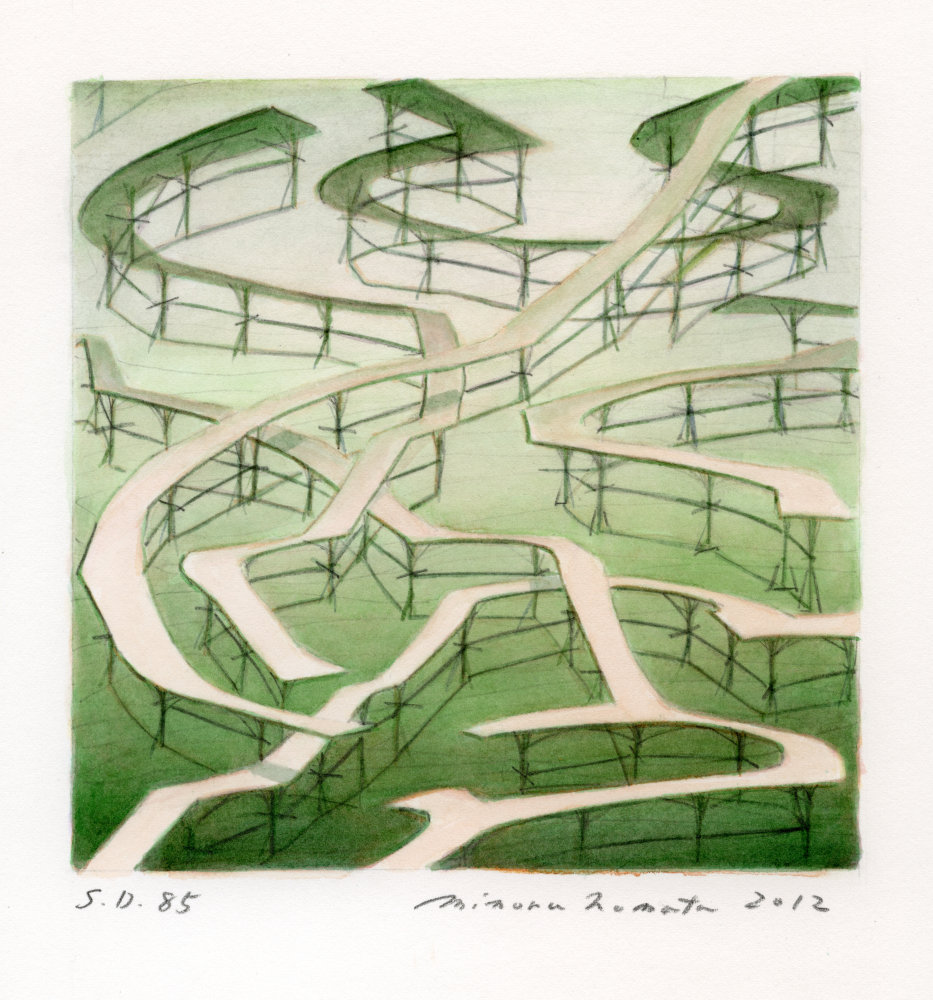 Indeed, certain works seem to have been inspired by Hong Kong, which he visited in 2006. The city's "forest of buildings" and liveliness left a "great impression", he says (as did, unfortunately, the haze obscuring views from the ferry he took across Victoria Harbour). He adds that his "Light Structures" and "Skyglow" series, which focus on light and energy, were evoked, to a certain degree, by Hong Kong night views.
Nomata purposely located one striking piece – a commissioned rendering of a high-rise building from this world, Blue City, 2009 – opposite the gallery's single upper-floor window. Perhaps this is to offer a momentary reprieve and glimpse outside into the real world, before diving back into a journey to another dimension.
The carefully curated exhibition primarily features works of acrylic on canvas. Some are suspended within free-standing frames placed in the centre of the gallery, which offer an ever-changing juxtaposition of wall-hung pieces in the background as one walks by.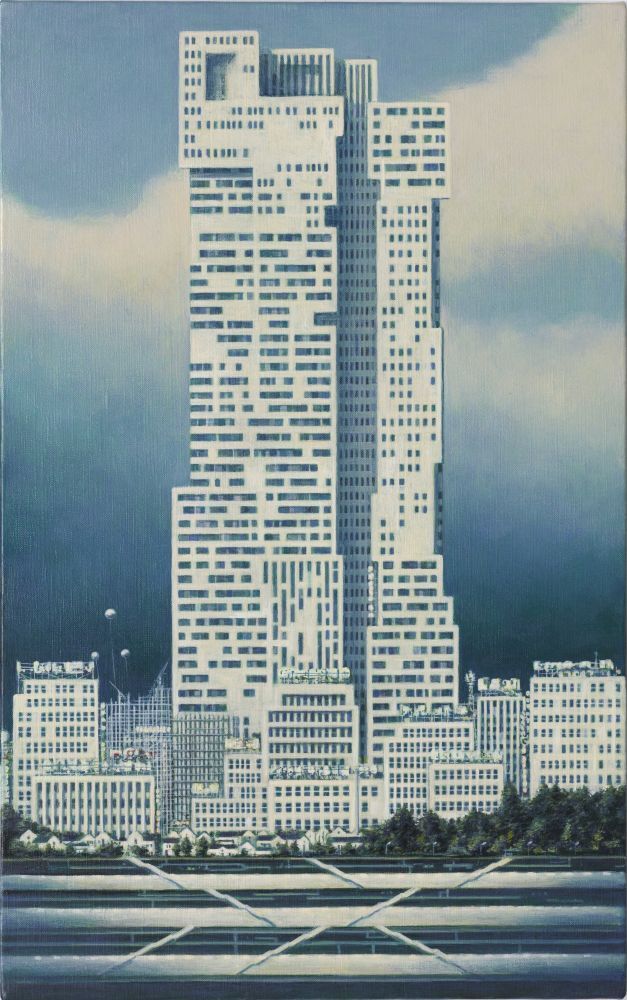 These colourful pieces are balanced by a small collection of CD-sized pencil and watercolour sketches on paper, which serve as astute studies of light, form, shade and shadow. A coup d'œil into Nomata's creative process is offered through a horizontal display case featuring a collection of his colour and value studies, in addition to small 3D reference models used in painting his larger works.
Nomata has remarked: "Painting is an escapist world, but I would like it to be a place to become energised and return to the world rather than a place to stay." Viewers of his collection of stunning unbuilt work should prepare to escape into a world where they might just want to stay.
Unbuilt, by Minoru Nomata, September 8-November 13, at White Cube in Hong Kong (whitecube.com).