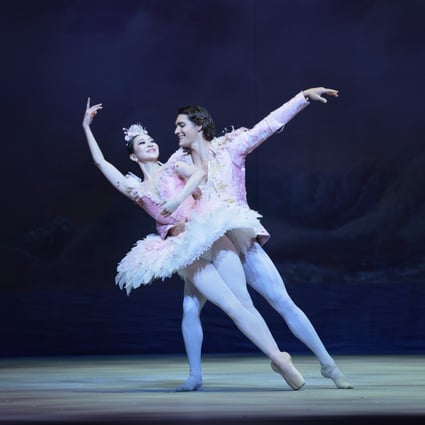 Ye Feifei and Daniel Camargo in Hong Kong Ballet's new production of The Nutcracker, which looks set to be a crowd favourite with its Hong Kong setting and cultural references. Photo: Keith Hiro
New Nutcracker production a triumph for Hong Kong Ballet and its artistic director Septime Webre
With its Hong Kong setting and playful cultural references, new production is a crowd-pleaser. The sets are stunning and imaginative costumes a riot of colour
Ye Feifei dazzles as the Sugar Plum Fairy, as does Shen Jie as the Monkey King and Lead Jockey, but the Nutcracker character is left with too little to do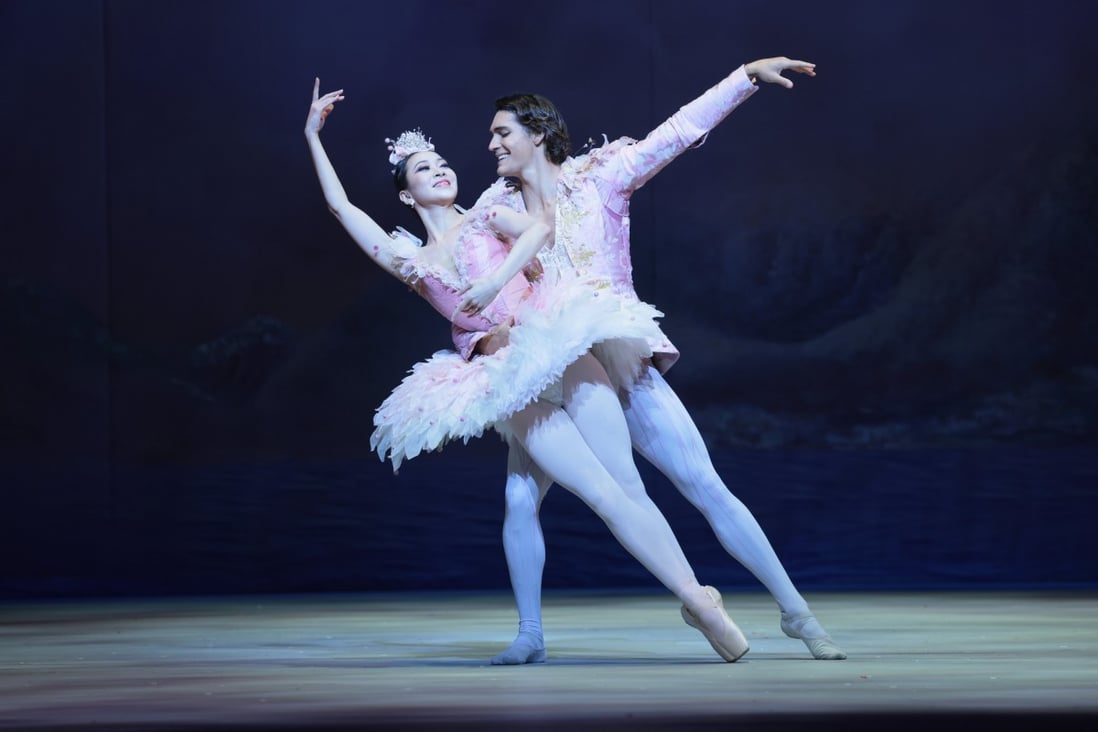 Ye Feifei and Daniel Camargo in Hong Kong Ballet's new production of The Nutcracker, which looks set to be a crowd favourite with its Hong Kong setting and cultural references. Photo: Keith Hiro
The Nutcracker is back – and back with a bang. Like a well-stuffed Christmas cracker, the new production by Hong Kong Ballet's artistic director, Septime Webre, explodes with a bounty of colourful sets and costumes, virtuoso choreography, and comedy.
From the moment you walk into the theatre and see how the proscenium arch has been framed in golden curlicues ("Wah!" went many children as they entered), and a scaled-down version of the Tsim Sha Tsui clock tower off the stage on one side and Clara's bedroom on the other, you know this is going to be a spectacular show.
Received with a huge standing ovation (as rare as hen's teeth in Hong Kong) on the first night, this Nutcracker is a triumph for the company and for Webre, and looks set to delight festive season audiences for many years to come.
The Christmas party which opens Act One is genuinely joyful. The guests, from the old but sprightly grandfather to the naughty children, are clearly having a wonderful time. Characterisation is full of details and Webre, typically, injects plenty of humour. It was an inspired idea to base the set on the 1914 mansion which now houses the Sun Yat Sen Museum, and the mix of Western and Chinese costumes and characters works nicely.
The magical puppet show features a crane and a peony that emerge from an enormous vase decorated with those auspicious creatures, plus a virtuoso performance by the Monkey King.
The Act Two divertissements then offer a succession of tongue-in-cheek Hong Kong references. The Cheung Chau Bun Festival scene, with lion dances and solos inspired by Chinese dance, is particularly successful, as is the jockeys sequence, while the white tiger playing with a flock of showgirl cockatoos is a charming piece of whimsy.
Big, bold and bright, this is a quintessentially American Nutcracker – the Hong Kong touches are fun and well realised, but they are the icing on what remains an unmistakably American cake.
Webre has, like most US choreographers, taken George Balanchine's version of the ballet as his model and follows it in keeping the tone consistently upbeat; there are none of the darker layers hinted at in some productions. Drosselmeyer (here called Tao Sifu) is a jolly conjuror rather than a mysterious magician and there is nothing sinister or scary about the battle with the rats, with the Nutcracker's army portrayed by children (large numbers of children feature prominently throughout the ballet, as is the case with Balanchine).
In Balanchine's version even the heroine, Clara, and the Nutcracker doll she is given for Christmas are played by children, so it makes sense for them to spend Act Two watching the grown-ups dance.
But casting adult dancers in those roles, as Webre does, ​seems odd ​if you are not going to follow the approach where they are transformed into a ballerina and her prince, which gives them lots of dancing (and makes for a stronger narrative).
​Here the Nutcracker especially is left with little to do, and on the first night it was a head scratcher to see Shen Jie, the company's only male principal, sitting on the sidelines instead of performing (if you were picking the Davis Cup team for Serbia, why would you leave Djokovic on the bench?).
The current dearth of senior dancers, plus a number of injuries, has left the company stretched to the limit – and, as usual, Webre has taken no prisoners when it comes to packing the choreography with technical difficulty. The dancers have responded gallantly and there was much good dancing to enjoy in the first two shows.
If there were a few glitches, that's not surprising for a new production on this scale. By the end of the 19-show run, things should be smoother.
On the first night Ye Feifei was a superb Sugar Plum Fairy, elegantly partnered by guest artist Daniel Camargo. Shen Jie was off the bench in the second show, with his skills on dazzling display as the Monkey King and Lead Jockey.
Other highlights included glittering accounts of the Dew Drop Fairy from Amber Lewis and Jessica Burrows (who on the first night shone in no fewer than four supporting roles), and impressive performances full of lovely high jumps from Garry Corpuz (as the Snow King) and Yonen Takano (the Cavalier to Lewis' Sugar Plum).
Peggy Lai Pui-ki brought a sweet warmth and lyricism to Clara and fellow Hongkonger Jeremy Chan Sheung-yin was splendidly obnoxious as her brother Fritz. Forrest Rain Oliveros did a tremendous job of partnering Gao Ge's sinuous White Snake and Ma Renjie stood out in a variety of roles both for his acting and his dancing.
Tchaikovsky's irresistible score brought out the best in the Hong Kong Sinfonietta under conductors Yip Wing-sie and Vivian Ip Wing-wun, and visually, the production is so lush it almost overwhelms the eyes.
Gabriela Tylesova's sets are stunning; the transformations – into a jungle-like Christmas tree, an ice cavern or a glade of flowering Bauhinias – work beautifully and her costumes are a riot of colour and imagination, with local authenticity ensured by associate designer Albert Au.
The Nutcracker, Hong Kong Ballet, Grand Theatre, Hong Kong Cultural Centre. Reviewed: Dec 11 evening and Dec 12 matinee performances.