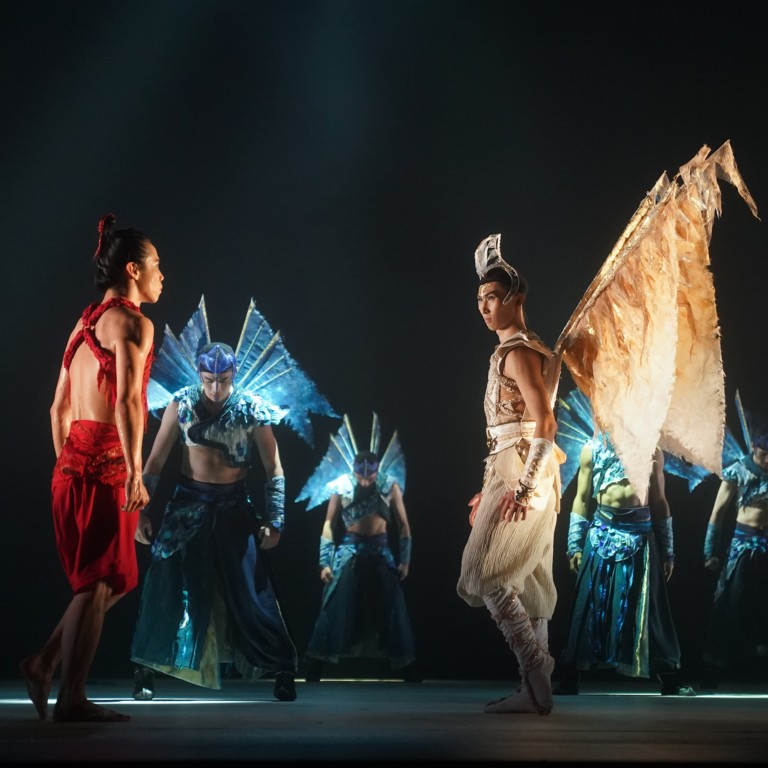 Review
Chinese Nezha legend inspires Hong Kong Dance Company production that's inventive and inspiring
Nezha: Untold Solitude dramatises the life of the dragon-slaying prince of Chinese myth in five scenes that have an almost hallucinatory power
The all-male cast dance superbly to a haunting score, the choreography is innovative and the staging stark and inspired, making for a powerful interpretation
Following their
impressive restaging
of Helen Lai's classic
Nine Songs
in October 2021, Hong Kong Dance Company has delved into China's mythic past again with a visually stunning and beautifully performed new production inspired by the legend of Prince Nezha, a dragon-slaying hero and a deity of traditional folk religion.
Artistic director Yang Yuntao, his associate choreographer Xie Yin and their creative team have taken an oblique, minimalist approach rather than a conventional narrative one.
Stark, innovative and full of striking imagery, the work's five scenes evoke key moments from Nezha's journey with an at times almost hallucinatory power.
Yang and Xie's inventive choreography, Mandy Tam's imaginative costumes and Lawrence Lau's haunting score all combine contemporary elements with a range of Chinese references to excellent effect (part of the score is in naamyam, a traditional Cantonese narrative song form, performed by The Gong Strikes One group).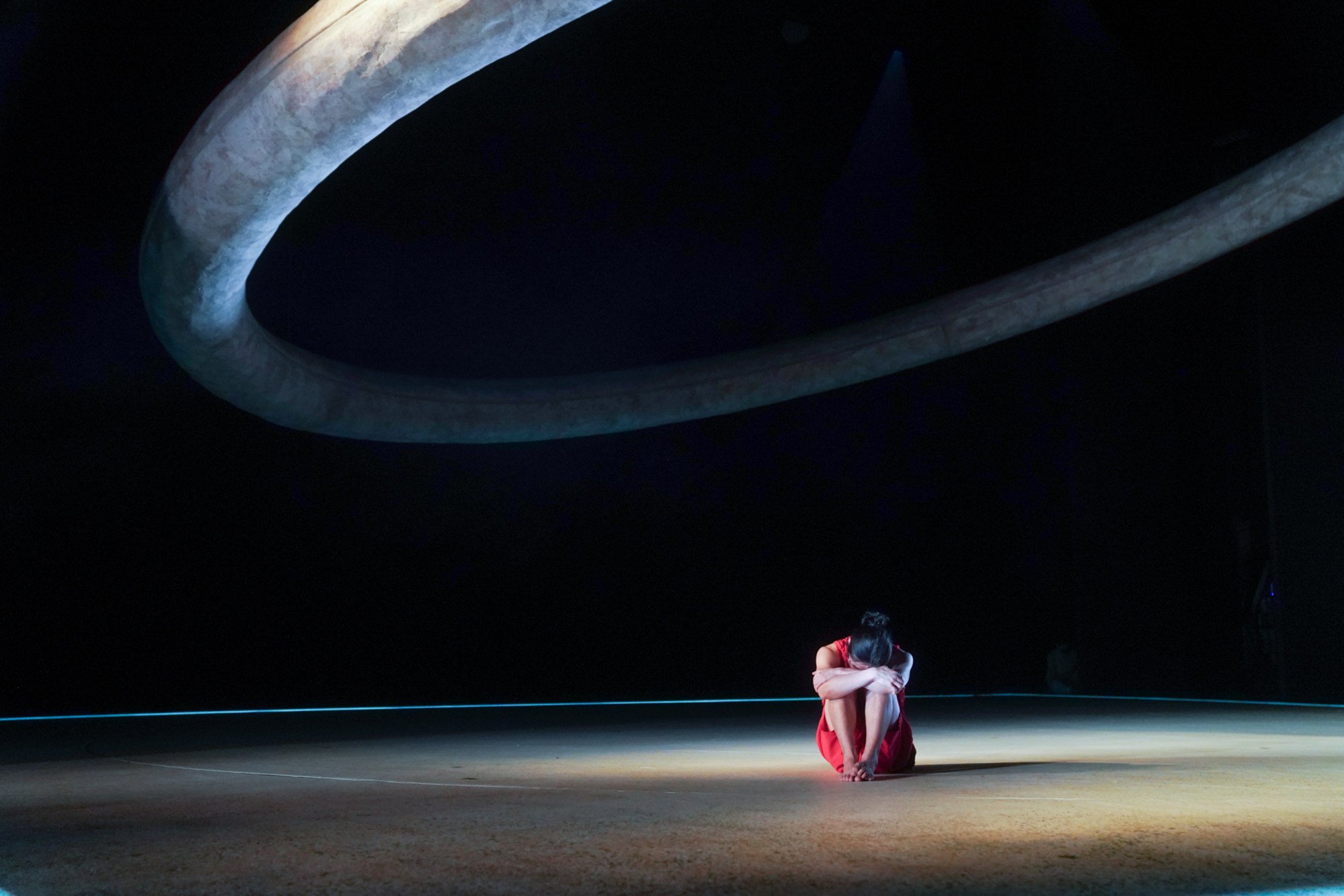 Jan Wong's inspired set consists of a massive hollow circle suspended above the stage, which can be raised, lowered or tilted and is enhanced by ingenious lighting (by Yeung Tsz-yan) and video projections (by Dan Fong) to create dramatically different moods.
Two scenes in particular stand out. The first ("The Game") is Nezha's fight with the dragon prince, Ao Bing, who makes a stunning first appearance dressed in white and floating in mid-air in the darkness (a clever use of wire-flying). Elements of Chinese opera incorporated in the movements are subtly echoed in the music and costumes, with Ao and his dragon entourage wearing outfits inspired by traditional "military" roles, complete with triangular flags on their backs (which also resemble dragon wings).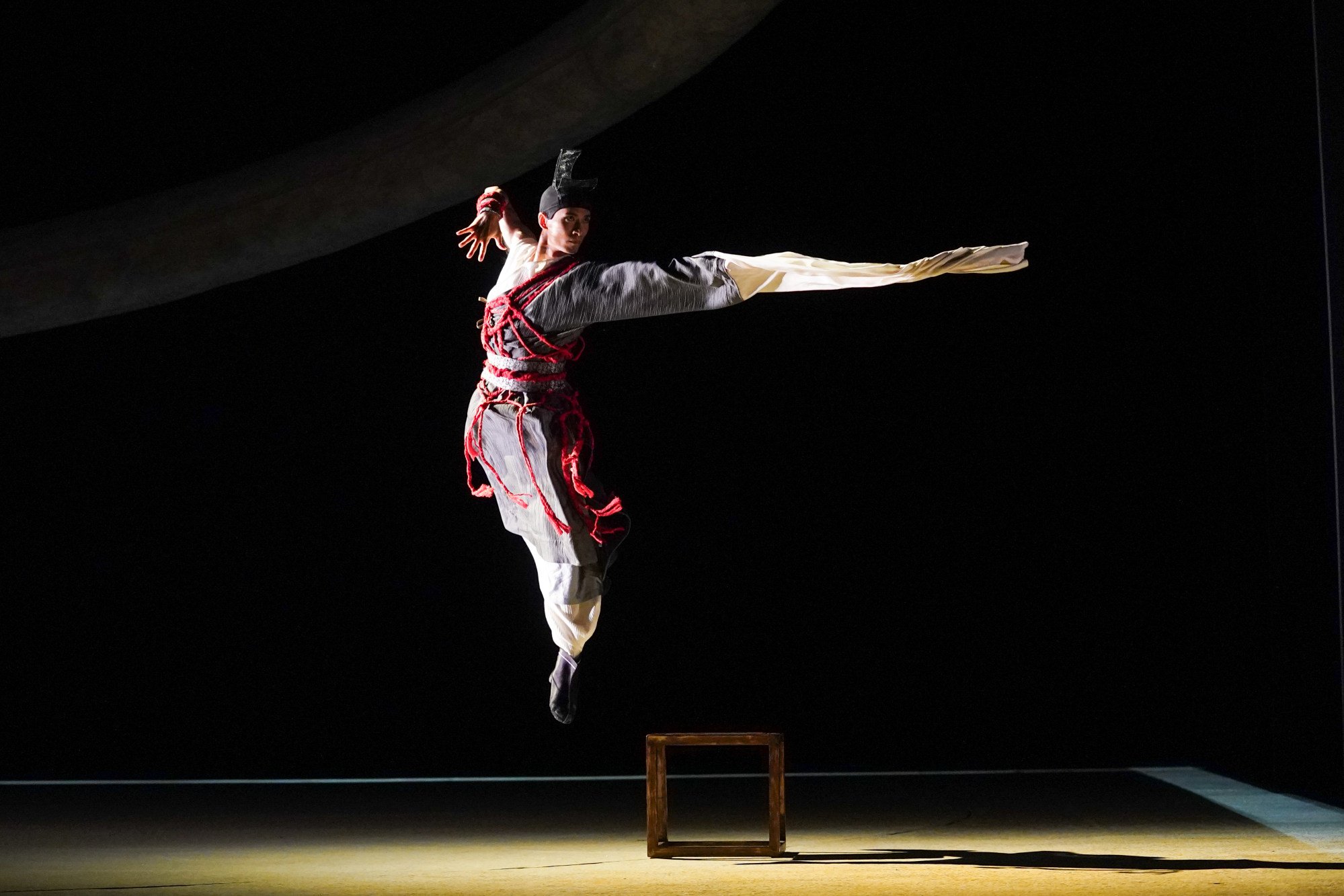 The second high point ("Family Bond") is Nezha's encounter with his father, Li Jing, whose barely contained rage and hatred of his son are expressed with a minimum of movement yet extraordinary power. Here, the choreography for Li draws on elements of martial arts, with long moments of stillness exploding into movement.
This scene generates a profound emotional impact, with the king locked in his unyielding anger while his son, losing hope of gaining his father's approval, is reduced to crouching on the floor with his head in his arms in a poignant image of childhood despair.
Some parts of the work succeed less well – the opening sequence of Nezha's birth, emerging from a kind of white cocoon, is intriguing but overlong, and the low-key final sequence comes as something of an anticlimax.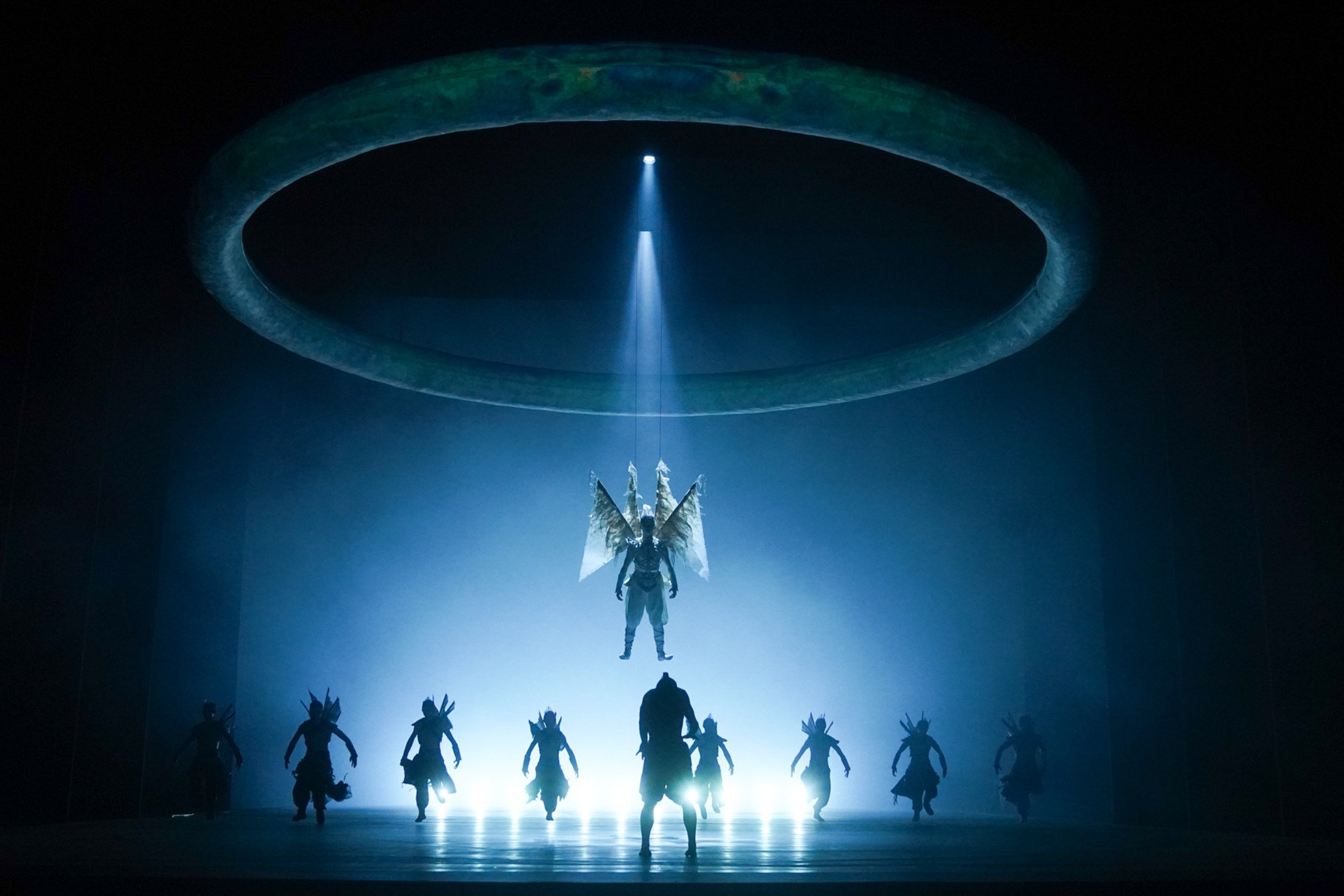 However, despite such issues with structure and pacing, this is on the whole an original and powerful modern reimagining of the Nezha myth.
The production has an all-male cast (the company's female dancers will apparently have a programme of their own later in the 2022/23 season), a bold choice which works perfectly in this context, with the whole ensemble displaying both their technical prowess and their feeling for the material.
Huang Haiyun is a dazzling Ao Bing, with a thrilling swiftness and precision of movement – you have to marvel at how he is able to maintain his balance in complex jumps and when spinning on his side in the air, with four large flags on his back.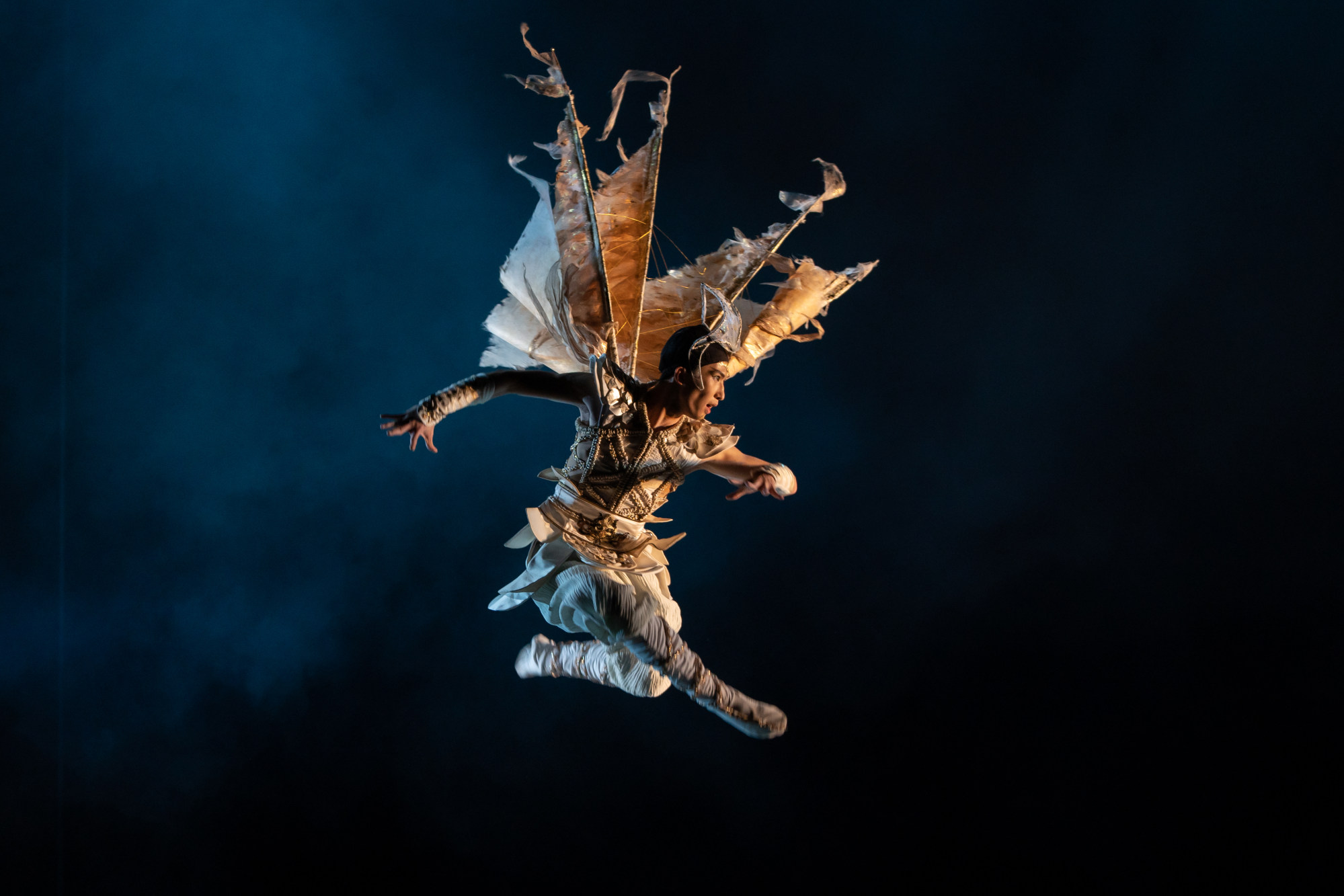 Li Han dominates the stage with burning intensity and superbly controlled dancing as Nezha's father.
Above all, the hero of the evening is, rightly, Ong Tsz Shen's Nezha. Dancing with boundless energy, soaring jumps and exceptional flexibility, he vividly projects the youth, curiosity and naiveté of the boy prince, before moving to more sombre notes in the aftermath of his slaying of Ao Bing and in his pain at being rejected by his father.
"Nezha: Untold Solitude", Hong Kong Dance Company, Grand Theatre, Hong Kong Cultural Centre. Reviewed June 10.
ng Kong Dance Company, Grand Theatre, Hong Kong Cultural Centre. Reviewed June 10.