NFTs
Get more with myNEWS
A personalised news feed of stories that matter to you
Learn more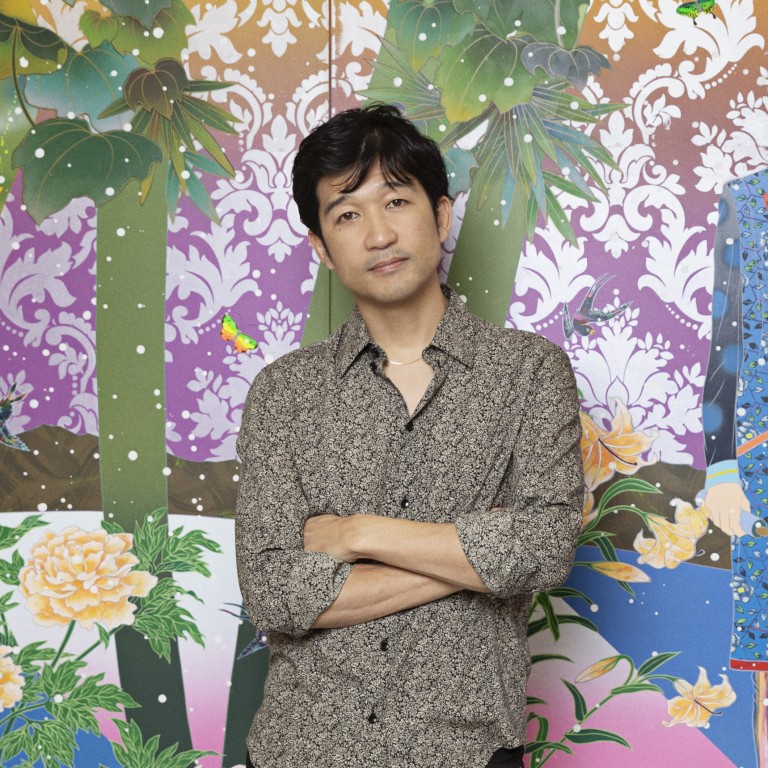 Japanese artist returns to Hong Kong with NFTs and vivid East-meets-West paintings in Harmless Charm exhibition
Tomokazu Matsuyama was initially sceptical about NFTs, but has embraced the technology in his Harmless Charm exhibition at Sotheby's
A mix of paintings, projections and NFTs, his distinctive and colourful style mixes Asian and Western elements
It took Tomokazu Matsuyama a while to get over his initial scepticism about the
NFT
craze that took off last year.
The New York-based artist has a reputation for painstaking, extremely detailed paintings referencing the Japanese and American influences he has grown up with, and he wasn't exactly sure how making digital artworks and selling them as non-fungible tokens would fit in with his practice.
In the end, he decided to take the plunge after learning more about
Web3
and the metaverse – two new trends based on the
blockchain technology
behind NFTs. The first is a decentralised version of the internet and the second is a network of virtual worlds where people can immerse and interact with each other under identities that they create for themselves.
"Great art is really about communication," he says in Hong Kong, where he has just announced his NFT debut in partnership with Sotheby's, the auction house. The digital realm allows viewers to connect with his art in a different way, and he notes how non-physical worlds are having an increasing impact on our physical realities.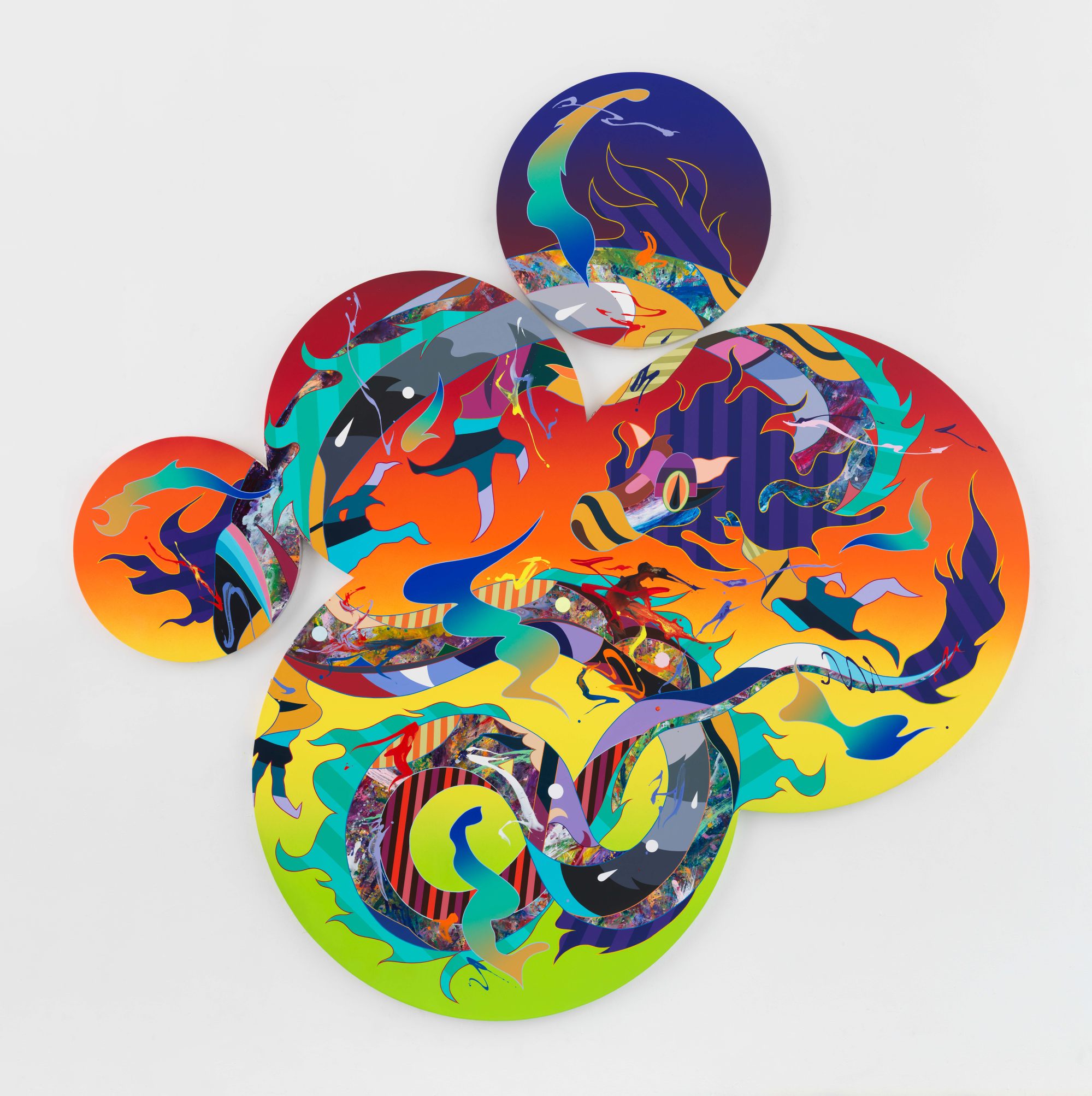 Conceptually, he is also drawn to how identities can be "faked" or represented in various ways, whether in the virtual world or not.
"Our identity is so overly layered, so our cultural attribution or where your parents are originally from really doesn't [completely represent] who you are," Matsuyama says. That is something he has long reflected on in his paintings, and it goes well with how people are constantly reconstructing their identities and realities in the metaverse.
It has been five years since his last visit to Hong Kong. Apart from the digital animations tied to the NFT sale, he is also showing new paintings at Sotheby's Hong Kong and launching a limited-edition sculpture based on his signature "Equestrian" series through creative studio AllRightsReserved, known for its collaboration with the artist Kaws.
The Sotheby's exhibition is called "Harmless Charm" to communicate hope and positivity while referencing different motifs which have traditionally been displayed as good luck charms, the artist says. All four categories of artwork – abstract, mythological, fictional landscape and equestrian – feature both Asian and Western elements.
"I tried to amalgamate different values to try to find this vague line of what defines us. Are we Asian or are we Westerners? Do we live in a traditional world [or] do we live in a cosmopolitan world?" he asks. As the artist, he doesn't provide an answer but merely puts forward the questions, he adds.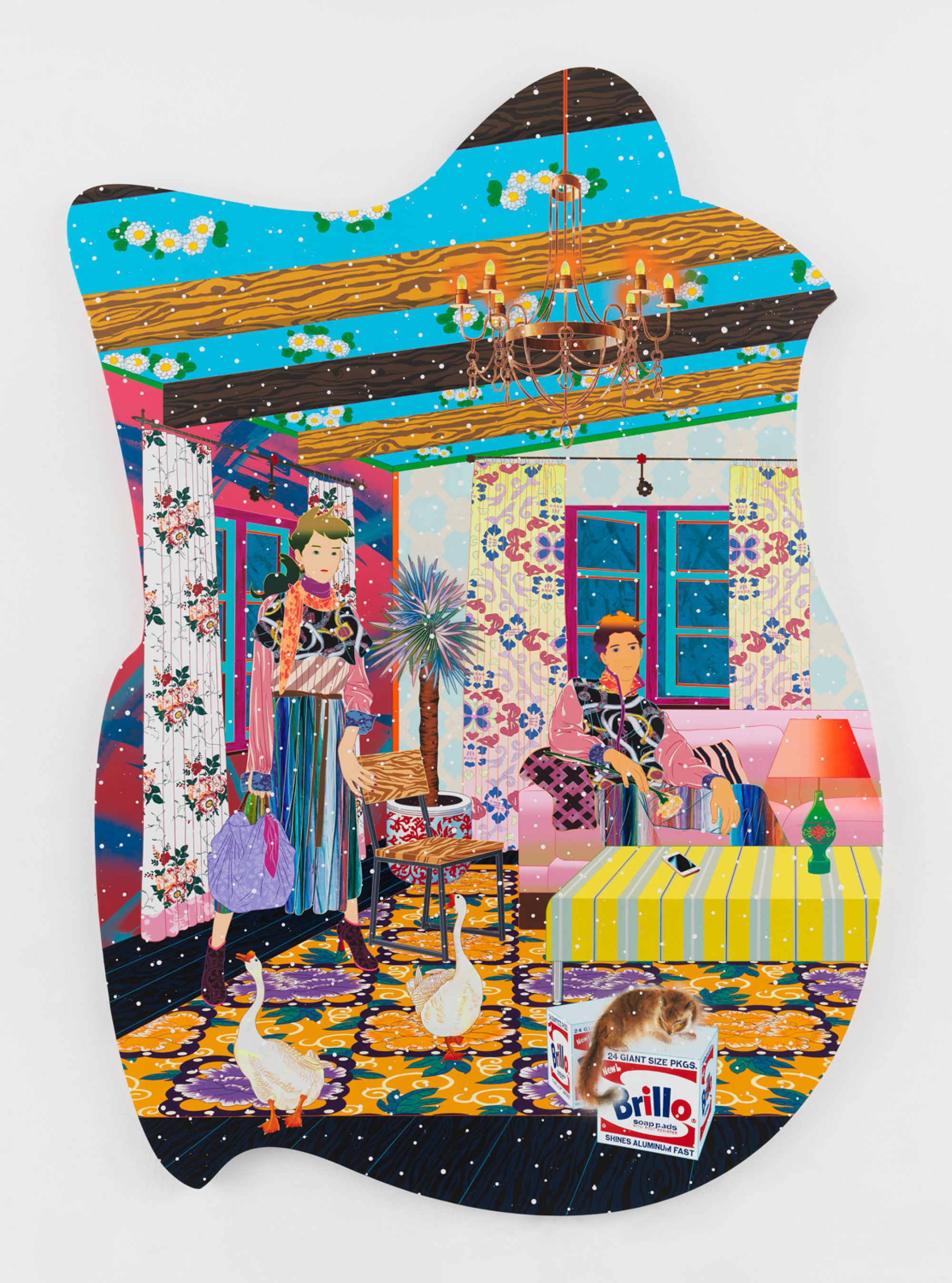 The coming together of different worlds is evident in his painting Melody Mad Afternoon (2022), which is on show at the Sotheby's exhibition.
Two figures are dressed in contemporary clothing in a living room covered in intricately designed wallpaper. A cat, painted in the style of traditional Japanese paintings, sits on top of
Andy Warhol
's Brillo box. Two ducks roam the space, while an iPhone sits prominently on a yellow and blue table.
His equestrian series is also culturally ambiguous. The riders are seen wearing clothes with traditional Japanese prints, but the horses, in brightly coloured mosaic, reference Western equestrian statues as well as horses seen in traditional ink paintings from East Asia.
Meanwhile, his abstract series blends Japanese origami and the abstract expressionism of Jackson Pollock and Willem de Kooning.
Three of his animations at the exhibition are projected on three large screens in a separate section of the Sotheby's gallery – these unique pieces took Matsuyama seven months to complete. Six other digital works, offered in editions of five or 150, are displayed across the gallery. These 4K digital works that are sold as NFTs involve the same creative thinking process as his paintings, the artist says.
The main goal, he says, is to create something of value and with social impact.
"Art is really not about making a statement of how the world is, it's rather a question. So when the viewer sees my work, the best is to portray the world ambiguously so that there's something [for people] to think and ponder and contemplate."
"Tomokazu Matsuyama: Harmless Charm", Sotheby's Hong Kong Gallery, 5/F, One Pacific Place, 88 Queensway, Admiralty. Pre-registration required at
http://sothebys.com/rsvp
. Until June 21.
Details of the AllrightsReserved limited-edition collectibles will be announced through the artist's
Instagram
account on June 16.