Art
Get more with myNEWS
A personalised news feed of stories that matter to you
Learn more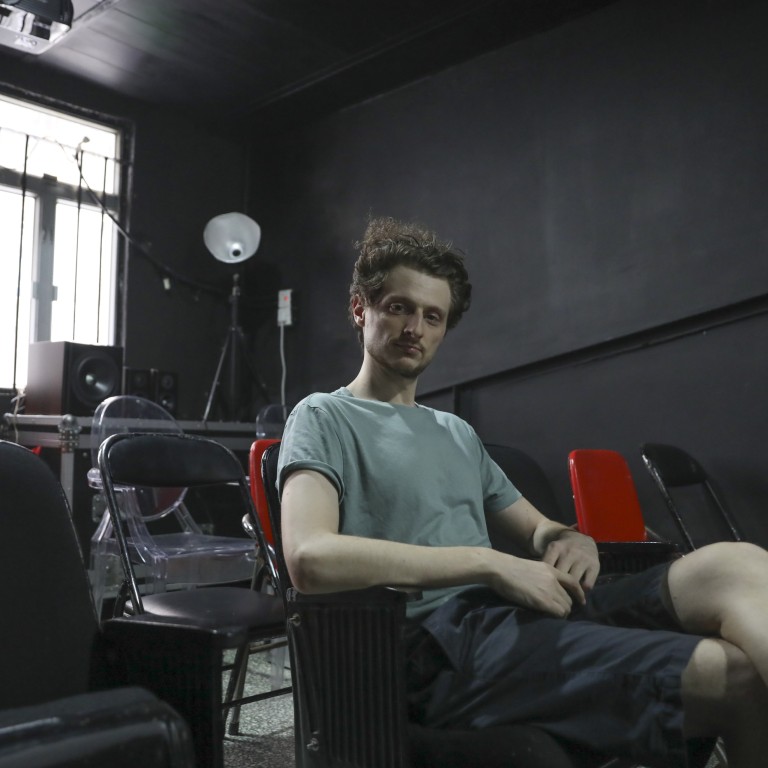 Art Basel, Documenta and Venice Biennale gatecrashed by maverick art activist who critiques exclusivity of the art world
Hong Kong-based art activist Alberto Gerosa infiltrated the contemporary art world's big three events with unsanctioned exhibitions and performances
The Italian art disruptor set up a fake gallery booth and an unofficial pavilion to critique the snobbery and Eurocentrism present in contemporary art
Art Basel, the Venice Biennale and Documenta in Germany are the triumvirate of the global contemporary art world. Between them, the art fair and the two influential exhibitions hold immense power in deciding who are the most important artists of each generation.
That makes them symbols of a rotten system that is Eurocentric and exclusive, according to a maverick art activist based in Hong Kong's Sham Shui Po neighbourhood – who has just managed to gatecrash all three exclusive events and stage performances on site to challenge the way art is valued and interpreted.
The troublemaker is 37-year-old
Alberto Gerosa
, an Italian-born anthropologist and filmmaker who moved to Hong Kong in 2013 after living in mainland China for six years.
He began the campaign by sneaking into the 2021
Art Basel Hong Kong
art fair and setting up a fake gallery booth selling digital prints at 50 US cents (HK$3.90) apiece.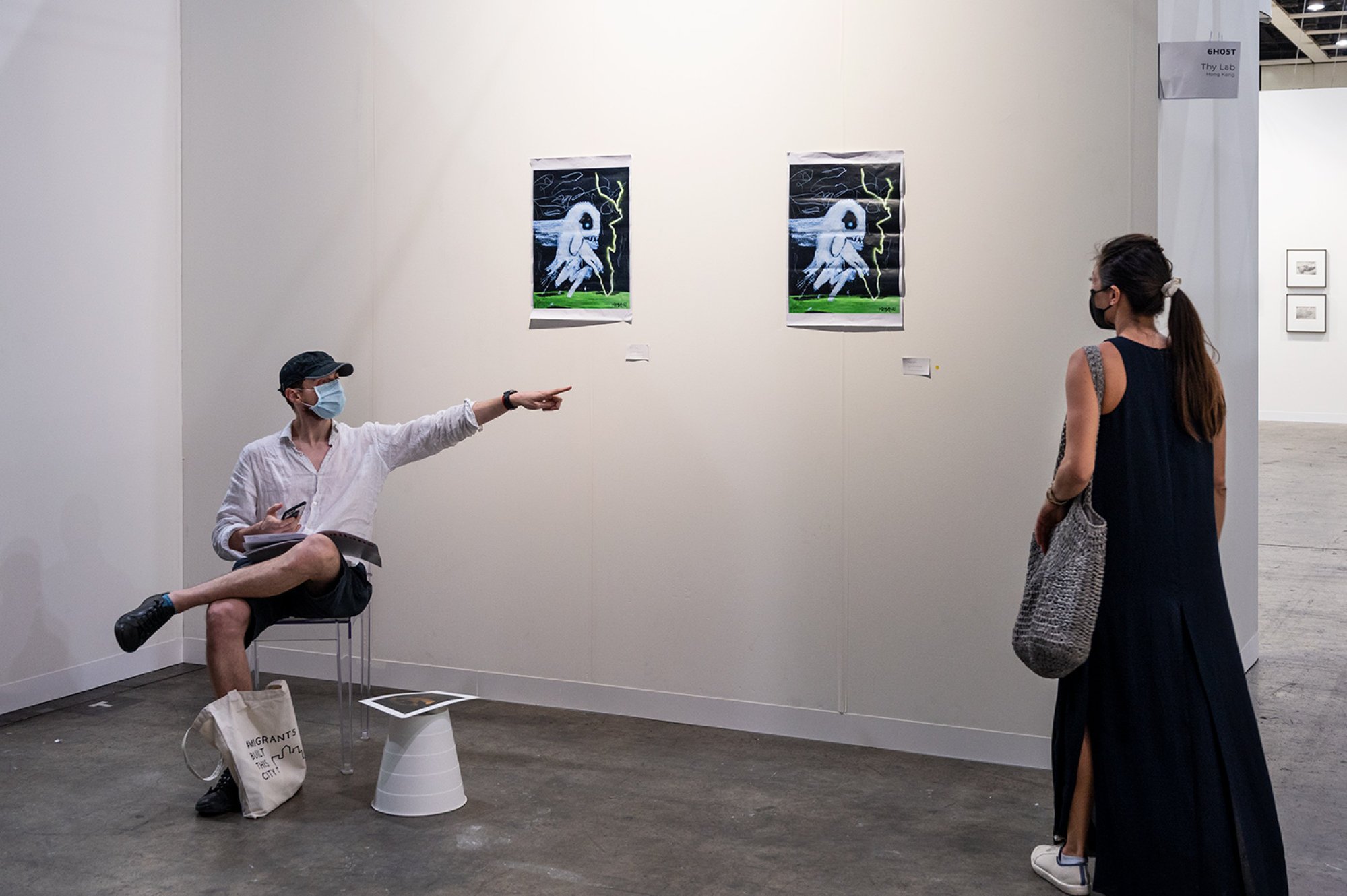 Galleries can only participate in the fair if they are approved by a selection committee and pay a substantial amount to rent a booth. Gerosa just sat in front of a blank partition wall and put up printouts of paintings by anonymous, online forgers – copies in the fashionable naïve style of artists whose works command stunning sums at the art fair.
It took Art Basel three days to spot the prank and kick him out, and only after he managed to sell some of the prints despite their total absence of conventional artistic merit.
This summer, he showed up at the
Venice Biennale
and set up an unofficial, tongue-in-cheek version of a "national pavilion". This was a jibe at the system of exhibitions in Venice funded by recognised, sovereign nations allowed to have an official pavilion in the Biennale grounds.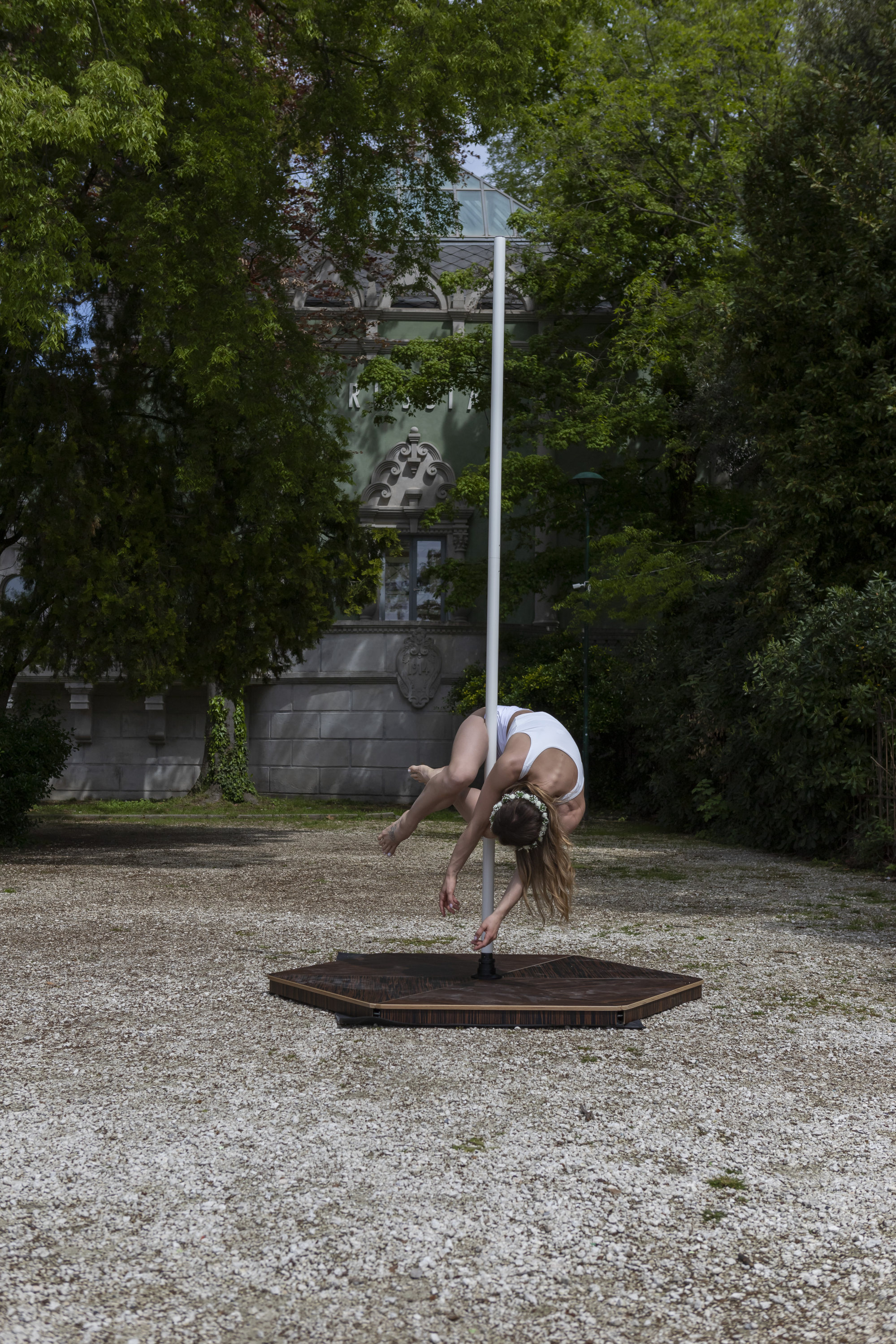 His "Scythian Pavilion" took its name from the ancient Eurasian nomads who Gerosa says were a symbol of a transnational identity that is the opposite of the "nationalistic view of art" in Venice.
This pavilion, which had no physical structure, was essentially a street performance that travelled from one location to another in Venice between April 22 and April 24, including the back of the
Russian pavilion
, which was empty and silent after the curator and artists of the Russian exhibition resigned in protest against
their country's invasion of Ukraine
.
Under Gerosa's direction, pole dancer Louise Wawrzynska performed a version of the sacrificial dance from
Igor Stravinsky
's
The Rite of Spring
. As a tribute to the composer exiled from Russia after the Bolshevik revolution, one of the performances was held next to Stravinsky's grave on the island of San Michele in Venice.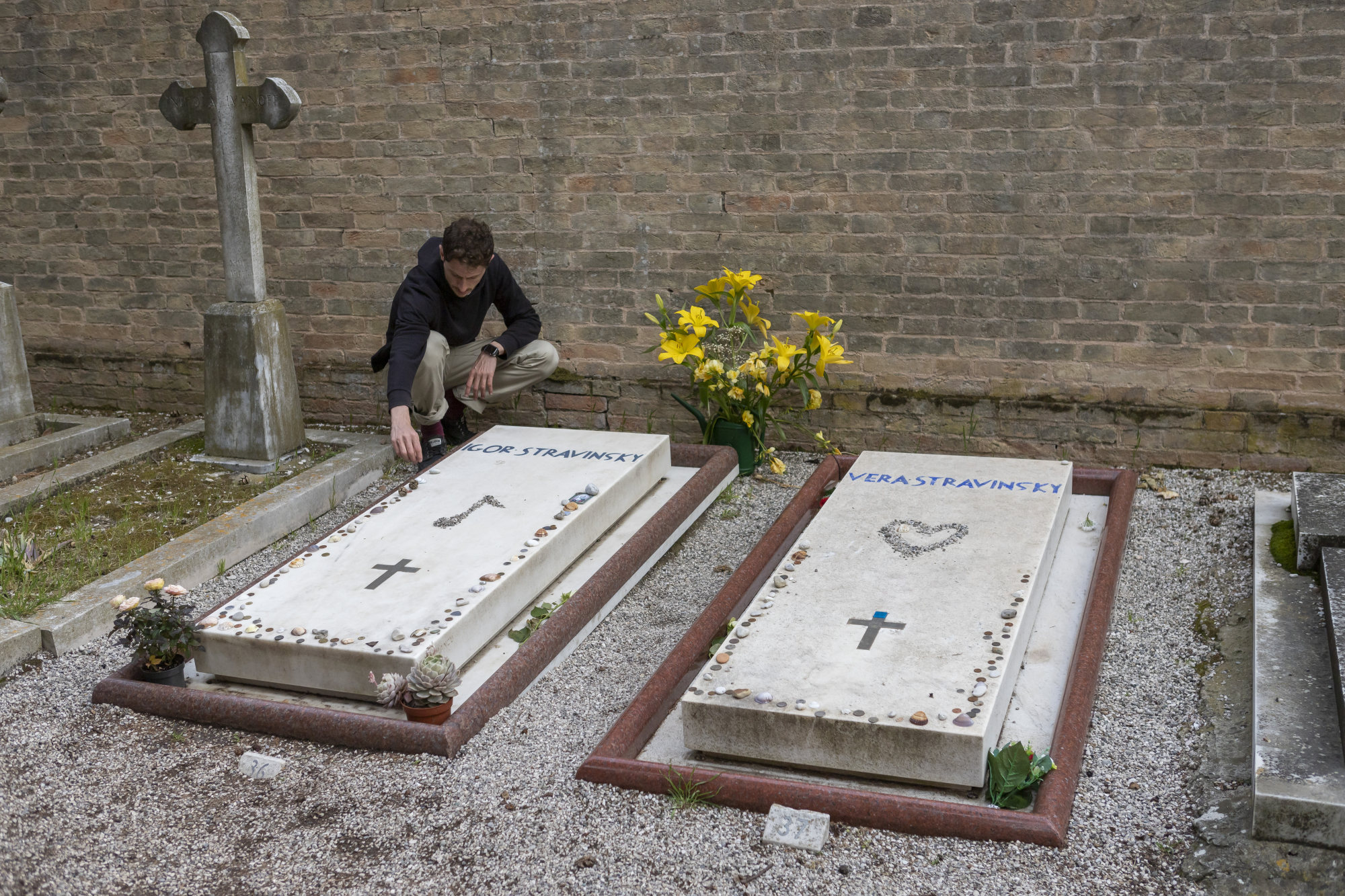 The genial Gerosa, who speaks Chinese, is as reluctant to confine himself geographically as the artists he admires. What he does also escapes easy labelling: part globe-trotting impresario and part academic, perhaps. (He has just completed a doctoral thesis about collective rituals at the Chinese University of Hong Kong.)
His singular practice, supported by art grants, ranges from running a small
cinema and a quirky museum
filled with found objects in a run-down Sham Shui Po walk-up, to performing in animal masks on July 1 with Mountain River Jump!, the Guangzhou-based artist duo of twin sisters Huang Shan and Huang He, at the birthplace of Dadaism, Cabaret Voltaire in Zurich, Switzerland.
His is an unrestricted lifestyle with echoes of an age that fascinates him – the liberal and experimental artistic environment of early 20th-century Europe.
This week, he is in Switzerland,, one of the last legs of his three-month European adventure. Having just performed with
Uli Sigg
, the Chinese contemporary art collector, and his wife, Rita, at a Neolithic sacrificial site, he is heading for The Mountain of Truth, a colony set up by an anarchist and vegan collective in 1906.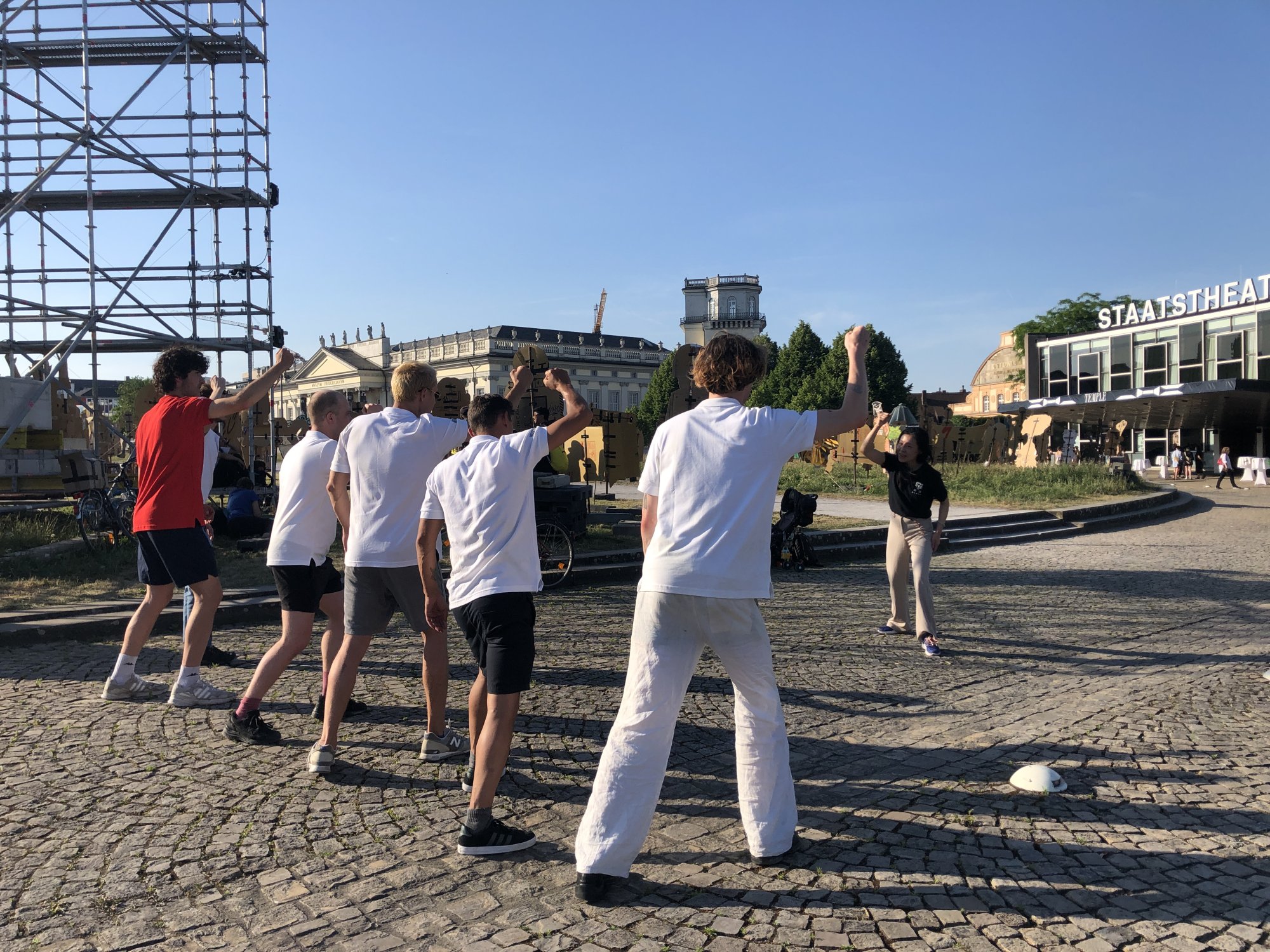 Before that, he was at the
Documenta
exhibition in Kassel, Germany, for the final part of his performance series to upend art hierarchies.
Between June 15 and 20, he and a group of male German artists could be seen in an open space called Friedrichsplatz in the centre of Kassel engaged in a strange, militaristic ritual called "Chicken Blood" led by a slogan-chanting Chinese woman.
Gerosa named it after the team-building exercises he witnessed in mainland Chinese factories and offices which he says have roots in shamanic practices and other folk traditions. How can this not be art, he asks.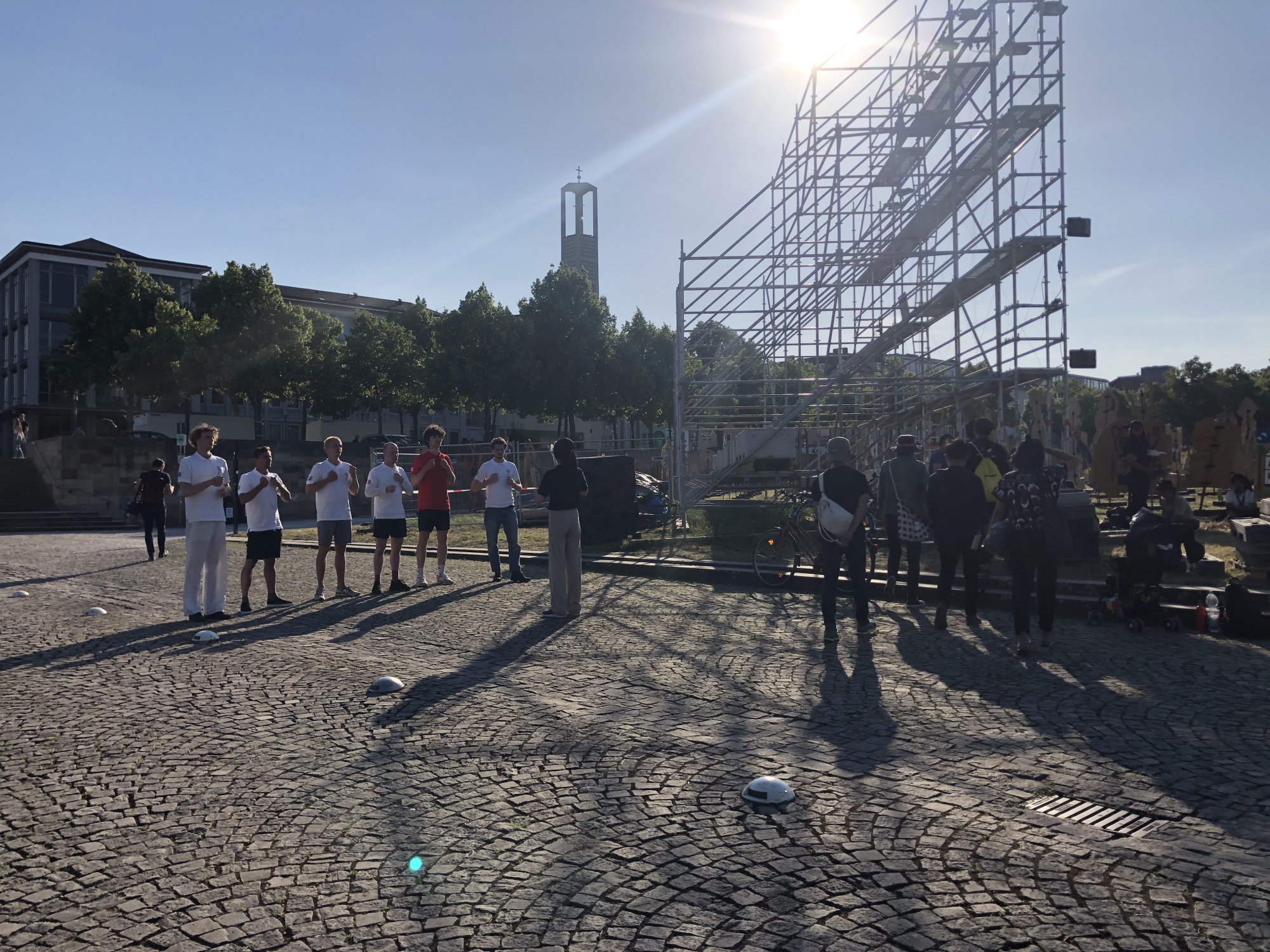 By sheer coincidence, "Chicken Blood" was performed right next to the Indonesian collective Taring Padi's controversial
People's Justice
(2002). On June 21, the large mural was
taken down
after it was discovered to contain anti-Semitic references, despite the artists' insistence that they had meant no harm.
The incident made Gerosa think of Sham Shui Po, where he has seen Nazi memorabilia for sale in second-hand shops. "I don't think the local sellers were promoting Nazism. Hitler's moustached face was next to other random vintage items, washing machine spare parts and old video games. It was not such a scary image in a context far, far away from 1940s Germany," he says.
He was dismayed that the artists and curators failed to spot the blatant anti-Semitism in the artwork, and that there was no effort from either side to understand the other's viewpoints.
For him, one memory from Kassel seems to capture the helplessness that many felt about the lack of understanding and mutual recrimination that tainted the whole event.
He had picked up what he thought was a small figure of Satan from a pile of discarded cardboard puppets which formed part of Taring Padi's now-condemned display, when one of the artists stopped him.
He told Gerosa that that particular figure was painted by his young son, and that he wanted to be photographed with it before Gerosa took it back to Hong Kong.
It wasn't Satan at all, he said. His son was painting a blue dragon as a positive symbol of power, the father explained.
"How vast was the distance between his artistic intention and my interpretation," says Gerosa.