Art
Get more with myNEWS
A personalised news feed of stories that matter to you
Learn more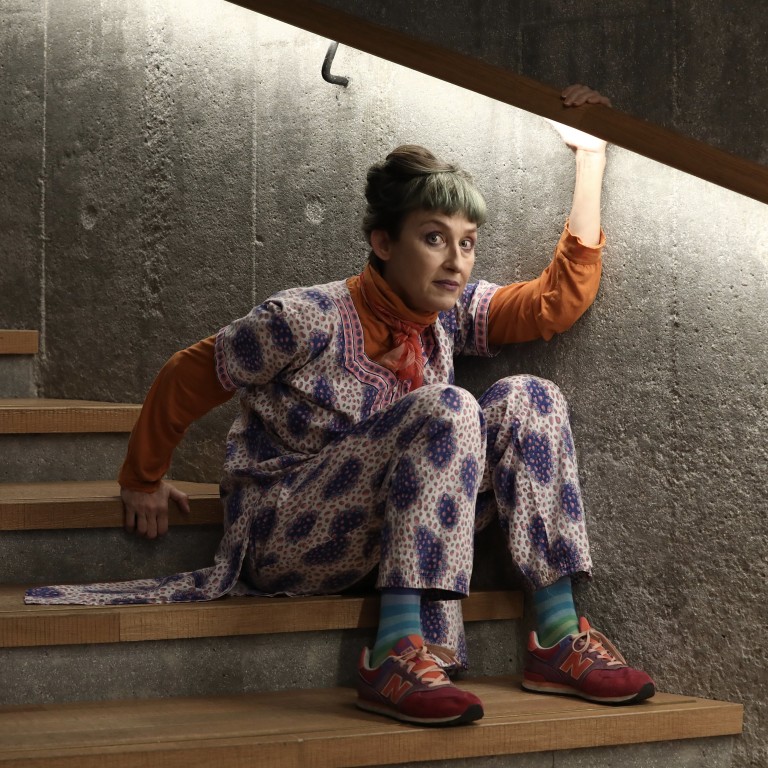 'It's not a portrait of me': Pipilotti Rist, Swiss video artist, on Behind Your Eyelid, her Hong Kong show
The Swiss video artist's Behind Your Eyelid exhibition at Tai Kwun includes a 54-metre installation that puts viewers inside a human eye
The show promises the colourful style that Rist has made a career out of through videos like Open My Glade, which was beamed all over New York's Times Square
Next month, should your plans for travel out of Hong Kong remain on hold, you can still take a trip to Tai Kwun and enter the magical world of Swiss media artist Pipilotti Rist. Prepare to be enchanted.
All the gallery spaces of JC Contemporary, plus other locations around the former Central police station and Victoria Prison complex, will be converted into Rist land: a ravishingly colourful, wholly unexpected, stimulating journey for the eyes and mind – no quarantine required.
Rist likes to say that our eyes are "blood-driven cameras". Her language, as well as her art, can be breathtakingly visceral; her father was a country doctor who used to take his children along on home visits as assistants. Her vision is playful, intimate and wonderfully skewed.
With Rist, you don't simply have an overview – it's an under view, sideways view, internal view.
In 2019, for her show at Denmark's Louisiana Museum of Modern Art, she created a work called
Reversed Eyelid
. It consisted of a 54-metre (180ft) wall covered in "membrane cells" made out of soft fabric that placed the viewer inside an eye. The
Tai Kwun
exhibition, which includes that work, is called "Behind Your Eyelid".
It's part of a quote from a 1993 catalogue preface Rist did for Nam June Paik, the Korean-American artist who is said to be the "father of video art".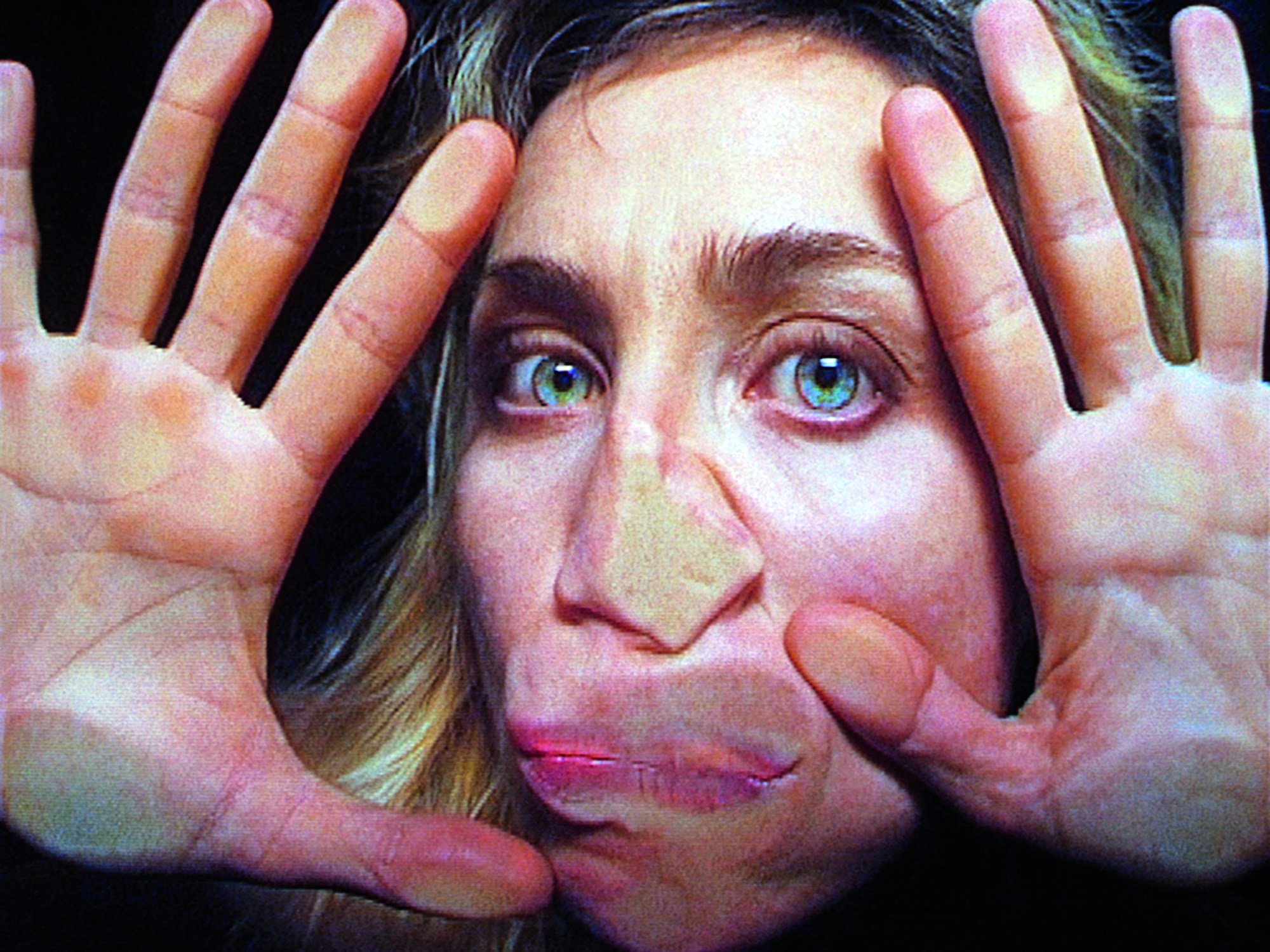 "The screen is a magic lamp," she wrote. "The machine throws pictures at us that we recognise from behind our eyelids: pictures from the moments in our unconscious when we are half awake, euphoric, nostalgic or nervous."
The show was originally supposed to open in May. In January, Rist flew into Hong Kong to assess the space with her own eyes. Hotel quarantine was then three weeks. One of her best-known works, Open My Glade (Flatten), which was beamed around Times Square in New York every midnight during January 2017, features Rist pressing her huge, distorted face against a screen.
It gives the impression of a woman who might not remain sane trapped inside a room for any length of time.
During a video call on day 19 of her quarantine, however, there's no hint of squashed desperation. As she speaks, she constantly massages the air with her hands. She's the opposite of flattened; somehow, on a 2D screen she manages to be a 3D presence.
Tobias Berger, curator of the Tai Kwun show, sent the artist binoculars so that she can scan the world beyond. "Look at this – I couldn't imagine better!" she says, pointing enthusiastically at Victoria Harbour. On the window, she's assembled a collage of Post-it notes with upbeat daily nudges. They look like a huddle of bright eyelids.
She's also been enjoying her personal gym equipment. "It's best naked because the sweat doesn't stick to your clothes," she says. That emphasis on fleshly detail is quintessential Rist.
In 1992, she made a video called Pickelporno (Pimple Porno), showing close-ups of bodies during lovemaking – so close up that it's sometimes hard to distinguish the relevant bits. Rist has explained that because she's very short-sighted, the act tends to be about pores and hair.
Perhaps a polite Swiss formality is also at work. The 1986 video that brought her early fame in Switzerland was I'm Not The Girl Who Misses Much, in which she dances around in a frenzy, shrieking those words (slightly edited from the Beatles song Happiness Is A Warm Gun) in a helium voice.
In the decades since, every mention of the video states she's bare-breasted; but if you really scrutinise it, her modesty is preserved. The illusion is in the viewer's eye.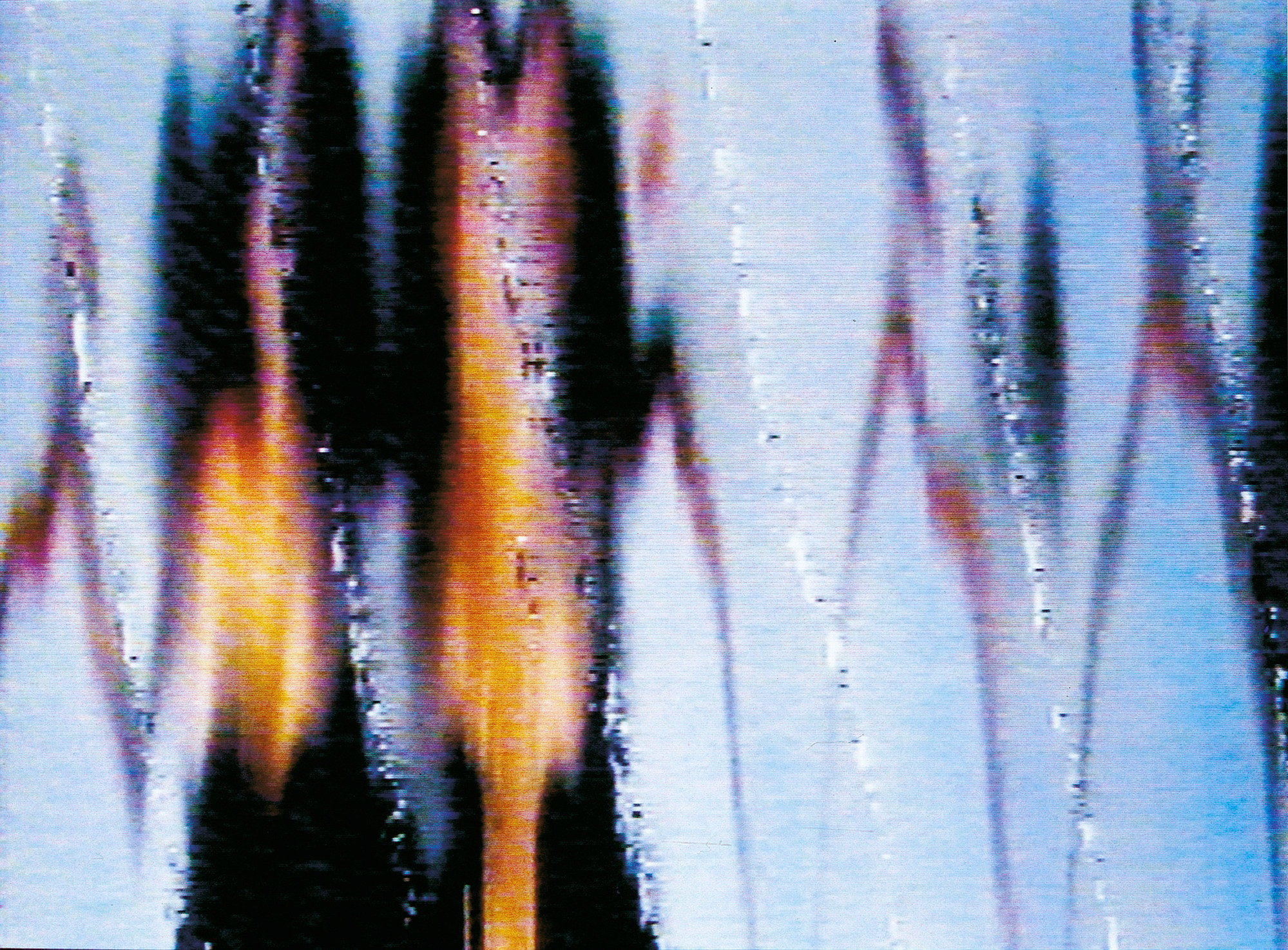 "It only looks topless," she admits. Is that because she wanted to convey naughtiness without actually being naughty? "It's my character," she explains. "I want to encourage but I don't want that we become selfish, egotistic." In the same, less outrageous, way, she says her naked exercises began as a practical consideration because the hotel's laundry service had been suspended.
As it turned out, the girl who didn't miss much grasped her opportunity at a perfect moment of artistic shift. After art school, Rist began singing in a band and working backstage as its stage designer.
Back when she filmed her hectic song and dance video, music videos were fashionable, thanks to MTV – but they still seemed a questionable concept for an artist, and a risky basis for a professional career. The Girl video brought her to the attention of the Museum of Applied Arts in Basel.
"I thought: 'This is a protected space so nobody can call you crazy or try to streamline you'," she says. "And it's less authoritarian than a concert. You can come in and out when you want."
By 1998, when she was shortlisted for the second Hugo Boss Prize – an award given every other year for outstanding achievements in contemporary art – four of the six finalists on show at New York's Guggenheim Soho art museum worked with moving images.
Scottish artist Douglas Gordon, who'd won the Turner Prize in 1996, won the then-first prize of US$50,000 but to Rist, the astonishing reward came when the Louisiana Museum in Denmark bought her 1996 video Sip My Ocean, which was in the exhibition, for about US$6,000.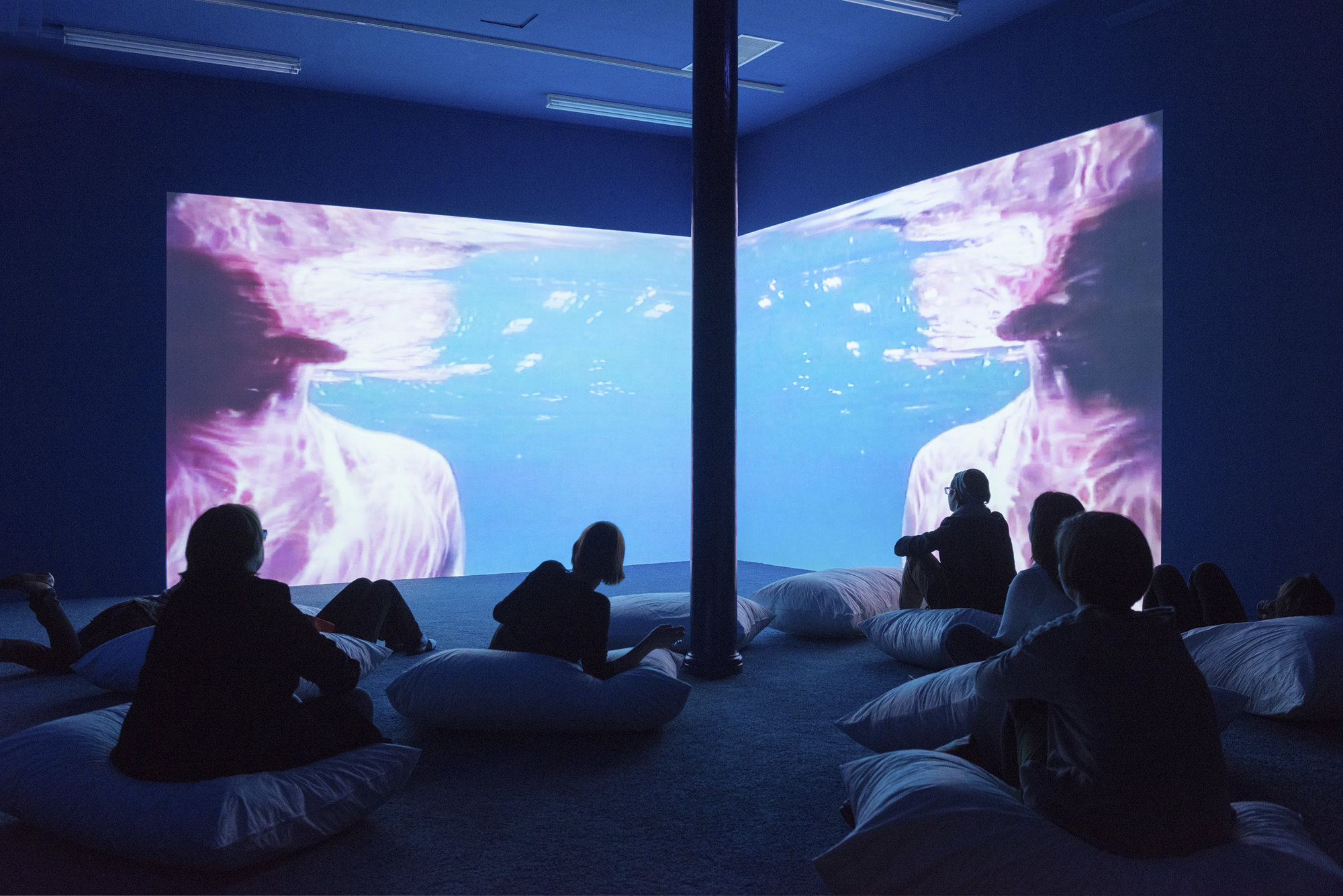 In Sip My Ocean, she wears various bikinis while gliding through translucent waters with a male companion and singing Chris Isaak's Wicked Game in an unearthly key. As she's an artist from a landlocked country, there's the characteristic sense of a wink at her oceanic escape.
People began to see her as a commentator on women's rights, but Rist does not want to be pigeonholed. "A woman is always normal and so she is not only standing for the woman, she is the human," she says. "I try not to work against, I try to find pictures for."
In 1997, Rist created Ever Is Over All, a slow-motion film in which a cheerful young woman strolls along a street and smashes car windows while being saluted by an admiring policewoman.
Almost two decades later, in 2016, Beyoncé also walked down a street and began smashing car windows in her "visual album",
Lemonade
. Social media soon spotted the (unattributed) overlap, but there is a crucial difference. Beyoncé wields a baseball bat; Rist's woman swings a flower.
The threat of actual violence is not part of Rist land. She was, of course, aware of possible political interpretations at the time she made Ever Is Over All.
"Already, when I was young, there were a lot of struggles – sometimes it sounds as if it only started now." What she wanted to convey, however, was joy – not anger – as nature hit back at the machine.
The exuberance is childlike and difficult to resist. She carries the seed of it in her name. Rist, born Elisabeth Charlotte, was called Pipi at school, Lotti at home and combined both as a homage to Pippi Longstocking, the fearless Swedish heroine of Astrid Lindgren's children's books. "By the way, I never did that strategically. But, of course, this self-fulfilling prophecy …"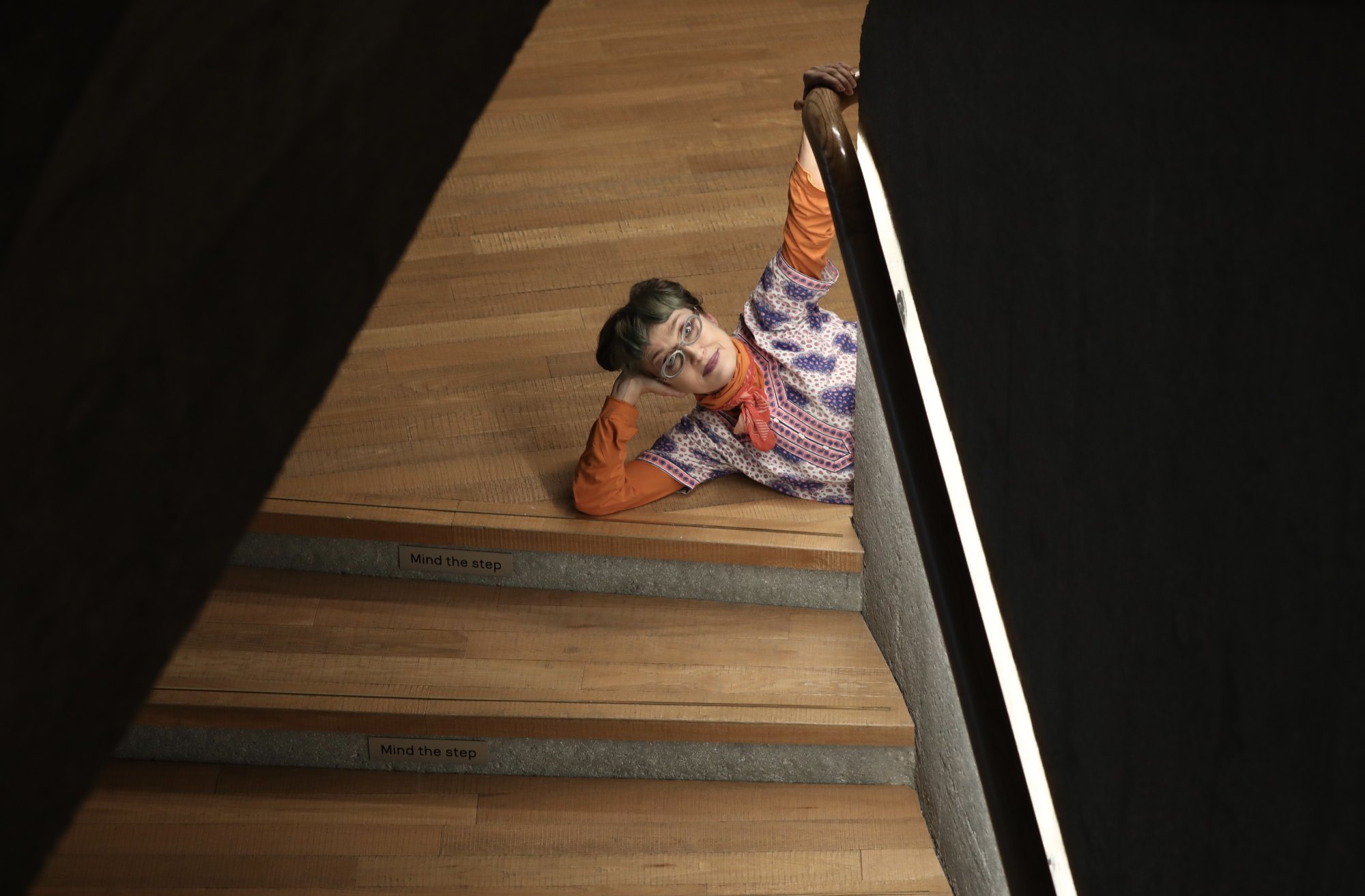 Fictional Pippi's parents were, usefully, absent. Pipilotti's parents were around but not present; there were few boundaries. Isn't that perfect for an artist? "Yes," she says (She's instinctively agreeable). Then she adds: "No."
Her mother was often hidden, "reading a book", and her medical father was "depressive" and prone to having affairs. She says he brought home dead babies for the children to look at. That vision is enough to sear anyone's eyeballs but, as she puts it, "I considered it normal because I didn't know something else."
She has a son, now 20, officially named Himalaya Yuji Ansgar but known as Yuji. Asked what she's like as a mother, she replies: "The father [her partner, Balz Roth] did take the lead. He wanted a child and he really did stick to his promise that he would organise the underpants."
She loves her son, and describes trying not to cry with joy when out walking with him. Still, for Rist underwear, used and clean, is what you drape on an extravagant light fitting and dangle from a ceiling – as in her 2010 installation, Massachusetts Chandelier – or hang among trees, as the artist did in an Oslo park as part of her 2011 Hip Lights installation.
Maternal instinct finds expression in her 2016 Pixelwald Motherboard piece, which imagines the shimmering debris of an exploding television screen.
A few weeks after her hotel release, she's standing in Tai Kwun. She had made a cardboard model of the space in her Zurich studio, but reality is a shock. "The whole compound is heavier than I expected," she says. "It was a prison. Wow. That's why I needed to do this quarantine, I have never seen it in the flesh …"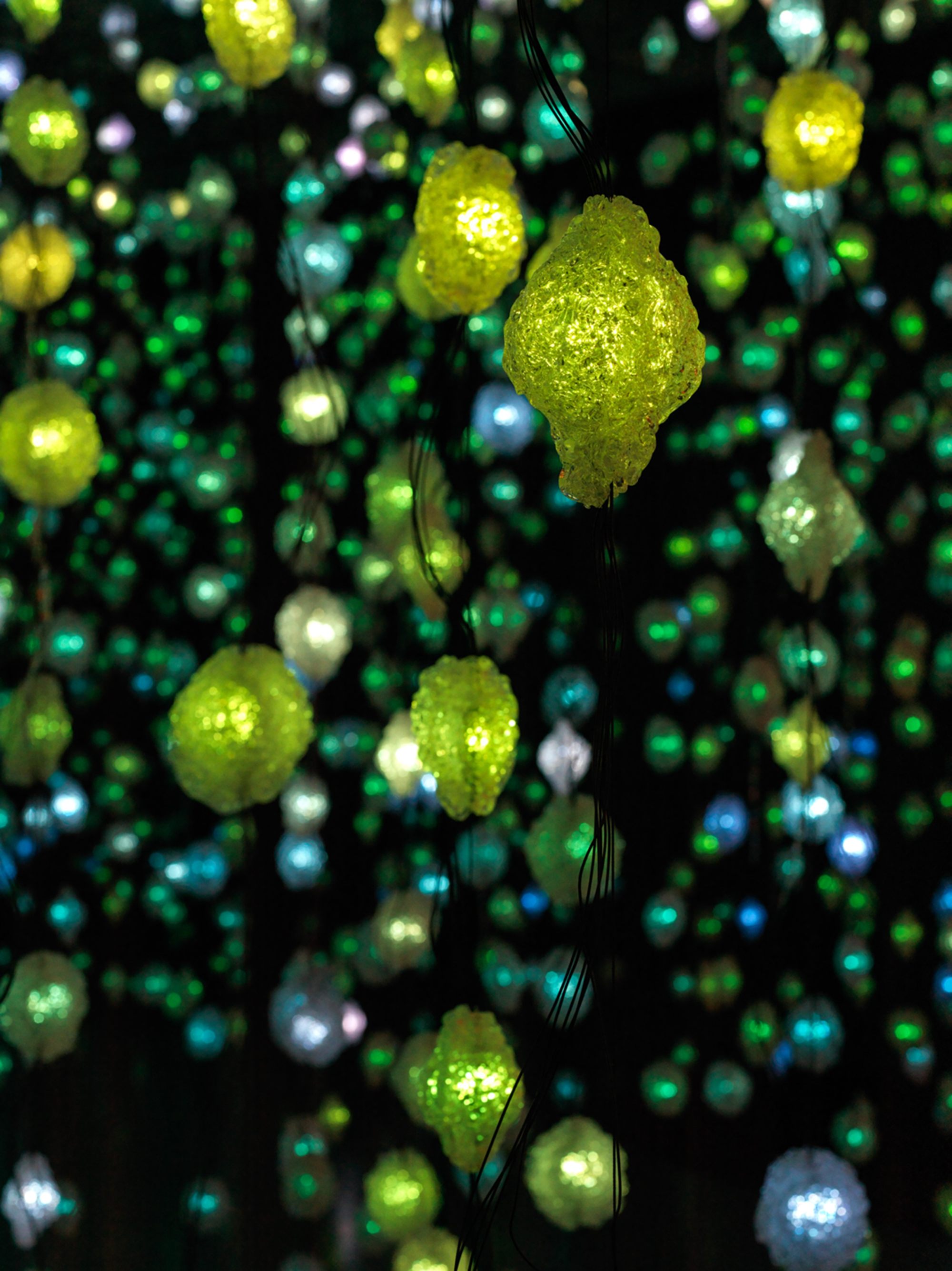 The show won't deal directly with being confined unless that's what the immersed viewer, lolling on cushions, chooses to experience. Rist hopes to deliver her "virtual hug" to the city.
"But I'm not there. Even if I start very personal, it's not a portrait of me. It's much more important what people feel in that space and how it impresses them."
"Pipilotti Rist: Behind Your Eyelid", JC Contemporary and other sites, Tai Kwun, 10 Hollywood Road, Central, Tue-Thurs, 10am-8pm, Fri-Sat, 11am-9pm, Sun, 10am-8pm. From Aug 3 to Nov 27.