Art
Get more with myNEWS
A personalised news feed of stories that matter to you
Learn more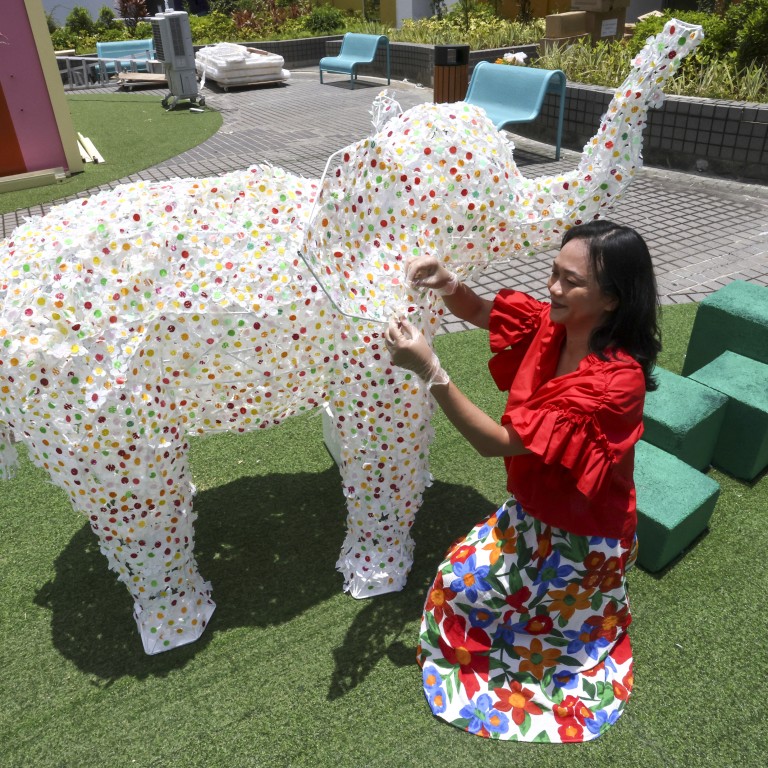 Art made from plastic waste in Hong Kong – think styrofoam fruit wrappers and plastic egg cartons – is the hallmark of this eco artist
Agnes Pang's elephant sculpture made of discarded plastic egg cartons joins similar work by local pupils on show at a shopping centre in Tsz Wan Shan
The artist-environmentalist's upcoming solo show includes a 4m-high mural of thousands of blossoms crafted from non-biodegradable styrofoam food wrappers
Agnes Pang Shuk-yee was sweating under the noonday sun recently on the rooftop of Hong Kong's Tsz Wan Shan Shopping Centre, a complex ringed by public housing estates in Kowloon's Wong Tai Sin district.
She was working on a sculpture 1.5 metres (5ft) high of an elephant, whose translucent body had been constructed from discarded plastic egg cartons. She was dotting it with hundreds of rainbow-coloured flowers made of supermarket packaging.
It was so hot outside that the glue in her glue gun melted.
The finished sculpture is on show inside a makeshift rooftop gallery at the shopping centre in August, together with art by local primary school pupils made out of 2,000 used egg cartons.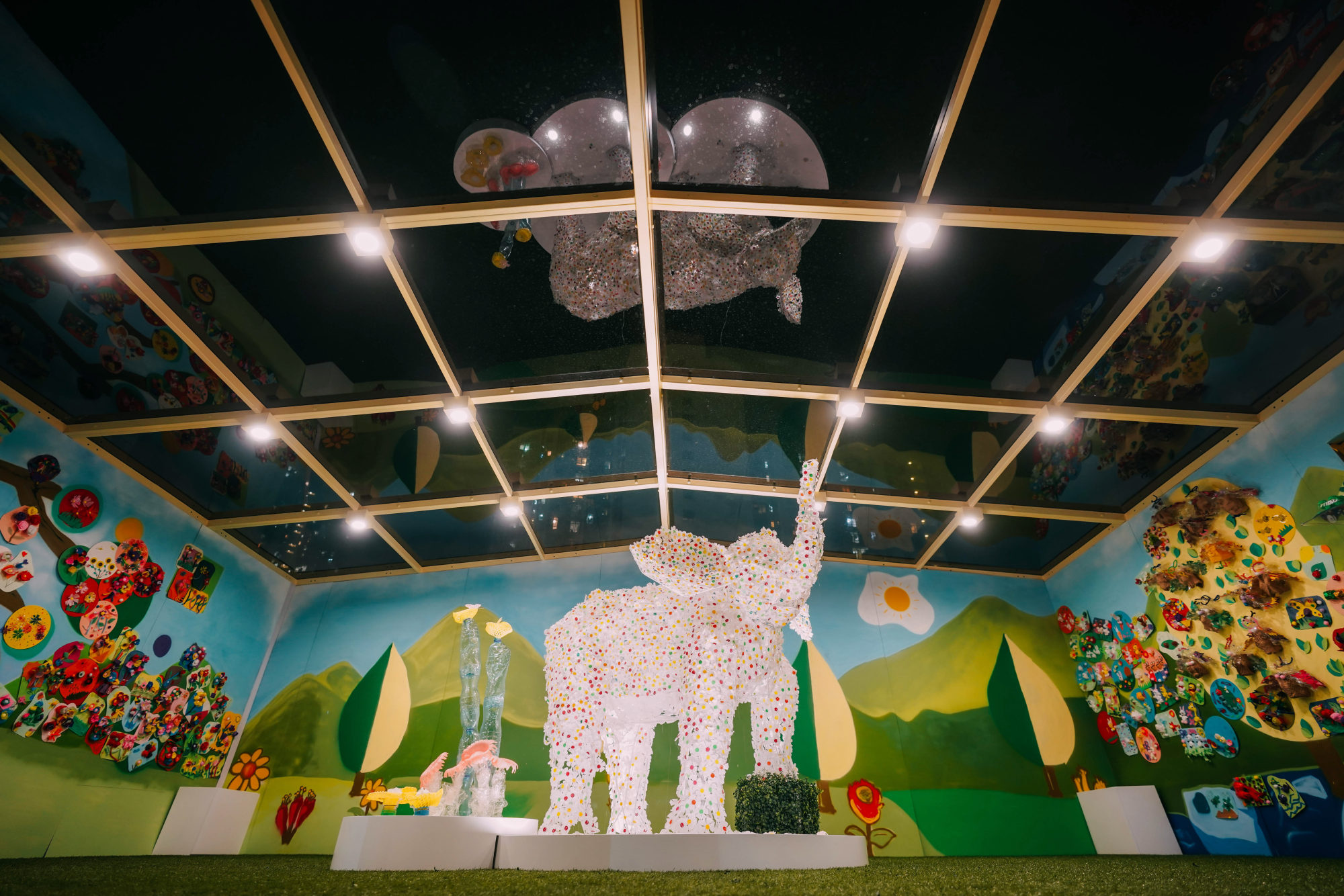 Pang does not eschew conventional venues entirely and has exhibited at
The Fringe Club
and PMQ in the past two years. But her heart is in community art.
Since 2012, the artist-environmentalist has worked on countless educational projects and exhibitions that have popped up in unexpected places, including at a second-hand shop in Causeway Bay and a pedestrian overpass in Tsuen Wan.
"It doesn't really matter where, so long as someone sees it," she says. "I want to use art as a platform to reach communities. That's why I've chosen art forms that are not very abstract, and not very difficult.
"I want people to look at my art, my materials, and think 'I can do that, too.'"
Her next solo show will open on August 19 at The Quayside, a commercial complex in Kwun Tong.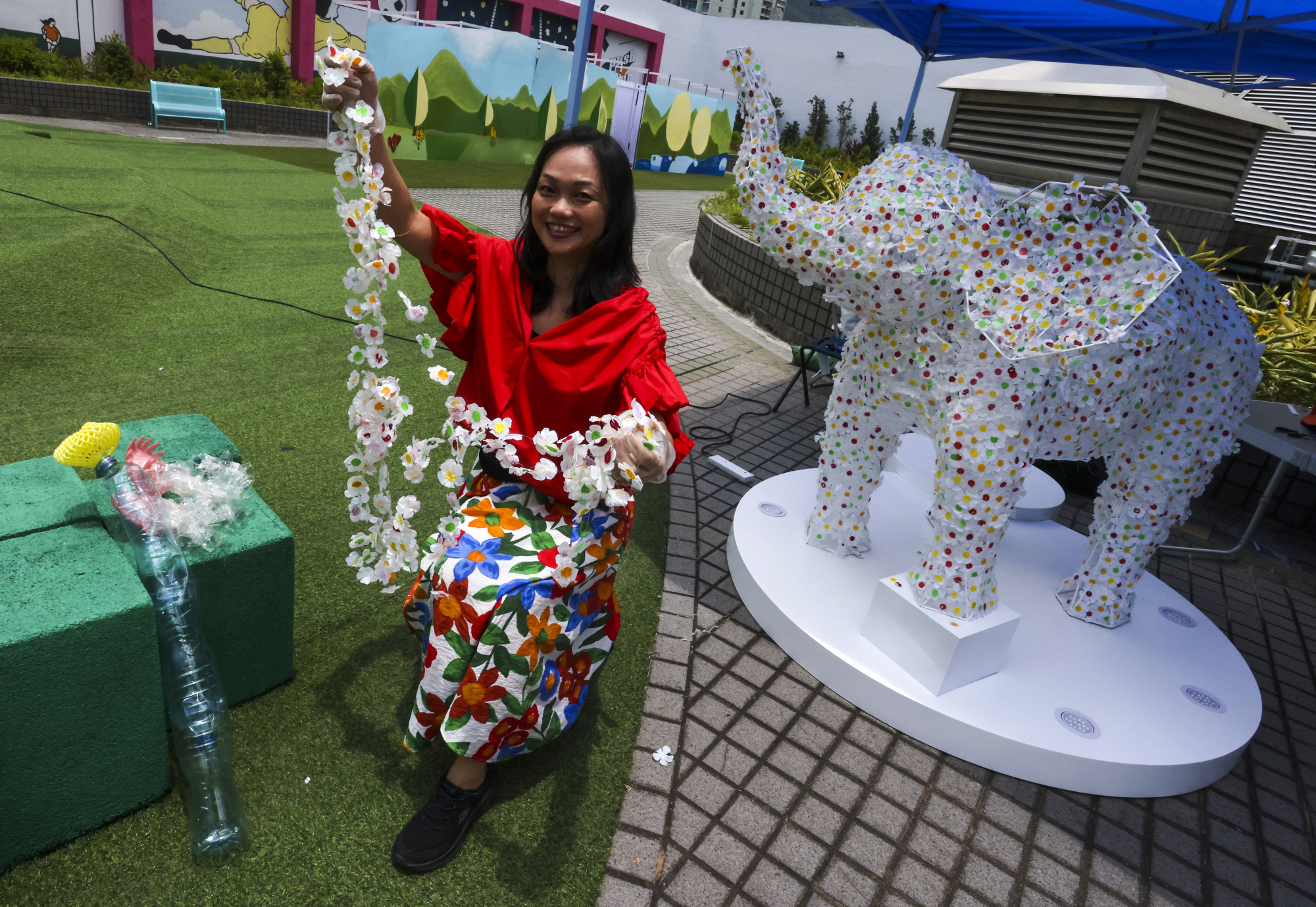 The main commissioned work will be a 4-metre-high mural of thousands of blossoms, crafted from the non-biodegradable styrofoam netting used by high-end groceries to wrap fruit.
"I've always wanted to do a sea of flowers, and now I have the space to," she says.
This kind of netting is her signature medium.
"I discovered it about the same time that I first opened my art studio in 2012," Pang says. "As an artist, you think of what others don't think about. At that time, nobody was looking at this material. But I thought, 'My god, these nets – they're all over the place!'"
Styrofoam, a type of polystyrene, is notoriously difficult to recycle, yet ubiquitous in food packaging in Hong Kong. The city sends about
90 tonnes
of the material a day to landfills, according to the Environmental Protection Department.
Pang is also using twist ties – the tiny slivers of metal encased in white paper that come with plastic rubbish bags – to weave an oversized fruit basket to display at The Quayside.
She decided to leave the basket mostly empty to make a statement about food waste, especially as it will be displayed in an area where many office workers take their lunch break. "The point is that we only need to consume so much," she says.
Pang – who has an MBA, a law degree and a background in corporate marketing – doesn't come from a typical art background.
"I've loved art since I was a child. But at first, I felt I couldn't survive financially, so I kept studying, working and saving money," she says.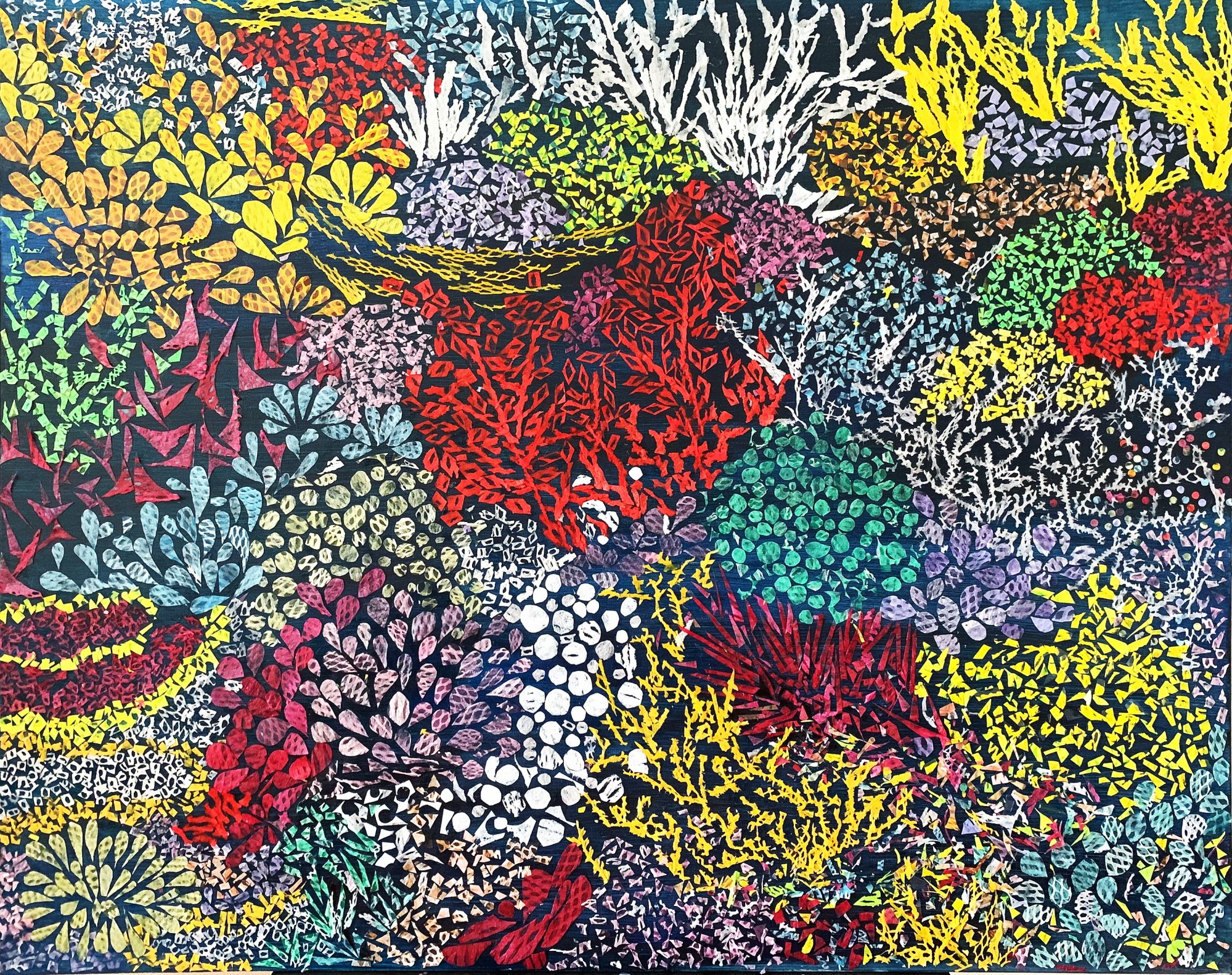 She didn't choose the easiest path when she decided to become a full-time artist a decade ago, largely eschewing commercial galleries in favour of public projects.
She rides buses and trains to gather "trash" from friends, families and businesses. And she is often spotted wearing gloves, as her hands are perpetually scratched from cutting up rough-edged plastics and metals.
Pang's two exhibits this summer are both collaborations with Link Reit, the real estate investment trust that runs shopping centres, car parks and office blocks across Hong Kong.
"We believe art is a powerful and humanising way to communicate experiences across cultures and social groups," says Gary Fok, managing director of leasing (Hong Kong) at Link Reit.
"Art is often considered to be the repository of a society's collective memory, which helps build bridges between cultures and bring people together regardless of ethnicity, religion or age."
The Tsz Wan Shan Shopping Centre is not your typical venue for contemporary art. It's the type of working-class mall that houses the neighbourhood wet market, dental clinic and even public library branch. But for Fok, these properties are "a key part of the social fabric of the local community".
For Pang, these partnerships are essential for providing the financial support and physical space needed for large-scale public art. Looking ahead, she will also be working with companies like Ikea on similar works.
Since her childhood in Hong Kong, Pang has seen a marked increase in environmental awareness.
"The students I teach are used to recycling – separating waste, putting items in different bins or hopefully even making art from it," she says.
"There are far more community recycling centres, and there are more NGOs and businesses involved. But of course we can do better."