Art
Get more with myNEWS
A personalised news feed of stories that matter to you
Learn more
Review
Visual artist's surreal exhibition at Hong Kong's Tai Kwun centre is a multisensory experience for visitors to lose themselves in
Pipilotti Rist's 'Behind Your Eyelid' show transforms the former police compound with captivating works that walk a fine line between comical and critical
Tickets for the main show at the JC Contemporary building cost between HK$65 and HK$95, but her other works placed across Tai Kwun are free to view
Hong Kong needs a break, and Pipilotti Rist is providing it.
The Swiss visual artist
's exuberant solo exhibition "Behind Your Eyelid", meticulously put together with curator Tobias Berger at Hong Kong's Tai Kwun heritage and arts centre, is a kaleidoscopic, multisensory and playful experience that begins with visitors confronted by rows of staring eyeballs in the entrance lobby of the JC Contemporary building.
These mischievous mementos are in fact plastic balls containing cleaning cloths for glasses, a real and figurative aid to a clear-eyed view of the world.
Rist describes Tai Kwun, a former police station and prison compound, as a historical site of "almost unbearable heaviness" that she has attempted to lighten and transform as much as possible.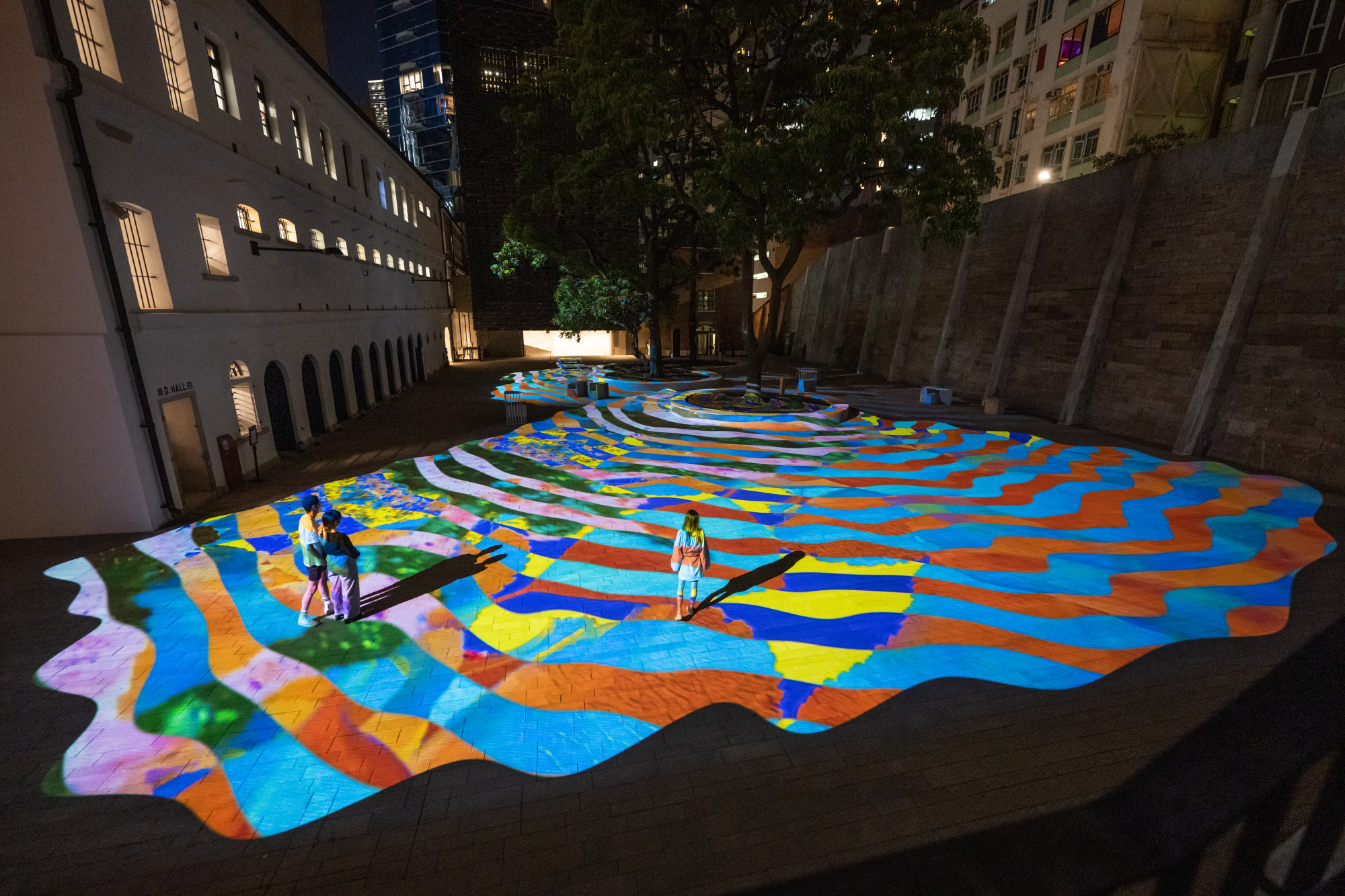 All the windows are accessorised with either slabs of clear recycled packaging (a participatory work called The Innocent Collection), textile collages that Rist designed with her sister, or else tinted in pink, blue, yellow and green.
The rooms upstairs are surreal yet inviting environments that are liberatingly without barriers or signs that begin with the words "Do not".
The pièce de résistance is "The Apartment", an entire home bathed in tropical colours from 15 video projections, photo wallpapers and installations. At this wonderland, visitors can sit down or walk about exploring its various mystifying objects, such as the inelegantly shaped Respect Scholarly Rock Hong Kong (2022).
Next door is The Room (1994/2017), a TV room with giant, Alice-in-Wonderland-style sofas where you can flip through 10 of Rist's videos with a remote control.
In another space, people can stretch out on floor cushions in front of Sip My Ocean (1996), a video of a woman swimming happily through crystal-clear water as a version of Chris Isaak's twangy 1980s anthem, Wicked Game, plays in the background.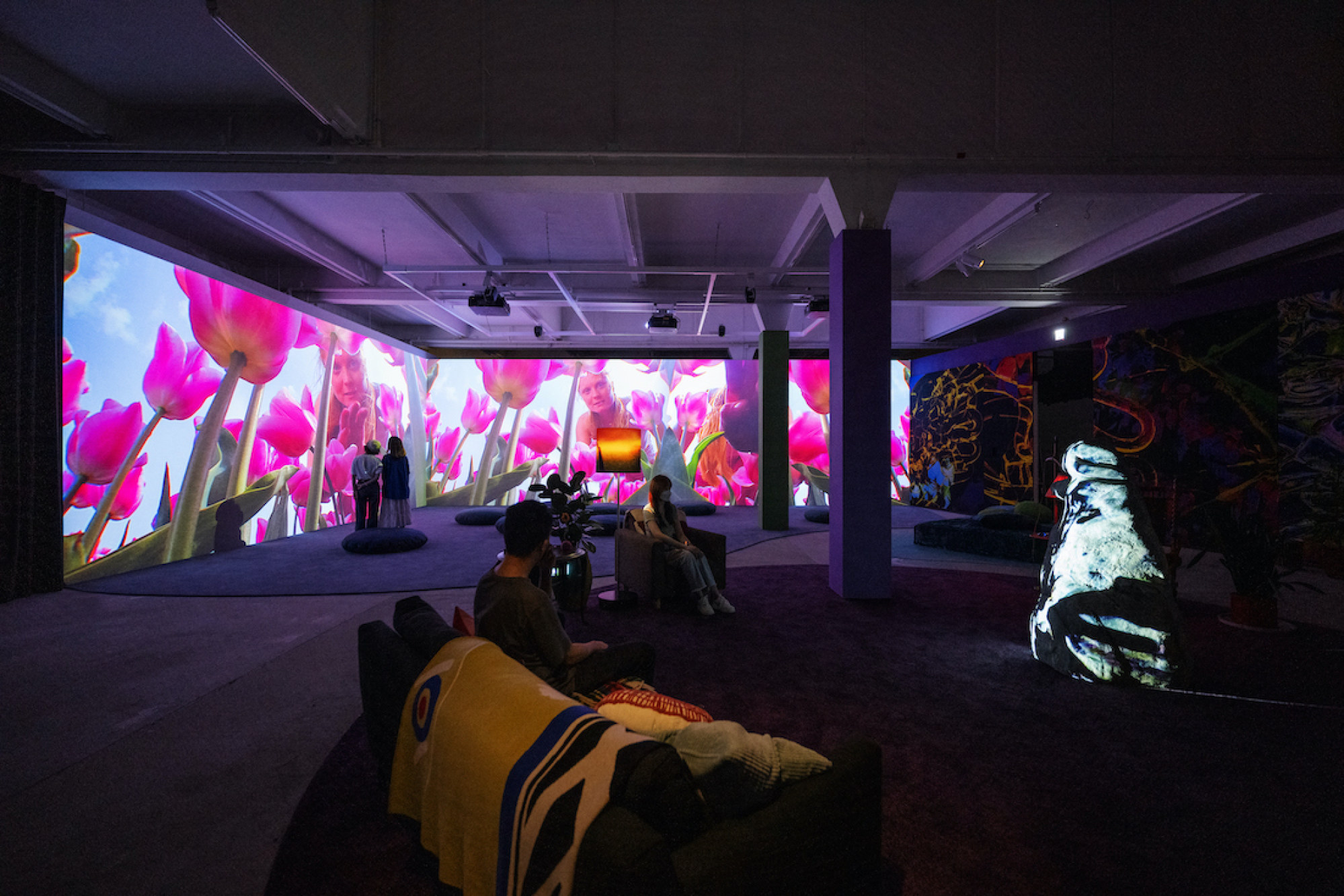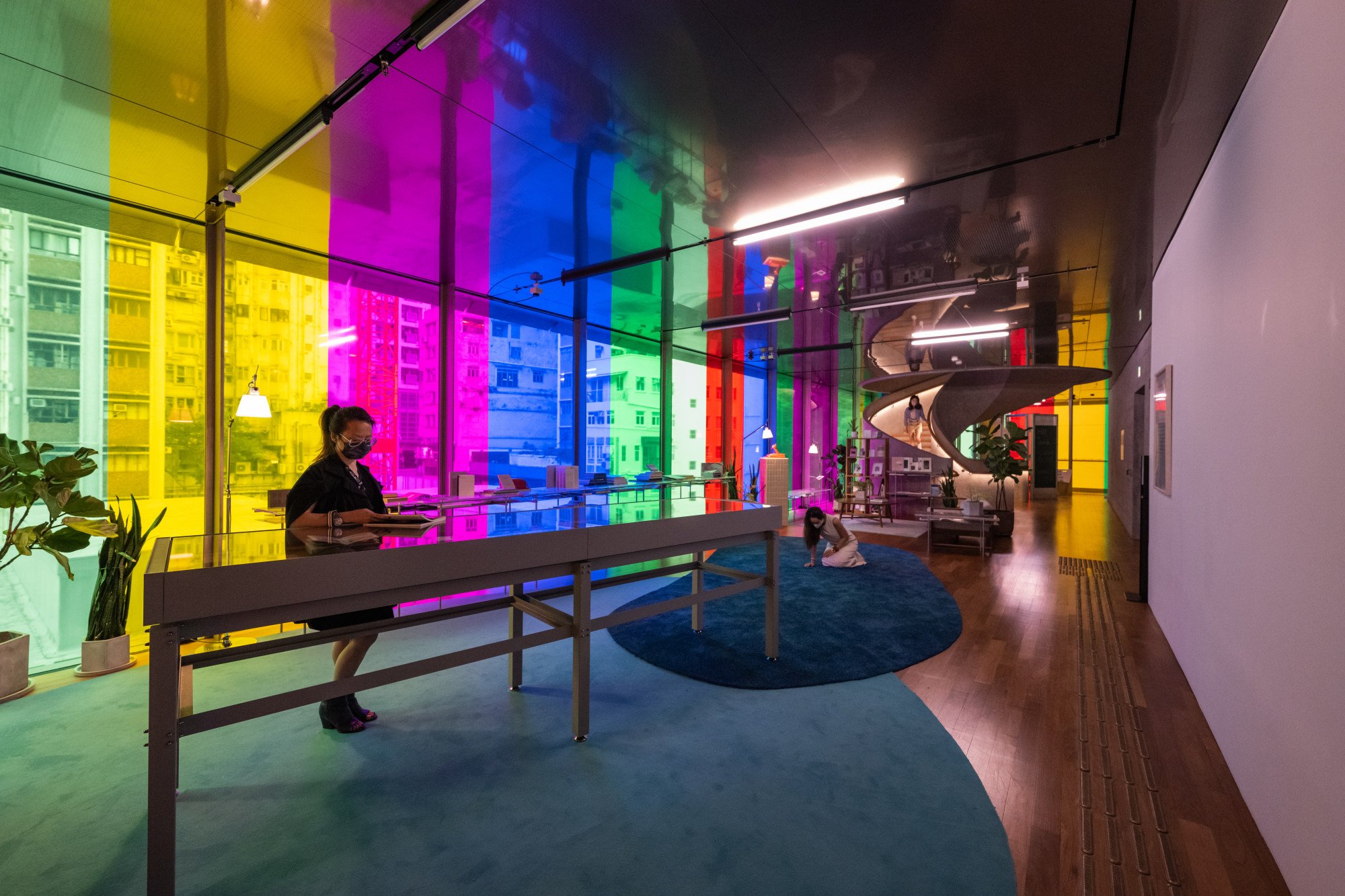 Rist often works with musicians, videographers and artisans to create multisensory experiences that are full of joie de vivre. There are quiet moments, too, in the exhibition, such as her new work Big Skin (2022), which may not be as compelling as the other sections but which showcase how she is constantly experimenting with new materials and projection techniques.
However, there is always an undertone to the pleasant exteriors, a moment when the comical crosses a fine line and freezes smiles. Often, the works reflect Rist's critical attitude towards the tyranny that mass media has over the female body and society's demand that women be ladylike.
As you walk through the "Pixel Forest" on the third floor, with its hypnotising lights that blink in sync with a gentle soundtrack, give a thought to what Rist describes as "frozen labias" – the LED fairy lights that brush against you as Rist sings "I want to see how you see."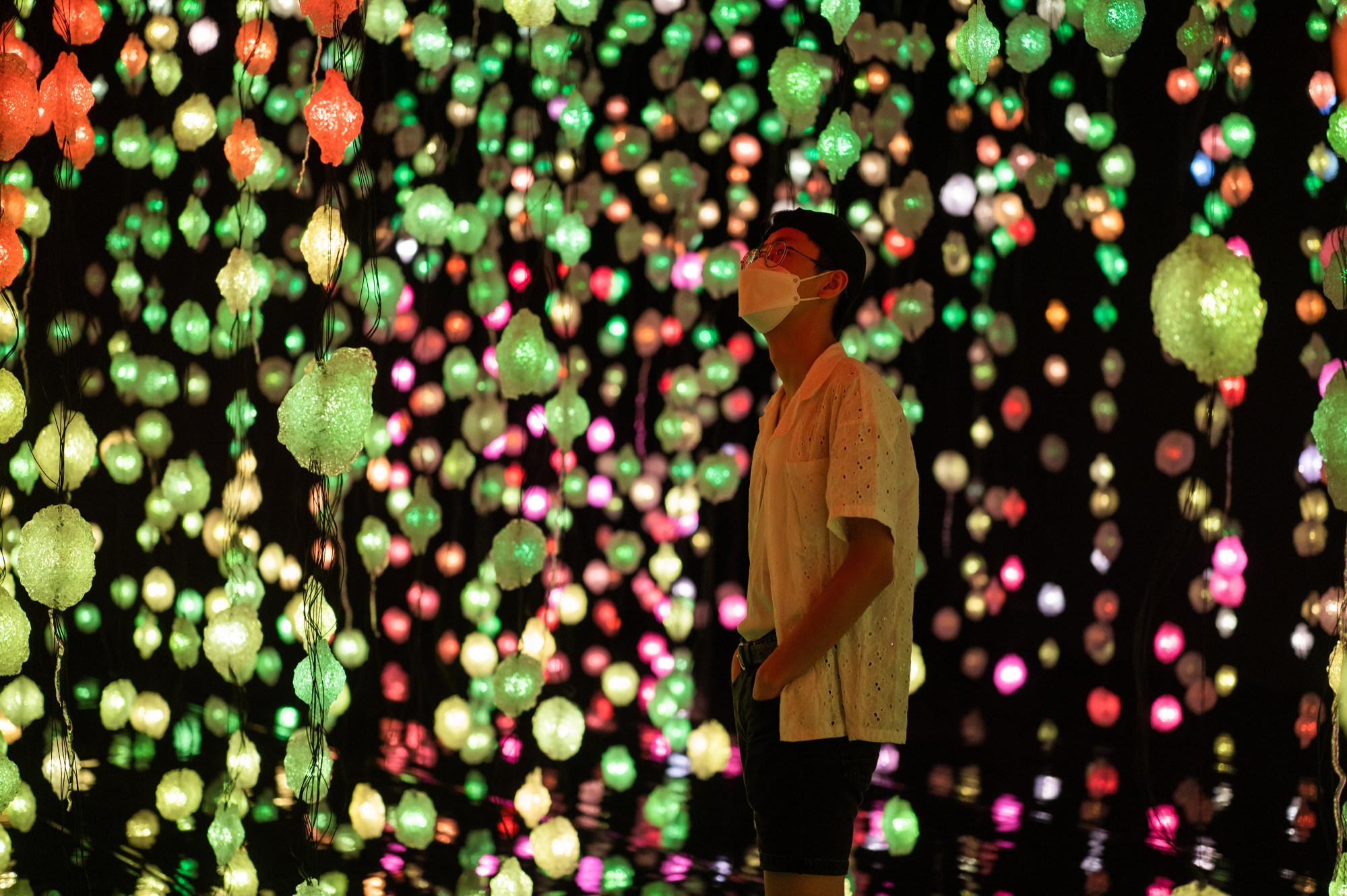 In I'm Not the Girl Who Misses Much (1986), the earliest video included in the show, we see a high-speed playback of Rist singing a line from the Beatles' Happiness is a Warm Gun (a song with obvious sexual overtones) over and over again. While funny, there is also something morbid about the way she thrashes about stiffly while wearing bright red lipstick and a low-cut dress, her voice turned into a comical, grating, high-pitched siren.
That disturbing, liberating scream can be heard against the calm visuals of Sip My Ocean, when Isaak's pensive line "No I … don't wanna fall in love" comes out as a harsh shriek in Rist's voice, perhaps in reference to the heartbreak that she felt when she found bleached corals and plastic in the Red Sea, where the video was shot.
And then there's the outburst of anarchic energy in Ever is Over All (1997). The insouciance with which the smiling woman with a flower smashes car windows along the street is either freeing or troubling, depending on your point of view.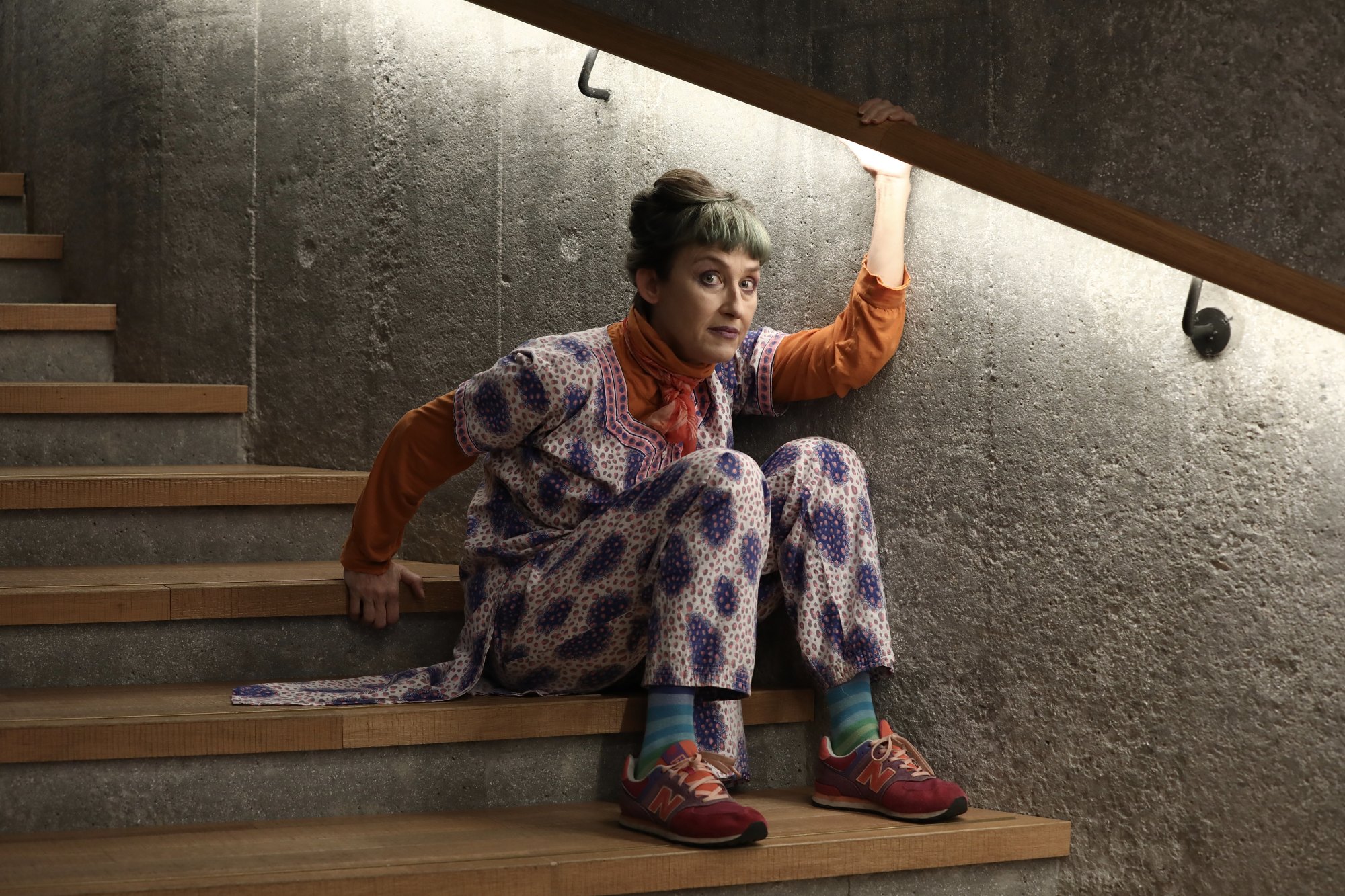 The indoor exhibition is ticketed and costs between HK$65 and HK$95.
There are works by Rist placed across the Tai Kwun site as a counterweight to its oppressive history that do not require a ticket to see. These include the technicolour emollient called Water Tiger Colour Balm (2022) that Rist has made for the former prison yard (best seen when dark), and Open My Glad <Flatten> (2000), suitably placed behind bars so that the sight of Rist's face flattened against the screen makes a wonderful, visual jailbreak.
"Behind Your Eyelid – Pipilotti Rist", Tai Kwun Contemporary, JC Contemporary & 1/F F Hall, Tai Kwun, 10 Hollywood Road, Central, Tue-Thu, 10am-8pm, Fri-Sat, 11am-9pm. Until Nov 27, with a series of public programmes. Adults: HK$95 (HK$88 online), concessions: HK$75 (HK$65 online).