Art
Get more with myNEWS
A personalised news feed of stories that matter to you
Learn more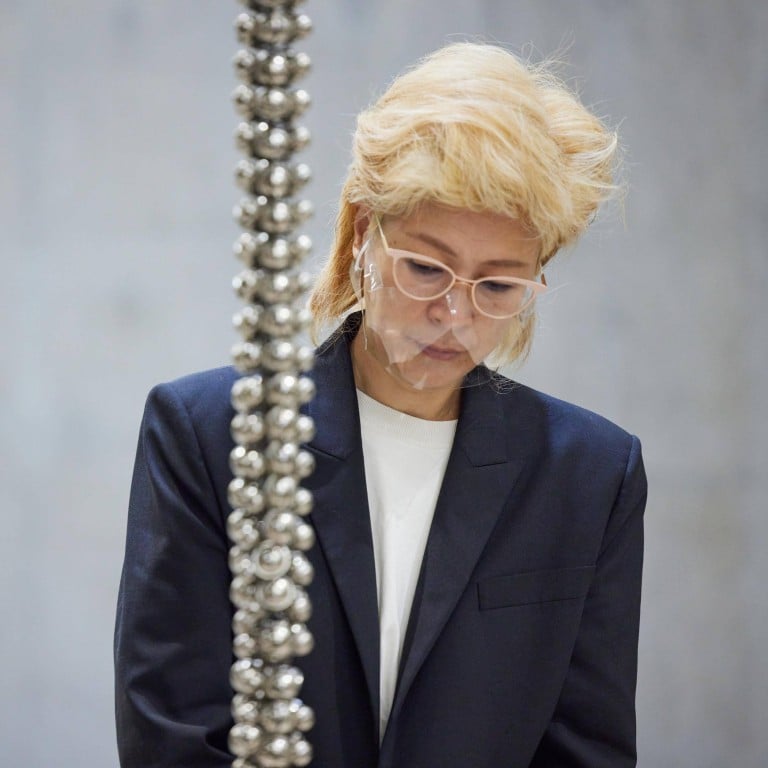 The works of Haegue Yang, Korean contemporary artist, conjure uncanny reminders of rituals and fairy tales, and the mysterious 'other'
From a distance, Haegue Yang's Sonic Rescue Ropes appears inconsequential; look closer and its fat cords remind one of the ropes church bell ringers pull
Yet they are covered in thousands of bells, and when M+ museum staff 'activate' them by shaking them, they remind one of how bells are rung in Korean temples.
Haegue Yang might well be talking about her own art when describing how she felt about one particularly mystifying book by Marguerite Duras.
"There is no 'click' [she snaps her fingers]. It is not art that you 'get'. It is very much about lingering. There is no wisdom on how to live life. It is totally useless. But you keep getting attracted back and you have to deal with it," she said of the French writer's Malady of Death.
Yang has had the 1982 novella translated into multiple languages and staged readings of it since 2010, including two Cantonese readings in Hong Kong in December 2015.
Born in Seoul, the artist splits her time between South Korea and Germany, where she is a professor at her alma mater, the Städelschule Academy of Fine Arts in Frankfurt. In August, she visited Hong Kong to see her work Sonic Rescue Ropes (2022) at the M+ museum of visual culture just before it was to be taken down.
Its ropes were suspended from ceilings of different heights, draped on hooks and dangled down the museum's central lightwell to Found Space, the lowest basement exhibition area.
Dwarfed by the museum's cavernous interior, they seemed inconsequential. Close up, they turned out to be fat bundles of cords covered in metal-plated bells which museum staff would clasp with both hands and shake (or "activate") at regular intervals to let out a pleasant, silvery jingle in the austere concrete hall.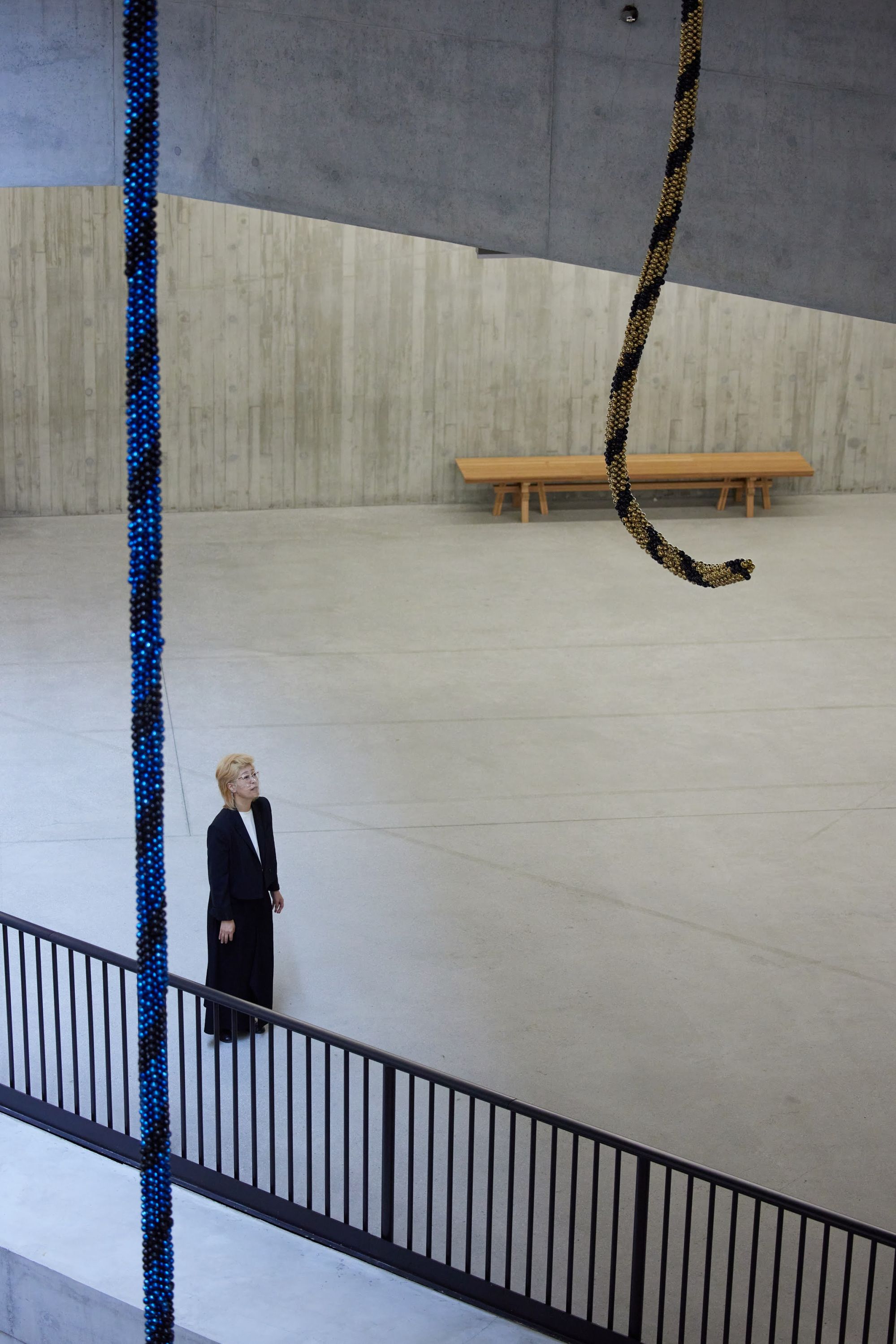 Yang was glad to see the ropes in M+, her trip having been delayed by the coronavirus pandemic. It's not that overseeing the installation of the work via Zoom was any trouble, she said, but an artist always wants to be a "witness" to the moment of completion, especially for a site-specific commission like this project.
The stylish 50-year-old with bleached blond hair speaks in a hushed voice, but there is conviction in her every carefully weighed answer.
Yang's monumental Sol LeWitt Upside Down – Structure with Three Towers, Expanded 23 Times, Split in Three (2015), made with LED lights and Venetian blinds, currently dominates an entire gallery at London's Tate Modern museum. Asked if she identified with the late American artist's blend of minimalist conceptual art, she says: "When someone repeats something lifelong, is that minimalistic? Intensity changes the whole idea [of minimalism]. Repetition is not minimalist."
For years, she has been returning to the same domestic materials, which she only leaves behind when she feels the onset of exhaustion.
"I stopped making light sculptures because of exhaustion. With the sonic sculptures, I am still waiting to be done with them. Whether I like it or not it sometimes happens. But I can't decide. It happens to me rather than me deciding," she said.
The Venetian blinds, the hangers, the lights and now bells, do not represent a gendered idea of domesticity, she pointed out. "For me, domesticity is private, unknowable and opaque, yet intense and full of meaning," she said.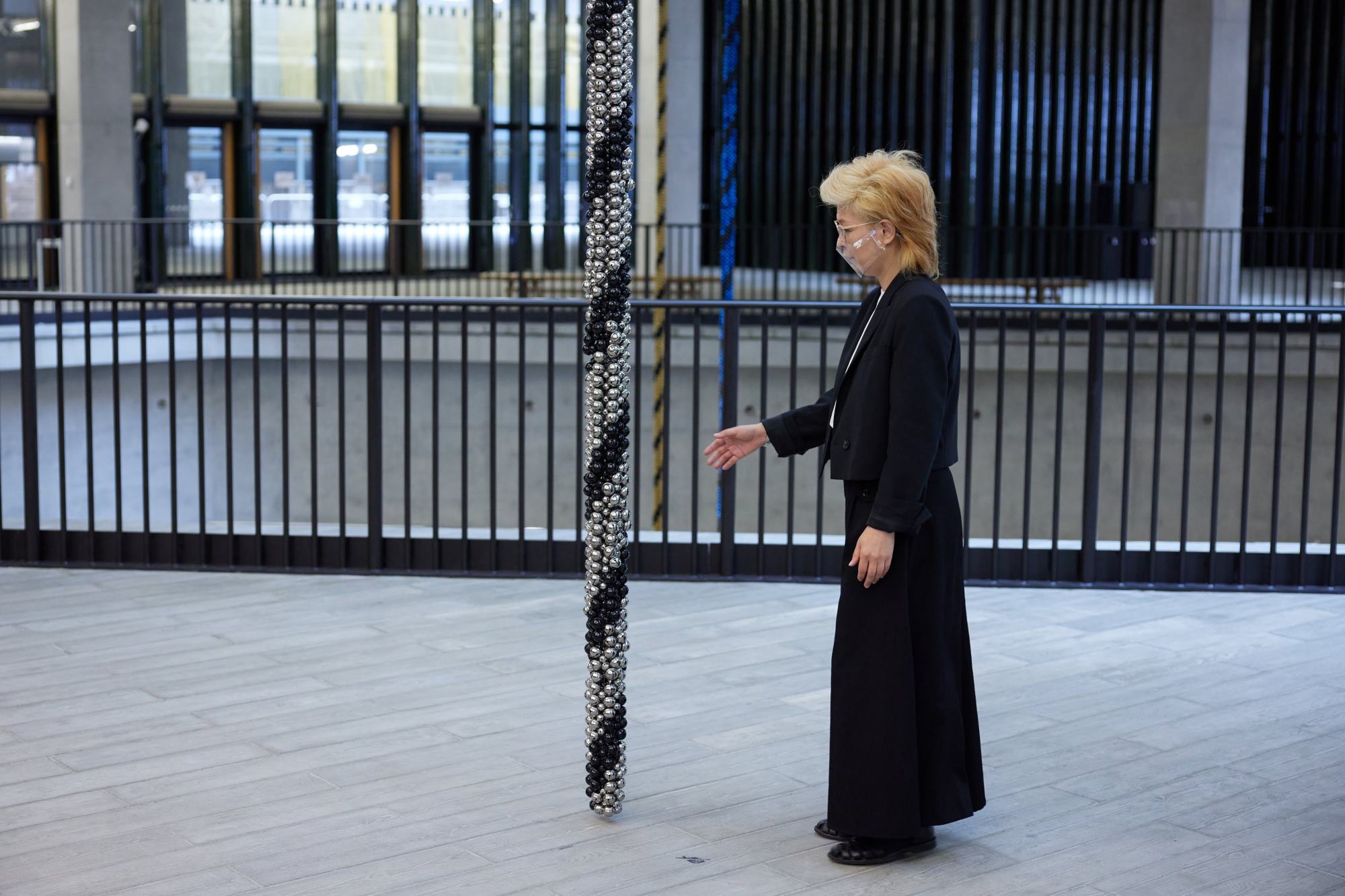 Her artworks, often anthropomorphic in form, are mysterious because they are uncanny reminders of something else, their meanings sliding between east and west.
The striped lifelines in Hong Kong, for example, are in appearance most like the ropes used by church bell ringers. But the ritualistic shaking during their "activation" was reminiscent of the ringing of bells in Korean temples, too, or the shaking of fortune sticks.
The "Rescue Ropes" in the title was inspired by a Korean folk tale in which two siblings became the sun and moon after they climbed ropes into the heavens to escape from danger on the ground, according to Yang. But the idea of being able to climb out of this world is universal. (Think Jack and the Beanstalk.)
Yang went to Germany to study partly because of the free tuition. "It was not easy," she said. The constant derision she received as "that little Asian girl" led her to making sculptures in large formats.
"Nobody expected me to have so much expertise on sculpture making, welding and engineering. It's not that big work is better work. But I wanted to at least be in the game, and so few female artists were dealing with [such a] scale of works."
Now that she has a senior position in academia – since 2021, she has been vice-rector at the Städelschule, a highly respected institution with a mostly international student body – and her works are in the collections of top museums around the world, she has less to prove and more freedom to pursue projects with no or little commercial value.
This is why she is determined to go back to staging Duras' strange story of a man who hires a woman to teach him how to love – another piece of material that she returns to obsessively.
"I don't want to colonise the book [with my own meanings]. I don't want to be an expert about the book. It's a lifelong commitment. I will do it over and over again whenever I have the desire to," she said.
And if nobody understands why she does it, it doesn't matter. She speaks through Duras again: "As Duras often said, people say my work is difficult to understand. Is your relationship with you mother easy to understand? Is it a problem? No. It's the way how it is. Why are we saying things as if it's a problem to solve?"
"Haegue Yang: Sonic Rescue Ropes", commissioned by M+ in 2021-2022, was on display in the Lightwell, Found Space, M+ from Nov 12, 2021 to Aug 24, 2022.