Art
Get more with myNEWS
A personalised news feed of stories that matter to you
Learn more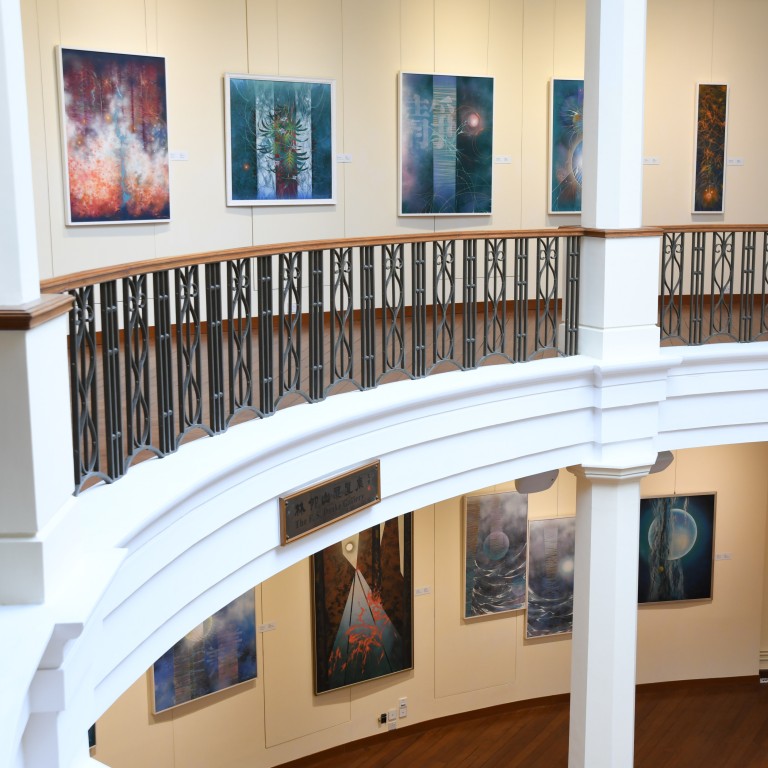 From Hiroshima to Hong Kong, artist Brian Tilbrook's retrospective covers a lot of ground, and a switch from realism to abstract painting
Hong Kong has been home since 1965, but Brian Tilbrook was in Hiroshima soon after its nuclear bombing, an event that inspired a recent abstract painting
A retrospective exhibition intended to mark his 90th birthday includes realistic landscapes from his Hong Kong heritage series and some of his later work
Artist Brian Tilbrook's Covid-delayed retrospective at the University Museum and Art Gallery on the University of Hong Kong campus in Pok Fu Lam has finally opened.
On display are the indefatigable 90-year-old artist's latest abstract paintings, imbued as they are with a deep concern for the future of humanity, alongside earlier works such as his much-loved Hong Kong heritage paintings.
Titled "Past and Present", the exhibition was to have opened on February 18, Tilbrook's 90th birthday.
"I don't know if you realise, but this is the oldest museum in Hong Kong. And when I was about to have this exhibition on my 90th birthday, I thought how suitable it was to have the exhibition here,"
Tilbrook
says.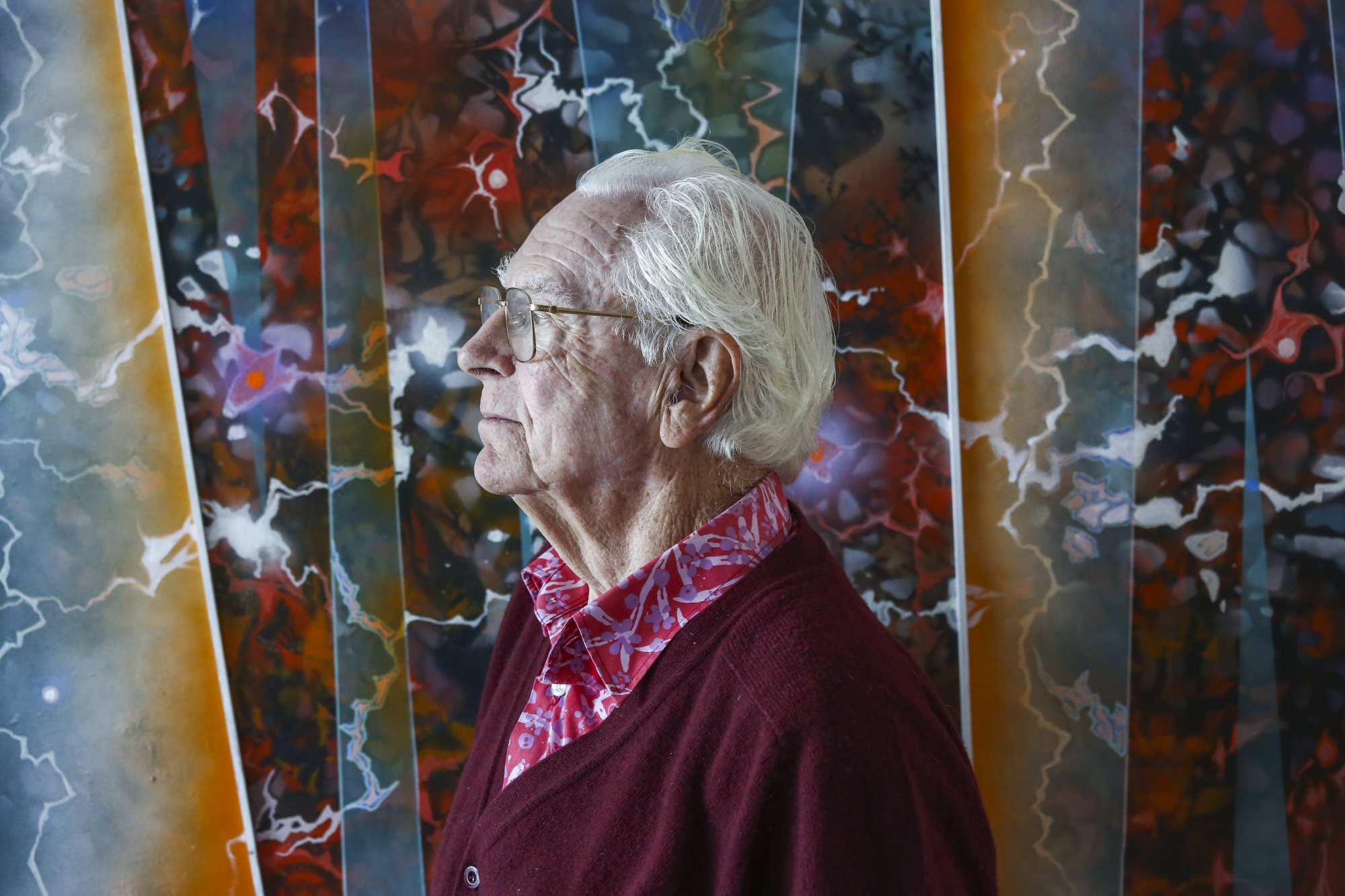 The exhibition is a distillation of his career since he moved to Hong Kong in 1965. It includes a photograph of one of his best-known works: the giant mural of Hong Kong's historic harbourfront inside the Hong Kong Club.
The roughly 60ft (20-metre) wide mural was painted in 1988 section by section in his bedroom, the artist recalled this week.
"If you stand inside [the Hong Kong Club] and look out, it's a marvellous city with vibrant, exciting skyscrapers. But I would like to take you back into the past, to the 1900s and give you the old one [too]," he said, explaining the inclusion of his realistic Hong Kong landscape paintings in the exhibition.
In 1989, he was commissioned by the Hong Kong government to produce 50 paintings of heritage buildings for a book called Heritage of Hong Kong, and some of those original paintings are on display.
The book took Tilbrook a year. "With my wife, we went on marvellous drives all around Hong Kong," he said. To illustrate the book he painted various ancestral halls and natural landscapes in the New Territories, sometimes deliberately leaving out the high-rise apartment blocks in the background.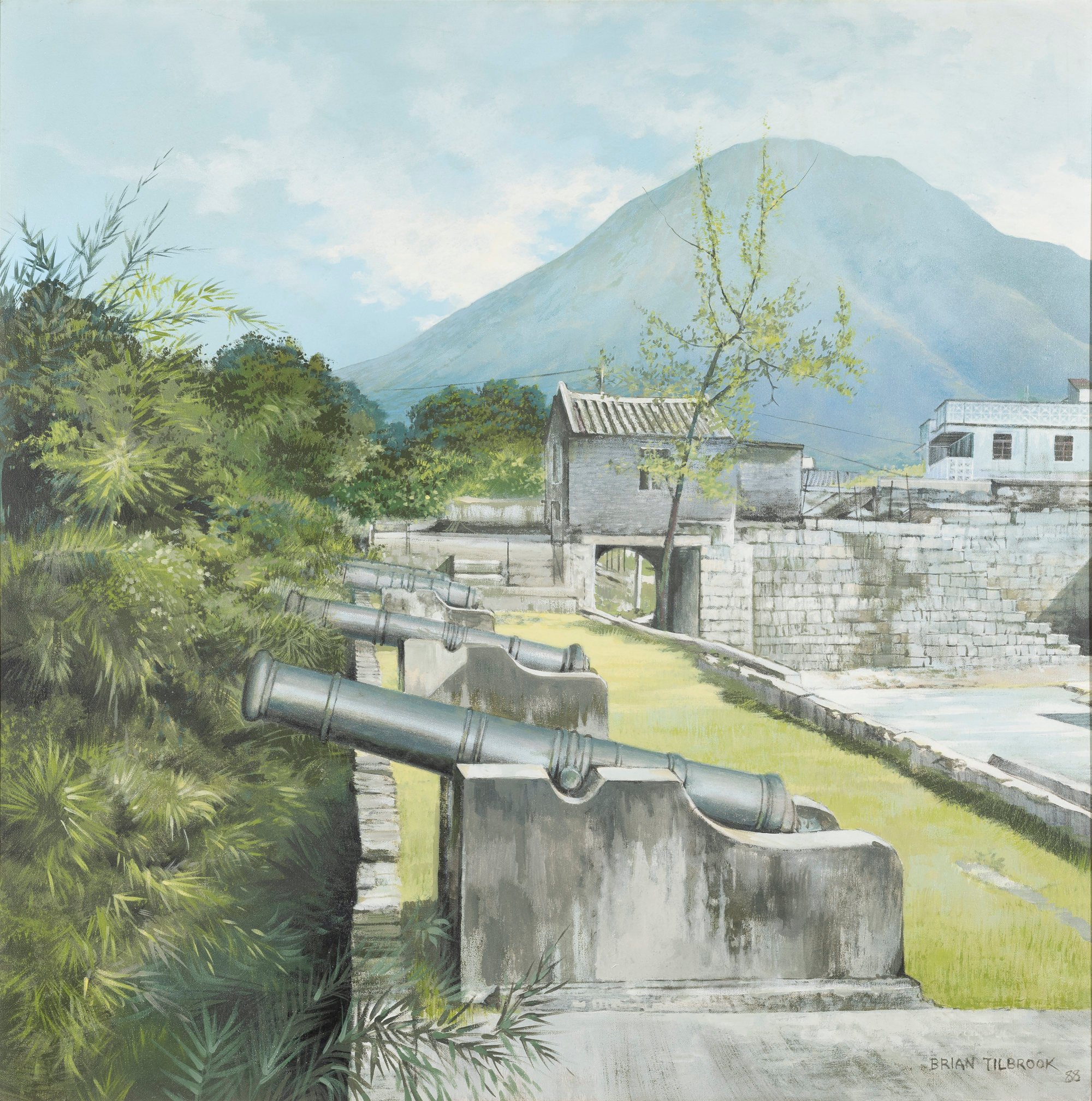 It was an experience which triggered his transition to creating abstract art.
"I just got tired, exhausted, just painting details," Tilbrook said, "More and more, I found myself thinking in terms of what came from within me, rather than what came from without – sometimes the two are married together."
Looking for a new visual language, he began using brushes, stencils and spray nozzles to establish rich layers in the background and adding vibrant geometric patterns on top.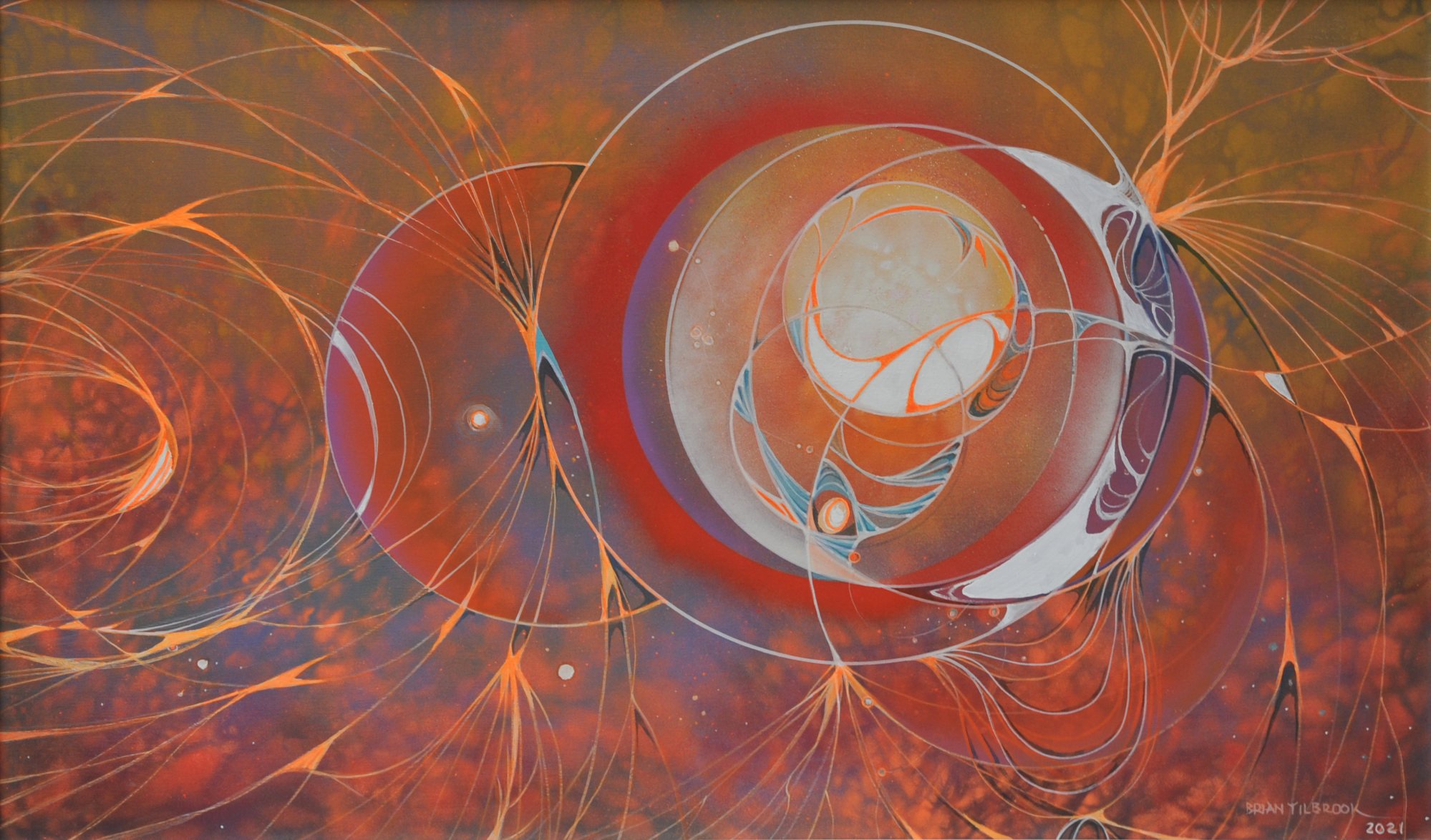 In recent years, he has expressed his concerns about some of the universal challenges facing humanity, from wars to climate change, through his art.
War and Aggression (2015) refers to the nuclear bomb dropped by the United States in 1945 that destroyed the Japanese city of Hiroshima. He was in Hiroshima shortly after the second world war, and said he would never forget seeing the "shadow of a human, dematerialised by atomisation" – the trace of a person who was sitting on a stone step when the bomb exploded. (The relic is preserved in the Hiroshima Peace Memorial Museum).
In his painting, a circle in the centre and the lines projecting outwards symbolise the violent reverberations of war.
"We're very good at finding ways of killing each other century after century," Tilbrook said.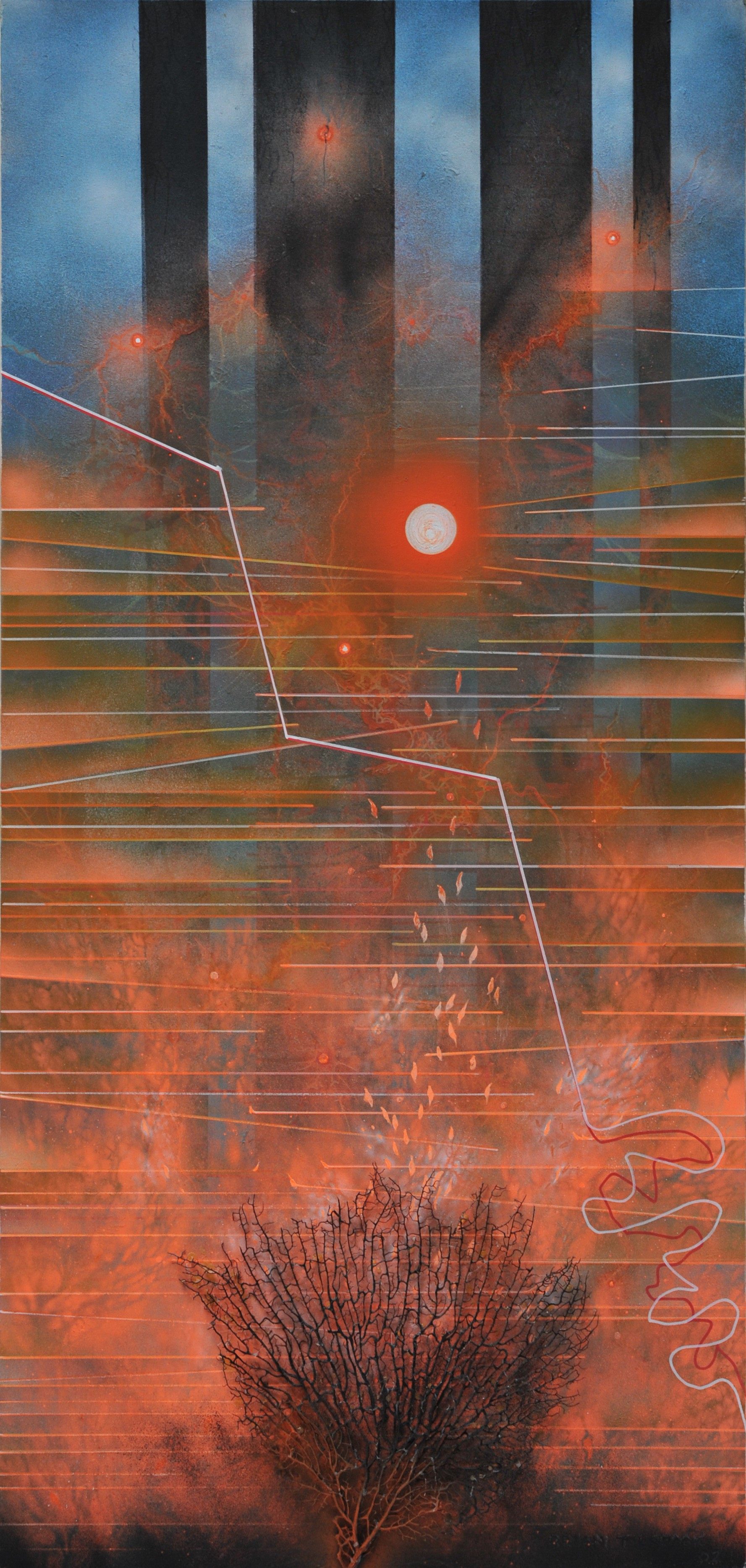 Last year, he finished Global Warming (2021) in preparation for the exhibition. It is a tableau representing conflagration, with scorched buildings raked with lines of what could be financial charts or collapsing debris, which he said represent the scars of "burnt ambition".
Spray-painted coral from the artist's rooftop garden is glued to the bottom of the painting. "It's a tear. It's a dead tree which is crying," Tilbrook explained.
Many of Tilbrook's abstract works incorporate the Chinese characters for happiness, love and quietude.
"I love the shapes of the Chinese language. It is probably the most beautiful language in the world, in terms of its images," Tilbrook said.
"Past and Present: Paintings by Brian Tilbrook", Level 1-2, University Museum and Art Gallery, University of Hong Kong, 90 Bonham Road, Pok Fu Lam, Tue-Sat, 9:30am-6pm, Sun 1pm-6pm, closed on Mon, university and public holidays. Until Dec 30.