Art
Get more with myNEWS
A personalised news feed of stories that matter to you
Learn more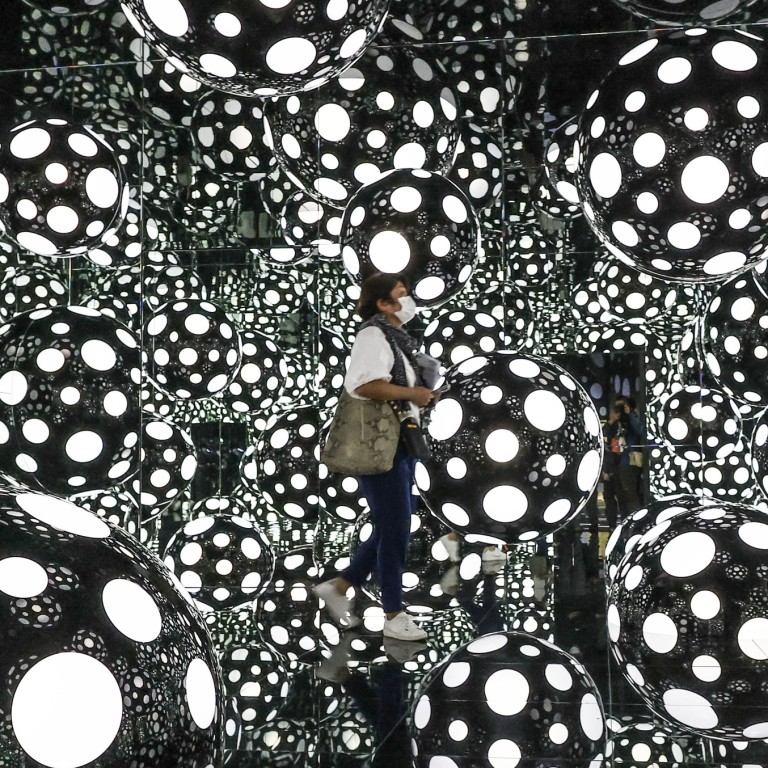 Review
Instagrammable Yayoi Kusama exhibition at Hong Kong's M+ Museum takes the easy path
The retrospective of Japanese artist Yayoi Kusama at Hong Kong's M+ Museum is full of extraordinary works destined for Instagram
The museum chooses to go with the flow rather than put its own mark on a fascinating career, and perhaps tries too hard to produce a 'happy ending'
To mark the retrospective of Japanese artist Yayoi Kusama at Hong Kong's M+ Museum of visual culture, the city has been pelted with a downpour of polka dots.
An MTR train has been decked out in the yellow and black livery of the artist's famous pumpkins. Prominent billboards have been placed all over town, courtesy of exhibition lead sponsor HSBC.
The giant M+ LED facade is back on
after an extended outage
, in time to deliver a hi-vis exhibition promo on its 65m by 110m (213ft by 361ft) screen.
And Instagram is awash with selfies from the first M+ Gala, which included a preview of the exhibition for VIPs. The most popular "check-in" point: the explosion of black-and-white dots and globules that is the 93-year-old's latest "mirror room".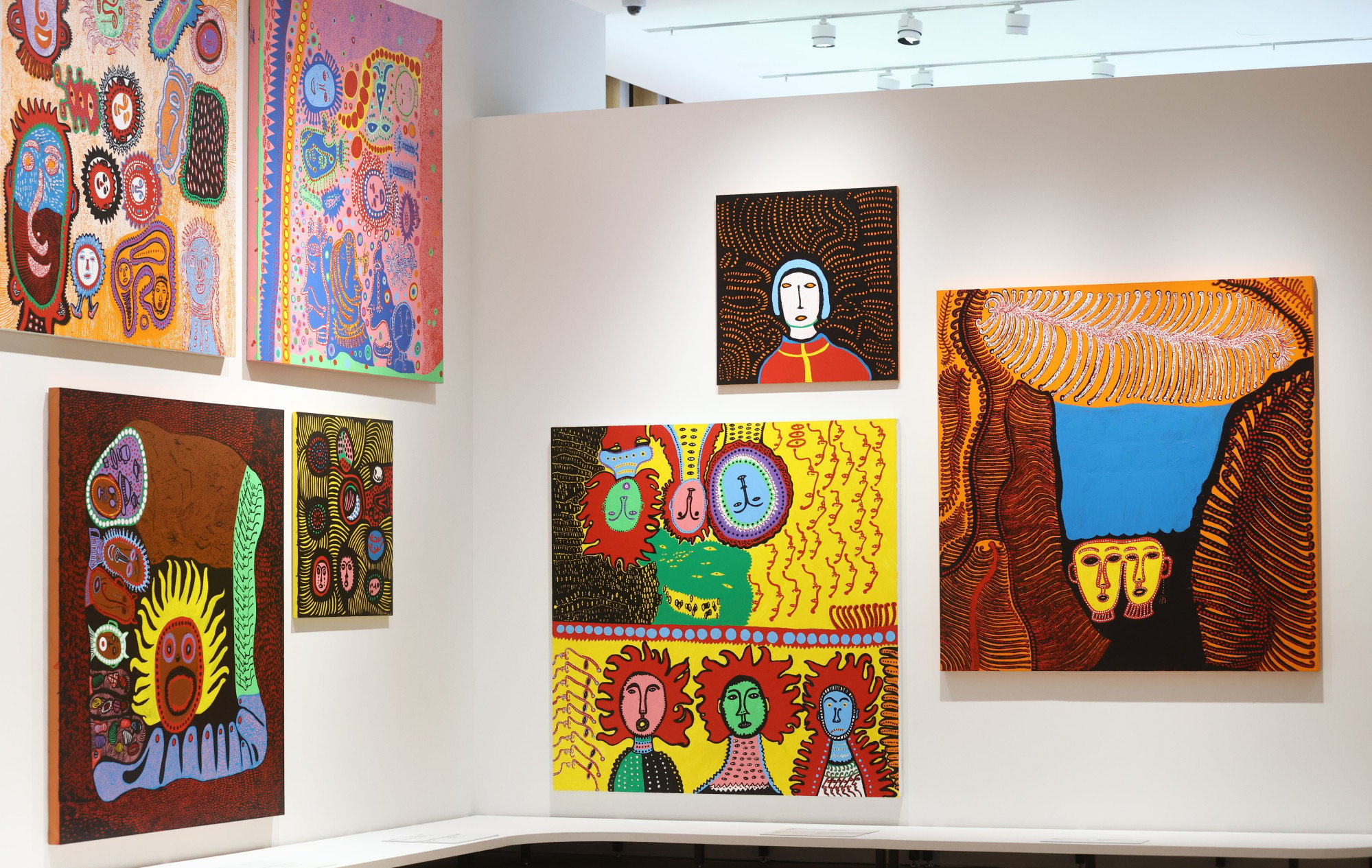 The museum's inaugural "special exhibition" opened on November 12 under a heavy weight of expectation.
Regular tickets for "Yayoi Kusama: 1945 to Now" cost HK$240 (US$31) each, a test for Hongkongers' appetite for contemporary art when they are used to paying HK$10 at local museums. M+ hopes to attract more than 100,000 visitors.
Creating a fresh take on one of the most famous artists alive is a challenge in itself.
Kusama continues to travel daily between the psychiatric asylum that has been her home by choice since 1977 to her studio. Her prolific output has been the subject of well over 100 museum exhibitions worldwide in the past two decades, according to Artnews.
She only engages with the outside world (including exhibition curators) via a large network of dealers and studio representatives, who help cast her homogenising worldview far and wide. That 1960s white male-dominated New York art scene that once brushed her to one side? They have nothing on her in terms of reach.
In 2014, an exhibition that featured her developing "My Eternal Soul" series drew 2 million visitors when it toured Central and Latin America. An exhibition at National Gallery Singapore in 2017 featuring 120 works attracted 235,000 visitors.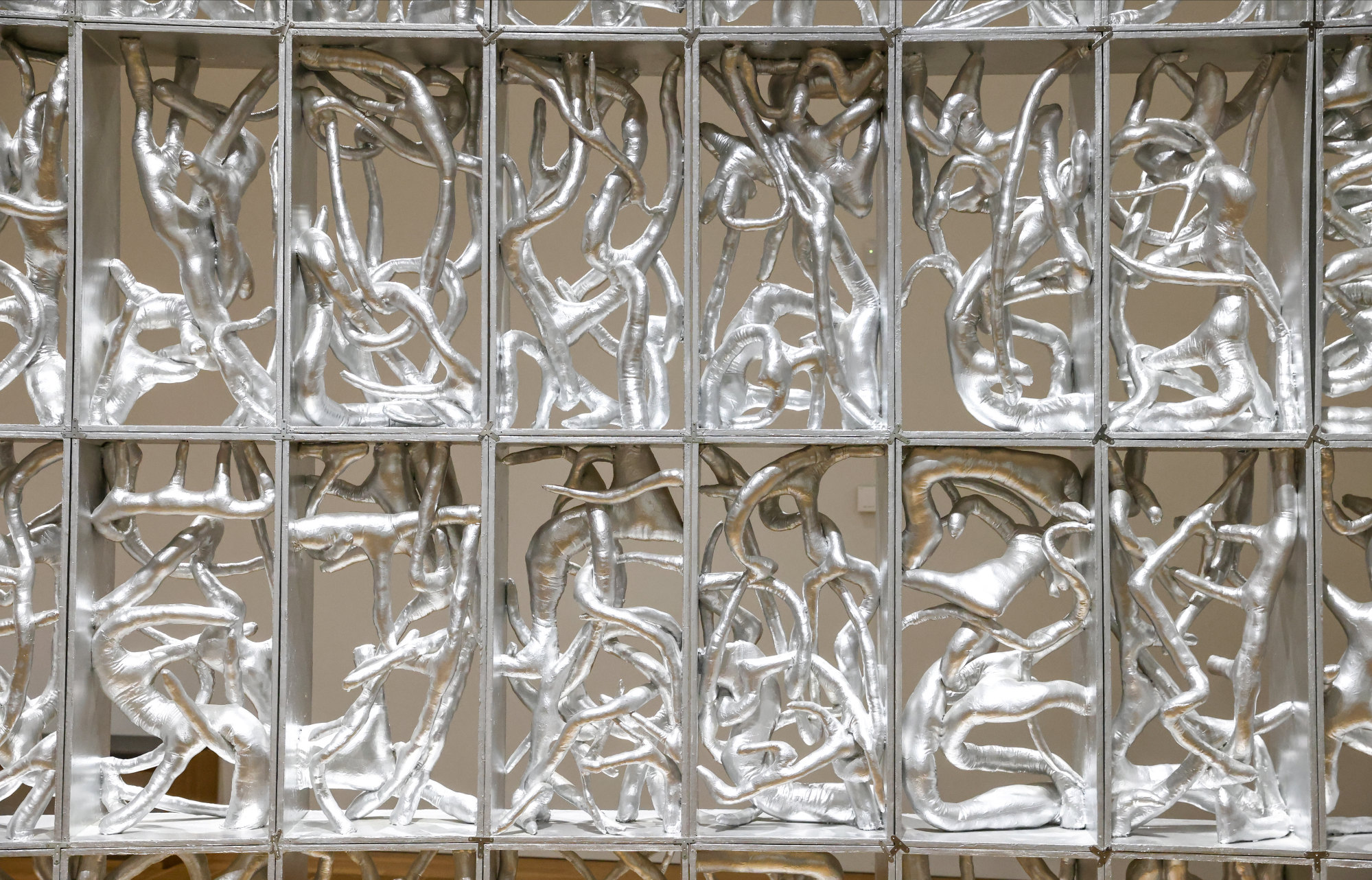 Most recently, the 2021 retrospective at Berlin's Gropius Bau showed around 300 pieces, with a virtual, fully annotated 3D version available online for free.
The M+ exhibition covers a longer period than other retrospectives, bookended by new paintings from the "My Eternal Soul" series, and works made when she was 16 years old in 1945: a realistic sketch of an orchid and a delicate painting of the dried leaves of a piece of corn that anticipate later themes and motifs.
These early works offer a rare glimpse of the prosaic in a life most unorthodox, as well as the traditional techniques that the young Kusama was taught (and which she quickly became frustrated with).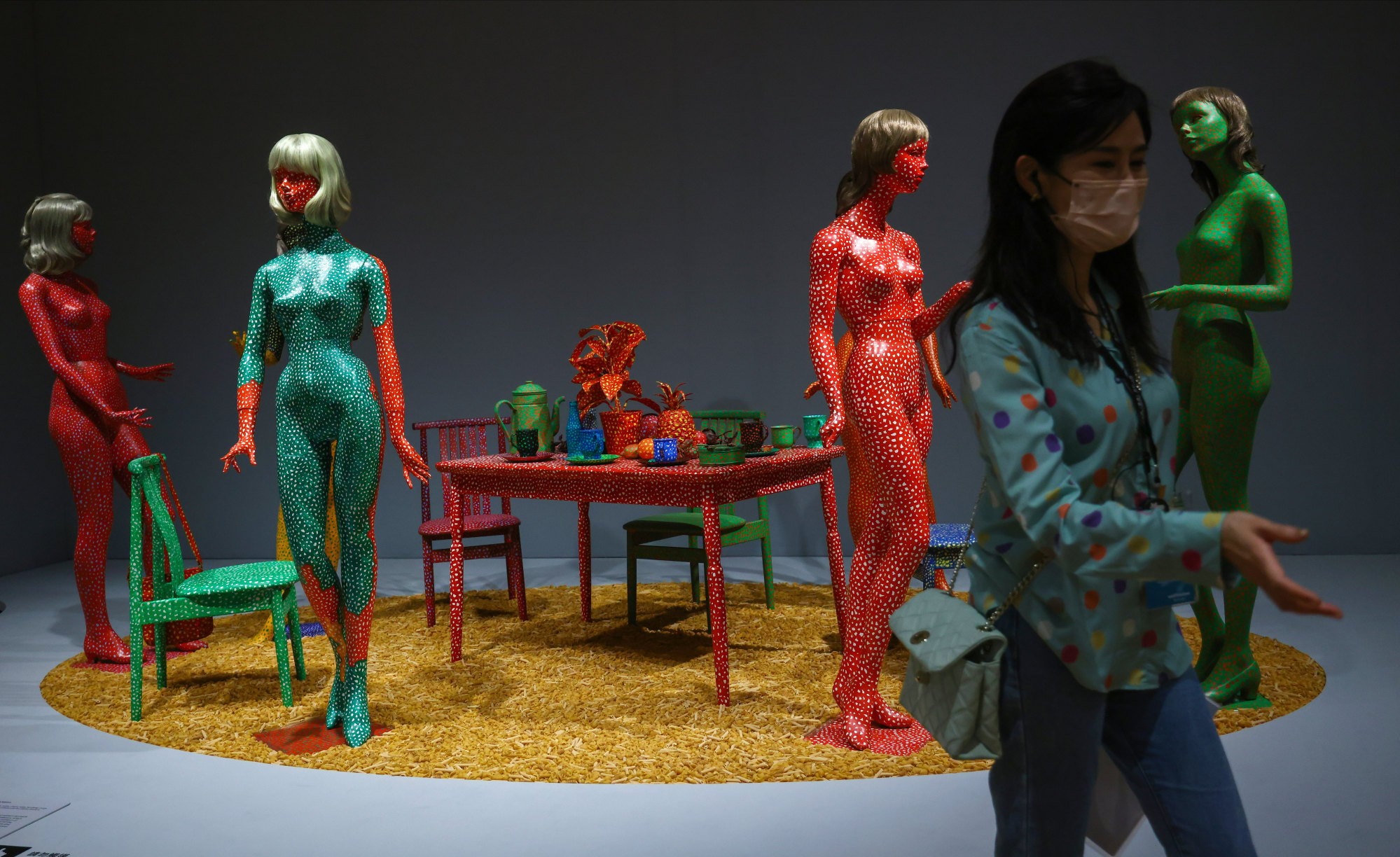 The transformation of her art over the next few years was extraordinary, as shown by several works from 1950. These include a surreal self-portrait shown among a wide selection of self-representations from different periods, and a work on loan from Tokyo's National Museum of Modern Art called Accumulation of the Corpses (Prisoner Surrounded by the Curtain of Depersonalization), a tunnel formed by snakelike tendrils.
The exhibition is divided into six parts, loosely chronologically and with breakouts highlighting major turning points, such as a section reporting her orgiastic "happenings" in New York in the 1960s, when she regularly daubed friends' naked bodies with dots as an anti-war gesture.
Key works such as Death of a Nerve (1976), a long, grey fabric coil limply hanging like a lifeless neuro network, and Shooting Stars (1992), which represented Japan at the Venice Biennale, capture the highs and lows of her career.
(A new work enlivened by bright colours, called Death of Nerves (2022), drapes down the lightwell connecting the museum's ground floor and the basement levels of M+.)
Expect to queue for Dots Obsession-Aspiring to Heaven's Love (2022), the mirror room also known as "selfie central", set up in the basement of M+. "Obsession" certainly defines our fixation on that sea of egos that is social media.
Kusama's genius is that from a lifetime on the margin, she has always provided a clear-eyed view on how the mainstream evolves. This monochromatic reflection of infinity doesn't pack as much kawaii (Japanese cute) dazzle as, say, Kusama's mirror rooms on show at London's Tate Modern. In fact, it is downright funereal, a dead end.
Death is a key theme in the exhibition, but the curatorial focus is very much on the overcoming of death and despair. It all ends on a high note of optimism represented by a garish display of new works in the last room that, rather obviously, leads visitors straight into the pop-up merch store. (Kusama chocolates, anyone?)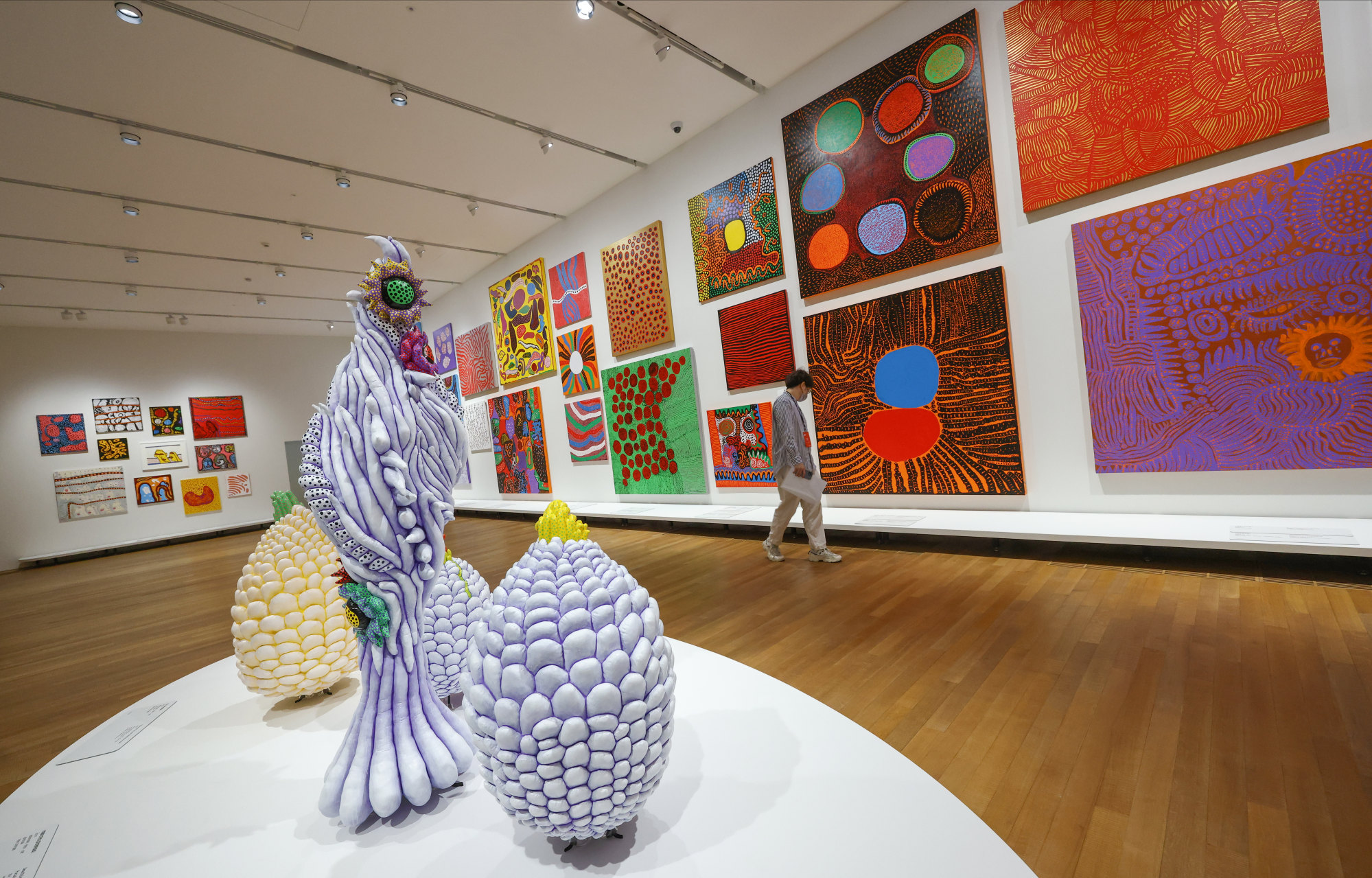 The museum seems all too content to go with the flow of Kusama's industrial-scale world domination (she will create a giant mosaic beneath New York's Grand Central Terminal next), rather than to probe, question and put its own mark on a fascinating career too often seen through the lens of investment and lifestyle consumption in Hong Kong.
There are extraordinary works on show that beg for more information about Kusama's creative process, such as Infinity-nets (OQABT) (2007), which does not exhibit the same flatness typical of her other infinity-net paintings. (Though there is a 400-plus-page book published along with the exhibition for those keen to find out more.)
Still, the young museum has an important role to play in making contemporary art more accessible, and if any artist can help it meet its audience target, Kusama can.
And perhaps those who step foot in the museum for the first time will also visit the other exhibitions that don't try as hard to produce a "happy ending".
"Yayoi Kusama: 1945 to Now", M+, Tue-Sun, 10am-6pm, except Fri, 10am-10pm. Closed on Mon. Until May 14, 2023.