Art
Get more with myNEWS
A personalised news feed of stories that matter to you
Learn more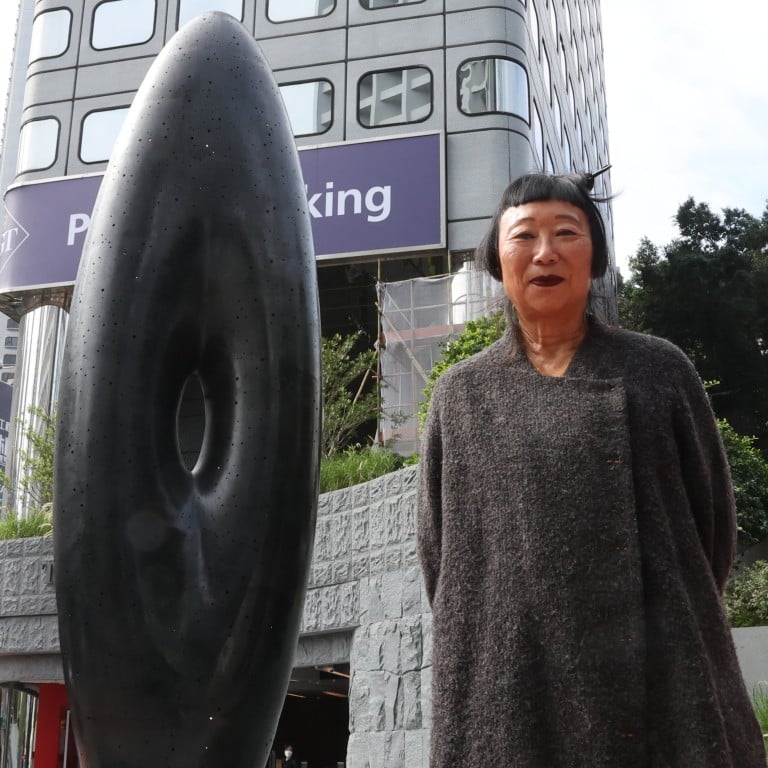 Hong Kong as a city 'constantly reaching for the sky' reflected in Australian artist's imposing bronze oval at Peak Tram terminus
Chinese-Australian Lindy Lee sees Hong Kong's verticality as its outstanding feature and sought to express that in her sculpture at Peak Tram's Central terminus
The word that comes to mind when I think of the city is ascension, she says. Eye of Infinity, an oval cast in bronze, lights up at night, invoking the universe
Visitors to Hong Kong's Peak Tram terminus in Central may notice a recent change as part of its current upgrade. Standing 10 metres (33 feet) tall, a monolithic oval cast in bronze and sat in a shallow pool of water towers over the entrance.
Its dark body is seeded with thousands of tiny perforations, all converging on a void in the oval's centre. At night, internal lighting produces a spectacular display invoking the vastness of the universe.
The sculpture,
Eye of Infinity,
is part of a HK$799 million (US$103 million)
upgrade
that has seen the launch of the funicular railway's sixth-generation trains.
Although visitors may be perplexed when they are first confronted by the piece, the artist says that is part of its charm.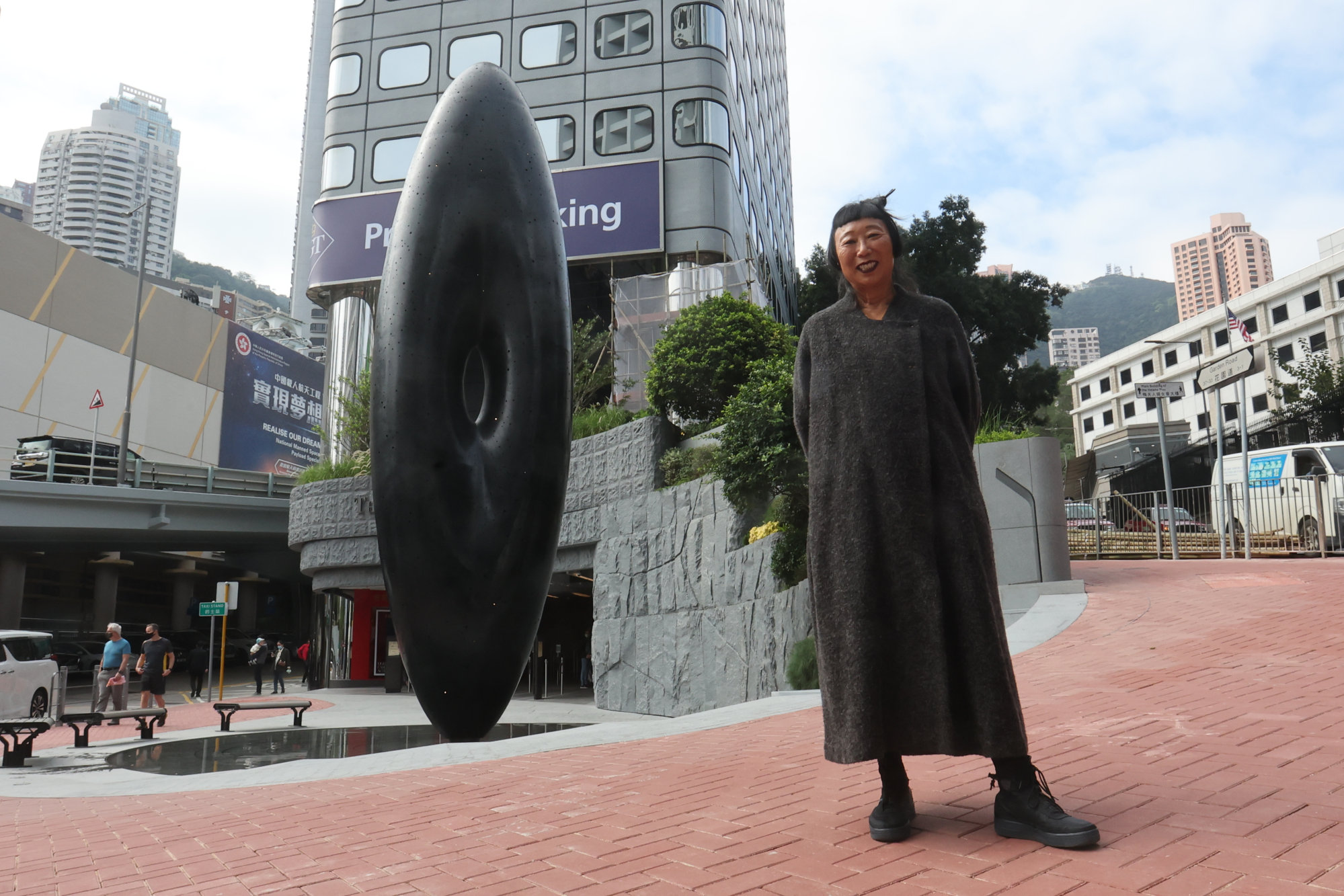 "I'm not particularly interested in art that hits you over the head with its concept," says Lindy Lee, the 68-year old Chinese-Australian artist who was commissioned to create the sculpture.
"Art for me has to draw you into an experience, and that experience then makes you curious about something and causes questions inside your own heart and soul."
Born in Brisbane to Chinese immigrants in 1954, Lee is known for works that combine Zen Buddhist and Taoist principles with her own search for identity.
Growing up, Lee says she knew she wanted to be an artist, but at the time Australia provided little in the way of female role models, let alone of Chinese descent. It was also a time of assimilation: unlike today, immigrants avoided giving expression to their cultural identity.
Initially, she hoped to contribute to the Western artistic canon. She found early success in the 1980s with art that explored concepts of originality by painting over photocopies of portraits and other famous painters' works.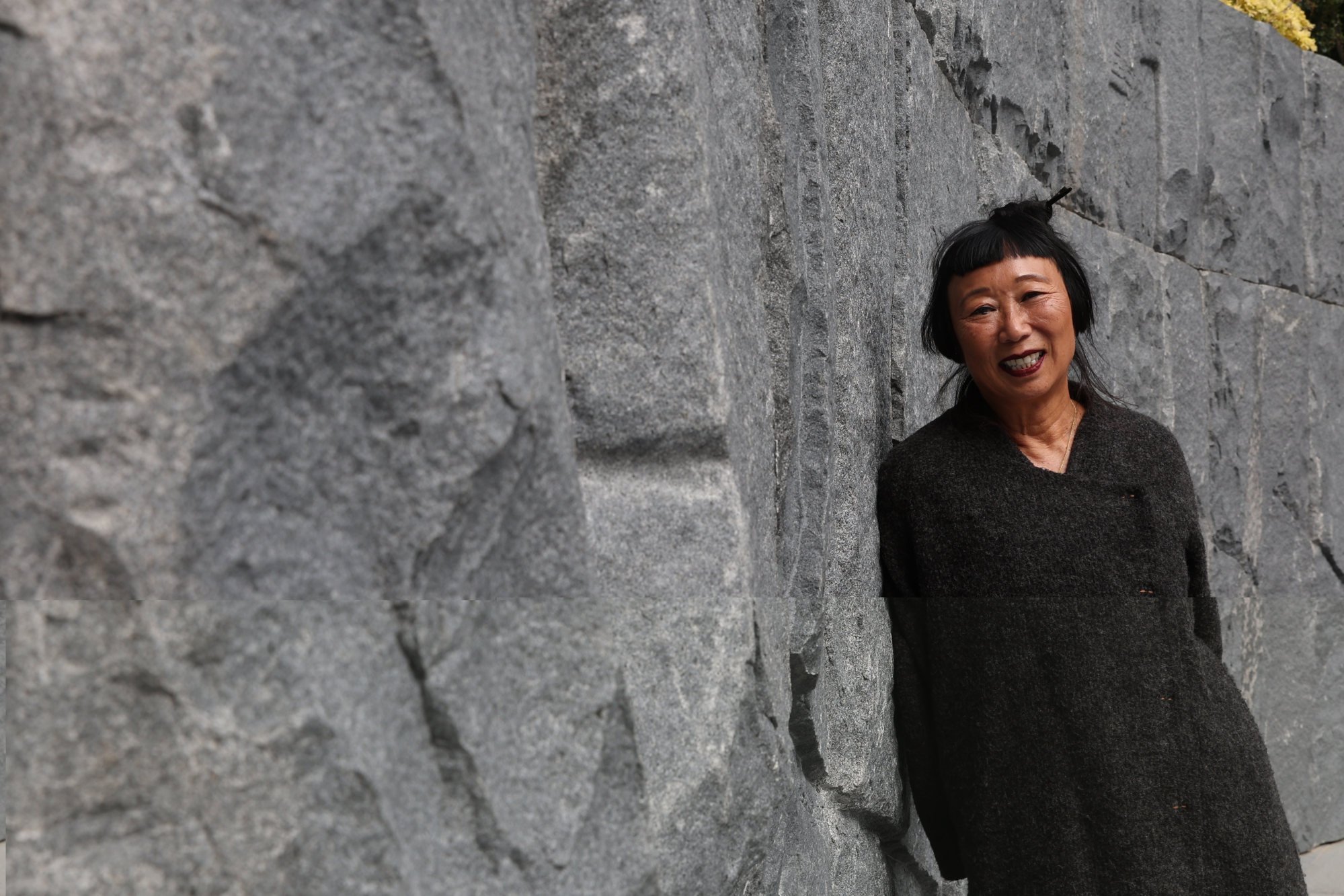 However, by the early 1990s it dawned on her that she was rejecting her identity.
"I realised that I had repressed some huge aspect of me," she said. "And it was very painful because what I internalised was a kind of self-hatred, because I was Chinese."
Around this time she also began practising Zen Buddhism. Long spells of meditation allowed her to interrogate not only her own self, but also her place in the world, she says.
"It's hard to work to reclaim that which is exiled from you," she said.
Eventually, her inward gaze turned outwards, as she began to explore existentialism and humanity's place in the universe. This culminated in the unveiling of her first in a series of oval-shaped sculptures, called The Life of Stars, in Shanghai in 2015.
Although visitors to the Peak Tram might notice similarities between Eye of Infinity and her other oval-shaped sculptures, Lee says everything from the work's orientation to the material used was inspired by the "psyche" of Hong Kong.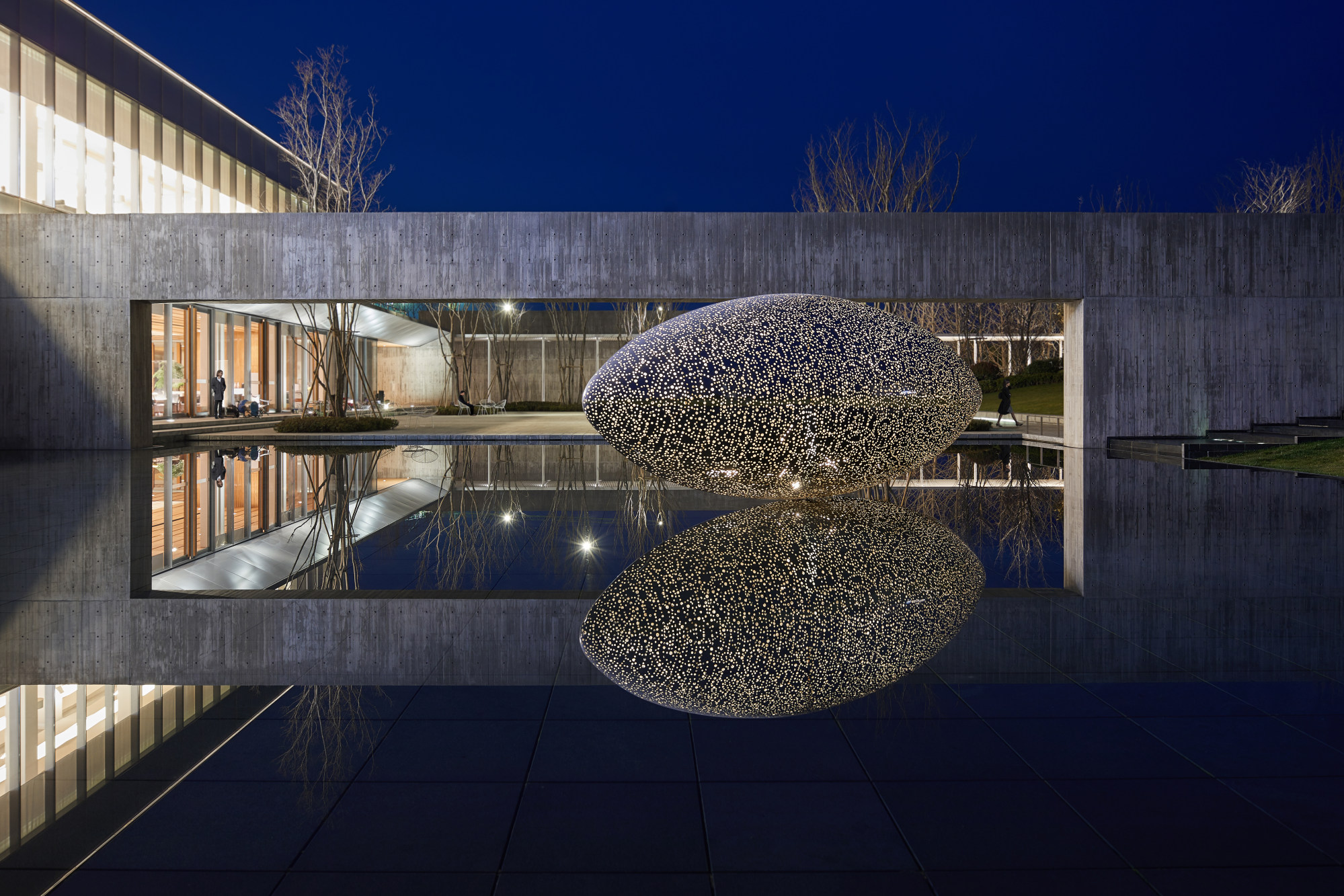 "The first word that comes to my mind when I think of Hong Kong is 'ascension'," Lee says. To her, Hong Kong's most arresting feature is its verticality – not only in its urban design, but also its serene mountainscapes.
It's what inspired her to orient the sculpture vertically, as opposed to the horizontal placement of some of its peers.
The form, which has been further stretched from its original shape, resembles a seed, a central theme of the work. She says she wanted it to reflect the "green and lush" nature that dominates so much of Hong Kong's territory.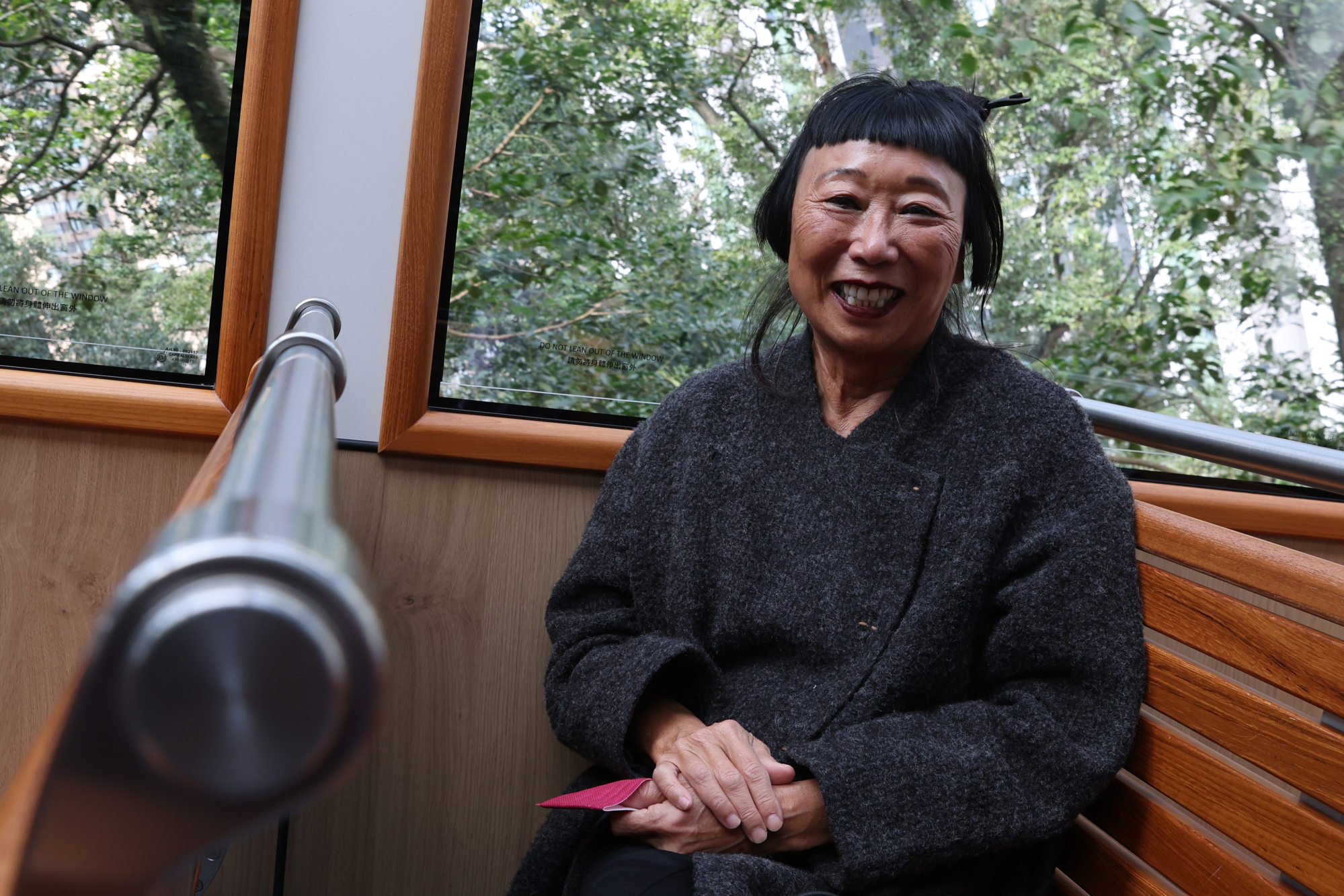 This desire to capture Hong Kong's natural beauty is also evident in the feature that most differentiates Eye of Infinity from Lee's other sculptures: her choice of material.
Whereas she has mostly used stainless steel, Lee chose to cast this piece in bronze. She wanted to use a material that was more organic, she says, and highlights the way the metal transforms over time.
Eye of Infinity is meant to reflect the spirit of the city, she says, as something small "constantly reaching for the sky". Once visitors ascend Victoria Peak that comes into focus, Lee says.
"When you look from Victoria Peak, it's this magical liminal space where heaven meets earth," she said. "No other city in the world has that and it's awe-inspiring."