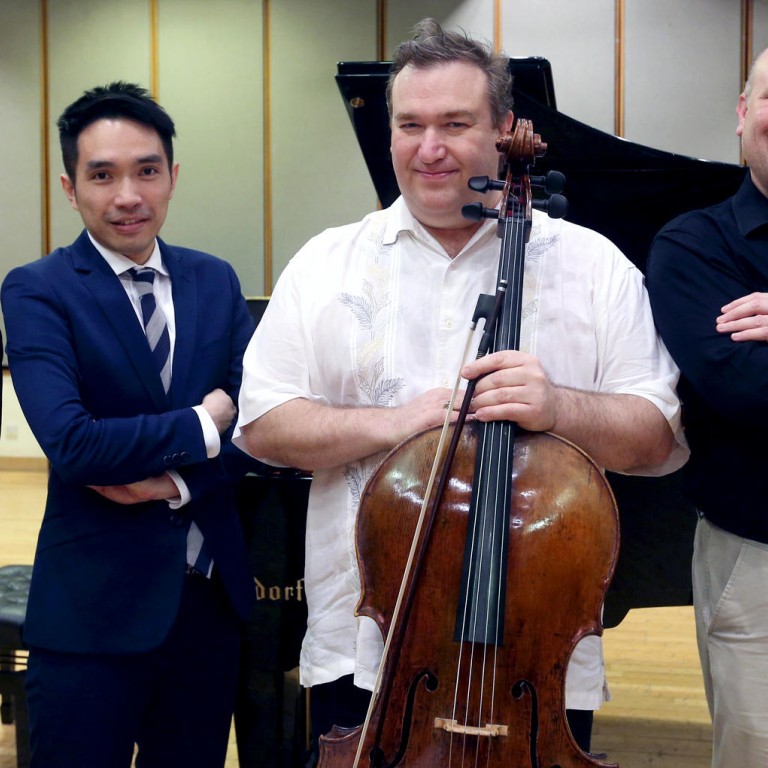 Top Hong Kong Philharmonic musicians face test in Messaien's wartime quartet
A little-known quartet written in a POW camp challenges top HK Phil musicians in the first of two weekend concerts
Two concerts taking place this week at Tsuen Wan Town Hall under the auspices of the Hong Kong Philharmonic Orchestra have been specially curated by composer, conductor and pianist Bright Sheng.
On May 9, Sheng will conduct the ensemble in a programme featuring four pieces by young Hong Kong composers, followed by his own and Igor Stravinsky's .
However, three of the orchestra's most prominent players will be absent that night. Violinist and HK Phil concertmaster Jing Wang, principal cellist Richard Bamping and principal clarinetist Andrew Simon have devoted the last fortnight to rehearsing intensively for Friday evening's concert in Tsuen Wan, a programme of 20th century chamber music.
"The idea is to show a composer using forces at his disposal par excellence, and that's Olivier Messiaen's ," says the troupe's director of artistic planning, Raff Wilson.
Messiaen composed the eight-movement piece during his time as a prisoner of war in Germany from 1940 to early 1941.
"With him were a violinist, a cellist and a clarinetist, and he had a piano. With this unusual combination of instruments he made probably the definitive 20th century chamber piece," says Wilson. "It seemed a good idea to balance what we are doing with the orchestra to show what a French composer in the 1940s did with a very limited palette, and how he created a great masterwork."
The original intention was for Sheng to play the piano part in the , but it is a complex piece, and his hectic work schedule with the orchestra meant insufficient time was available for preparation.
Instead the trio of HK Phil musicians chose Warren Lee, who made his debut with the orchestra at the age of six, and has maintained a strong association with it since.
"We're used to playing with Warren. He's our man," says Bamping, who first played the as a student and has the greatest familiarity with the piece.
"It hasn't been performed very often at all here, which is surprising, really, because it's such a huge workhorse of the repertoire."
Bamping adds that he has seldom been able to give his previous performances of it as much practice time as he believes the music demands.
"In one of the movements there is no time signature at all. Every bar is a different length. You have to know it from memory, really, and it's not easy to memorise something like that. And it's all unison, so if one note is wrong, that's it. This time we have had a good amount of time. We went out of our way to clear our schedules, so we've really been at it."
Simon adds that the 50-minute piece, which includes an unaccompanied movement for clarinet, and movements for violin and piano and cello and piano, will be hard work for all four musicians.
"It's very intense for everybody," he says. "There are moments when different instruments are featured for 10 minutes at a time or more, and there are sections that are extremely difficult to put together. Messiaen manages the rests for players, and the intense moments, and scatters them purposefully, but I think we'll all be equally tired at the end."
Lee and Simon have been performing piano and clarinet duo concerts for 14 years, and Simon and Bamping have been playing chamber music together for 22 years.
"I've played with Richard so much and I'm so used to his sound … that it actually takes me some time to adjust to another cellist," says Lee.
Jing Wang, previously concertmaster for the Dallas Opera in Texas, is only in his second season with the HK Phil, but all four musicians are hoping to perform more chamber music together in the future.
The Messiaen provided the performance with its raison d'être, but the two other pieces are also significant contemporary chamber works.
Bamping suggested Sheng's , and Lee and Simon proposed Malcolm Arnold's , which they recorded for their joint album, , released in 2013.
is a suite for solo cello, and there isn't time to do the whole work, says Bamping, "so I'm just playing three movements, the first, the sixth and the seventh. It's a beautiful piece."
The suite is based on traditional Chinese tunes that should be familiar to many members of the audience.
"Every time I practise the first movement backstage, 15 of my colleagues immediately go, 'How do you know that?'" says Bamping.
"I have to make sure that I get all my slides correct so they sound like an erhu and other traditional instruments. Another movement is a Tibetan dance, and it involves a lot of percussive elements, tapping the cello. It's almost a dance between the two hands - quite challenging, along with trying not to damage my very expensive cello in the process."
"Expensive" doesn't quite do it justice. The cello was made in 1674 by Andrea Guarneri, and is a very rare example of his work. But according to its custodian it is surprisingly robust. The cello and the other instruments will be heard to particular advantage in Tsuen Wan Town Hall.
"Most of the CDs recorded by the orchestra in the past 25 years have been done in Tsuen Wan," Simon says. "Conductors and engineers have found that to be the best room in Hong Kong for acoustic purposes."
As chamber music is gaining popularity in Hong Kong, all the musicians wish they had more time to devote to it.
"I think there's a huge market for chamber music. There are a lot of new chamber music festivals popping up; in particular, the International Hong Kong Chamber Music Festival, which we've been involved with heavily, especially Jing and I," says Bamping.
"The concerts are always sold out. It's just finding the time to do it. This is just such a fast city, and we pack so much into the time that we have available. Chamber music is a very gentle art, and it takes time and patience to develop a group to a really high standard. We really have to make time."
Lee adds: "There are some fantastic musicians in Hong Kong to play chamber music with. We do it out of love."
Chamber Recital 20th Century Masterpieces, May 8, 8pm; Hong Kong Composer Showcase, May 9, 8pm, Tsuen Wan Town Hall, 72 Tai Ho Road, Tsuen Wan, HK$90-HK$320, (concessions HK$60) Urbtix. Inquiries: 2721 2332
This article appeared in the South China Morning Post print edition as: Strains of war