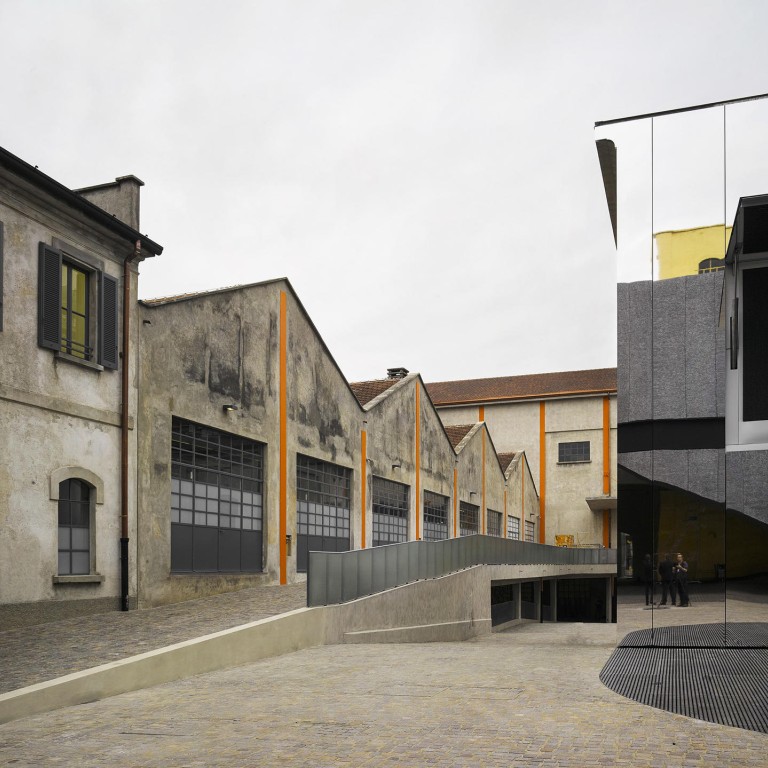 Architect Rem Koolhaas explains his work at Fondazione Prada
Dutch designer was keen to avoid cliche in his renovation of a former distillery as art space, and resisted extravagance in the design of three new buildings for the site
An aesthetic war is being waged in the contemporary art world, with private foundations and museums turning to leading architects to transform the way we experience culture and in doing so they are creating a greater convergence between art and design.
The most recent is the new permanent home for the Fondazione Prada designed by Dutch architect Rem Koolhaas. According to the designer, the unusual location - a vast, 19,000 square metre former distillery on the southern outskirts of Milan - presented an unusual opportunity to create a new form of architecture offering an unprecedented diversity of spatial environments.
"It is surprising that the enormous expansion of the art system has taken place in a reduced number of typologies for art's display," says Koolhaas.
The architect, 70, is keen to explain his take on the relationship between seven renovated buildings and three new ones - a cinema, gallery and a 10-storey tower - his firm, OMA, has created.
"The new fondazione is not a preservation project and not new architecture," he says. "We didn't work with contrast, but on the contrary we tried to create a situation where old and new can work very seamlessly together and are sometimes actually merged together so that you cannot tell at any one moment whether you are in a new or an old situation."
For instance, a new "Podium" gallery at the core of the site is designed to host temporary exhibitions and encircles an existing building called The Haunted House that now sports a gold leaf-clad facade.
"It was actually a last-minute inspiration to find a way to give value to a seemingly mundane and simple element," says Koolhaas. "But we discovered that gold is actually a cheap cladding material compared to traditional claddings like marble and even paint."
The Podium is classic Koolhaas: a deceptively minimal two-storey glass box sporting unexpected architectural details such as walls clad in foamed aluminium, a material employed by the military to protect against bomb blasts.
"It is extremely rigid and absorbs heat, but also works well as a contrast to the rough plaster and exposed structural concrete of the other buildings," says OMA project leader and architect Federico Pompignoli.
Inside, in the centre of the ground-floor space the marble floor incorporates a seven-square-metre platform designed to move up or down thereby creating a new space to accommodate artworks.
The site's scale also enabled the landscape to be divided into different streets and outdoor plazas creating a new sense of connectivity. What sets a new benchmark in architectural design, however, is how the buildings perform and relate to each other in highly practical yet imaginative ways.
For instance, the striking form of a mirror-clad cinema building that lies parallel to the Podium has external walls that are designed to extend outwards to transform it from a classic seating arrangement into a modern open-air structure.
"Two people in just two days can close the cinema rack and install a platform. If you open the doors you create a stage or gallery or various spaces while the building is transparent," Pompignoli says.
Koolhaas says they have resisted the current tendency of architects "to be extravagant where it was not needed". He adds: "There is less emphasis on hammering down a vision. You don't feel that you are engaging a regime."
Elsewhere, former industrial buildings now provide a series of contemporary galleries that include the long corridor-like Sud and Nord galleries that flank the site and enormous spaces inside the Deposito and Cisterna buildings.
These, he says, have been renovated to preserve original elements of the buildings while adapting the architecture for their new creative functions based on analysis of the existing buildings and the art belonging to the Foundation.
"The combination of industrial space and art is a huge cliché, and so that was definitely the thing to beat."
This article appeared in the South China Morning Post print edition as: Koolhaas works his magic at Fondazione Prada