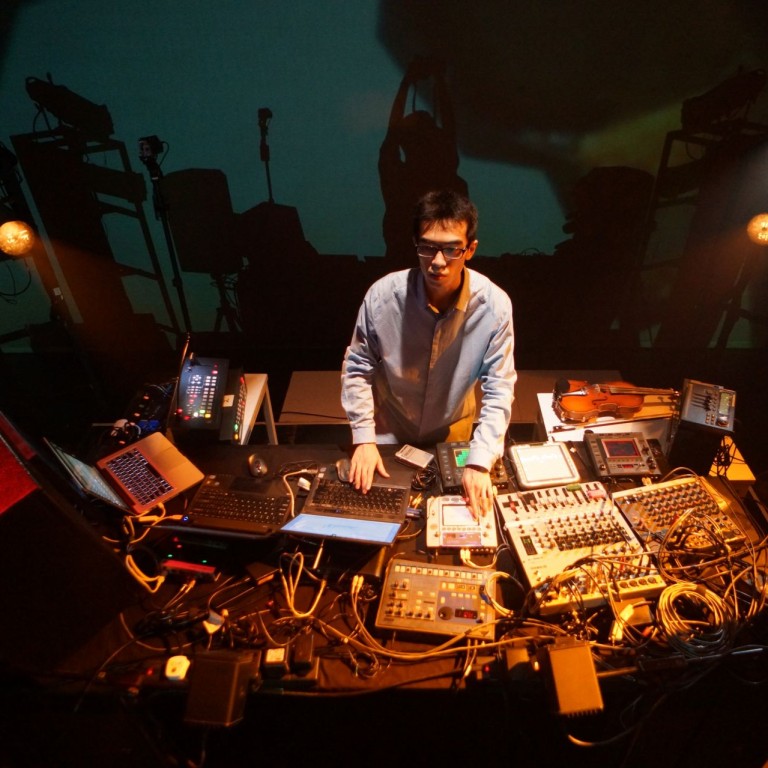 Choi Sai-ho returns to his electronic beats after Hong Kong Arts Festival stint
The city's fast pace provides the fuel for Choi's eclectic blend of visual art and electronic music
Dressed neatly in a button-down shirt and thick-rimmed glasses, Choi Sai-ho looks exactly like the type of person you might imagine who works with computers. And that's exactly what he does, except his work is usually paired with a blaring sound system, strobe lights and a dark room filled with dancing people.
"Some people are surprised when they hear my music because they may think it's usually what you hear at clubs or bars. But for me, it's about the sounds, the process. I can express my ideas through this kind of music," Choi says.
An acclaimed electronic musician and multimedia artist, Choi has spent nearly the past decade single-handedly putting Hong Kong on the map with both his music and visuals. Before finishing up his master of fine arts in creative media at City University in 2008, Choi was the first Chinese Hong Kong artist to be selected for the Red Bull Music Academy in 2006, a premier music institution that gives young artists access to industry stars such as Just Blaze, DJ Premier, Brian Eno and Bob Moog.
Soon after, the global electronic music community came calling with invitations: Electron Festival in Switzerland, Worldtronics in Berlin, and VideoBrazil festival.
In YouTube video recordings of his performances, Choi is often seen moving with fluid yet calculated motions behind his laptop, conducting an orchestra of pulsating breakbeats and synthesiser loops for throngs of exuberant festival goers. His visuals often jitter behind him, flanked by beams of red, blue and green LEDs. In one video, he's playing to screaming fans on the stage of Clockenflap. In the next, letting sound run amok at Museu do Oriente in Portugal.
Coming off the release of , his fifth album and his first release since 2009, Choi is fully aware that, while fans around the world embrace him, life as an independent musician in Hong Kong is not always so glamorous.
"Producing an album is a lot of work," Choi explains. "I don't have a record label or company backing me, so many things I have to do myself, like how to do promotion."
The album is in stores now, but Choi's not sure if it's selling. "One person's power is so limited," he says. "I try to do as much as I can."
As part of his promotional efforts, Choi has organised a live performance of on September 26 at the HMV Store in Central, featuring vocals by Kenneth Tsang of local indie group Modern Children.
However dubious Choi feels, that power seems fairly expansive when listening to . The 16-track album is not only a diverse amalgamation of his work over the last half a decade, but also manages to bolster talent from seasoned fixtures of the local indie music scene (including Jan Curious of Chochukmo, Jing Wong, and Winnie Lau and Tsang of Modern Children) and budding local producers.
Perhaps drawing the most praise so far has been the video of lead single , which was shot by Chochukmo's Curious and produced by students at Hong Kong Design Institute.
"An ex-schoolmate who teaches at [the institute] asked if I had songs he could use for his class," says Choi.
Impressively stylish, the video opens with Curious rocking out behind a block of hair while Choi grooves emphatically, mixing sounds with vigour. The video marks the first time Choi has been visible in his own work.
He's glad the video production took his music in a new direction. "It's a different style and different approach. My other visual work is mostly related to the crowds, to Hong Kong cityscapes, patterns and colours, so [until] now, this is the only video you can see my face."
Despite the city's dearth of sustainable music venues, and support for independent music, Hong Kong's frenetic pace and dynamic lifestyle continue to fuel Choi's colourful, multilayered, spliced-and-diced style of music.
In Hong Kong, Choi says, "performers and audience are from the same community. This has been going on for many years. Decades. It's not only happening in music, but literature, dance, other art forms, art mediums. It's not a healthy situation."
Unless you have a lot of resources, Choi explains, it's hard to have an artistic breakthrough. But he chooses to remain optimistic.
"I will keep doing my creations, I hope more people will know what I'm doing in a positive way.
"When I perform at indie music shows, I can see the audience is starting to change, the younger audience is starting to find their favourite music on the internet," he says. He references a few new music festivals in Hong Kong, such as Open Sesame and Endless Summer, as "a great thing".
"It's hard to make it big so we need these venues," he says. "The younger generation, they have more platforms, there are more events and more opportunities to perform."
These new platforms have also allowed Choi to create music and visual arts for media he never imagined he'd explore. Last year, the Hong Kong Arts Festival tasked him to create music and visual accompaniments inspired by three poems by renowned local poet Yasi.
"At first I didn't know why the Hong Kong Arts Festival invited me because most of their composers make contemporary music," Choi says with a laugh.
"But it was worth it to get involved because it was my first time collaborating with literature. I had only done electronic music before, but this allowed me to extend my platform and play for other audiences who may not have paid attention to electronic music before."
Soon after, the Hong Kong Dance Company invited him to compose the main score for its 2014 production of , a martial arts drama adapted from the comics of Ma Wing-shing. His work there earned a Hong Kong Dance Awards design nod.
Choi sees these invitations as invaluable opportunities to broaden his art. "These weren't like just a music performance, or composing music. It was like an experiment for me," he says.
"I've always thought that as an artist, it's best if you can do your own thing and also other things for other people."
Right now, though, it's back to his music. "I just hope that after this project, more people will know Hong Kong, that there's a guy who is doing this crazy stuff in here," he says.