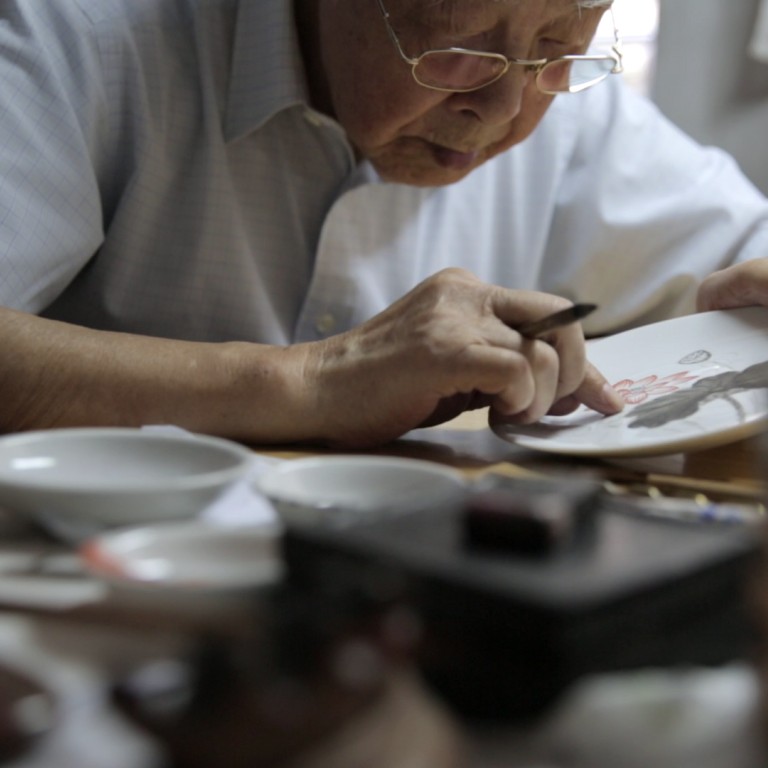 Preserving ancient beauty: One of Hong Kong's last masters of porcelain painting, a 2,000-year-old art
Eighty-seven-year-old Lee Siu-man came to Hong Kong in 1949 and has seen a once flourishing industry dwindle. He's still painting, though, and teaching fellow old folk the art
The Kennedy Town flat that Lee Siu-man shares with his wife is modest. The real treasures are up on the walls - delicate depictions of beautiful Chinese women in elaborate silk robes playing the flute, or wild horses prancing in a grassland.
WATCH: Lee Siu-man at work
Originally from Chaozhou, Guangdong, the 87-year-old has been practicing the art of porcelain painting since his late teens. While he liked to draw, he got into this trade more out of necessity than interest. These days, Lee is one of the last masters of the art of porcelain painting still practising in Hong Kong. His recent exhibition at the PMQ art space in Central showed his decades of dedication to the craft.
Watching Lee paint a lotus flower and leaves on a plate shows not only his technical skill in using the right colours and the need for precision in his strokes, but also his artistic talent. He first carefully draws outlines with a fine brush before filling them in with what look like brilliant glazes that will later change colour in the firing process.
Lee learned how to paint porcelain when he was 18, apprenticing under a master who was an expert in painting human figures. The young Lee would help complete the works by adding things like grass or filling in colours. It was in 1949 that he and a group of fellow painters, along with the boss of the porcelain factory, left China and came to Hong Kong to continue the business here.
"It was quite a tough period at first," recalls Lee. "Business was not as good and finding jobs was difficult. Also Hong Kong didn't have a local supply of porcelain so business was tough." The group persisted until some porcelain products they could decorate, such as statues of Kwanyin, Goddess of Mercy, began trickling into the city from China following the upheaval of the Communist revolution.
They had to be more enterprising to sustain themselves financially, painting on small porcelain pieces like spoons and bowls, and expanding their artistic scope. Lee began learning traditional Chinese painting at the time and fulfilled custom-made orders such as porcelain panels depicting scenes from Chinese literature, which he says required a lot of research to get the details right.
Despite mastering the art of porcelain painting, Lee admits he prefers painting on paper, mostly because of its convenience. 
"Porcelain painting needs to be fired many times, while controlling the colour on paper is much easier," he says. "The colours for porcelain painting are very difficult to control because different temperatures will result in different colours. Some require temperatures of 600-700 degrees, others 800 degrees or higher. And in the beginning we used old-fashioned kilns that used wood or charcoal as fuel, which made the heat inconsistent, which could affect how the colours turned out. For example, teapots are hollow inside so they may have better colour results than, say, spoons or plates."
The technical difficulties of getting the right colours could also mean firing the item many times, which Lee admits is troublesome, though things have improved with the use of electric kilns. "The Chinese have been using this art form for more than 2,000 years and only finely fired items would be kept and conserved; ugly ones are thrown away. We should have more than we keep as antiques today, but only the finest ones made in the royal kilns are kept, not only for their artistic value but also historical too," he explains.
When asked how long it would take him to complete one bowl or dish, Lee only remembers painting them in lots of 100 pieces at a time – where several of them would paint one aspect of the item in order to complete orders.
As with most manufacturing in Hong Kong,  to cut costs porcelain factory jobs moved back to China, and Lee and his colleagues had less work. Towards the end of Lee's career, he painted items from  birds on teacups to vases that were taller than people, a project he helped complete in Taiwan. He retired from the factory in 2000.
Despite the decades he spent learning the craft, Lee isn't bothered that the art of porcelain painting is dying out. "You can't make a living out of it now. People don't value it as much as they do traditional Chinese ink painting," he says.
These days he continues to paint porcelain as a hobby and teaches others, mostly elderly people, how to dabble in the art form.