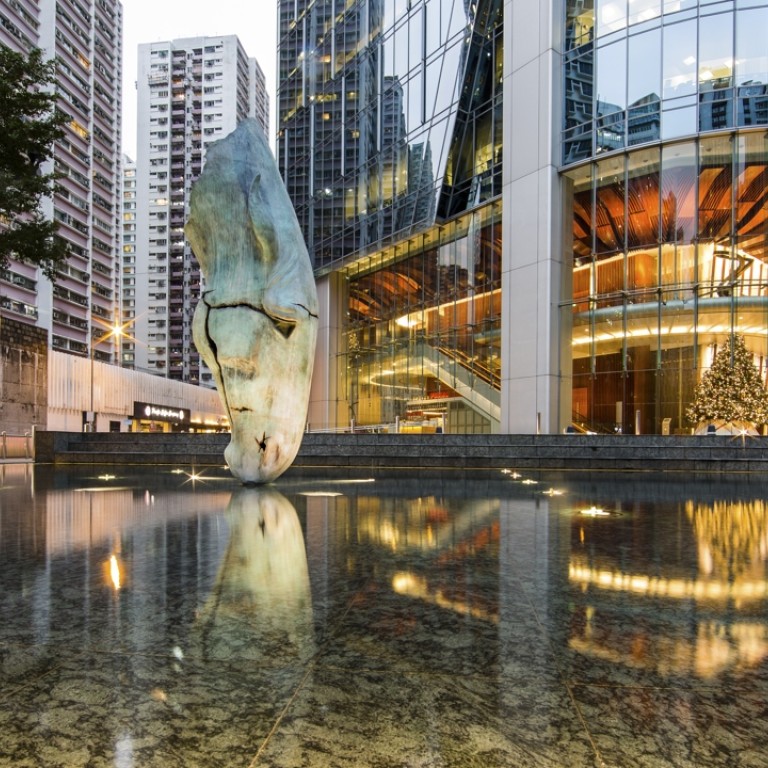 Hong Kong companies split over whether to fund contentious art
The withdrawal of support for Antony Gormley's installation by Hongkong Land has some worried that major companies in Hong Kong will stop backing contemporary art projects
The question of whether businesses should support the arts sounds anodyne. Until someone jumps off the roof.
Last year, property group Hongkong Land withdrew its support for
Antony Gormley
's
Event Horizon
– an installation which includes life-sized statues standing on the edge of high-rise buildings – after a man committed suicide by leaping from the top of Chater House. The company has been reticent about the issue, despite being ridiculed by some public art advocates for being oversensitive. Now, with the statues looming over the city's commercial heart for the next six months, its management may be quite relieved that they don't have to field new questions about whether the project is suitable for a city where half of those who took their own lives did so by jumping off buildings.
The sight of Gormley's statues, which have been mistaken for real people, has alarmed some sufficiently for them to call the police when the figures first appeared in the middle of the month.
Suicide prevention
experts have confronted the artist over fears that the statues could trigger suicidal thoughts among the vulnerable.
According to the HKJC Centre for Suicide Research and Prevention at the University of Hong Kong, 52.5 per cent of the 893 people who took their own lives last year jumped to their deaths. On November 4 alone, at least three people died by this method.
But financial backers who stepped into the breach left by Hongkong Land say that art projects are often worth supporting even if they press the wrong buttons.
"Art often pushes boundaries. Art has always challenged and provoked people," says Benjamin Cha, chief executive of property company Grosvenor Asia Pacific, one of the sponsors.
Hong Kong's art community has long complained about the relative lack of corporate support in the visual arts outside of profit-making activities such as art fairs. Compared to other countries, there is a lack of tax incentives and opportunities for private sponsorship at the major museums, which are all funded by the government.
This may change in the future, since Chief Secretary Carrie Lam Cheng Yuet-ngor has told lawmakers that the West Kowloon Cultural District will consider granting naming rights in return for private donations, much likethe just-opened National Gallery Singapore, whose two permanent galleries are named after DBS and United Overseas Bank.
But now, there are fears that the controversy around the Gormley exhibition may further discourage local companies from backing contemporary art projects. After all, sponsoring a classical music concert is a much safer way of adding an aura of sophistication to their brands.
Speaking at a panel discussion on November 2 about why Asian businesses should support the arts, Claire Hsu, founding director of the Asia Art Archive, said that it was impossible to control the way that the public would interpret art, which meant that some businesses may find it a risky place to put their money. Also, most businesses tend to avoid sponsoring anything that may be deemed provocative, she said, citing toymaker Lego's refusal to accept a bulk order from Chinese artist Ai Weiwei. "This is an example of a business interpreting the potential message of the work before it is even made," she said.
In fact, the highly polarised political environment in Hong Kong is why the Tai Kwun Centre for Heritage and Art – the revitalised Central Police Station that will be completed in 2016 – will not be featuring an Ai Weiwei show at its opening.
Tobias Berger, head of arts at Tai Kwun, said at the same event that he saw no point in being provocative as long as the audience could be challenged intelligently. "We should not be deliberately provocative, we have to find ways to show things that are smart and challenging and provoke the right questions, creating a critical discourse within Hong Kong and beyond."
The backers of Gormley's Hong Kong project, however, knew exactly what they were getting into and still decided to put their names on it.
"What's the point of saying you support the arts, that it's part of your corporate social responsibility, when you don't support anything with an impact?" says Adrian Cheng, founder of K11 Art Foundation, lead partner of
Event Horizon
.
New World Development, his family's flagship property business, is not directly linked to the controversial installation, but Cheng thinks that people will naturally see a connection.
That's not a bad thing, as it will show that the group has a younger, lively side, he says. "K11 is like the son of New World Development. So you may say the father is reliable and traditional, but the son is more experimental, and that's good for the company overall," says Cheng.
Cha also defends his company's decision to sponsor the project, saying that Grosvenor discussed the potential for negative reactions.
"But our primary focus was on the fact that it is a public art piece by an artist who is critically acclaimed and well-recognised in academic circles. It is a very thoughtful piece that has been successfully shown in other cities," he says.
There are less controversial ways to support the visual arts. Swire Properties, Hongkong Land, Sino Land, Wharf and Kerry Development – owner of the Post – have acquired many artworks to display in their properties. In a city where space is at such a premium, some developers have also set aside exhibition space within their properties: The Rotunda in Exchange Square, ArtisTree in Taikoo Place and exhibition spaces in Harbour City and the K11 mall, are all examples of this.
"Businesses deal with ordinary people on a daily basis and one of my missions is to democratise art, by putting it in my hybrid retail/museum spaces. I want to bring art to people who don't normally go to galleries," says Cheng.
Don Taylor, a director at Swire Properties, says his company has been commissioning artwork since the 1970s and now owns one of Hong Kong's largest private art collections.
Around 380 local and internationally commissioned artworks are found throughout the residential, retail and office buildings of Taikoo Place and Cityplaza, he says, and they are not all contemporary works.
"The oldest piece in our collection is an embroidered silk cloth which was presented to Swire in the early 1900s by a local merchant and client of the company to form the backdrop for a ceremony commemorating the opening of the wharf and godowns in Canton. This large silk hanging brocade is now on display at Cityplaza One," he says.
One of Swire's latest acquisitions is Horse at Water, created by British sculptor Nic Fiddian-Green, which is now installed in the landscaped garden in front of One Island East at Taikoo Place.
"It has always been Swire Properties' mission and vision to create value for each and every property it develops and we see art and culture a vital part in achieving this goal. We consciously try and connect our properties with the surrounding environment and the infusion of art serves as one of the bridges for this vision," says Taylor.
Financial services groups, which often have many branches around the world and plenty of wall space, also tend to own a lot of artworks. HSBC, which has the bulk of its collection in London, has a number of works by George Chinnery in its Hong Kong archive. UBS, the Swiss bank, has more than 30,000 works in its global collection and recently unveiled a new selection for its Hong Kong office that includes a large, abstract work by Carlos Cruz-Diez in the reception area.
Stephen McCoubrey, co-curator of the UBS Art Collection, says the bank came into much of its collection through the acquisition of Paine Webber, the American private bank, in 2000. The group buys art directly from artists rather than from the secondary market and its collection is a running theme through its many branches around the world, he says.
"It unifies our global operation because the works are regularly rotated, and people moving offices will recognise them," he says. It also helps to define the bank's brand image.
Jennifer Scally, Asia managing director of insurer AXA Art, says the parent company owns about 16,000 pieces of art. Companies buy art to promote their corporate image and to encourage innovation among their staff, she says.
"AXA Art has been in the art business for over 50 years. We insure art and we are also part of the art community," she says.
The trouble with many local corporate art collections is that they are not very actively managed, two corporate art consultants speaking on condition of anonymity say.
"Paintings are quite often left hanging in a lift lobby for decades without the owners drawing attention to them, or keeping them fresh in the eyes of people who walk past them everyday. That's not how you should treat your art collection," says one of the consultants. It's not necessarily complimentary for artists to have their work hanging in the walkway leading to the lavatories in the basement of the Landmark, for example.
In any case, art that fits in shopping malls and office lobbies is not the type that is most in need of support, Hsu says.
"Art is all about pushing the boundaries and what may be deemed provocative today will be mainstream in the future," she says. "Let's just hope we live in a society that understands why experimentation is important."