LIFE
Get more with myNEWS
A personalised news feed of stories that matter to you
Learn more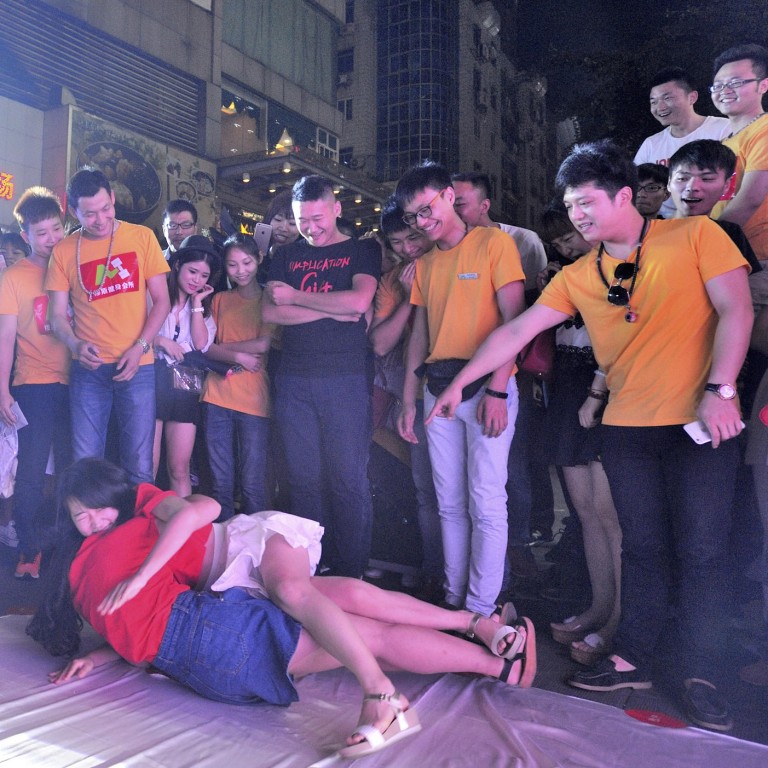 Ambitious, rebellious and free-spirited: China's millennials through American eyes
China's millennials have diverging views that may be a challenge for the authorities. Bernice Chan talks to a writer who spent years tracking this shift
Eric Fish was 22 years old when he arrived in Nanjing in 2007 to teach English and writing to university students. The American from Kansas City also wound up teaching them about his native culture, too: students had as many questions about pop culture, the US political system, and gun laws as they did about the language.
And as a political science graduate, Fish was not only seeking work experience but also keen to observe the social and economic changes unfolding in China.
The gulf in mindset that he found between older students pursuing advanced degrees and younger undergraduates prompted him to record the shifts, initially in articles for publications such as and , and eventually led to a book,
"When you look at foreign media, Chinese millennials are described as pliant, brainwashed, and nationalistic to the point where they don't care about loftier political things. But that's not the case," he says. "They have divergent and informed opinions."
Now a writer for Asia Society New York, Fish attributes many shifts in attitude to developments in information technology.
When he first arrived in China, domestic social media such as Weibo had yet to emerge while Facebook and Twitter were still accessible (both have since been blocked).
At the time, he was surprised by how much his Chinese students knew about censorship and many of his Chinese friends accepted and even defended the need for it on the web. Sentiments such as "if the truth were revealed, China would collapse", or "I don't like censorship, but it's necessary for the cohesion of China, for the harmony of China", were common.
But by 2010, the launch of Weibo brought directly to their mobile phones the harsh realities of what had mostly been hidden by censors - land grabs, corrupt officials, tainted food and forced abortions.
"The political education they were getting had already made young people cynical, and then Weibo started showing them things that were covered up," Fish says. "Forced abortions, in particular, showing pictures of a seven-month-old fetus on a bed shocked students from urban areas. They had heard about forced abortions, but never seen it before."
Many who were previously ardently nationalist became critical of Chinese society and politics, and Fish believes it was due to Weibo shining a light on tangible issues, concrete problems that have still not been resolved.
Growing up with more material wealth than their parents ever had in their youth, the post-1980s and post-'90s generations also began searching for more meaning in their lives.
Many found comfort in some sort of faith. According to Fish, young mainlanders tend to be more religious than their elders - worshippers are estimated to number between 70 million and 130 million.
Many look for jobs that give them a sense of satisfaction or a better work-life balance; others even embrace causes such as environmental protection.
"There are still lots of people who are money- and status-focused, but they are less content with money. They have rising expectations, but their expectations are rising faster than reality can accommodate," Fish adds.
Discussing job prospects for millennials, Fish argues in his book that the student-backed toppling of Indonesian president Suharto in the wake of the 1998 Asian financial crisis prompted the Chinese authorities to hastily open more university places to stave off potential disaffection among the youth. As a result, the number of freshmen students on the mainland doubled from one million in 1998 to two million in 2000. By 2014, the number of those graduating had grown to 7.5 million.
The Ministry of Education opposed the move at the time, mainly because of a lack of manpower to make this transition, but it was pushed through by the Politburo Standing Committee.
"One high-level Ministry of Education official warned that this would devalue college degrees, and if young people don't have the status they have come to expect, that can cause a lot of trouble, which is exactly what's happening," Fish says.
Among the casualties who Fish met was Liu Geng. The millennial graduated from a second-tier university in his native Hubei province, but could not find work in an office. He spent four years fruitlessly doing the rounds at various job fairs in between stints of menial labour in factories. Sadly, word of Liu's plight reached his hometown and he became known as a "mini legend", who was unable to secure a decent job despite having attended college.
Millennials often harbour resentment towards their parents' generation, Fish says. Their elders were fortunate to be able to reap the early benefits of China's economic liberalisation by setting up internet giants such as Alibaba, Baidu and Tencent, but many of the younger generation feel that they have somehow missed the opportunities that the economic boom presented. "They see migrant workers from the 1970s and '80s rise to become factory owners themselves, but these days with so many factories opening, the competition makes it even harder to succeed," Fish says.
The excesses of some second-generation rich, or , made the wealthy an even greater target for attack by the poor and middle-class, who were fuming over a widening income gap. A case in point was Wang Sicong, the son of Wanda Group chairman Wang Jianlin, who circulated photos of his pet dog sporting an Apple watch on each of its forepaws.
"Senior Chinese leaders were warned to control their children and keep them out of the spotlight," says Fish.
Some analysts, he adds, had suggested that the downfall of Bo Xilai, now imprisoned for life on graft charges, was fuelled partly by his inability to rein in his son, Bo Guagua, who gained a reputation for flamboyant partying.
Perhaps what surprised Fish the most during his time in China was how bold the younger generation had been in support of journalists in 2013, when the latter threatened a strike over the replacement of a New Year's Day editorial calling for proper implementation of the country's constitution.
Young people, many of them college students, uploaded pictures of themselves holding placards that read: "Let's go !"
A number also gathered at the newspaper's headquarters in Guangzhou, demanding freedom of speech.
"That really blindsided me because they were willing to put their faces online for it and even show up at the offices, and stick their necks out for it. But when I started thinking about it afterwards, it kind of makes sense because now you have this generation that's coming of age," Fish says.
In the past, people's lives were largely controlled by the or work unit, which acted like Big Brother: they monitored everything you did, and you had to seek their permission to travel or to marry.
"If you did anything that was not status quo then they could seriously influence your life in a very negative way," he adds.
"But that all collapsed in the 1990s. Big Brother is still there, but moved around the corner, and young people don't notice that he's there; so they have grown up without that instinctive fear. Since they didn't experience the Cultural Revolution, they don't have these scars that if you do something taboo you could be targeted."
Similarly, many millennials only have a vague idea of what happened in the crackdown on Tiananmen protesters on June 4, 1989, and few have any understanding of what led to the student-led demonstrations.
Fish, who earned a postgraduate degree in journalism at Tsinghua University during his stay in China, now plans to focus his next project on young, overseas-educated Chinese, whose views and values are shaped by their time in the West.
They are more ambitious and some feel that the work they want to pursue, such as documentary filmmaking, will be difficult to achieve in China, Fish says. This, in turn, has led to a concern among officials over what he calls "optimism flight" - an exodus of Chinese people who feel that they will not be able improve their lives in their home country.
But based on his encounters, Fish reckons that it is the young people who were born after 1997 and beginning university now, who may give the central government the biggest cause for concern.
He cites an 18-year-old female student from the Shanghai campus of New York University, who was in the Big Apple for summer courses.
"She said, 'My generation is so rebellious against the government, they criticise it no matter what'. There's a marked shift. Being outright anti-government is not so crazy any more."
Then there was the young woman he met who was protesting against the detention of human rights lawyer Pu Zhiqiang for "provoking trouble" and "inciting ethnic hatred". "I asked her if her friends thought she was crazy for doing it, but she said now it's OK to be rebellious and even found friends to do this with her, which is pretty dangerous," Fish says.
This article appeared in the South China Morning Post print edition as: The kids are all right