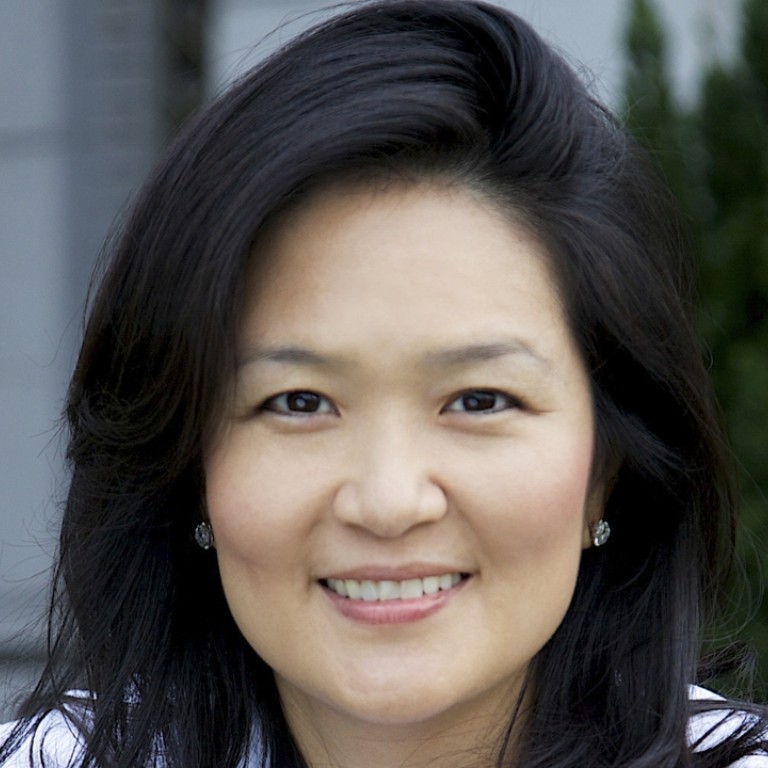 3 expat women lost and desperate in Hong Kong: Janice Lee on her second novel
Writer whose debut novel The Piano Teacher, also set in Hong Kong, won international acclaim talks about her own experience as an expat growing up in Hong Kong, her favourite books about the city and how she came up with the characters for her latest book
It is not hyperbole to say that Janice Y.K. Lee is quite likely the finest non-Chinese novelist to emerge from Hong Kong in the past few decades. Her 2009 first novel, The Piano Teacher, set in Hong Kong during the second world war and the 1950s, tells the haunting story of a British man and his two very different love affairs a decade apart against the backdrop of the city. The book earned international literary praise and climbed The New York Times' bestsellers list. With her second novel, The Expatriates, Lee proves her debut promise was no beginner's luck. In this nuanced and cinematic narrative, Lee tells the story of three foreign women, each of whom feels lost and desperate in Hong Kong. Lee, who was born in Hong Kong, attended HKIS, left for America at age 15, attended university at Harvard and returned as an adult with four children, aged eight to 13, in tow, captures a 21st century Asian city that is rife with tradition and hierarchy, and is constantly in flux. The author, who now lives in Manhattan, talks to Alison Singh Gee about expats, writing books and choosing Hong Kong as her literary landscape.
You've now written two novels set in Hong Kong. What is it about the city that intrigues you in a literary way?
I think you write what you know. And I know my Hong Kong. It's not everyone's Hong Kong, but it is mine. And I'm adjacent to a lot of different communities in Hong Kong. I wrote both books while living there. I'm not sure my next book (if it ever gets written) will be set in Hong Kong. I think I should probably venture further afield.
What is your favourite book set in Hong Kong and why?
I read a lot of books while researching The Piano Teacher and I find it hard to pick just one. I think Love is A Many Splendoured Thing is very atmospheric. I enjoyed Gweilo a lot. And China To Me, a memoir by Emily Hahn, which is sadly out of print, is one of the best books I have read. The tone of it is still so fresh. She was a real character, an American writer for the New Yorker who lived in Hong Kong during the war. She really brought wartime Hong Kong alive for me.
Your second book,
The Expatriates
, follows the lives of three very different foreign women in Hong Kong. What is it about expatriates that intrigue you?
Well, I was one and lived among them for a decade. I always say I'm not a local, not an expat, but I floated among these worlds. And it's not that this world intrigues me, it's more that it's the world I knew and know, and I was living in it at the time I was working on this story about three women. But I do think expatriates are an interesting subject because you can explore how one changes when put in different surroundings. Do you grow? Do you metamorphose into something completely different? Or do you become even more what you were originally?
Of all the expats in Hong Kong, how did you choose to create the three you created?
I started with the character of Hilary. She was the first image I had that started the book – an image of a woman lying in bed in the middle of the day. But I didn't know what ethnicity she was although I knew she was American. Then, Mercy and Margaret emerged but it wasn't as if I thought, I want one Korean-American expat and two American expats. They came to me as the story revealed itself. It's an instinctual process.
You grew up as part of a Korean family living in Hong Kong. How do you think being Korean in a Chinese city shaped you? Were there times when you felt locked out of mainstream society? Or did you feel your ethnic background made you feel special?
I never felt like a local. I don't speak very good Cantonese so there's that. But I do think that to be a "true local" in Hong Kong you have to be Chinese. However, I went to HKIS, which had a lot of different nationalities so I felt at home.
What is your most distinct childhood memory of Hong Kong?
I remember going to brunch at the Repulse Bay Hotel. They had a buffet and these chocolate vanilla checkerboard cookies and I would put as many as I could in my mum's purse to take home. I also remember lanterns at Mid-Autumn Festival and having a great, fun party with my friends. We would put candles in lanterns and burn them all to a crisp.
What was the worst part about being an expat?
I don't know if it's the worse, but I always felt like my "real life" was on hold. I never thought I was going to live in Hong Kong forever so I always felt like I was waiting for real life to resume. That's not a great way to spend 10 years of your life.
And the best part?
The best part was definitely the friends I made. Expats really bond because they are in a relatively small pond. And it's funny, even during the summer when we made our way back to our home countries, you'd see everyone seeing each other on Facebook, making great effort and driving for hours to see the same people they saw in Hong Kong. I loved that. And while we were in Hong Kong, we had so much time. We had so much time to see each other, have meals, travel. It was an idyllic time for me. I'm sure I'm viewing it through rose-coloured glasses now that I have a completely frenetic life in New York and no time at all.
Your book
The Piano Teacher
was a bestseller. How did writing that book change your life?
When I was first writing The Piano Teacher, I knew that the odds were very much against someone publishing it, so I felt foolish about even attempting to write a book. Still, I did write it, and then, miraculously, it got bought and went on to do quite well. So the way this changed my life was that I no longer felt sheepish about telling people I was a writer or that I was busy because I was working and I was working on a book. I am now also able to read novels all day and call it work, which is delightful.
What is your writing routine like? Where do you write and how do you overcome writer's block?
Because I have four children, my schedule is very much limited by theirs. I write from home, when they are at school, but I also have a lot of other things that need to get done during that time. I can go weeks without writing a word, and then have a very intense and productive week where I'll produce 10 pages.
Your stories in both The Expatriates and The Piano Teacher capture women creating secret lives in order to escape the existence they are trapped in. How should we read into that in terms of your own life and choices?
This is a great question because I've been pondering the fact that both Claire in The Piano Teacher and Margaret in The Expatriates have secret apartments in Happy Valley. My life is so chaotic that I really do think that this is my not-so-subconscious dream – a place where I might be alone and nothing can intrude. Of course, I only want this for a few hours! I love my family and the chaos it brings.
Any plans for transforming The Piano Teacher into a film? If so, who would you cast as the three leads and why?
I would love nothing more. I think Daniel Craig would be wonderful as Will, Alicia Vikander as Claire (but she'd have to dye her hair blonde and tamp down the beauty a bit) and Maggie Q or some gorgeous Eurasian unknown for Trudy.
Now that you're back in New York, what do you miss most about Hong Kong?
I miss seeing my parents and brother's family on a regular basis. I miss my friends intensely. I miss being a visual majority. There's something comforting about the anonymity of looking like most other people on the street. New York is diverse, of course, but it's not the same. I miss La Taste, this pho place on Stanley Street where I used to go and eat every chance I got, and Ippudo Ramen, and the Peking duck at Ye Shanghai in Pacific Place.