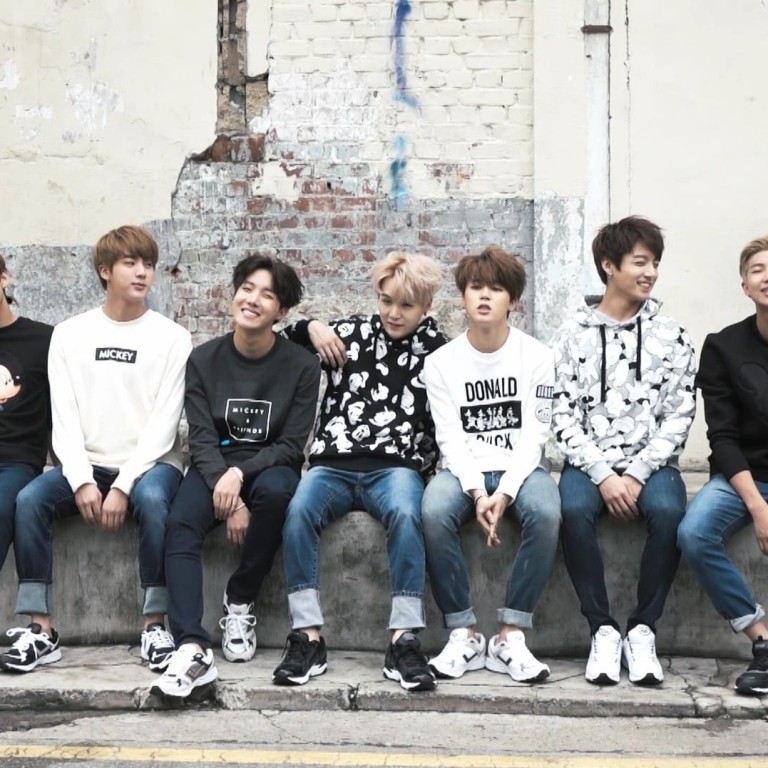 The 10 best K-pop songs of 2019: hit tracks from supergroups BTS and Blackpink, and newcomers SuperM and Itzy
Songs include Jopping from supergroup SuperM, which drew members from Shinee, Exo, NCT 127 and WayV
Itzy, the stand-out new girl group of 2019, also make the list with their confidence-boosting debut 'Dalla Dalla'
Despite a string of scandals and tragedies, the K-pop industry saw unprecedented global success in 2019, with its music and the scene's biggest artists being enjoyed by more people than ever.
From local chart hits in South Korea to songs that have
resonated around the globe
, here are our picks for the top 10 K-pop tracks of 2019, based on local and international chart performance, YouTube views, awards, fan reaction and critical acclaim.
10. How Can I Love the Heartbreak, You're the One I Love, AKMU
Ballads are a mainstay of the Korean music industry. On this track, K-pop's favourite folky brother-sister duo AKMU deliver a beautiful, wintry ballad that shows a maturity beyond their years.
9. 9 and Three Quarters (Run Away), Tomorrow X Together
On their debut, Tomorrow X Together released music numbers that introduced them not only as impressive, energetic vocalists and dancers, but also ones with an inspirational message for young people to follow their dreams. Their single 9 and Three Quarters (Run Away) was as catchy as it was quirky, and proved the guys were more than the hype surrounding them.
8. Dalla Dalla, Itzy
Undeniably the stand-out new girl group of 2019, Itzy not only captured the world's attention with their debut single – the video surpassed 17.1 million views on YouTube in the first 24 hours – they arrived with a declaration of confidence, with the girls shouting, "I love myself!" throughout the track.
7. Jopping, SuperM
What happens when you get some of the most popular boy band stars in the world together? You get
SuperM
, a K-pop "supergroup" consisting of members of
Shinee
,
Exo
,
NCT 127
and WayV. Their debut single,
Jopping,
was a glorious slice of stadium-sized pop and was even performed on
The Ellen DeGeneres Show
in the United States.
6. Rooftop, N.Flying
The K-pop charts got a refreshing dose of rock when the N.Flying sleeper hit Rooftop became one of the year's biggest hits. Four years after the genre-mashing band's debut, it remains one of the catchiest tunes of the year.
5. Gotta Go, Chung Ha
She has been climbing the K-pop ranks for several years, but Chung Ha truly made her mark in 2019. The K-pop diva delivered one of the best singles of the year with the twisting, emotional dance-pop track Gotta Go. The song placed her among the top stars at awards season and was named one of Billboard's best K-pop songs of the entire decade.
4. Blueming, IU
Everything IU touched turned to gold this year, and Blueming is the perfect example of the complex type of pop music this solo star produces, and the chorus of "I feel blue" somehow manages to sound as sweet as it does melancholic.
3. Feel Special, Twice
Feel Special
was a stunning, synth-driven single that not only continued
Twice's
string of pristine chart-toppers, but also had a deeper message about taking care of yourself. Lyrics such as "I just wanted to hide / Didn't wanna face the world / As if everything has lost meaning / As if I have lost meaning" were particularly poignant as member
Mina took a break due to anxiety
.
Twice also had a message of hope, as members Momo and Tzuyu follow up that lyric with the line: "Then you appeared before me with a warm smile / You held out your hand / Everything's all right."
2. Kill This Love, Blackpink
After boosting their international profile with a global record deal and high-profile appearances and performances across America and Asia, all eyes were on
Blackpink
in 2019.
Kill This Love
was a stomper of a single that not only established them as a leading girl group, but became the No 1 most-viewed K-pop video that was released in 2019.
Blackpink saw success at festivals such as Coachella, in arena tours across continents, and huge interest in their activities in China. Kill This Love was the song that kept their stars shining brighter than ever.
1. Boy With Luv (feat. Halsey), BTS
With a euphoric pop sound, a guest appearance from long-time friend Halsey and a message that captures the energy of young men with the world in their hands,
BTS
created a single in 2019 that showed their potential for worldwide domination.
Boy With Luv
is a response to the group's 2014 single
Boy in Luv
, when the guys discussed an obsession with landing the girl of their dreams.
The song shows their maturity and growth and comes with a message – to allow love to take over gradually and to make changes from the inside. The message is not only a universal one but one particularly special to those who have been following BTS for years. It revealed that these superstars have found love within themselves and embraced their own message to be "boys with luv".