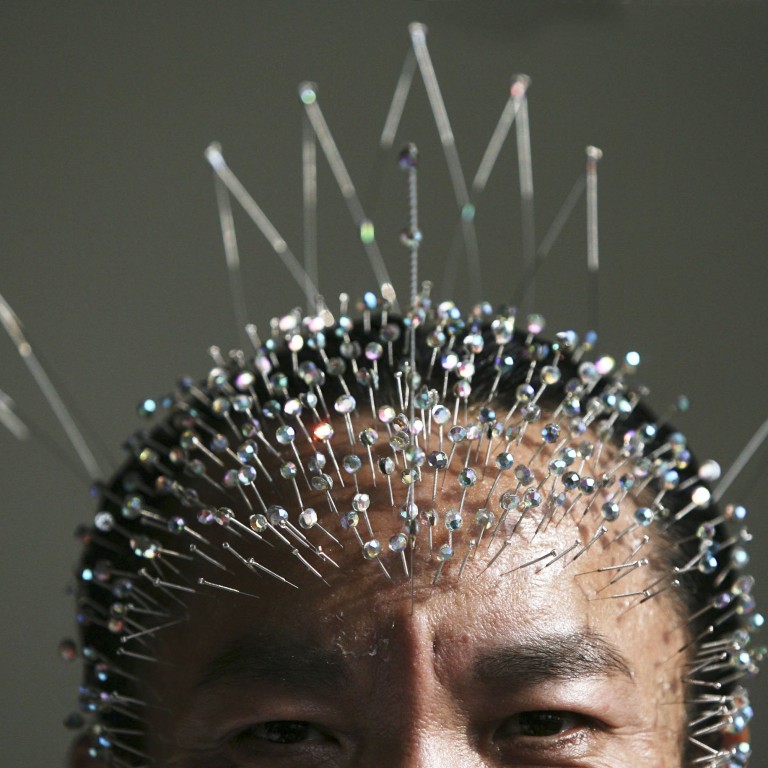 China's Guinness World Records: from a diamond-encrusted toilet seat to a head full of needles to skipping to solar panel art
From collecting the most snow globes to performing incredible gymnastic feats, there is no shortage of Chinese world record holders
Here is a selection of records that show grit, determination and persistence
Wendy Suen's living room in Shanghai is filled with the world's largest collection of snow globes. Her passion for the ornaments began in 2000 when her husband gave her one as a gift.
"It has a cat and a mouse inside and holds a lot of symbolism," says Suen. "My husband was born in the Year of the Rat, and the mouse is 24-carat gold, which, to me, symbolises pure love."
Charmed by the magical landscapes inside the snow globes, Suen decided to start collecting them. The Hong-Kong born human resources executive looked in souvenir shops to add to her collection wherever she travelled. She also started searching online for discontinued and collectible series, and by 2005 her collection had grown to 904.
One day while flipping through a copy of Guinness World Records in a bookshop, she decided to look up "largest collection of snow globes". There was no such record at the time, so Suen contacted the publishers.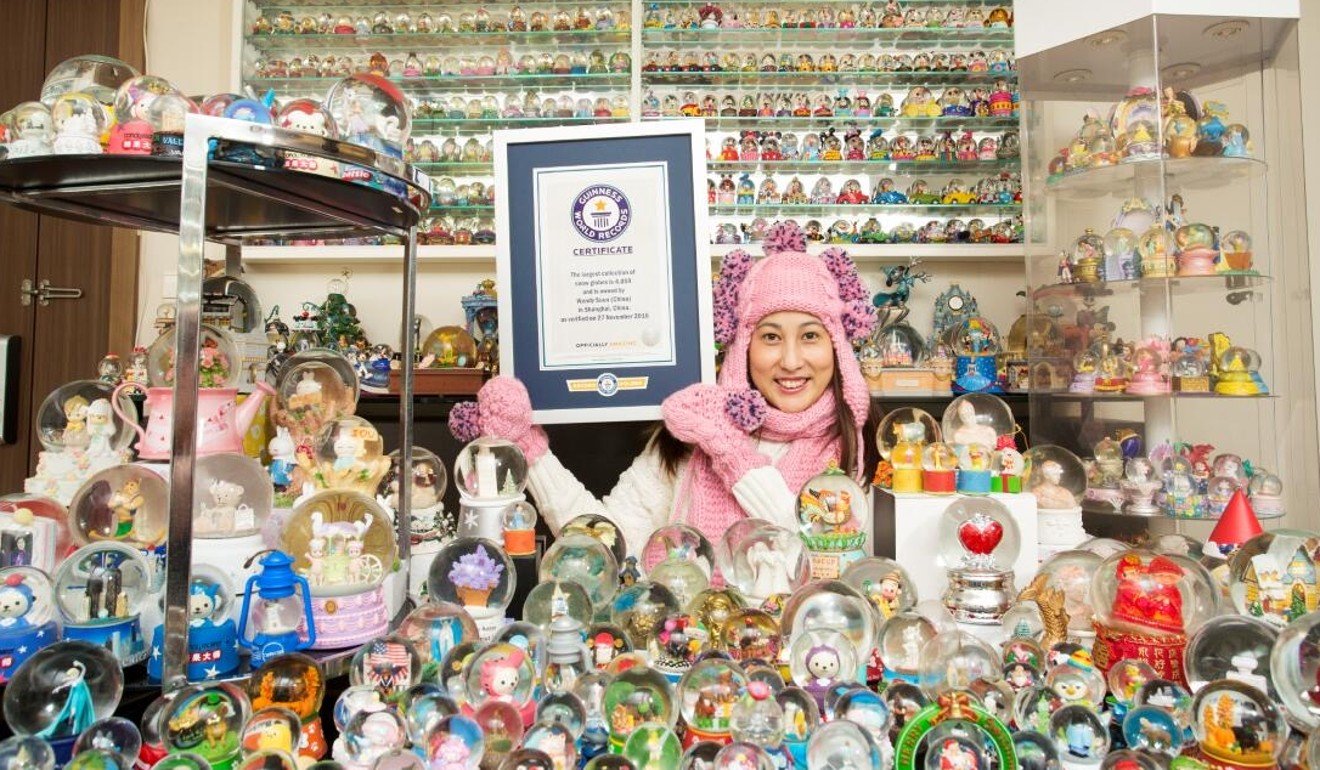 She told them about her collection and an official suggested she could be the first person to set a record for owning snow globes. She has since broken her own record twice, increasing her tally of globes to 1,888 in 2008 and reaching a whopping total of 4,059 in 2019.
Over the years, Guinness World Records has recorded a wide range of intriguing human achievements, particularly in China in recent times.
Gymnast Li Longlong, from Henan province, holds the record for climbing up the most steps (36) while balancing on his head, a feat requiring superhuman exertion and very strong neck muscles.
In 2008, Wang Weibao set a record in Beijing for a finger stand, balancing on four fingers for 19.23 seconds.
Sometimes, steady hands are needed. In 2013, Wei Shungchu set a record by pinning his head with 2,188
acupuncture needles
, breaking a record he had previously set.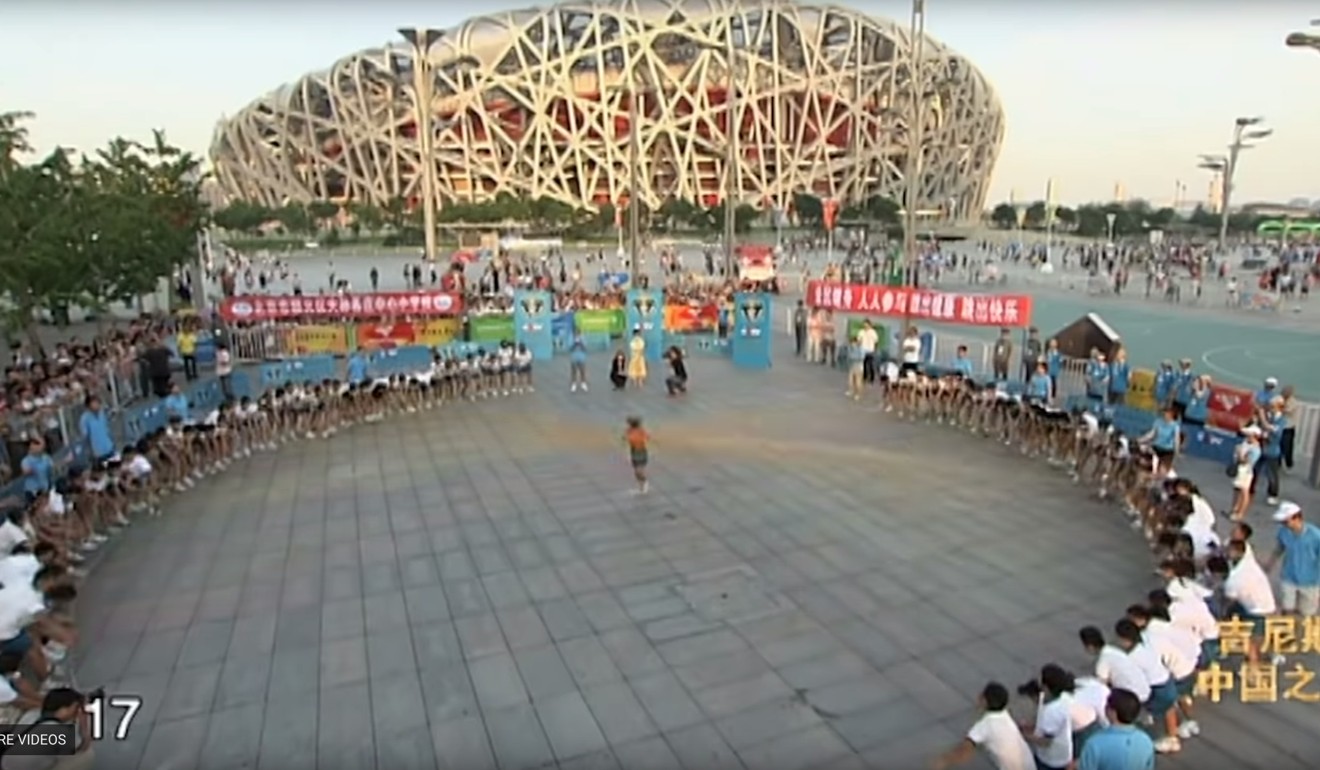 Agility can also help. In 2011, Beijing schoolgirl Wang Zhuoxin set a record for jumping 110 individual skipping ropes, swung in unison by her school friends.
Mass participation events are popular with the Chinese record breakers. In Du Tianlu in Shaanxi province in 2017, a grand total of 2,389 people set a record for the world's largest cup percussion ensemble. In 2019, in Hengshui, Hebei province, 2,024 students set a record when they got together at a school to play the erhu, the two-stringed Chinese musical instrument.
The story of Guinness World Records starts in Ireland in 1954, when the then managing director of the Guinness Brewery, Sir Hugh Beaver, couldn't find a reference to the fastest game bird in Europe. Inspired by this, he later commissioned a book of records to settle pub arguments.
The Guinness Book of Records – its former name – is itself a record holder: the bestselling copyrighted book of all time. In China, though, Guinness World Records is better known for a popular television programme based on contestants trying to set records – the more spectacular the better.
Companies have an interest in setting records for promotional purposes. A diamond-encrusted golden toilet unveiled by Aaron Shum Jewellery in Shanghai set a record in 2019 for the most diamonds (40,815) in a toilet seat.
Meanwhile, Chinese-German company Yumbau company holds the record for the world's most expensive dim sum, a blue confection filled with caterpillar fungi, saffron, truffle, blueberry powder, boletus edulis (a type of mushroom) and black boned chicken. It retails for more than US$500.
Simple human ambition, though, drives many record-setting attempts.
Among other odd inclusions in the book from China are a tea ceremony during the "Tea Expo" in Shenzhen last year, where a group of 288 people were awarded the title for the most people whisking tea simultaneously. In 2017, meanwhile, a food company in Henan province produced the world's longest noodle. It measured just over three kilometres (1.9 miles).
Guinness World Records China receives about 2,000 record applications each year, but roughly seven out of 10 are rejected. Standards must be met in order for a proposal to be considered and a record attempt must be: measurable (the world's most beautiful person is a no-go); breakable (open to a challenge); standardisable (is it possible to create a set of parameters and conditions that future challengers can follow?); and verifiable (the claim must be proven).
Once an application has been approved, evidence of the achievement must be submitted to the Guinness World Records management team. In Suen's case, counting and listing her snow globes (which took place in her home with three witnesses present) was filmed and then submitted to the publication.
For larger record events, however – undoubtedly now on hold
due to the coronavirus outbreak
– an official Guinness World Records adjudicator is required on site.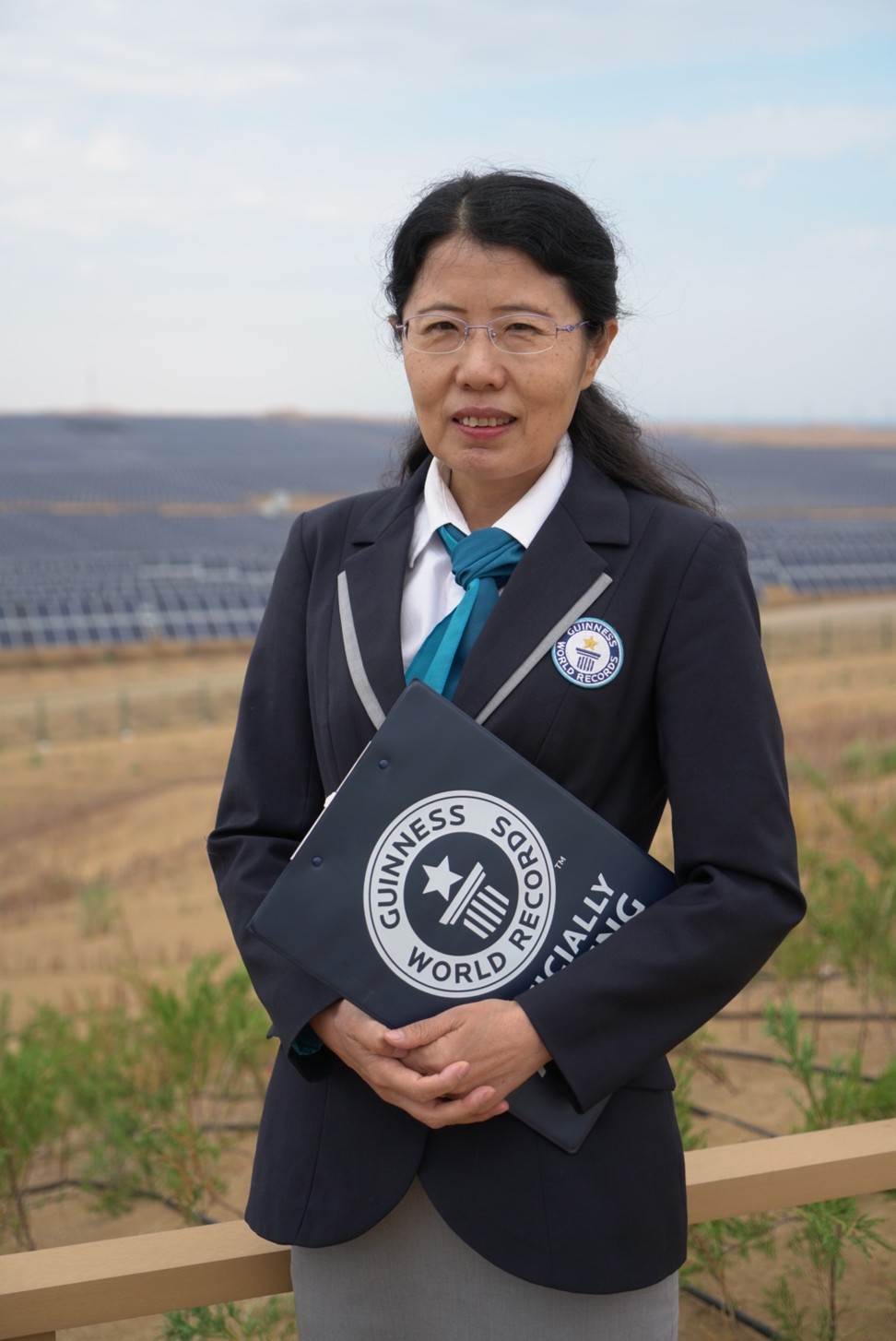 Angela Wu, from Guinness World Records in China, is one of 77 adjudicators worldwide and has assessed nearly 400 record attempts.
Her favourite record concerned an elaborate and complicated solar panel array. In July last year, Wu travelled to the desert near Erdos in Inner Mongolia. An energy company had applied to set a record for the world's largest solar panel image. The plan was to arrange 196,320 solar panels (with a daily generating capacity of 500,000 kWh) to create an image of a horse.
Guinness World Records had sent specific guidelines to the company. Only commercially available solar panels of specific dimensions could be used in the attempt, and a qualified surveyor would have to measure the surface area and submit a report. On the day of the official adjudication, Wu and two professional surveyors, along with independent witnesses from the energy sector, set to work.

"We had to double check that every single panel was actually working so we were given access to the company's control centre," Wu says. The team also had to measure the 1.4 square kilometre (0.5 square mile) surface area of the image, verify the installation and coordinate with the aerial photographer (who used drones) so proper visual evidence could be submitted.
"At the end of the long day, the company's lead engineer came up to me and said, 'who would have thought – engineers can also be artists'. It was indeed a unique record, and the first time I saw art and technology combined like that," says Wu.
China itself holds records for being the biggest country in the world in one time zone, and has the largest high-speed rail network.
Beijing-born Liu Teng is the current record holder for the fastest contortion roll over 20 metres. Now 28, she has practised contortion since she was eight years old. She trains for two hours a day and incorporates contortion into her everyday life, regularly practising contortion bends while reading magazines or putting on make-up.
Liu broke the record for fastest contortion roll over 20 metres (66 feet) in 2017, managing the feat in 15.54 seconds. The previous record holder was Briton Leilani Franco, who had performed the stunt in 17.47 seconds.
Liu had already broken two records – most flowers picked up with the mouth in a contortion back bend in one minute, and fastest time to put six eggs in egg cups using the feet while in a contortion chest stand. She sees the roll challenge as the hardest to date.
"Physically, it was the hardest challenge and I practised intensively for two months," she says.
The school where Liu normally practises did not have a long enough corridor for the roll, so she contacted a local hotel and was given permission to practise there every day. "The manager did frown a couple of times," Liu recalls.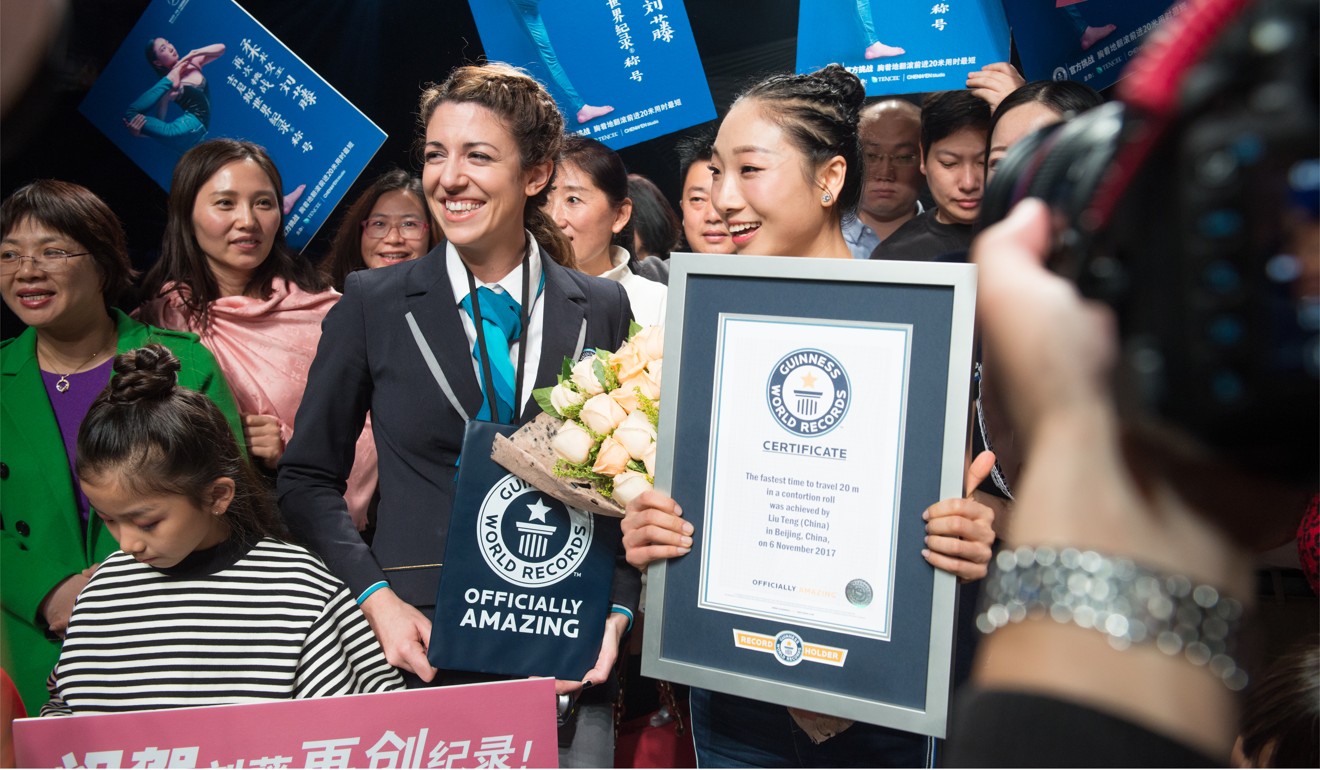 On the day of the event, she tried to be as calm and relaxed as possible. "I tried not to think about anything," she says, and confesses to feeling surprised when she realised that she had beaten the existing record by almost two seconds.
"Being a Guinness World Record holder means everything to me," says Liu. "I love the way the record attempts have challenged me and upped my potential."