Cinema
Get more with myNEWS
A personalised news feed of stories that matter to you
Learn more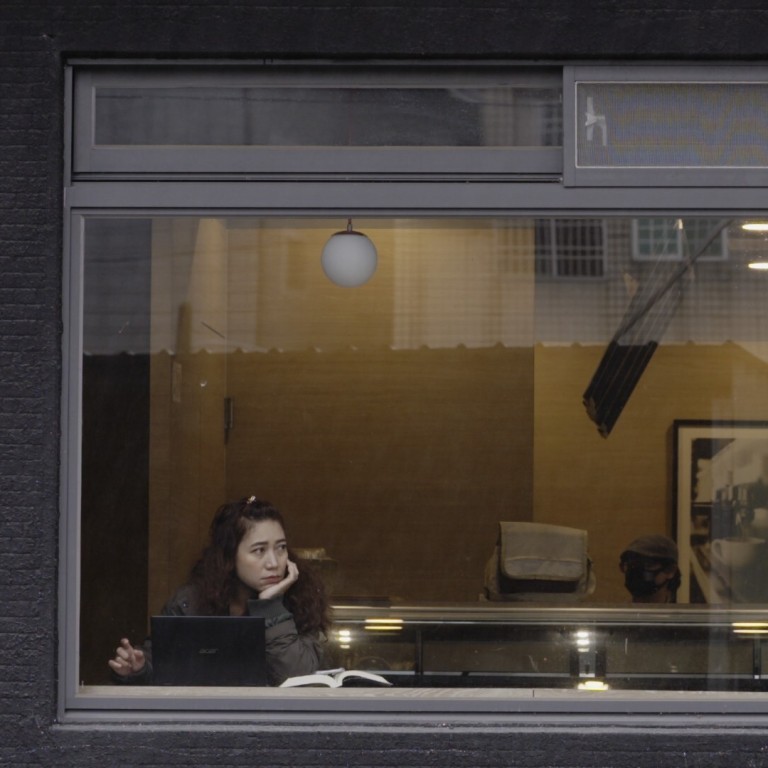 Hardships of rural Indonesian women shown in domestic helper film focusing on Taiwan
Help is on the Way follows the lives of four Indonesian women workers either already working in Taiwan or training to go there
The director says he had not been aware of the difficulties these women dealt with, including bad husbands, greedy parents and manipulative male migrants
"Smile", an instructor tells the women in identical aprons as they take turns to stand in front of a blue background for an employment photo. Carefully crossing their hands in front of themselves, the women obey.
They must look presentable, strong and capable, but malleable – hence the uniforms. This scene from Help is on the Way reminds viewers that these women are basically labourers who will be hired and paid to follow orders.
Winner of best feature documentary at Festival Film Indonesia 2019, Help is on the Way is a story of the hardships that force rural Indonesian women to look for jobs abroad, how they fare working in a foreign society – in this case Taiwan – and the added stress placed on some by family members back home.
In Indonesian and Mandarin, with English subtitles, the film follows the lives of four Indonesian workers named simply Meri, Sukma, Muji and Tari.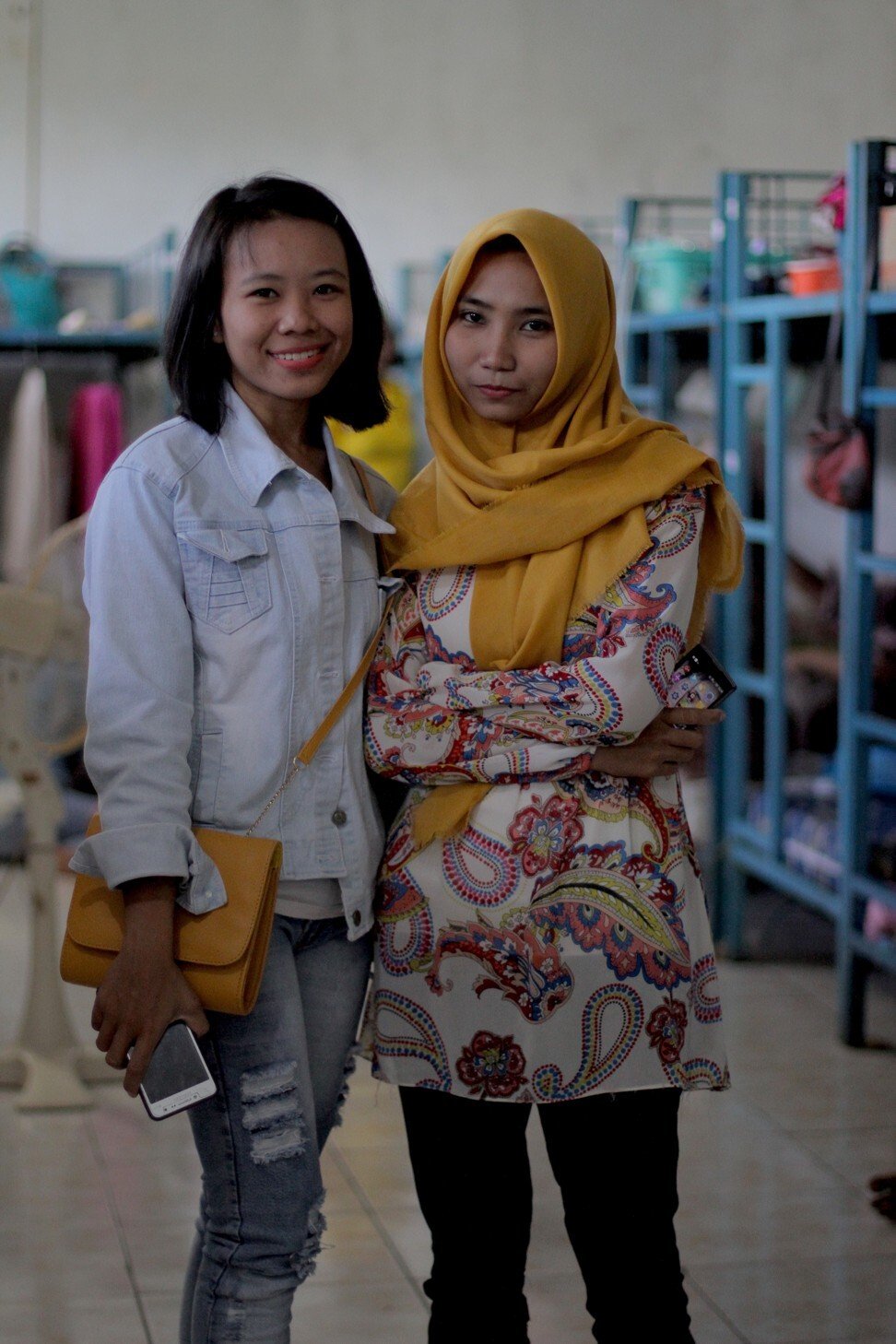 The audience sees Meri and Sukma for the first time in front of that blue backdrop. They are questioned about their body weight and whether they have tattoos or scars. Do they have plans to gain weight? Yes. Do they have husbands? Meri smiles and shakes her head. Sukma says her boyfriend lives far away.
The documentary, which screened in Indonesia and Taiwan in recent weeks, tracks their recruitment and training for work in the self-ruled Chinese island. Both women look very young.
Sukma is trying to return to overseas work after previously being employed in Malaysia, where she was tricked into turning her hand to illegal labour. She is motivated by a dream of sending her parents on a pilgrimage to Mecca.
Meri is under pressure from her parents. Her family's house leaks when it rains and they have no money to fix it, but they will get it repaired after Meri goes abroad. Her father wants her to buy him a goat, too.
"I think you have to obey your parents. Focus on your work," Meri's father says in the film. "If you don't want to listen to us, you have to get married."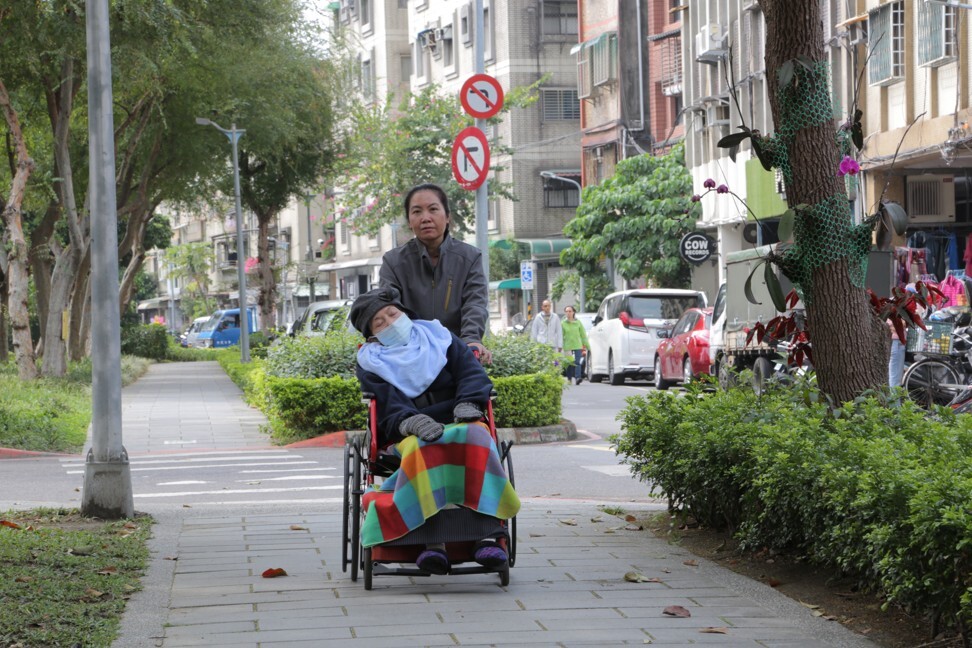 Unlike Meri and Sukma, who are still trying to be recruited overseas, Muji and Tari are already working in Taiwan. Muji is caring for a former television host and Tari works at a nursing home.
Tari writes fiction at night, sometimes until early in the morning if she has a day off. A rainbow flag hangs on her dorm room wall. She's writing something called It's Not Norwegian Wood, with a nod to both the Beatles song and the book by Japanese novelist Haruki Murakami.
"The inspiration [for the story] came from my friends who are gay and lesbian," Tari says in the documentary. We are not told what the theme is, or how her story unfolds, but she says she knows all too well about the
discrimination levelled at the LGBT community
.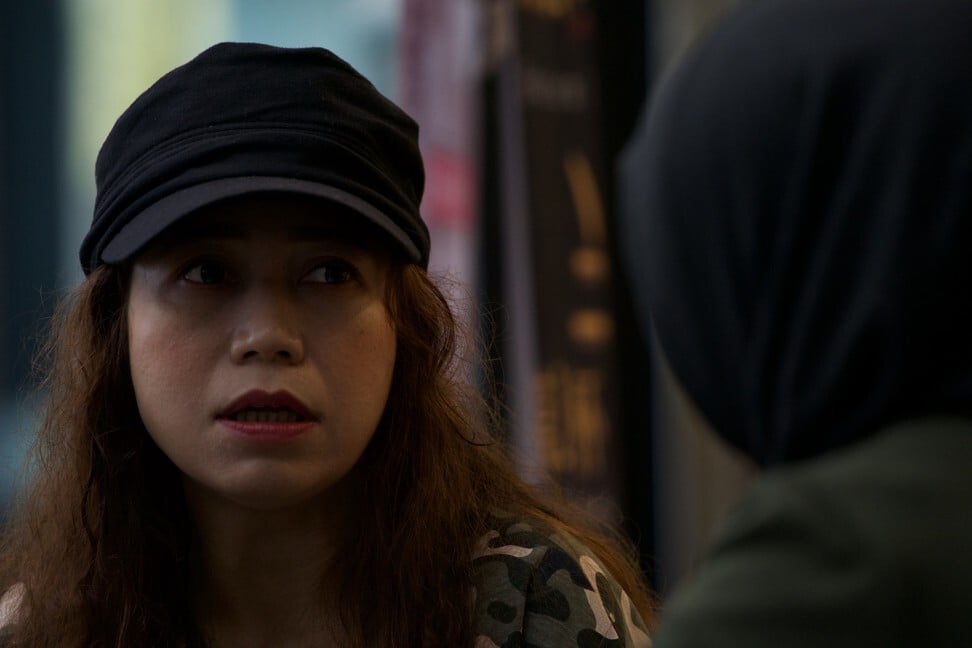 Help is on the Way is the third feature documentary from Indonesian director Ismail Fahmi Lubis, who is known for exploring themes surrounding social class. It comes after Topeng Monyet (Masked Monkey), about his home country's traditional monkey puppet shows, and Tarling is Darling, a tale about a songwriter who composes the traditional sexy music genre called tarling dangdut.
Lubis was promoting Tarling is Darling in Taiwan in 2018 when he met Indonesian women migrant workers around Taipei Main Station. The women congregate around the transport hub for social gatherings on Sundays, which is often their only day off.
After befriending the women, Lubis says he felt he wanted to make a film about them. PTS Taiwan, an independent free-to-air television network owned by the island's government, expressed an interest in being involved in the project.
"Seeing how large the community was, I said why don't we create something for both Taiwan and Indonesia?" Lubis says. The network then contacted an Indonesian production house to discuss the idea.
About 40 per cent, or 280,000, of Taiwan's 718,000 blue-collar migrant workers are Indonesian. Many work in the manufacturing and caregiving sectors, with smaller numbers employed in the agricultural, forestry and fishing industries.
The women featured in
Help is on the Way
are among the many thousands who have responded to the
island's demand for domestic workers
. Once signed up to a local agent, they are trained in Indonesia, staying in a boarding house for most of the time and going home on the weekends.
They attend Mandarin classes and learn how to put on a diaper, lift a heavy person and put them in a wheelchair, and how to push the wheelchair.
It was not difficult for Lubis to contact agents in Indramayu, in the Indonesian province of West Java, a part of the country that supplies many labourers. He had filmed Tarling in the region in 2017, and discovered that tarling dangdut performers were often hired to sing at workers' farewell ceremonies.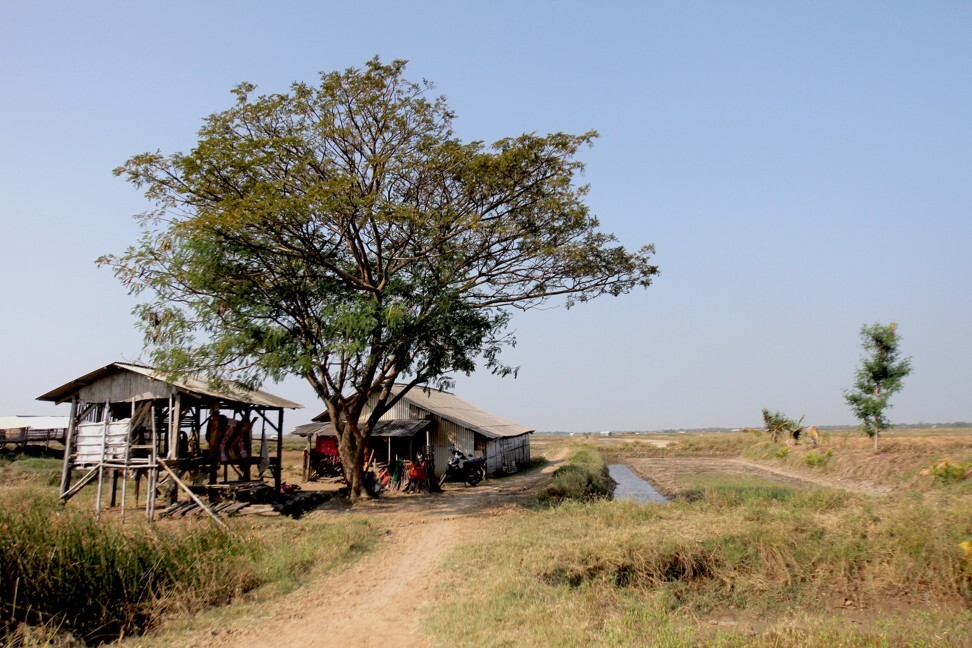 Although he already had friends among the community, Lubis had not been aware of the difficult social restraints and responsibilities his subjects had to deal with.
"I only discovered the problem of family expectations – sometimes even extended families' – during filming, from cases of bad husbands to parents suddenly having huge debts the women had to pay, and many more," he says.
"I saw husbands who would just abandon their kids while their wives were away working. There were so many stories I uncovered that I couldn't fit into the film because of limited time."
In the documentary, Muji even contemplates sending money to her cheating husband, but she is stopped by her employer.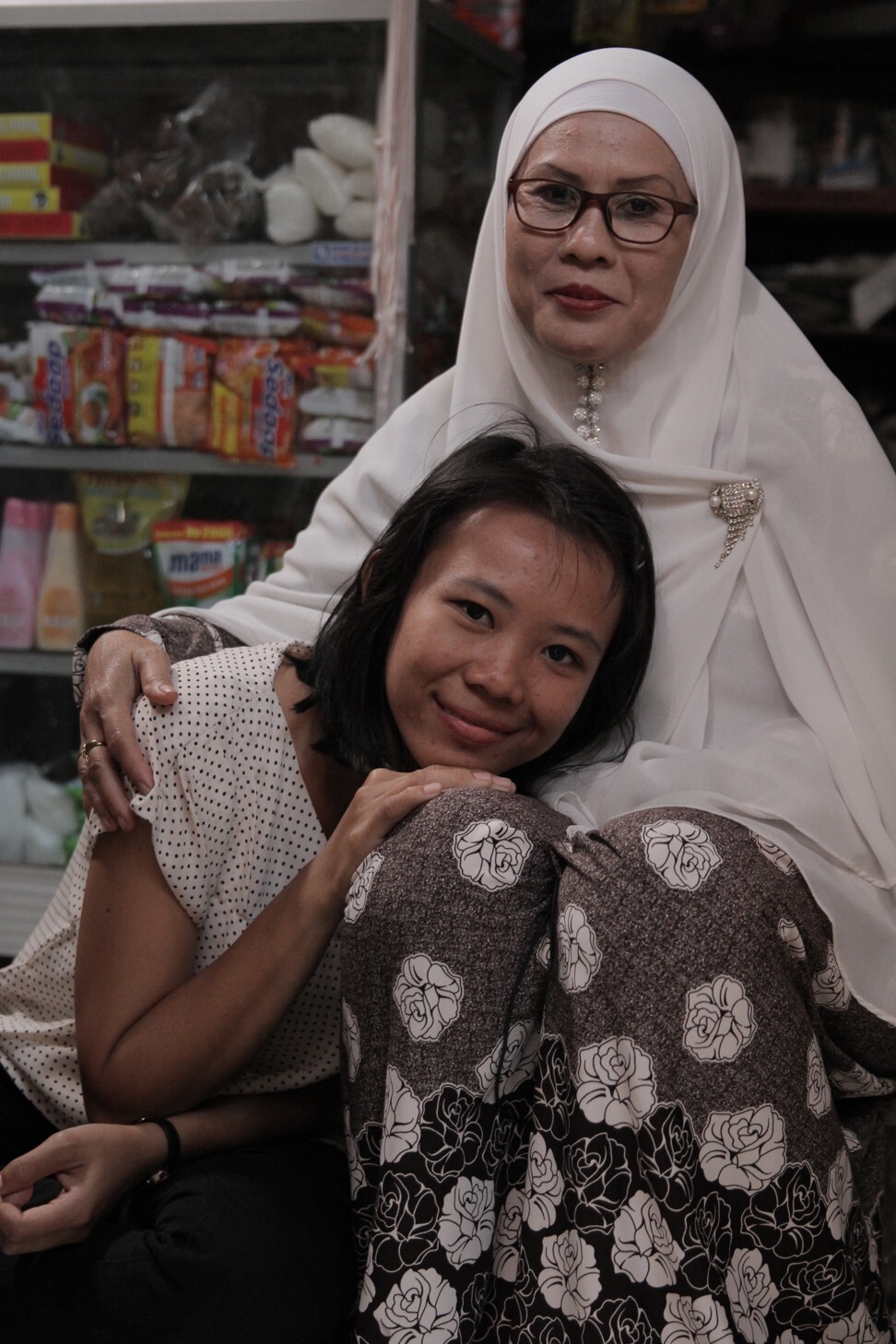 Young Indonesian women are frequently exploited by their parents, husbands and boyfriends, and are left trapped in poverty and abuse because they give away all their money. Because of this, Meri's Mandarin teacher, an Indonesian woman, gives Meri some important advice: "You have to save your money," the teacher tells her in the documentary. "Don't give it all away. Save some for yourself, for your future."
Female domestic workers are also
vulnerable to abuse and sexual violence
. Many fall victim to male migrant workers abroad who manipulate them for money. "Don't get pregnant," the women are told by the recruitment agent in the film. "It gives us headaches."
Lubis' documentary shows that the difficult journey of many migrant workers begins long before they get on a plane. It starts with their grinding struggles in life and dreams of escaping poverty.
Help is on the Way took nearly a year to shoot, after it was delayed until Meri finally found employment. Sukma, though, finds a job only a few months into her training.
Lubis says he put great effort into making the film from the women's perspective. He admits that nearly all his crew members were men and so were his producers. "How can we men tell the story of women?" he says he wondered. So he simply let the women tell their stories instead of following his own narrative.
Making the film gave him a better understanding of women's difficulties, he says. "I'm a man. But I saw how the men in their lives took advantage of them."
In Taiwan, migrant workers usually earn the minimum wage of NT$23,800 (US$800) a month. Placement fees, brokers' service fees, labour and health insurance, and tax are all deducted before the workers are paid.
Indonesian women workers in Taiwan usually send more than half their pay back to their families, who use it to pay for daily necessities, school fees and house renovations, among other things.
Lubis says he would like to make another film about Tari, who is now enrolled in her fifth semester at a community college, studying communication, while still working in the nursing home.
"Tari was the one to open my eyes," Lubis says of the young writer with a rainbow on her wall. "That, really, these people who work overseas are not stupid. In a foreign country they can finish school while working."