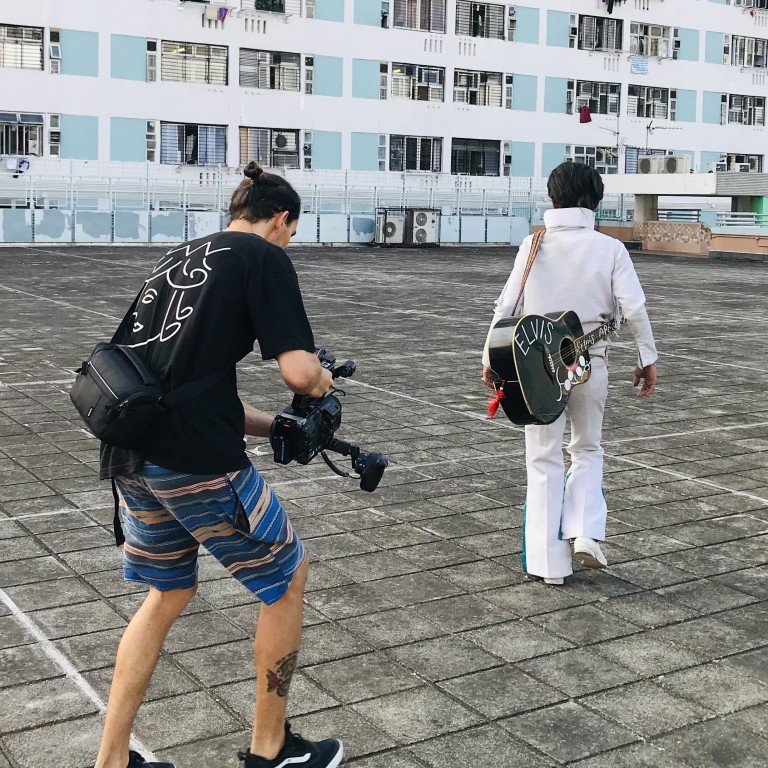 'The man behind the Melvis persona' – late Hong Kong Elvis impersonator remembered in documentary filmmakers were working on when he died
Two fans who were filming a documentary about Hong Kong Elvis impersonator Melvis when he died last year hope to finish it as a tribute to his life and music
Their film features Melvis playing on the city's streets and at his last concert, and interviews with family and the friends who knew best a man of few words
When Elvis impersonator Melvis died of kidney failure on December 29 last year, a poignant piece of Hong Kong folklore died with him.
For almost three decades, Kwok Lam-sang, better known as Melvis, could be seen in Hong Kong's biggest nightspots, where he'd play for tips dressed as his hero and singing his songs. Many were affected by his death at the age of 68.
Independent film producer Jonathan Duncan is hoping to keep the legendary performer's spirit alive through a documentary, The Heartbreaker: The Story of Melvis.
Duncan has been working on the film with co-producer Richie Fowler and cinematographer Alix Roussel for the past two years and had most of the footage completed before Kwok's death.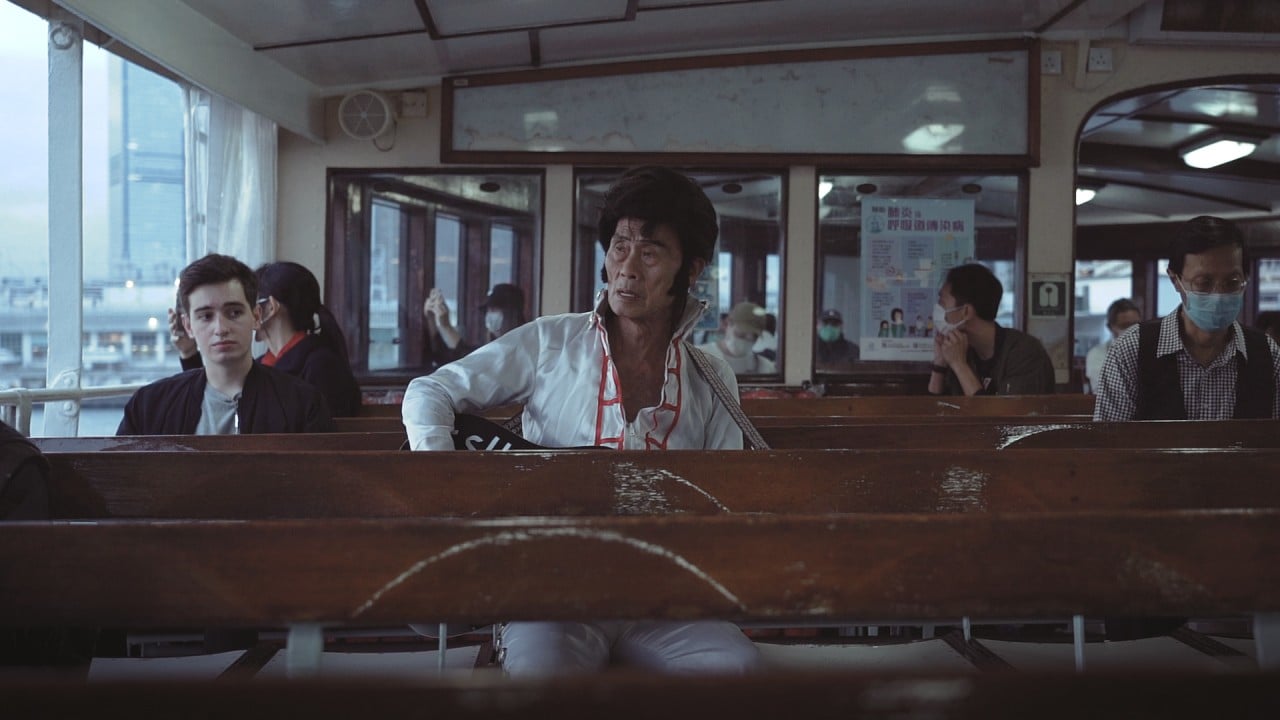 03:31
The spirit of the Elvis Presley lives on in Hong Kong's 'Melvis'
The spirit of the Elvis Presley lives on in Hong Kong's 'Melvis'
"We have been in contact with Melvis' family since April 2019. His wife Anna was able to help us get in touch with him when nobody knew where he was – he was a very elusive man," Duncan explains.
"Our first stage of filming was set over three days. We filmed him performing on the streets of Lan Kwai Fong, Wan Chai and Kowloon. We also filmed an hour-long sit-down interview with him. And at a later date, we filmed him backstage and onstage at one of his concerts in Sheung Wan, which turned out to be his last.
"For the original version of the documentary we had also planned to take him to the UK, as this was a place he always wanted to perform – but the events of the pandemic sadly meant that never happened."
Duncan was able to communicate with Kwok in English, but when more explanation was needed other film crew members from Hong Kong were always on hand to translate.
"In our interview with him he speaks in English but we subtitle it as well. We have access to Melvis' personal archive through his family and we will also be using other older archive footage in the documentary," he says.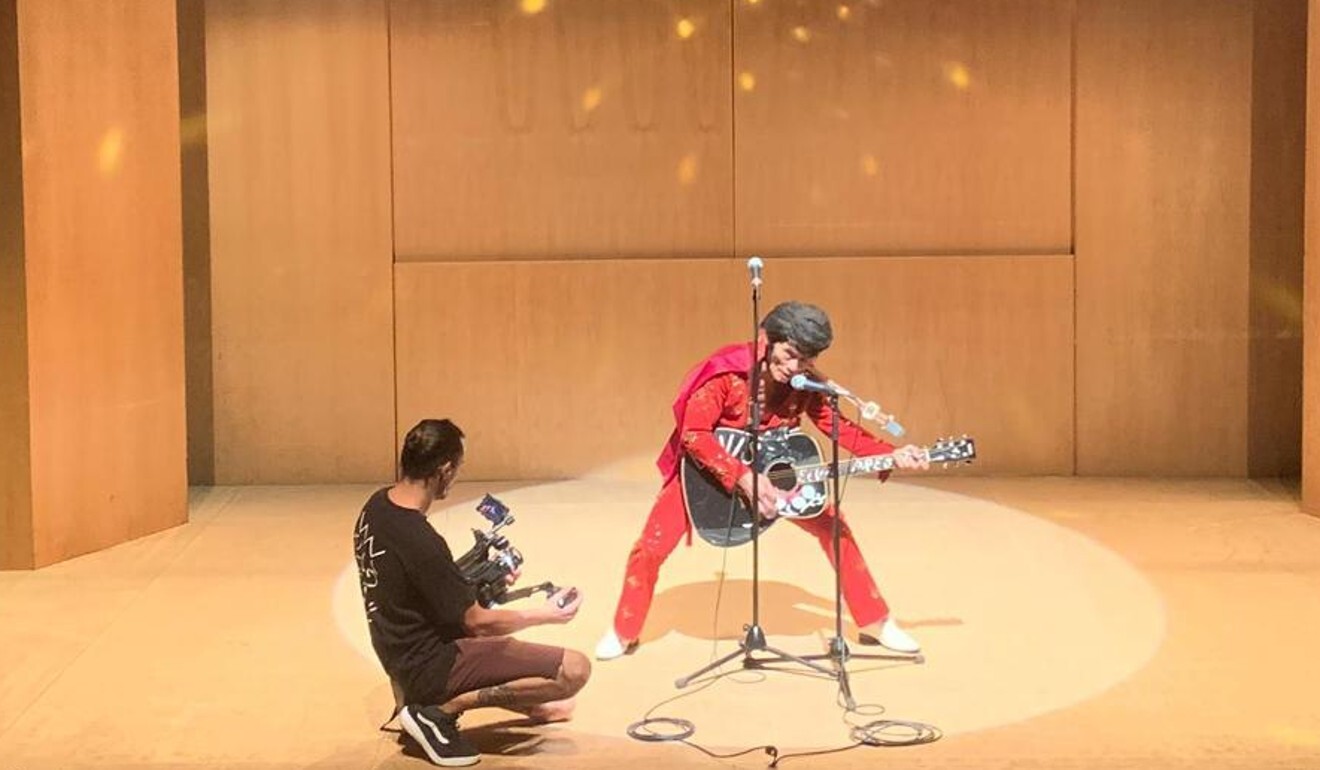 "In the documentary, viewers will get an insight into the man behind the Melvis persona through our sit-down interview with him and his friends and family who knew him best. There's a lot to tell."
Like so many people, Duncan first set eyes on the performer in Lan Kwai Fong in 2010 when he made his first trip to the city.
"He played a few songs and I'll never forget the image of him walking down the street afterwards with his 'Elvis' guitar on his back. He just seemed so mysterious," he says.
"Over the years, I continued to see him and wondered why he still continued to do what he did. As I found out more about him and his life I soon began to understand there really was a story to tell, not just about him, but to also explore the vibrant nature of Hong Kong and its history during his time performing."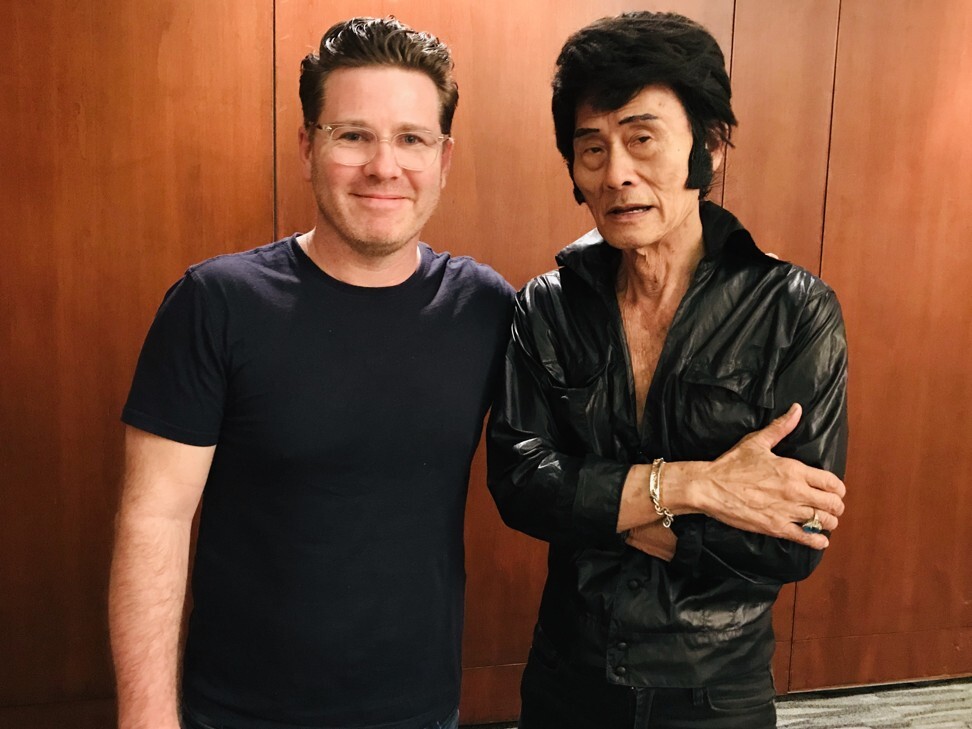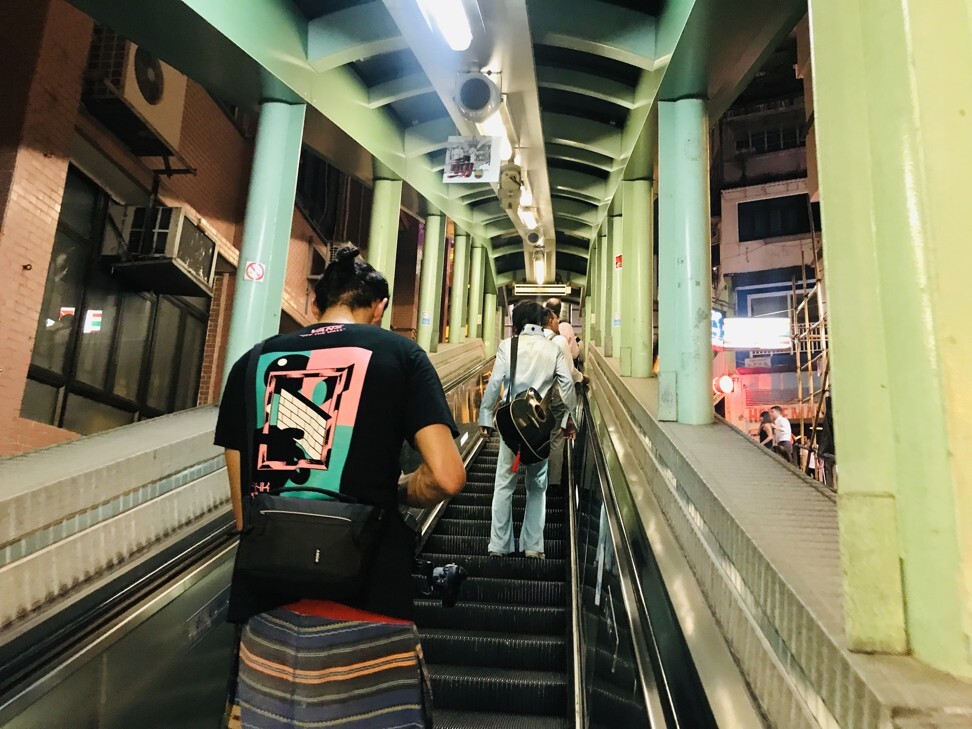 Born in the Indonesian capital, Jakarta, Kwok was 13 when he and his family migrated to Guiyang, a city in southwest China's Guizhou province. He first came to Hong Kong in 1974 to look for work, finding a job at an electronics factory in the Kwun Tong industrial area.
But it was only after Elvis' death in 1977 lit up Hong Kong with tributes to the "King of Rock 'n' Roll" that he first heard of the star. Kwok previously told the Post that Elvis' "music was played everywhere" at the time.
He would leave his home in Sha Tin, in Hong Kong's New Territories, at around 7pm, and take a cross-harbour bus to the city's Central business and entertainment district. He'd spend two hours in the nightspots of Lan Kwai Fong, SoHo and Wan Chai, and get home by 11pm.
Kwok had been doing this circuit of bars popular with expatriates every evening for 28 years, but when Duncan decided to approach him about making a documentary, he proved a tough man to track down.
"It was difficult finding him. I had two days left on my trip and ventured out to Lan Kwai Fong with three other people on that first night to find him," he says. "I wasn't sure how much English he spoke so I had the concierge at my hotel write out what I wanted to ask him in Cantonese so he understood me correctly.
"Sadly, on that first night of looking, we couldn't find him. It was a case of 'he was here, but now he's gone' – typical Melvis. So the following night I was due to fly out, I checked in my bags at the Airport Express and walked up to Lan Kwai Fong in the hope of seeing him – I had two hours before I had to make my way to the airport. This time, I decided to stay in one spot."
Two hours went by with no sign of the man in the white jumpsuit and it had started to rain. Duncan thought his chance had gone, but just as he started to make his way to the Airport Express, Kwok emerged from around a corner in full Elvis regalia.
"I approached him and asked for a song. Afterwards I told him who I was and could we talk about filming him for a documentary. By this point, I was running out of time to get to the airport and I wanted to arrange to meet him again to speak in more detail," Duncan explains. "The problem was he didn't have a phone and didn't use email. So I wrote the date and time on the hotel paper I had with me and said I would meet him in a few weeks' time.
"I left thinking I had no idea if he would show up. But when I came back three weeks later, there he was, right on time – dressed as his hero of course – and he discussed the project in more detail with me and my co-producer Richie, and we agreed on upcoming filming dates."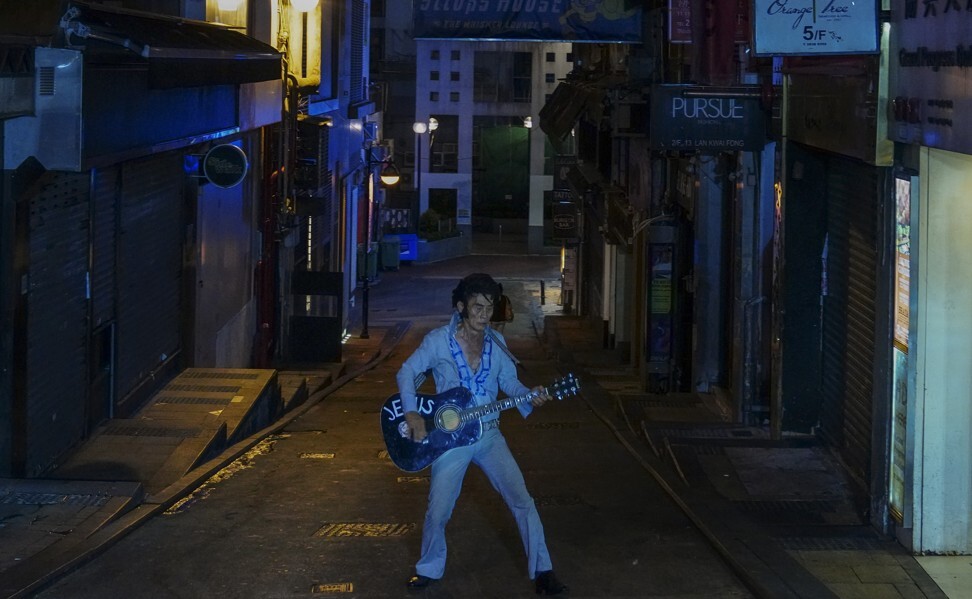 The film has been a labour of love for both Duncan and Fowler. The pandemic has made it even tougher to finish, as Duncan has not been able to travel to Hong Kong due to coronavirus restrictions. The pair launched a GoFundMe campaign to help raise funds to finish the project properly.
"With all the disruption of the pandemic it makes funding a project like this even harder, so any help is very welcome," says Duncan. "We're determined to get the documentary made. Melvis' wife Anna also invited us to his funeral in January, which I sadly couldn't attend due to Covid-19 travel restrictions from the UK, but Richie was there and was asked to make a speech, which he did, and I was sad to have missed it."
It was only after co-producer Fowler made his heartfelt speech along with others that it seemed to dawn on Kwok's children how much he actually meant to people.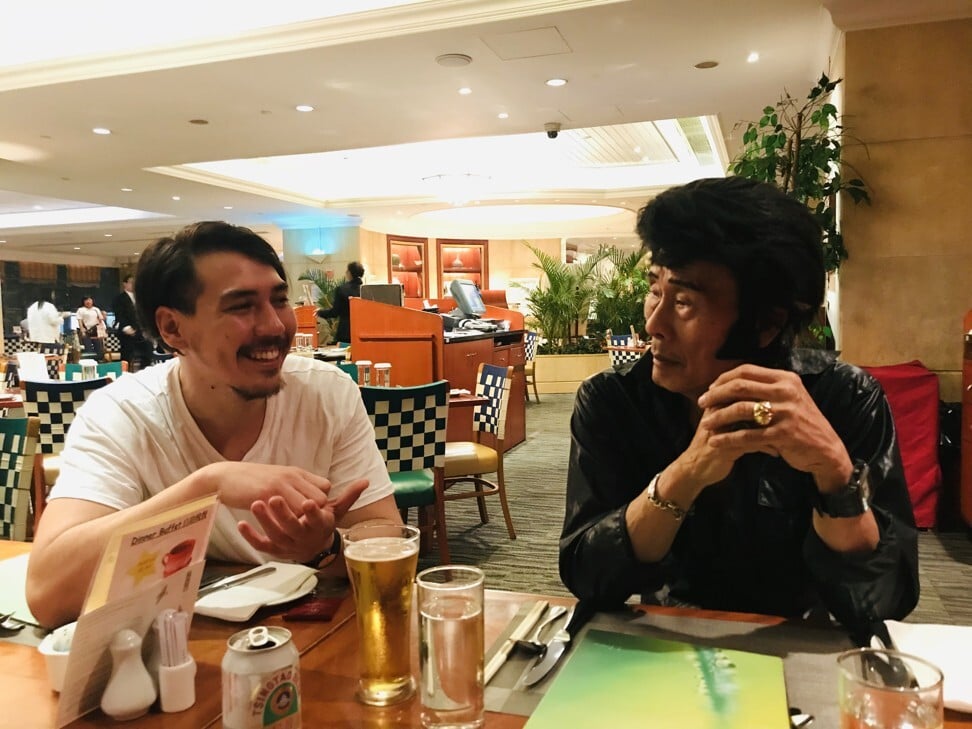 "He was married to his wife Anna for 30-plus years and had a son and daughter in their 30s. What was really touching was that his children also made speeches saying it was only now they truly realised how much their father was loved," explains Fowler.
"They had wanted him to take things easier for his health's sake and stop going out to perform each night. It was like they only saw then how much going out to perform meant to him and to the people that he met regularly."
Once they started filming, Fowler got to know Kwok and his family well. "He was a man of few words. His offstage persona was very different than when he was performing. He was a real gentleman, who touched a lot of people's lives," says Fowler.
Duncan couldn't agree more and is determined to finish the documentary.
"We want to be able to tell the story of this ordinary man who lived out his passion every day of his life. As Melvis said in one of our interviews with him: 'This is my dream, I want to make people happy and myself happy too … I don't have any regrets. I love it'."
The Heartbreaker: The Story of Melvis GoFundMe page can be found here