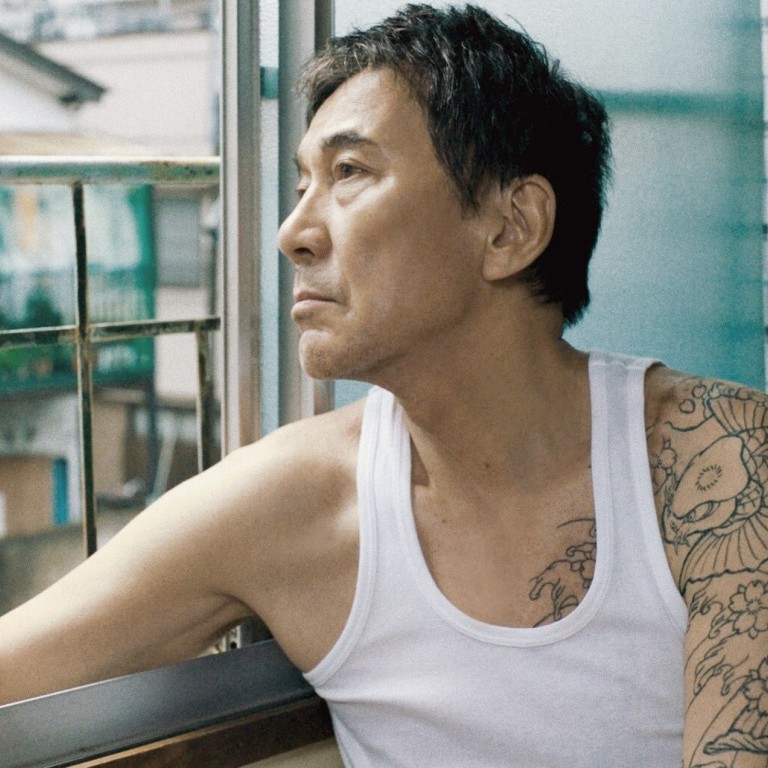 Memoirs of a Geisha, Babel actor Koji Yakusho's 10 best movies as the Japanese screen icon makes latest film appearance
The winner of four Japanese Academy Awards, Koji Yakusho gives a typically commanding performance in Under the Open Sky, out in Hong Kong this week
From Tampopo to The Blood of Wolves, here are our favourite movies featuring the actor's electrifying talents
One of the most respected and recognisable stars of Japanese cinema and television, Koji Yakusho has enjoyed a long and successful career spanning more than four decades.
The 65-year-old actor has won four Japanese Academy Awards and been nominated a further 18 times. He has appeared in the Hollywood productions Memoirs of a Geisha, opposite Zhang Ziyi and Gong Li, as well as Alejandro G. Inarritu's Babel, for which he was nominated for a Screen Actors Guild award.
This week sees the Hong Kong cinema release of Under the Open Sky, in which Yakusho gives a typically commanding performance as a middle-aged gangster struggling to adapt to normal life after serving a 13-year prison sentence for murder.
Below are 10 more of our favourite films featuring Yakusho's versatile and electrifying talents.
Tampopo (1985)
A memorable early role for the actor came in Juzo Itami's delightful ode to the art of cooking. Yakusho plays the mysterious Gangster in the White Suit in a story thread set apart from the film's central narrative, in which Tsutomu Yamazaki's truck driver helps a struggling widow (Nobuko Miyamoto) improve her roadside ramen shop.
Yakusho's food-obsessed mobster carries on a steamy affair with his beautiful moll (Fukumi Kuroda), incorporating a lip-smacking array of culinary delicacies into their sex life. When he is ultimately gunned down in the street, he uses his final breath not to profess his love, but to reveal his secret sausage recipe.
Kamikaze Taxi (1995)
It is almost an hour into Masato Harada's meandering crime epic before Yakusho's migrant taxi driver Kantake becomes embroiled in a violent feud between a corrupt politician (Taketoshi Naito) and Kazuya Takahashi's vengeful young yakuza. The plight of Kantake's passenger reawakens guerilla instincts from his own struggles back in Peru, and he soon becomes an active participant in the escalating violence.
The film's hypnotic score, performed on traditional Peruvian pipes, adds an otherworldliness to Harada's film, which tackles themes of corruption, racism and misogyny as it barrels towards its inevitably tragic finale.
Shall We Dance? (1996)
Yakusho found international acclaim as an unassuming salaryman who secretly takes up dance classes after spying the beautiful instructor (Tamiyo Kusakari) from the window of his commuter train. The film sparked a ballroom dancing craze in Japan, and was remade in 2004 with Richard Gere and Jennifer Lopez, becoming a notable hit at the US box office.
Yakusho plays brilliantly against type as the smitten family man in desperate need of some excitement, but it is Naoto Takenaka who steals the show as the timid colleague who transforms into an ostentatious bewigged Lothario whenever he hits the dance floor.
The Eel (1997)
Shohei Imamura became the first Japanese filmmaker to win the Palme d'Or twice when the Cannes Film Festival gave top honours to this brilliant film. The director injects flourishes of surrealism into his drama as it follows one man's efforts to carve out a quiet new life and escape a past that refuses to be forgotten.
Yakusho stars as an ex-con, newly released from prison after murdering his adulterous wife. He opens a barbershop and finds solace caring for a pet eel, while shunning all human contact, including a beautiful woman (Misa Shimizu) he saves from suicide.
Cure (1997)
Yakusho has collaborated with Kiyoshi Kurosawa on numerous occasions, but none more hauntingly powerful than their debut effort, a masterpiece of unnerving psychological horror.
Yakusho plays a downtrodden detective investigating a series of gruesome murders connected by the similar mutilation of the victims, but seemingly committed by a different killer each time. His investigations ultimately lead him into a world of mind control and hypnotism.
Ambiguous and disorientating, Cure was one of the first films in the celebrated J-Horror wave, and despite the high-profile success of Ring and Audition, is widely considered one of the best films of the era.
13 Assassins (2010)
Since the earliest days of his career, Yakusho has played a procession of samurai and ronin on both the big and small screen, so it was little surprise that Takashi Miike cast him at the centre of this ambitious remake.
A departure in style for its director,
13 Assassins
is a grand, stately epic anchored by Yakusho's veteran warrior, hired to assassinate the sadistic heir to the shogunate. Emulating the period drama classics of
Akira Kurosawa
, Miike delivers perhaps the most technically accomplished film of his career, which he followed with an equally innovative remake of Masaki Kobayashi's
Hara-kiri
, in which Yakusho also appears.
The Woodsman and the Rain (2011)
Yakusho's incredible versatility is proudly displayed in Shuichi Okita's sweet-natured, life-affirming comedy. It follows an inexperienced filmmaker (Shun Oguri) as he travels with his crew to a remote mountain location to shoot a zombie movie. The local community is initially bewildered by the project, none more so than Yakusho's quiet, reclusive woodsman.
Over time, an unlikely father-son relationship develops between the two men as the ageing villager becomes increasingly involved in the production, which in turn inspires confidence in the fledgling director. It's a perfect example of Japanese cinema's trend for pitting urban modernity against the simple pleasures of traditional life.
The World of Kanako (2014)
Confessions director Tetsuya Nakashima weaves an audiovisual maelstrom of violence and debauchery into which he unleashes Yakusho's drink- and drug-addled ex-cop, who in a ferocious display of unremitting savagery tears up the Tokyo underworld searching for his missing teenage daughter (Nana Komatsu).
Closer to John Ford's The Searchers than Liam Neeson's Taken series, The World of Kanako exposes its missing heroine to be not an innocent victim, but a malicious and malevolent terror, and the deeper her father digs into the dark recesses of her past, the more shocking the horrors he is forced to confront.
The Third Murder (2017)
Despite Misumi confessing to the crime, Masaharu Fukuyama's defence lawyer soon finds inconsistencies in his testimony, and vows to set the record straight. A rare foray into genre territory for Koreeda, The Third Murder showcases a pair of impressive, multilayered performances, not least Yakusho, who brings compassion and complexity to his repeat offender.
The Blood of Wolves (2018)
In Kazuya Shiraishi's brilliant throwback to the classic gangster thrillers of Kinji Fukasaku (Battles Without Honour and Humanity), Yakusho is once again on award-winning form as Ogami, a loose-cannon police detective in 1980s Hiroshima with dubious ties to the local yakuza.
Violently maintaining order in his community with precious little regard for the boundaries of the law, Ogami is tasked with investigating a missing persons case. He must also break in an idealistic new partner (Tori Matsuzaka), who is immediately disapproving of Ogami's unorthodox and illegal methods. What unfolds is a hugely entertaining flourish of style and bravado.
Want more articles like this? Follow SCMP Film on Facebook