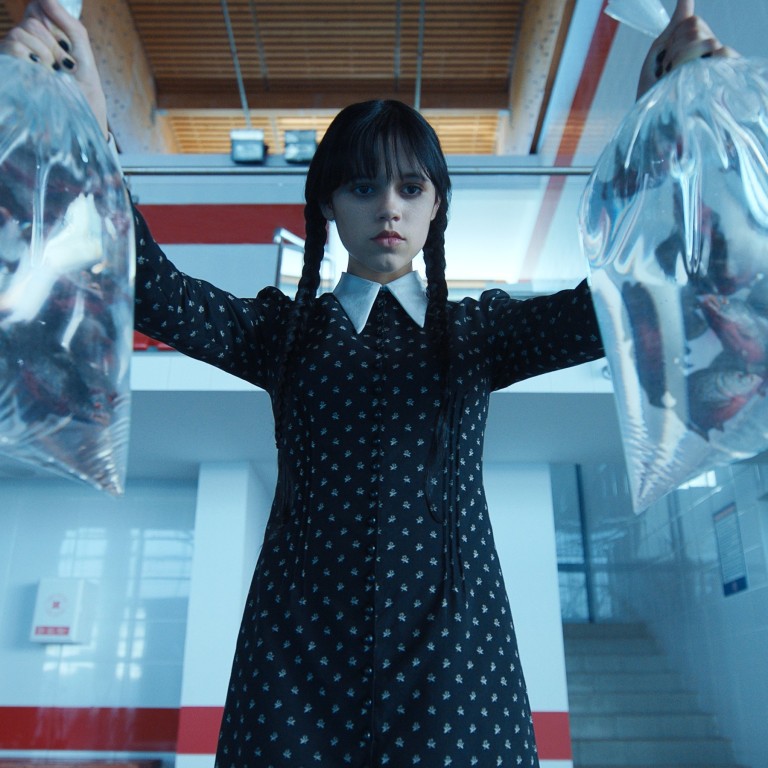 Review

|
Netflix drama review: Wednesday – Jenna Ortega shines as The Addams Family's teen daughter in Tim Burton's comedy horror
Jenna Ortega is excellent in the title role of this Netflix series, playing the teenaged Wednesday Addams, who is sent off to the Nevermore Academy
Executive producer Tim Robbins, who directs the first four episodes, has imbued Wednesday with his particular brand of black humour
4/5 stars
Jenna Ortega was seemingly born to play Wednesday Addams.
The diminutive star of
Stuck in the Middle
and
Scream
(2022) brings the morbid teen heroine to life brilliantly, despite her perpetual pallor, in Netflix's new eight-part comedy horror series based on the ghoulish creations of cartoonist Charles Addams.
Rather than chronicling the macabre exploits of Morticia, Gomez and the rest of the clan, however, Wednesday focuses on the adolescent Addams daughter, as she is sent away to Nevermore Academy, an exclusive educational institution catering specifically to vampires, werewolves, sirens and other "outcasts".
Wrestling with new-found psychic abilities and a defiant disdain for authority, Wednesday arrives during a mysterious killing spree that has shaken the local residents of Jericho and fuelled their long-standing distrust of Nevermore's population.
She must also fend off romantic advances from more than one of her new classmates, discover the truth behind lingering rumours surrounding her parents, both former students themselves, as well as navigate all the trials and tribulations facing any young woman making the difficult transition into adulthood.
Created by Alfred Gough and Miles Millar, whose previous successes include Superman origin series Smallville, the show is unmistakably shaped by executive producer Tim Burton, who also directs the first four episodes.
Burton's involvement with The Addams Family stretches back to the early '90s, when he was signed on to direct their first big-screen outing. Commitments to Batman Returns forced the eccentric auteur to hand duties to Barry Sonnenfeld, but Burton's interest in the property remained.
In a marriage of style and sensibility so perfect it seems almost inconceivable that they have not been intertwined before now, Burton imbues Wednesday with his trademark black humour and fawning fascination for all things monstrous and macabre to winning effect.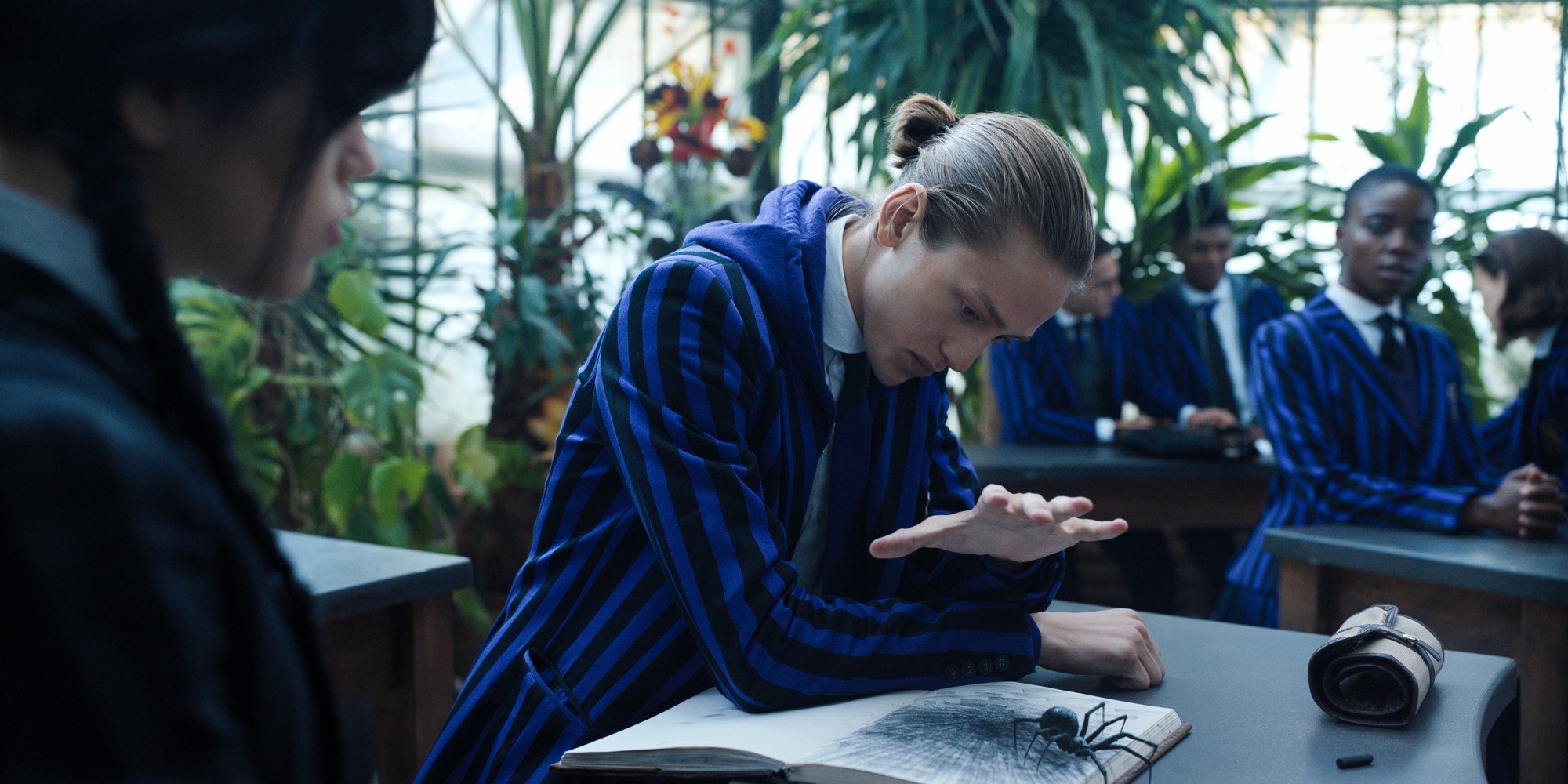 Even when the script veers into the conventional territory inhabited by numerous other coming-of-age high-school shows, which admittedly occurs with some frequency, Wednesday treats its menagerie of oddball outsiders with unfailing affection.
Vying for Wednesday's heart are Xavier (Percy Hynes White), a moody art student who compulsively sketches his visions of the monstrous entity rampaging through the woods, and Tyler (Hunter Doohan), a "normy" from town whose father (Jamie McShane) serves as the local sheriff.
She must also endure the endless enthusiasm of her bubbly new roommate Enid (Emma Myers), a lycanthrope who has yet to reach maturity and "wolf out", and jealous classmate Bianca (Joy Sunday), a powerful siren who feels threatened by Nevermore's latest arrival.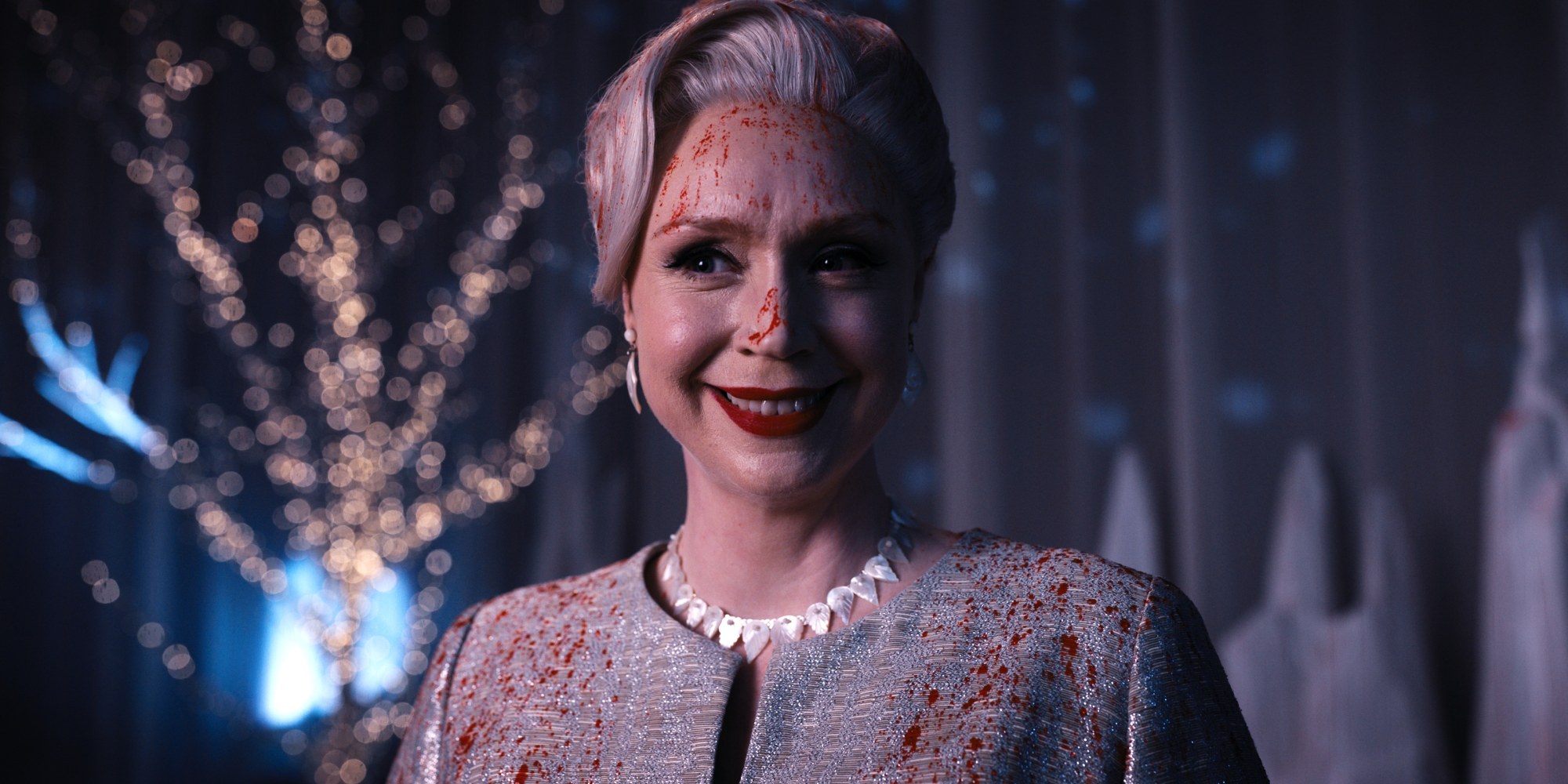 Wednesday's adult adversaries are a similarly eclectic bunch, as she is beholden not only to Principal Williams (Gwendoline Christie), who was a former class rival of Morticia's, but also child psychologist Dr Kinbott (Riki Lindhome).
The Addams themselves are portrayed by Catherine Zeta-Jones and Luis Guzmán, although they appear in the series all too briefly, as does young brother Pugsley.
All is not lost for fans of the original household, however, as Thing, the disembodied hand, remains loyally by Wednesday's side throughout to offer a helping … well, hand … and the mischievous Uncle Fester (an unrecognisable Fred Armisen) makes a late appearance too.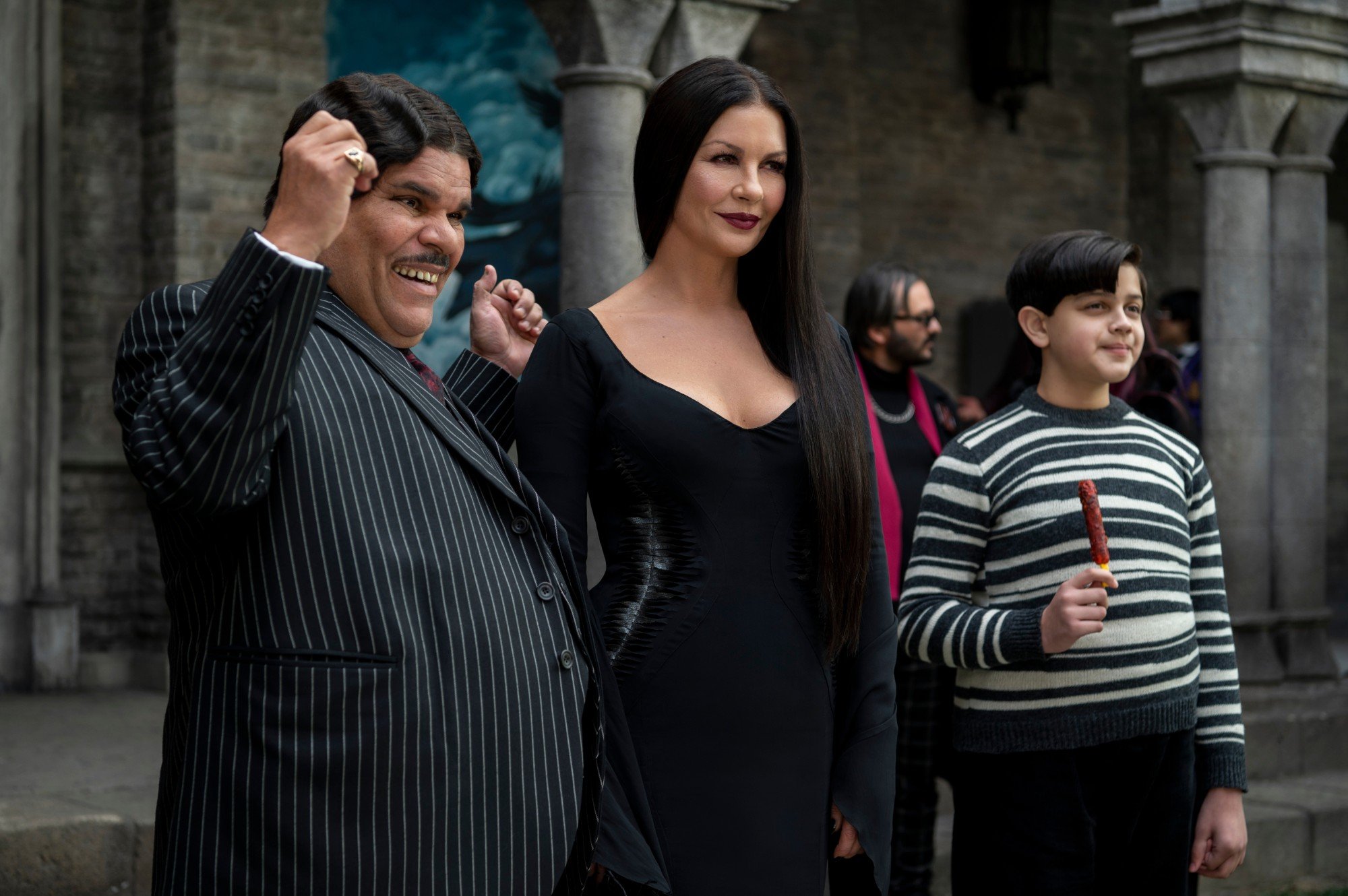 Perhaps most exciting is the addition of Christina Ricci – the actress who immortalised the character of Wednesday on the big screen in two hit feature films – as the school's eccentric teacher of carnivorous plant studies, Marilyn Thornbill.
This symbolic passing of the torch from Ricci to Ortega serves as more than a cursory gesture, and audiences should enjoy how their on-screen relationship evolves during the season.
There is no denying the lingering air of derivative déjà vu that hangs over the show, despite the best efforts of Burton and his fellow directors Gandja Monteiro and James Marshall to stuff each episode with as many monsters, murders and mysteries as possible.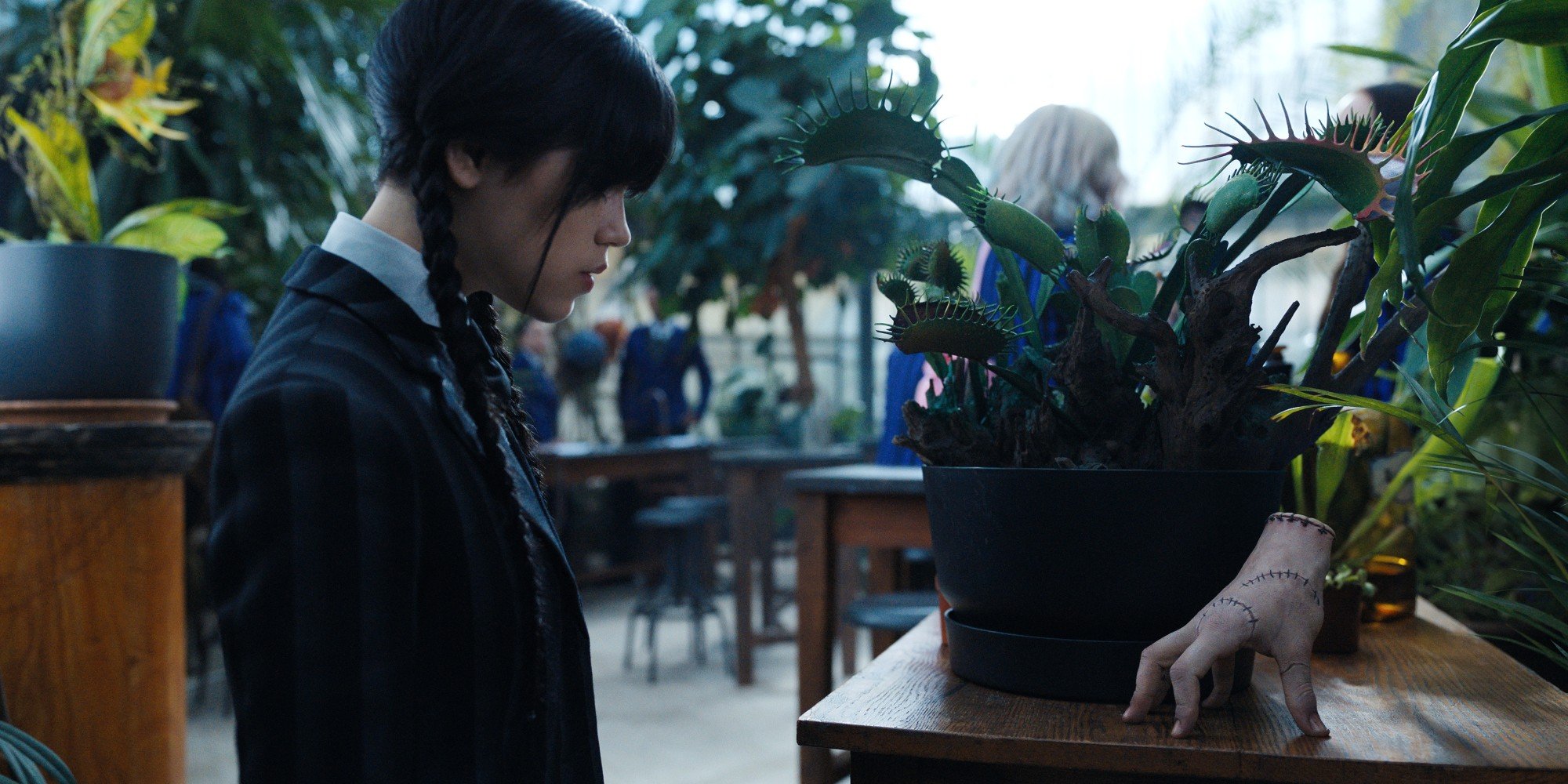 It is not simply because this is just the latest incarnation of a property that has existed in comic strip, television and feature film form since the 1930s. There is an undeniable similarity between Nevermore Academy, proudly reverent of their famous alum Edgar Allan Poe, and Hogwarts.
From the Gothic architecture to the magical students, bizarre subjects and endless supernatural goings-on, comparisons between the series and
the Harry Potter universe
are inevitable and often justified.
Similarly, Wednesday follows the standard young-adult structure, as witnessed in Twilight, The Hunger Games and numerous other productions, in which a beautiful, resourceful, yet marginalised heroine battles to define herself in unfamiliar surroundings while attempting to navigate a passionate love triangle.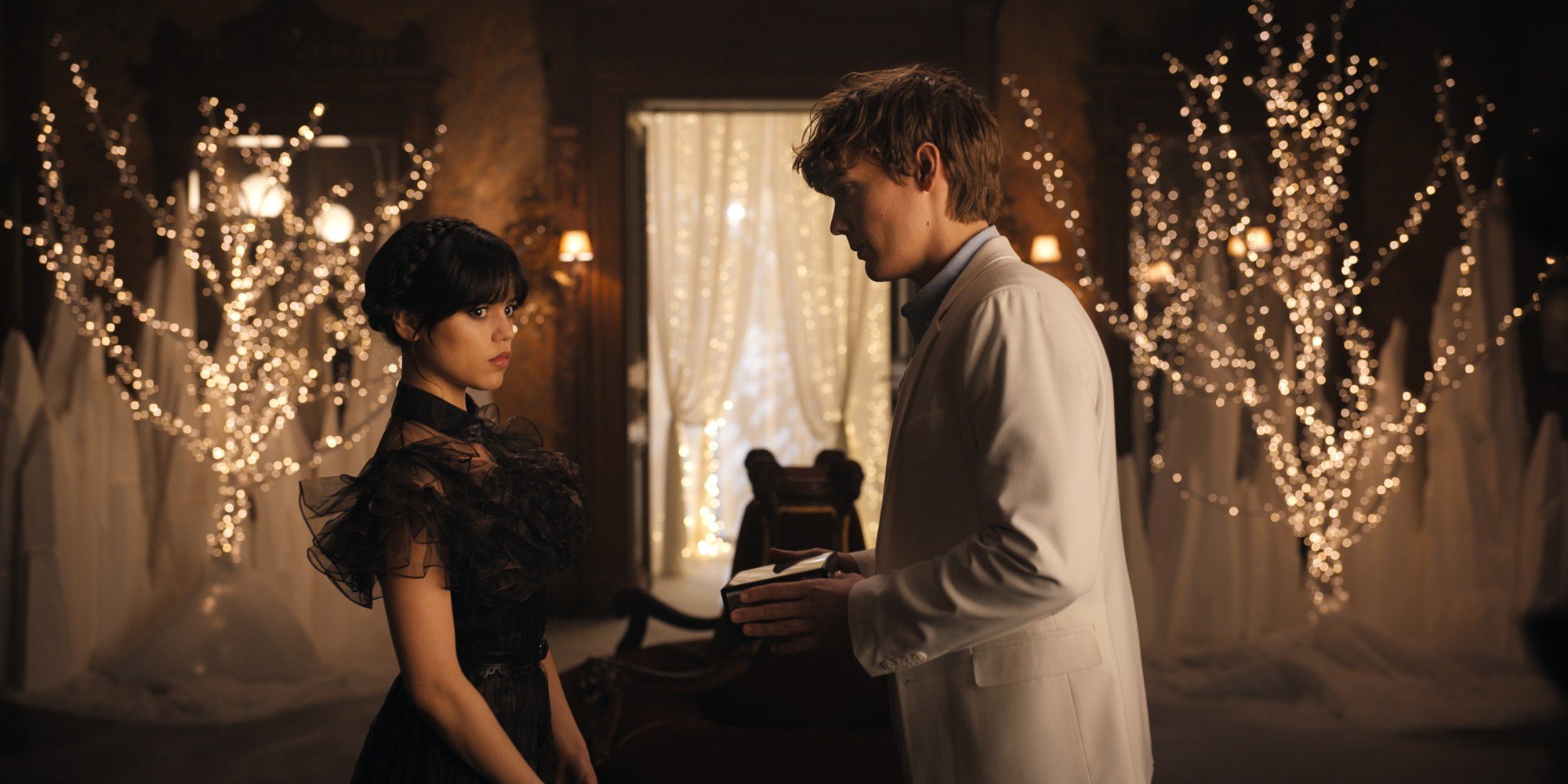 Fortunately, Wednesday's inherent weirdness ultimately wins out. Ortega is excellent in the title role, which should cement her status as one of the most prominent horror heroines, if not scream queens per se, of her generation.
And even if it falls back on a tried and tested narrative formula, the show proves to be sufficiently kooky, spooky and altogether ooky to appease long-standing fans as well as seduce a whole new generation.
Wednesday will start streaming on Netflix on November 23.