LIFE
Get more with myNEWS
A personalised news feed of stories that matter to you
Learn more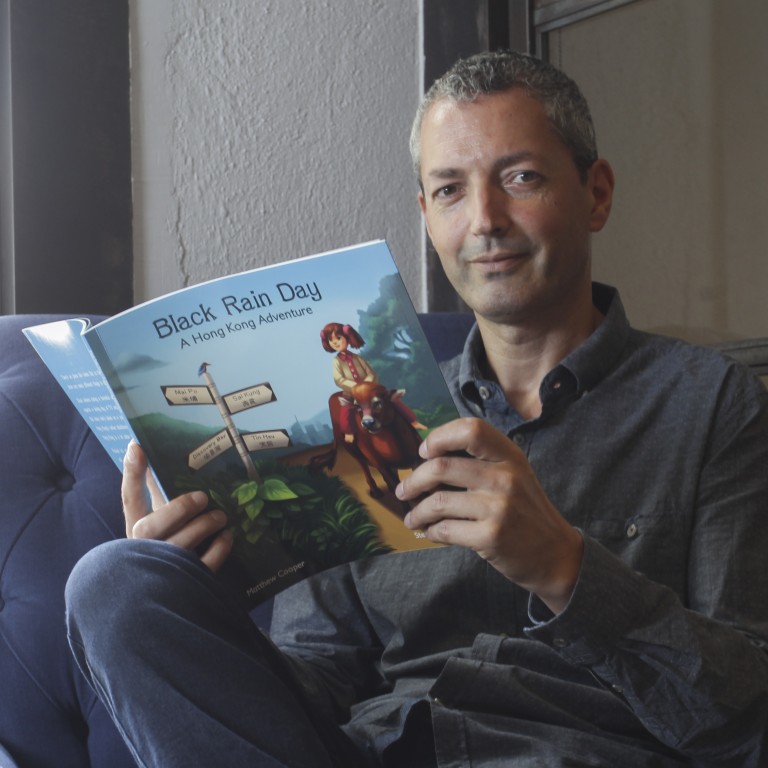 Hong Kong celebrated in English-language books for children
A crop of local writers and illustrators are drawing on the city for inspiration for their children's picture books
While reading books can transport us to distant lands, there is also a special pleasure in finding one's own place in a book, a joy Hong Kong children reading in English often miss due to the lack of home-grown children's literature.
That's changing with a crop of writers and illustrators who are crafting children's picture books set in our own backyard. , Matthew Cooper's new book released this month, takes its cue from the lush greenery outside his Sai Kung home.
"I wanted to explore habitats because even though Hong Kong is very urban, there's still wildlife out there," says Cooper, who has two young children.
follows the adventures of little Neve, named after his four-year-old daughter, as she explores local habitats with various animals. A stay-at-home dad with a background in environmental science, Cooper did his research on local species, "so even though the animals in the book are graphic representations, they can be found here", he says.
Hong Kong's environment is also a recurrent theme in barrister Theadora Whittington's books. A resident of Stanley, she was inspired to write her first book, (2007), after seeing how a fire ravaged the hillsides while walking the popular trail with her children, then eight and 10. Her subsequent books - (2008) and (2012) - maintain that eco-focus and weave information about different species into the storyline.
"Having a good environment is not to be taken for granted," she says. "My stories teach children to appreciate animals and to give them their space."
As she also holds a degree in illustration and learned Chinese painting from Liu Dawei, Whittington creates the original artwork for her own books, too.
She believes children enjoy stories with animal characters because the tales can immerse them in worlds that are familiar yet oddly different.
No wonder, then, that Ellen W.Y. Leou's series on goes down well with little ones. An architect, Leou tries to highlight Hong Kong's unique character in her beautifully illustrated stories that follow Lulu, named after her own pet, through neighbourhoods that brim with character.
"Maybe because I didn't grow up here, I have an outsider's perspective," says Leou, who relocated from the US many years ago. "I see the worth of social and cultural things that people seem to be happy to let slide away."
While teaching at a local design school, Leou discovered that her students struggled to find anything interesting about their city. "That's why I write about things that are here already, but I put some oomph into them and make them fun. There is so much that's special in Hong Kong if you just open your eyes and look."
Her first book was largely inspired by her neighbourhood, Kennedy Town, but the second is set in Sham Shui Po, a favoured haunt of craft hobbyists and DIY enthusiasts because many suppliers are concentrated in the old district.
"I love [Sham Shui Po]. I enjoy making things and part of the story is about that. Nowadays, people tend to buy stuff, but children love making things," she says.
The project gave Leou a chance to introduce her daughter to Sham Shui Po, and they now visit at least twice a year. However, her next book, which deals with Hong Kong history, has been coming along slowly because there is a lot of research involved. "In Hong Kong, everything changes so fast, there's this transience. Young people have no idea how things used to be," she says.
Leou's books stand out for their distinctive illustrations, which she executes using a mix of paint, ink, colour pencil and other media. She often works from photographs, which is why some buildings in her books are easily recognisable. The role of images in children's picture books tends to be underestimated, Whittington says. "Many people think of illustration as a kind of add-on but they're very much part of the story."
In her books, the words and pictures are fully integrated. "Children today are very design savvy. They will notice if the layout of the page is not good."
Cooper agrees: "When you pick up a picture book in a shop, the illustrations are what you're drawn to."
For his first book (2014), he collaborated with illustrator Fiona Lai, who brought a fuzzy, whimsical look to his story of a little boy who uses various mode of transport in search of his lost dog.
In , he worked with design student Stephanie Suen to create computer-generated images, which allow more flexibility when integrating text and image and adding details.
Many parents are anxious about getting their children to learn to read and often regard picture books just as an aid to reading, but they are much more than that - they help foster love of a story, Whittington says.
To hold young children's interest in a story, she believes it is better to show rather than tell.
"You have messages, but you put them across in an entertaining way. Good stories have an element of hope," she says.
But successful stories require good characterisation, too.
"There has to be something extraordinary about the characters or the plot or both, otherwise most children will just get bored."
Some parents have a tougher time getting children interested in reading, especially with the plethora of distractions from digital devices, the writers admit.
But parents can make a difference by being good role models, too. "When I was small, my parents read loads," Cooper says. "If your kids see you reading, it would seem natural for them to, and I just try to make it sound as interesting as possible."
All the same, picture books have to be as distinctive as possible to compete with screens, which is why Whittington plans to experiment with 3D illustrations.
Leou insists on a cloth cover for her books to give children a more tactile reading experience.
"Most people here think that books should be disposable but I didn't want to do something like that," she says.
While there seems to be more Hong Kong children's picture books in stores, Leou says there is a need for more "solid, fun literature".
And for more tales of Hong Kong, Cooper says: "Isn't it nice for them to read a book set in their own environment, where they can recognise things? Maybe that makes the story more accessible to them. It's their own little world."
This article appeared in the South China Morning Post print edition as: Home is where the art is