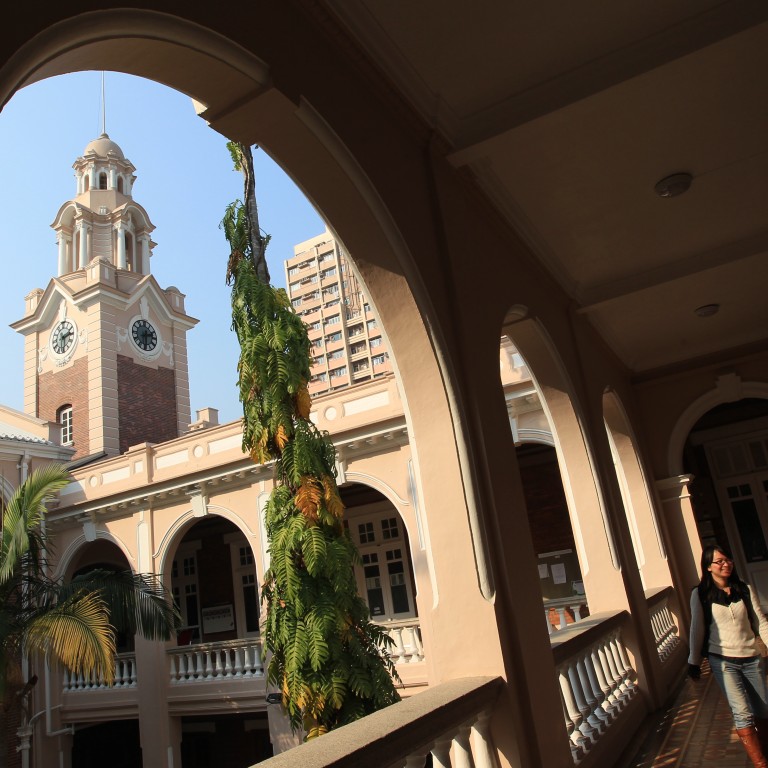 How MOOCs helped University of Hong Kong apply e-learning tools on campus
E-learning has taken off since HKU launched its first online course last year, with benefits for on-campus education too
A year after launching its first online course, the University of Hong Kong is not only rapidly expanding its virtual programmes, but also reaping unexpected results for its on-campus teaching in the process.
HKUx, a subdivision of the international non-profit MOOC (massive open online course) provider Edx, opened registration for its first course in April 2014, following an invitation from Edx co-founders Massachusetts Institute of Technology and Harvard University in 2013. HKUx has launched three more MOOCs in the past three months.
During the time between the first MOOC, an introductory public health course titled Epidemics, and the latter three, there has been a dramatic shift in the university's approach to the online platform. Professors have realised the applicability of online teaching for their on-campus classes.
According to associate vice-president of teaching and learning, Professor Ricky Kwok, who oversees many of the university's e-learning projects, HKUx's initial motivation was to promote the university's global brand. "We wanted to let people know what HKU is all about," he says. "Our strategy was to showcase our strength, so we did not really approach the venture from a purely academic point of view."
With this in mind, the Epidemics course featured "star professors", including eight from HKU and one from the Harvard School of Public Health.
The course was "hugely successful", with 10,000 to 12,000 registrations. The demographics were equally impressive, attracting students from 173 countries. More than 10 per cent were over 50 years old, and the median age was 29.
Using statistical software, educators were able to identify which of the material was especially difficult and what kind of assessment was the most effective. They also received qualitative comments from students of diverse backgrounds. Put simply, this was a statistical treasure trove for course development.
The finds coincided with HKU's increasing efforts to bring online components to on-campus teaching, especially in line with the "flipped classroom" concept. This approach involves students being assigned video lectures and simple online assessments as homework, and then engaging in interactive coursework or small-group discussions during class time.
Kwok believes this makes for more effective education. Students are able to learn the basics on their own, then test out higher-level activities in the controlled and supervised environment of a classroom.
He sees the global trend of MOOCs and flipped classrooms as "killing two birds with one stone". Lecturers can share knowledge and materials with the world, while refining their video lectures and assessments based on the diverse feedback through the online platform. These polished online-based tools are then repurposed for on-campus versions of the same courses.
The other MOOCs that have been released - on architecture, Chinese philosophy and journalism - have on-campus counterparts and have been designed to bring parts of the course back to physical classroom settings.
Unlike the past, HKUx courses now have "very targeted academic purposes", Kwok says, adding there are seven to eight more MOOCs in the pipeline in the next two years.
Other educators running MOOCs also report that their experience has given them a new perspective on how to use e-learning effectively for on-campus students, as well as a better sense of how different students learn.
Benjamin Cowling, a professor in the School of Public Health who taught the Epidemics course, will feature again in the rerun this September. He admits he never considered the flipped classroom until teaching the online course. "I now see the advantages," he says. "Students come all the way here just to see me lecture, but maybe they could have just stayed at home and watched my videos."
He describes the lecture videos as a more efficient and streamlined process. He spent a week drafting, preparing and recording an hour-long video for the MOOC, whereas he normally spends only two to three hours for an in-class lecture. The result is a hyper-focused and concise "package" for students, that cuts through the formalities and inconveniences of conventional lectures. It is more efficient for professors, too - Cowling will reuse his videos for the rerun as well as for his on-campus course.
The integration of these videos does not spell the end of face-to-face interaction. On the contrary, Cowley plans to turn his hour-long lectures into 15-minute lectures by supplementing them with videos and use the remaining time for questions and answers.
Masato Kajimoto, an assistant media studies professor who is teaching the course Making Sense of News, had a similarly positive experience with lecture videos and plans to draw heavily from his MOOC course for the coming school year. Having launched the MOOC in May, Kajimoto will debut his first flipped classroom lesson this autumn.
His videos are kept at three to five minutes long to cater to students' shorter attention spans. "The generation that has grown up watching YouTube videos cannot process information from long lectures, so these online videos and courses are catering to this generational difference," he says. He intends to flip his on-campus class of 130 students through these videos and online assessments. This will mean a much-reduced need for lectures and more small roundtable discussions, to be led by Kajimoto.
Educators have also gained insight into how to improve the notoriously underutilised university discussion forum. Unlike its on-campus counterpart, the MOOC forums are extremely lively - Kajimoto estimates there are hundreds of comments and discussion threads on his course.
One reason for this disparity may be the protection anonymity offers, Cowling argues. While his HKU students may be afraid to ask questions in class or even online (their posts are linked with their profile) because they do not want to seem "silly or dumb", MOOC users have no such fears. alternative ways to make his HKU students more comfortable, such as requesting an anonymity option on discussion forums.
One of the most exciting HKUx MOOC projects in the making is an interactive history course. One educator is developing game-like software that allows a student to play the role of famous historical figures. With the help of video lectures and assigned readings, students can make educated decisions to gauge how well they understand the material.
"If a professor wants it badly enough, any course can have online components," Kwok says of this creative project.
Kajimoto says that the MOOC platform is beneficial to both the university and the public because of the knowledge exchange. "This knowledge exchange means that on the one hand we share information with the public, but we also learn a lot from this experience," he says.
This article appeared in the South China Morning Post print edition as: On the flip side