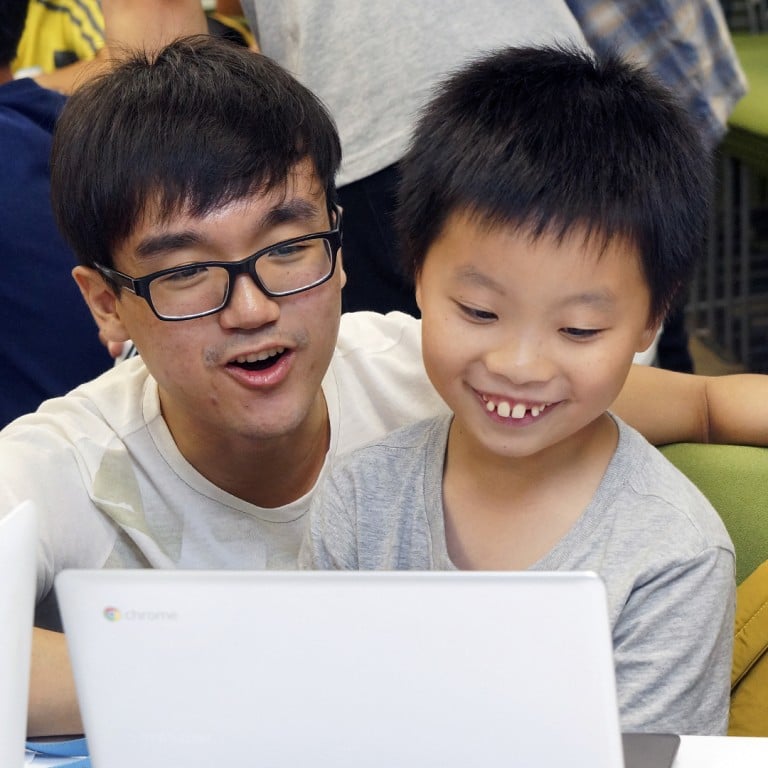 Group that's helping Hong Kong kids to give back to their communities
Google-backed Kidsunity programme (that's kids+community) aims to inspire social awareness in the city's children and empower them to contribute to the places they live in through ingenuity
"What is community?" a nine-year-old boy asked to the raucous laughter of his peers during the launch event of "Kidsunity", a pilot community engagement programme for underprivileged children in Hong Kong.
Despite its seeming innocence, the question was more than apt, since the programme - with a name that merges "kids" and "community" - explicitly aims to instil social awareness in children and empower them to contribute to their communities with their resourcefulness.
Aimed at schoolchildren from Primary Four to Form One, Kidsunity is sponsored by Google Hong Kong and co-organised by Hong Kong charities Principal Chan's Free Tutorial World and the Design for Child Association. For six months from August, the programme's teachers will lead small groups of participants in community projects at various locations throughout Hong Kong, with the aim of giving them confidence to tackle the social problems they observe with creativity and engagement.
Because they are children from low-income families - a doubly vulnerable group in society - the 23-strong pilot group of Kidsunity participants will chart a new path of bottom-up community action through their endeavours, no matter what they achieve.
"We hope Kidsunity will be a platform for children to solve community problems with their own ideas and initiative, regardless of how small or inconsequential the scale," says Chan Hung, or Principal Chan, of his eponymous free tutorial centre. Supported by Google for Non-Profits, it now serves 6,000 tutees and runs a host of extracurricular activities. "The idea is that, as long as children use their imagination and do something with it, they can make a difference," he said.
Based on the Design for Change (DFC) model of child empowerment initiated by Indian school principal Kiran Bir Sethi in 2009, Kidsunity inspires children to change their communities through four simple steps: feeling, imagining, doing and sharing. Translated into real actions, these abstract steps require children to learn about their communities through research and observation, identify problems that need to be improved, devise concrete ways to solve these problems, and, finally, share their achievements with others to influence them to action.
DFC, now a global organisation, has applied its educational model in close to 40 countries worldwide, from developed nations such as the US and Japan to developing countries such as India and Mexico. Across these places with distinct social and cultural circumstances, children have carried out impressive projects in fields ranging from public health to gender equality, environmental conservation and urban planning.
After a series of successful projects in China, DFC's four-step model has been brought to Hong Kong for the first time through Kidsunity. In collaboration with Chan's organisation, Design for Child Association, a Hong Kong-based charity that has worked with DFC China since 2013, is providing staff and expertise to run the programme. Corporate sponsor Google is offering additional support by coaching participants in how to use its online programs - from Drive to Maps to YouTube - as tools to design and carry out community projects.
To Chan, who has long been dedicated to bridging gaps in educational attainment and quality in Hong Kong, DFC's importance lies in going beyond academic support to maximising the opportunities underprivileged children get outside the classroom - something that is especially vital in Hong Kong's unequal education milieu.
"Academic and financial support alone is not enough," Chan said. "We need to give kids a chance to express their talents, gain confidence and reach their potential through other channels. If we do that, they might surprise us with what they can achieve." This vision - that children can be empowered not only to express their talents and thoughtfulness in alternative ways, but also to bring positive change through the process - underlies Chan's enthusiasm for his pilot programme.
Although he cannot predict what projects Kidsunity's participants will engage in, Chan has high hopes for them based on the achievements of other children in DFC programmes across the world. As an example to encourage them, Chan told the story of a five-year-old in the US who, after watching a stirring documentary, successfully raised large amounts in donations on her own for Nothing But Nets, a charity that distributes mosquito nets in Africa to fight malaria. Citing another example from the developing world, Chan referred to a group of children in India who persuaded factories in their local communities to stop using child labour, showing that the issues children affect can have immense social and even humanitarian significance.
As part of the "sharing" stage of the DFC programme, Kidsunity's participants themselves, with help from volunteers, will document their respective projects on film as well as in writing. These records will be edited into a documentary and a book to be screened in cinemas and sold in bookstores respectively.
In addition to displaying what the pilot programme has achieved, this sharing process is meant to show to society at large that education can go beyond the teaching of knowledge to encourage individuals to improve society with their latent abilities.
At Kidsunity's launch event in Google's headquarters, children used YouTube and other online tools to "feel" and "imagine" the needs of different communities as an exercise for their own projects. After watching a clip of a village school in rural India, they were asked to share what they thought was different between learning environments in India and in Hong Kong.
"There are no tables or chairs," said one girl with her hand up. "It is very crowded there," said a boy. "They don't have schoolbags," said another boy. When asked how they could solve these problems, the response was even more enthusiastic. "We can buy materials and ask adults how to make backpacks." One boy suggested. "We can use recycled materials," shouted another.
These enthusiastic responses may sound like childish solutions to important problems, but they also show the imaginative potential of children when they are put in a position to improve society. With Kidsunity, children have a lot of freedom to make their own decisions about the issues they wish to address, while at the same time learning about society and their role in it, thus affirming the programme's belief that community education outside the classroom is not only important for the development of children themselves, but also vital for social progress.