LIFE
Get more with myNEWS
A personalised news feed of stories that matter to you
Learn more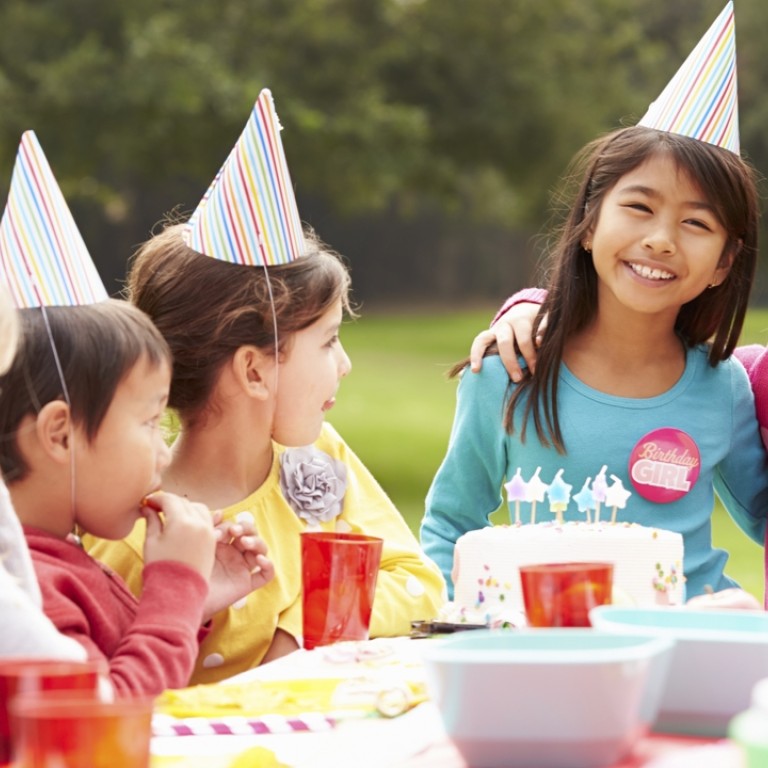 How to throw a children's party: tips from Hong Kong events professionals
Experts offer their dos and don'ts to guide parents through the minefield of organising a child's celebration
Long gone are the days when a few balloons, a game of pin the tail on the donkey and a cake are enough to celebrate a child's birthday party.Organising parties for youngsters can be a minefield, with some families opting for elaborate themes and fancy finger food. And then there's the delicate matter of the guest list.
Whether you keep it to the few friends a child plays with on a regular basis, or take the populist route and invite an entire class of hyperactive seven-year-olds is a matter that is guided by the choice of budget, venue and activities.
An outdoor venue is likely to accommodate more children than a typical apartment in Hong Kong, and more adventurous gatherings such as a pool party or rock climbing will require more adult supervision, says Kaye Dong, co-founder of specialist stationery and party design company Poppy's Trunk.
"Parents should also consider the preference [of the child whose celebration it is]. Some children already have very clear ideas of how they would like to celebrate, some might just want to invite close friends or be gender specific," Dong says. "The ultimate aim is to ensure that both host and guests have an enjoyable time. Parents should not feel pressured to invite more guests than they feel comfortable handling."
Hosting children's parties can sometimes put a wobble in the step of even the most sure-footed of parents, but a few ground rules can avert sticky situations long before the icing is set on the cake.
"When there are plenty of parties going on every year it's the parties with the unique designs and experiences that stand out. We believe it is all about using creativity to produce perfect parties at any scale and complexity," says Lauren Roberts, director at Sweet Soirees Private Parties.
These days, Roberts finds it is the originality of the party that has changed rather than the scale – a point worth remembering when it comes to drawing up invitations.
Themed parties are hugely popular but children can be notorious for following trends, mainly because they are unaware of other options, Roberts says.
This is where parents can use their influence to suggest an idea that might resonate with their child, but be careful not to get too carried away with the decor.
An elaborate magic kingdom can capture a child's imagination for a period of time but a party heavy on props and light on content will lead to boredom or friction sooner or later. There are better ways to end a party than having 20 mini Luke Skywalkers or Elsas dissolving into a royal meltdown.
Bigger venues can be a great way to entertain larger groups of children by using activity stations such as face painting, a bouncy castle and sensory areas with glass beads or kinetic sand.
"This keeps the children busy and they don't fight over the activities as there are enough for them to choose from," says Kim Williams-Waaijer, chief planner at Fete Event Planner.
Music is an important factor in helping to keep the party lively, but it is often overlooked, she adds.
Classic games such as pass the parcel may now be tangled in the politics of ensuring that every child is a winner but for entertainment value they still command the birthday party circuit.
"General party games such as freeze, musical chairs and pass the parcel can fit any theme. There are no rules; the most important thing is to make it fun. Kids like to do lots of things at parties so keep it exciting," says Charlene Chow, party planner at Little Miss Party.
But it's a good idea to provide some side activities such as drawing for children who might not want to participate in the games.
Children can be given certificates or stickers in lieu of toys or sweets, and thosekeen to introduce a sense of social conscience to the occasion could consider giving each child a voucher to be donated to a local charity, or even suggest a charitable contribution as an alternative to a gift for the birthday boy or girl.
This is an idea that working mum Sharon Horton came up with for her daughter's seventh birthday party, organised by Little Miss Party.
"We asked the parents in lieu of gifts to consider a donation to our chosen charity. This is a great way to get kids to understand how important giving back is," Horton says.
Hosting a party on home turf usually means a scaled-down event, but it still requires plenty of preparation.
Williams-Waaijer advises parents to finalise the menu, draw up a checklist of items you'll need and buy them a week before the party. Then on the day before, put up the decorations and pre-cook dishes.
To avoid waste and save a little on cost, hosts can consider reducing the amount of food, she adds: "We always under-order food. Adults are busy seeing to their children and socialising with friends; they hardly eat. At our last event we had 50 guests, but prepared food for 25 and still there were leftovers."
Not everyone agrees less is more, though. According to Roberts, it is always better to overestimate how much food guests may eat. "Nothing is worse than running out of food at a party," she says.