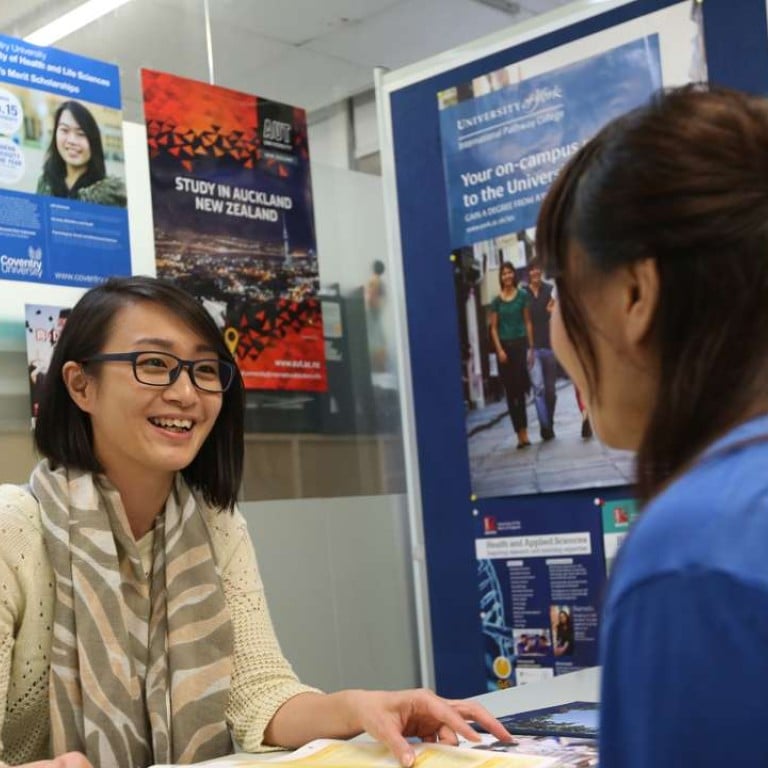 Why parents in Hong Kong and China use consultants to find US college places for their children
Consultants smooth the process of applying for university abroad, and the best ones find an institution that suits a student's personality and talent. But there are rogue operators too, especially in China
Barely recovered from a gruelling flight back to Hong Kong after sending her son Evan to university in the US state of North Carolina, Doris Choy (not her real name) is gearing up for another round of college applications. Her daughter Chloe starts Year 10 in September and Choy is already bracing herself for the nerve-wracking ordeal. Only this time she is more prepared.
Like many parents, Choy wants her children to get the best education possible.
"When Evan was preparing for college applications in Year 11, his counsellor called me in and asked what type of schools would suit him; I just named the most popular choices off the top of my head," Choy recalls.
"What [the counsellor]meant was which were the schools with the size, location, courses and racial diversity that Evan would be happy with. But I had no idea then."
Although she trusted the school to help Evan make his choice, Choy attended an education consultant's seminar to explore other options. In the end mother and son decided not to engage an agent.
There was a time when college applications were a straightforward affair. Students simply researched universities offering courses they wanted, visited education fairs and then sent in applications to a few colleges with some description of extracurricular activities and teachers' recommendations.
Expectations for children to attend the best colleges in the past 20 years, however, have spawned a cottage industry to supplement a handful of British and Australian university representative offices: education consulting. Since 2000, services, from small independent agents to high-profile consultancies, have popped up, some commanding astounding fees to help secure admission to elite institutions.
The early years were something of a free-for-all, and reports of agents making off with their clients' tuition fees added to the confusion. A small group of agents saw the need to rein in the industry, and to issue accreditation to services that are run professionally and ethically, and set up the Hong Kong International Education Consultants' Association in 2004.
Association chairman Willy Kwong Wai-li estimates there are now about 60 education consultancies, 26 of which are accredited members.
Most agents charge a standard fee of HK$2,000 to manage a student's college application, visa and housing, Kwong says. But the service is free when the agent is an official representative paid by the overseas university to recruit candidates.
At the same time, China has seen an explosion in education consultancies, matching the flood of Chinese students who seek entry to universities abroad. But although such services are regulated, Kwong says there lurks an extensive strata of unlicensed agents whose practices may not be in students' best interests.
Other than elite international schools and public institutions, few schools in China employ counsellors to advise students on university applications because the government doesn't want to lose the country's brightest youngsters to other countries, says Heather Pineda, counselling director of Dulwich College Beijing.
This hasn't stemmed the exodus of students from China, who turn to education agents to help get them into colleges abroad. But young people who take this route can often find themselves in trouble. Pineda says families should be wary of unscrupulous agencies that subvert the application process while charging exorbitant fees.
When they engage agents that forge student transcripts and recommendations, or offer to take tests for the candidates instead of helping them apply honestly to a university, they are paying a fortune for a faulty product, she says.
Because these applicants have not done the academic groundwork, they flounder after getting to college – unable to function with inadequate English and helpless in an education environment that does not rely on cramming, Pineda says. These people usually return to China without completing their studies.
"Students need counsellors, not agents," Pineda says. "The counsellor interacts closely with the student, finds his genuine interest and helps makes a four-year college application plan from Year Nine. But agents who just want quick profit aren't interested in building a relationship with the student."
Trusted Sources, a recent report published by the US National Association for College Admission Counselling, recommends the school-based counsellor as students' most unbiased and trustworthy advocate.
Reputable agents should help students choose universities that best fit their personalities and talent and not prevent them from enrolling in another university which is not their partner institution.
Students should beware agents that rely excessively on university rankings – which is only one of the factors when selecting schools, or that charge fees based on the university's rank, the report says.
Pineda concedes many Chinese students, including some at Dulwich, tend to pick universities based on how they are placed in global rankings.
Ambitious parents themselves seek every possible advantage to get their children into highly ranked universities, which accounts for the enormous demand for education consultants in Asian communities.
These consultancies, many set up by former school admission officers or counsellors, offer bundled services. These include individual counselling, essay editing, test and interview prepping, and a line-up of research, internship and volunteering opportunities around the world.
Pineda is outraged that some agents even advise students on interests to pursue in order to stand out from other college applicants. For instance, Asian students are told to avoid mention of playing the piano or violin because these are too common, and switch to some other pursuit.
Questioning the notion that there are "too many Asians" in a particular field, she says: "Is that really their genuine passion, or just something they think they should do or were told to do?
"How can you tell kids to 'like' one thing or another just to get into university?"
Ideally, parents would identify areas where their children's creativity lie early on, and help them acquire the skills to secure jobs they would love and excel in. But they may perceive the reality of job markets differently, she says.
All too often students are under pressure to seek entry to the most prestigious universities to be trained in professions such as medicine, law, and banking that may only stifle their creativity.
When youngsters see friends and families flocking to education agents, it undermines their confidence that they can be admitted on their own merit without the packaging expertise of a consultancy, Pineda says.
"It pains me as a mother and educator to see the lack of self in youngsters, and the limitations they're put in."
In the admissions section of its website, Stanford University has blunt advice for would-be applicants: rather than just focus on getting in, this is the moment to think deeply about who they are and what matters to them.
"The strongest essays are those where the student's genuine voice stands out. Because we want to discover who you are, resist the urge to 'package' yourself in order to come across in a way you think Stanford wants. Such attempts simply blur our understanding of who you are and what you can accomplish."
This bolsters the recommendations of a recent report by the Harvard Graduate School of Education to reform US college admissions.
The idea is to steer universities and students away from the narrow obsession with grades and personal achievement that can be damaging in the long term.
"There are amazing children and parents out there. Sometimes agents and parents may do more harm than good. If these amazing children were just let to be as amazing as they are, I can't even imagine the places they would go," Pineda says.
"It is who we are, our life experiences, failures and resilience, and the knowledge we've gained that will make us a stand-out candidate. There's no way agents can know what a university is looking for, and if there's no true passion, it will show through in the application."
The Dulwich counsellor has helped many students choose universities that match their interests rather than select them on the basis of ranking – someone who loves acting knows that the best training for performing arts isn't at Ivy League institutions.
So did the counsellor who introduced Doris Choy's son, Evan, to Duke University. When the family visited the US to check out college options before he began Year 12, a family friend recommended the college consultant in California.
"The consultant, almost a recluse, is not really out for business," Choy says.
Through a series of Skype sessions after the family returned to Hong Kong, the consultant guided Evan to examine his inner self as never before. She did not once advise him on which university or activity to choose but constantly drilled him to look deeper into himself, asking what part of his character he wants to present, Choy recalls.
"Whereas Evan was just a carefree kid before, he would come out of the sessions looking deep in thought. I believe Evan would have been admitted to Duke with or without the consultant. She just kick-started the critical thinking process which serves him well in his studies now," she says. "Evan said it was very worthwhile."
An economics and neural science major, Evan has adjusted well to life at Duke and become an avid rower and triathlete.
Meanwhile, Choy is still trying to get some rest before girding herself to take daughter Chloe through the college application madness.