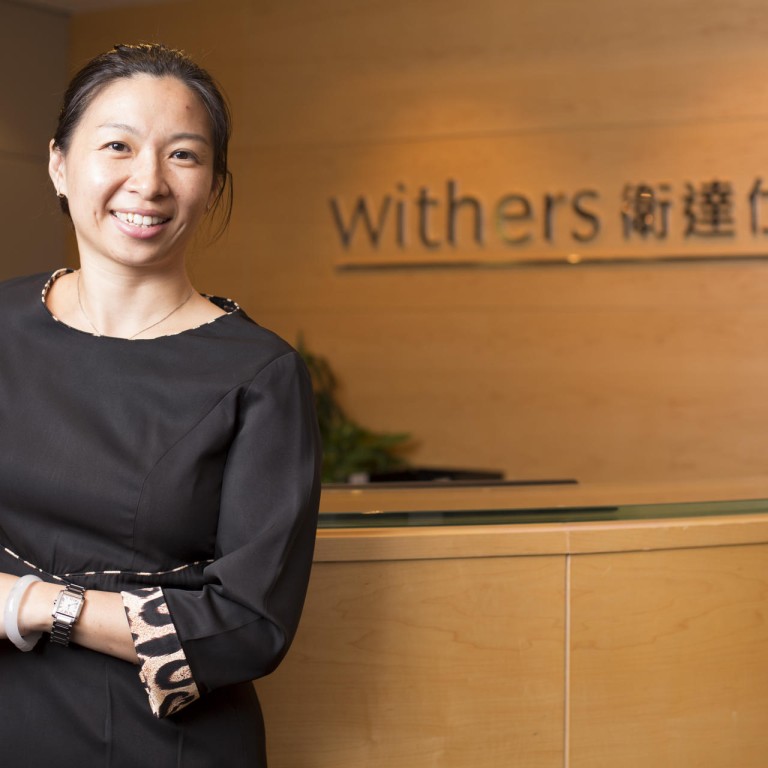 Parenthood suits family lawyer
Rita Ku understood clients better after having kids, writesDaleena Samara
Rita Ku's exuberance is infectious. It's the morning after a celebratory party at the China Club and she breezes into the room talking about the night before. The cause for celebration was her appointment as a partner of Withers Worldwide, which has made her the English law firm's first Chinese partner and only the seventh partner in Asia.
The appointment is her second milestone for the global firm. In 2010 she worked on the landmark divorce case , where the ruling in favour of her client pressured the Legislative Council to make important changes to the Matrimonial Proceedings and Property Ordinance.
Despite her high spirits, Ku stresses the fact that her work as a family-law specialist is centred on acrimonious marital relationships concerning divorce, child custody and ancillary relief.
The divorce cases she handles involve wealthy couples negotiating substantial divorce settlements. Her position requires the ability to deal with the emotional aspects of each family's welfare, especially the children. These are skills Ku has developed over a decade of practice.
"Not all cases end up in court and a lawyer has to find a way to strike a balance because we are talking about family, not business, and children may be involved. The client, caught up in the heat of the moment, may find it hard to understand, but with hindsight, they will recognise that it is in their best interest," she says.
Family law was not Ku's first choice when she graduated with an LLB from Hong Kong University in 2000. She joined a local practice for her two-year apprenticeship which exposed her to a wide gamut of litigation work.
The experience took her to places current trainees would refuse to tread, she says. She once spent an entire day with a filing clerk in a train station with a photograph of a defendant in hand, scanning the crowds for the person so she could serve them with a divorce petition.
She was admitted to the Hong Kong Law Society in 2002 and joined the Hong Kong Family Law Association a few years later. She briefly worked in commercial law before joining an international law firm, where she was assigned to work with Sharon Ser, a noted family lawyer who is now her senior partner at Withers. The firm was looking for a lawyer with Chinese language skills and Ku, fluent in Cantonese, Putonghua and English, fit the bill.
She has made two big decisions since then: to specialise in family law, and to get married and become a mother.
She discovered the latter gave her an advantage in her career. "With a husband and children, you begin to understand the difficulties that clients face. Some clients may say you don't understand them because you are not married and have no kids. But that's not true with me."
Ku learned how to navigate the differences between male and female communication styles by reading books such as
"You need different skill sets for the two genders. Men want to have quick, constructive responses, but with the women, it's a slower, collaborative process," she says.
Ku joined Withers Hong Kong in 2010. On being made a partner of the firm, she says: "I think my efforts in the past paid for this promotion."
This article appeared in the South China Morning Post print edition as: Parenthood suits family lawyer